This post may contain affiliate links. Read my disclosure policy here.
Inspiring speakers, informative sessions, engaged sponsors, elegant parties, quality networking — Mom 2.0 Summit 2014 once again offered it all.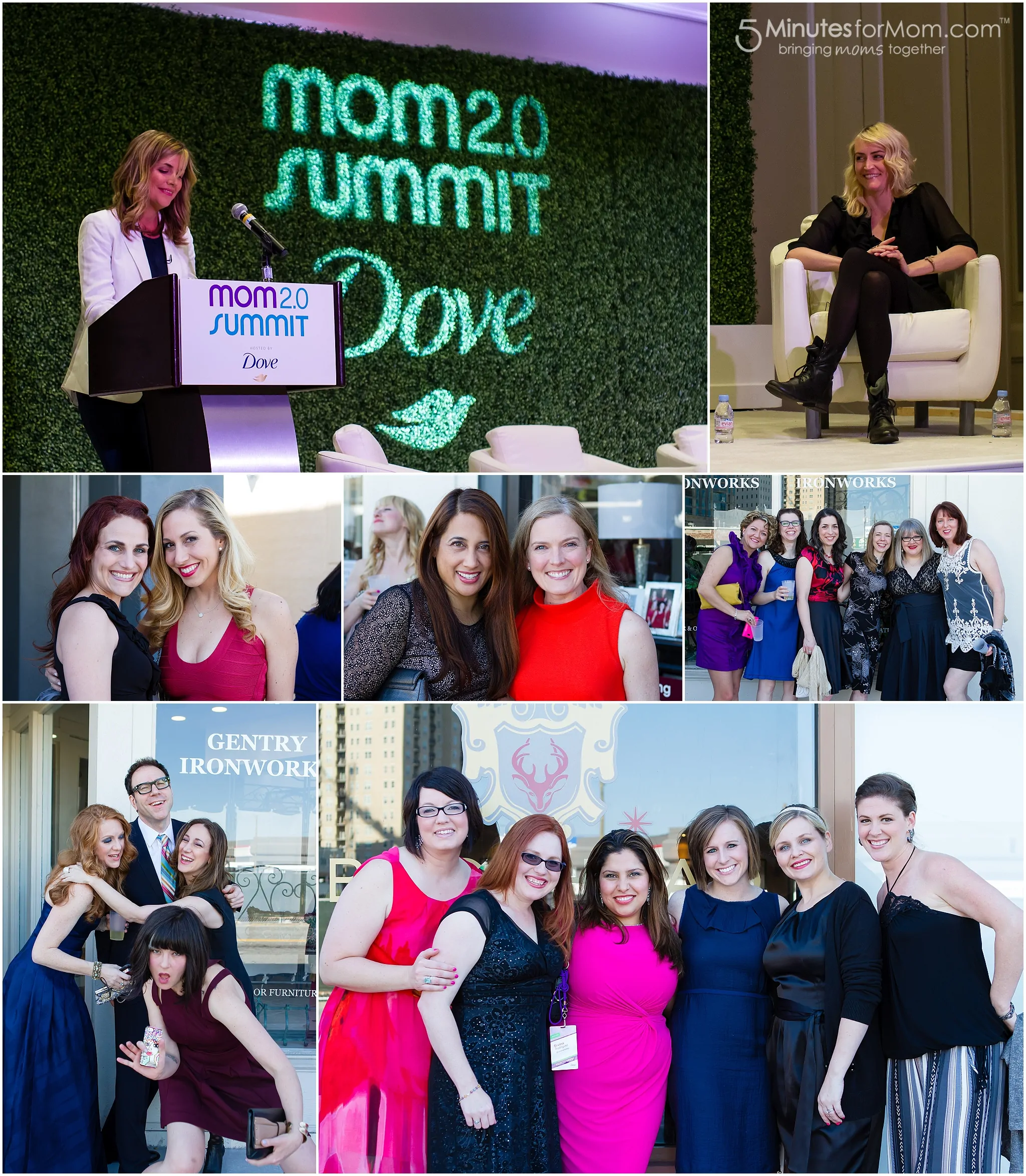 It is not easy to choose which conferences to attend. As busy business owners, we bloggers don't take handing over our time and money lightly.
But as professional bloggers, it is critical to get out and network, to learn and grow with each other and make important business connections.
Here at 5 Minutes for Mom, we strongly believe in helping one another and finding power in our community. We wouldn't be where we are — or as happy and fulfilled — if it weren't for the wonderful friends we have found in the blogging community. It is why we started the Ultimate Blog Party eight years ago — to help bloggers find and strengthen blogging relationships.
Annie Stow, Angella D, and Isabel Kallman pose for me before the Iris Awards…
Dad bloggers don't miss out on Mom 2.0 Summit either…
Isabel Kallman has a kiss for Heather Armstrong…
The fabulous Georgia Getz, aka Bossy, Karen Gerwin, and Stacy Morrison.
Due to scheduling conflicts, I have had to miss the last two years of Mom 2.0 Summit, and it killed me. Mom 2.0 is one of my favorite conferences. Laura Mayes and Carrie Pacini have impeccable taste and always provide a well organized, stunning conference experience. As well, the sponsors at Mom 2.0 Summit are always fantastic — they are truly interested in building quality professional relationships with bloggers.
I am so grateful that I was able to attend this year and Susan and I are already fighting over which one of us gets to attend next year. (We rarely attend conferences together, as one of us usually stays home to look after our kids and keep the ship running here at 5 Minutes for Mom.)
But don't just take my work for it — I asked a few of my best blogging friends about their experience with Mom 2.0 Summit:

"This was my first Mom 2.0 conference and definitely not my last. I felt a much stronger connection to the blogging community and loved the small conference size. I came away inspired and engaged. If you are wondering what conference to spend your money next year, make it this one!" Stacie Haight Connerty, The Divine Miss Mommy

"Inspiring, emotional and creative. Mom 2.0 Summit never disappoints!" Amy Bellgardt, Mom Spark

"Mom 2.0 is a collective of brilliant minds and incredible talent. It's a conference that truly raises the bar in this industry with the sponsors, agenda and locale. I know personally, as a third time attendee, I can honestly say that this is the one conference that leaves me feeling encouraged, inspired and thankful for the many incredible people that I'm honoured to call my friends." Nadia Carriere, Child Mode
Link Up Your #Mom2Summit Posts
Did you attend Mom 2.0 Summit 2014? We would love to hear your thoughts about this year's conference and read your #Mom2Summit posts.
Link up your Mom 2.0 posts and find others in the linky below and we will retweet them for you…
P.S. My photos from Mom 2.0 Summit 2014 are up on Flickr. Bloggers, feel free to use any of my images on your blogs or social media accounts along with credit and link to 5 Minutes for Mom.


Written by Janice Croze, co-founder of 5 Minutes for Mom
Talk with me: @5minutesformom and Facebook.com/5minutesformom
Pin with me at http://pinterest.com/5minutesformom/