This post may contain affiliate links. Read my disclosure policy here.
Balancing your breakfast buffet plate, you pop a piece of fruit in your mouth, nervously take a sip of your coffee, and look around the room. You don't see anyone you know, and everyone else seems to be engaged in conversations. You take another sip of your coffee, make your way through the crowd and find a seat by yourself.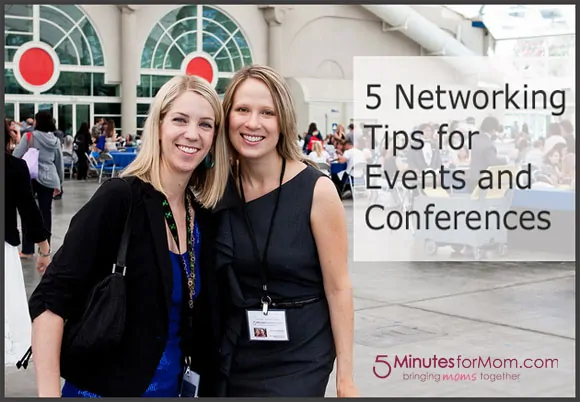 Networking is a must. We all know we need to "get out there" and meet like-minded people in our fields, but breaking into a crowd of strangers is no easy task.
This past week, I attended a fabulous local women's event called Leading Moms, hosted by Vancouver Mom, Entrepreneur Mom Now — Vancouver, and Modern Mama. While I know hundreds of bloggers across America and rarely feel "alone" when I go to one of the major blogging conferences, I haven't spent a lot of time at local events. The only women I knew well who were attending were Amber Strocel and Jill Amery.
There were a few moments during the day when I looked around the room and felt awkward and alone. But I didn't drive all the way into the city to not meet anyone. I came to network and build new relationships.
So how do we make the most of our networking experiences when we are going in to a new event or group?
1. Volunteer
First up, before I even got to the Leading Moms event, I agreed to participate in the Nicole Bridger fashion show as one of the "real life moms." I knew that getting involved with part of the event would help me to connect with other women and give me more opportunities to network.
Before an event, or even at the event, watch out for any opportunities to help out or lend a hand. It will give you more chances to meet people, reduce your "standing alone" time, and most importantly, leave a positive impression as a helpful, generous person.
2. Offer Sincere Compliments
I believe in telling people what I think — when I think good things! So, whether you are a complete stranger or a dear friend, if you are wearing a pair of fabulous heels or I love the skirt you are wearing, I will tell you.
Not only can giving someone a sincere compliment be a conversation starter, but it makes someone else feel good. Whether you end up working together one day or you never see that person again, you put positivity into someone's life without looking for something in return. And that is what good relationship building should be about.
3. Strike Up Conversations while Fixing your Makeup or Washing your Hands
A woman can walk into a bathroom knowing no one, and leave chatting away with a new friend. Standing in line, washing your hands, fixing your makeup — these are all natural opportunities to strike up new conversations. (I first met Jenny The Bloggess in a bathroom at the very first Mom 2.0 Summit.)
This week, at the Leading Moms conference, after the other "mom models" and I finished our modeling duties, Natalia Nanton from Tutu-Mama and I started chatting about our sites as we packed up our makeup in the bathroom.
Natalia was looking for a new children's photographer to shoot her tutus and she checked out my photography site that night. She followed up with me the next day and we scheduled a shoot for next week. While we were talking on the phone, Natalia mentioned she was looking to grow her online presence and guest post more. Since 5 Minutes for Mom is about promoting Mom businesses and sites, I let her know we would be happy to have her guest post here. All from us chatting in the bathroom ladies!
4. Linger — Don't Dash Out
When we are standing in an emptying room, not knowing anyone to "say good-bye" to, it can be tempting to dash out the door as soon as the last speaker steps away from the microphone.
But, as difficult as it may be, force yourself to linger and meet new people. After most of the crowd had left at the end of Leading Moms, I chatted with some of the women I had met earlier and introduced myself to some others. I am so glad I spent the time getting to know talented, creative women like, Connie Peters founder of Modern Mama, (we discovered she is moving to my neighborhood,) Jai Onofrey & Angela Santoro from Modern Mama – North Shore, Tracey from Fashion Forward 40, and Christine Pilkington founder of Vancouver Mom.
5. FOLLOW UP!
I am terrible about following up after events and conferences. I get caught up with my to-do list and the stash of business cards in my purse remains untouched.
If you don't have time to follow up with everyone you met, or even the thought of following up makes you feel overwhelmed, give yourself a goal of following up with 3-5 people. Send them a quick tweet or email, and make sure the time you invested going to the event in the first place was worth the effort.
If you found this post helpful, we would love it if you gave it a Stumble, Tweet, Pin, or Facebook Like. Thanks so much! We really appreciate your support of 5 Minutes for Mom.
Written by Janice Croze, co-founder of 5 Minutes for Mom.
Wanna chat? Find me at: @5minutesformom, @janicecroze and Facebook.com/5minutesformom. And if you see me at a conference or event, please do say hi!