This post may contain affiliate links. Read my disclosure policy here.
Janice and I LOVE blog conferences! We're always talking about the benefits for both bloggers and sponsors in attending these social media events.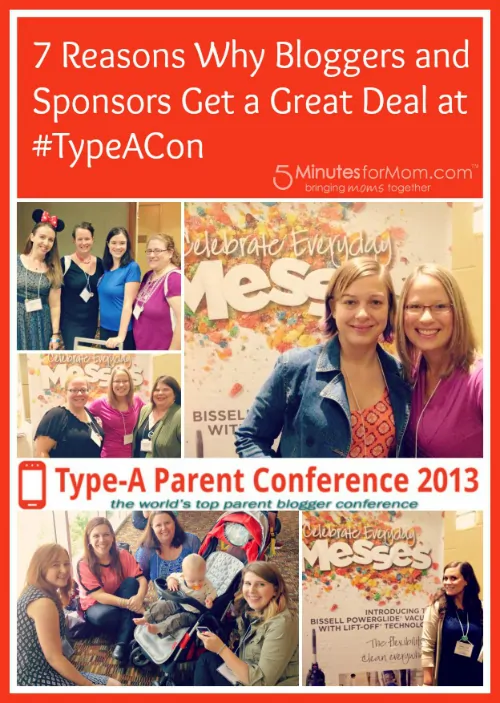 There are a huge variety of blogging conferences and each has it's own style.
I just returned a few days ago from one of our favorite mid-size conferences… Type-A Parent Conference.
#TypeACon is a mid-size event that brings 500 attendees together and still maintains an intimate feel where you can meet and really get to know other bloggers and key social influencers.
As I've mentioned in earlier posts, we're working with Bissell to spread the word about their new BISSELL PowerGlide Vacuum and I recommended that they become sponsors at Type-A. So I spent some time hanging out in their booth and it was great to see the conference from the perspective of a sponsor.
I think Kelby and her team have done a great job balancing the conference agenda, budget and sponsor/attendee interaction.
7 Reasons Why Bloggers and Sponsors Get a Great Deal
The conference agenda was perfectly organized, executed and well-attended. These are the types of sessions that pack-in quality information and people aren't lingering in the halls. Everyone is inside listening.

Holding a conference is expensive, but it seemed to me that this is a conference run on a reasonable budget that purposely keeps ticket prices down. There was continental breakfast and boxed lunches on two days, followed with a nice sit-down lunch on the final day. The parties were sponsored and on site, offering appetizers and drinks. Everything was fabulously fun, but not over-the-top.

There wasn't an overwhelmingly large number of sponsors, and I think that really allows sponsors to see a high ROI as everyone at the conference likely was aware and saw messaging or branding from every sponsor.

"Swag" or brand gifts were quality and well targeted. I didn't leave with tons of swag weighing down my suitcase, but I had several nice toys and gifts to bring home to my girls.

The "Sponsor Expo Hall" wasn't open the first of the three conference days which allowed sponsors to attend Friday sessions and mingle with attendees. There was still plenty of time for attendees to visit all the booths on the second and third days.

Friday evening began with a brief "Brand Meet and Greet" which gave a nice way for attendees to interact with the brands before the booths opened the next day.

Three days of conference sessions and parties means lots of learning and fun!
BISSELL Is Still Giving Away Prizes…
Bissell gave away a vacuum during the conference – and Desiree was the lucky winner. But even if you weren't there, you can STILL WIN one!
They are giving away vacuums and gift cards every week on Facebook…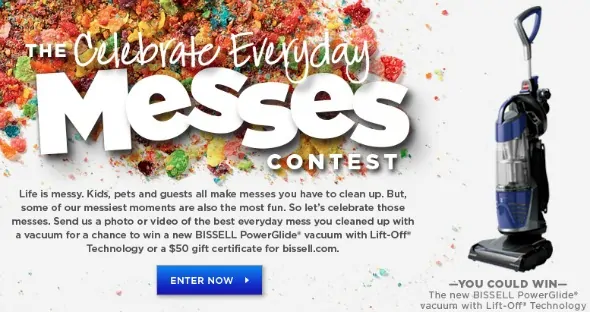 Go to the Celebrate Everyday Messes contest on Bissell's Facebook Page and share a photo or video showing a mess you cleaned up with a vacuum.
We hope you win one… definitely let us know if you do!

Disclaimer: While this particular post is not sponsored, we are spokespeople for Bissell.
Written by Susan of 5 Minutes for Mom
Join me at: @5minutesformom and Facebook.com/5minutesformom
Pin with me at http://pinterest.com/5minutesformom/