This post may contain affiliate links. Read my disclosure policy here.
During this Work At Home Moms Strategy Hour we learn from successful WAHM Amy Lynn Andrews how to Manage Your Schedule when You Work at Home.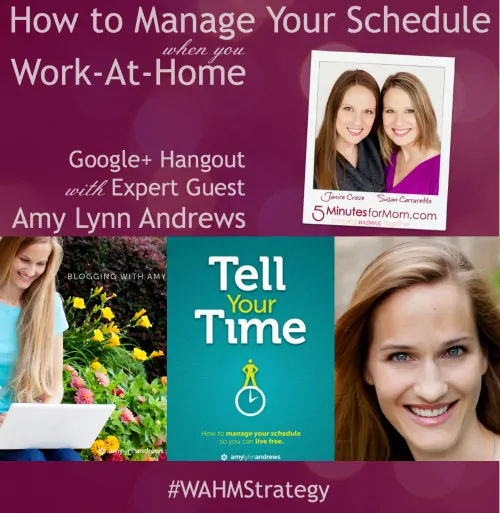 Amy is the author of Tell Your Time: How To Manage Your Schedule So You Can Live Free which outlines her straightforward, step-by-step approach to controlling your schedule and ensuring the important things don't fall through the cracks.
Watch the video replay below to learn about Amy's time management strategies.
Click Here to read the live chat during the Google Event.
Links to Tools & Resources
During the hangout many participants shared fantastic tools and resources. Below are links to many of those mentioned in the video and in the live text chat.
Watch Previous Recordings
Find out more about these #WAHMStrategy sessions that we hold every other Wednesday 10 am Pacific (1 pm Eastern) at http://www.5minutesformom.com/strategy/