This post may contain affiliate links. Read my disclosure policy here.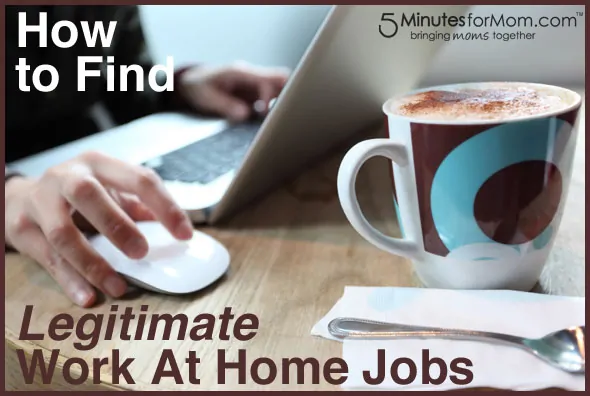 Countless people ask me, "How can I work at home like you?"
And it's a long answer.
So fellow work-at-home mom Kelli Miller and I have teamed up to create weekly Google Hangouts where we tackle the questions of moms like you who may want to start working at home or continue on their journey more successfully.
Today we started with our first hangout discussing How to Find Legitimate Work At Home Jobs.
Fortunately Kelli is an expert with Google Hangouts as she runs two other weekly hangout series. But unfortunately, today my laptop and Google+ account caused me no end of grief taking multiple restarts and attempts to get connected. So while I couldn't get online for the first 20 minutes or so, Kelli got the discussion rolling sharing some of her experiences and ideas for finding jobs working at home.
Below is the YouTube video of the hangout in case you missed it. I'll also outline a few time stamps below showing where we talk about certain points so you can jump around if you want to.
00:00 – Kelli starts off the hangout while I try to get my laptop on the hangout
01:00 – Kelli's story of working at home from starting on ebay to blogging
01:44 – Pros and cons of working at home
03:23 – Identify your own skills before trying to find work from home
04:49 – Avoiding scams – If you have to pay money for it, it's not a legit job
06:00 – Great site to find jobs – VA's For Hire Facebook group
10:20 – How to use fiverr and oDesk
10:44 – If you are a blogger, you have skills to be an assistant to a "bigger" blogger
17:22 – Customer service jobs
20:00 – One idea is to write an ebook using your particular skills
21:09 – Different jobs available for moms
23:30 – I FINALLY get connected and join Kelli on screen
25:06 – Answering the question "How can I work at home like you?"
27:26 – Finding a work-at-home JOB versus building a business from home
32:05 – Take an inventory of your skills including what you like to do and what you can learn and improve
32:49 – Websites where you can find project based work such as freelance.com, oDesk, fiverr etc
36:26 – "I want to start working at home", these are steps you could take…
38:29 – Expanding your skills in graphic design, photography, video editing & more using creativelive.com
42:50 – Avoiding the scams online
43:30 – Don't underestimate yourself – you do NOT need a college degree
43:55 – Advice from Crystal on creating a job for yourself by providing value.
47:20 – Offline job ideas such as becoming a personal chef and cooking freezer meals
48:40 – Most jobs are never advertised – reach out to websites and offer your services as an intern or volunteer
48:49 – How our assistant Jennifer got her job with us
53:30 – Prove your value to a company before even asking for pay. Example, offer to grow their stats and then have them pay you.
56:10 – What topics do you want us to cover in future sessions?
Kelli also posted about this event today and shared some more resources including a great link for doing surveys online. Personally, I had always wondered about online surveys being legitimate, but Kelli shares that she has actually done some and made money. I would say to be careful about surveys as you are giving away personal information, but the site Kelli mentions does appear to be legitimate.
Another work-at-home expert Crystal who shared a tip during the hangout has written a helpful post about websites to find work-at-home jobs.
What Do You Want To Know
Next week, Kelli and I will be sharing more about what it takes to actually "work" at home. She will share many of her tips and strategies for getting organized behind the scenes and I'll also share some tools and ideas for how our businesses are structured and run.
Please leave a comment below telling us what you to learn. If we don't know the answer, we will bring on an expert who does.