This post may contain affiliate links. Read my disclosure policy here.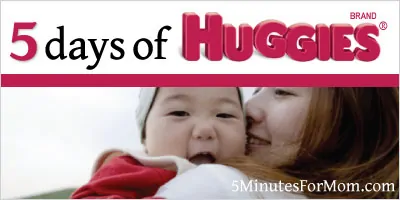 The Best of Times…
I often say that life with a two year old is the best of times and the worst of times.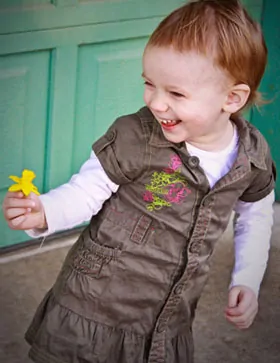 Their sweet, unconditional love is as powerful as they are delicate. As our angelic babies learn to talk and express their thoughts and feelings, well, a mama's heart just can't melt faster.
Yet it is also a time of "full contact parenting" — chasing the escaping toddler down the street, prying her off the monkey bars she is too young to master, or holding her as she screams, kicks and punches in a fit because you flushed the toilet — that can be so exhausting there are moments you look forward to it all ending.
But when I think about it, parenting as a whole is the best of times and the worst of times. There is no high on this planet greater than loving and being loved by your child. It is inexpressable. But the lows — the fears for your child, watching your child suffer, the agony of loving that hard — well those can sometimes cut deeper than a human should ever hurt.
We can't let ourselves linger in the lows, (or the fear of the lows,) our children need our optimism, our hope, and our joy.
So we treasure the best of times. We pull them out and remember them in the hard times. And we cherish them as it all flies by so quickly.
Today, in our last day of 5 Days of Huggies®, our five days of incredible giveaways sponsored by Susan and my favorite diapers, Huggies®, we want to celebrate the best of times!

If you haven't entered each fabulous giveaway make sure you do! There is a list of all of them below and on Day 1. Entries are open until June 4th, 2010. One entry per person, per giveaway. So that means you can enter all five giveaways — but only leave one entry at each one.
What are your "Best of Times?"

What are your favorite memories of your family growing together? (We know you probably have hundreds of favorites — feel free to share as many as you wish. You could even make it a blog post on your site and leave the link to your post in the comments!)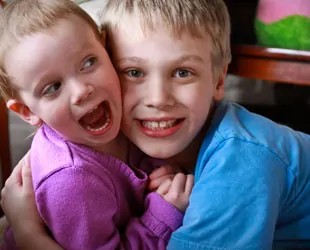 For me, my favorite memories are of Jackson and Olivia having fun with each other. Jackson cried, prayed and begged for years for a sibling. And I cried, prayed and begged God that I could give him one. Finally, God answered our prayers with Olivia.
They are certainly "siblings" and have their share of fights and frustrations, but they adore each other. Having to wait so long for Olivia has made Jackson treasure her all the more. Yes, he likes to torture her and make her scream, (what brother doesn't?) but he can't hide his love for her. They are a perfect fit.
5 Days of Giveaways with Huggies!
We are celebrating our families this week with Huggies®. Being a parent requires love, energy, patience — and of course a lot of diapers! Whether you are still in the diaper days or have only memories of those countless diaper changes, Huggies® wants to share some FUN giveaways with you this week!
From Monday to Friday we have had fantastic prize packs, each worth between $400-$500!
Here is a list of all the giveaways this week:
Our Fifth Huggies Prize Pack
We have saved the BEST for last!!!
Get ready to squeal — and start crossing your fingers and toes that you will be the lucky winner…
Our 5th Prize Pack includes a $1,000 American Express Card…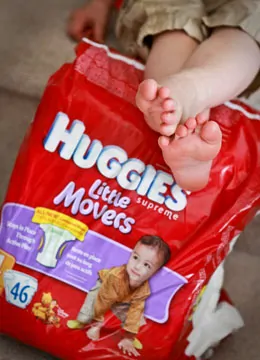 Today, we want you to tell us about your "Best of Times" — what are your favorite family memories?
Day 5 Huggies Prize Pack

$1,000 American Express Card — Record your family at the stage it is today!
Coupons for $50 worth of Huggies® Little Movers Diapers. What would our giveaway be without some Free Diapers!
Dwell Studios Changing Pad — You need a fashionable place to change those diapers!
To Enter:
To enter please leave a comment below by Friday, June 4th, and tell us about your "best of times." What are your favorite family moments?
To make entering simpler for you, only one entry per person per giveaway please. (So you enter each day's giveaway separately.)
This giveaway is open from May 25, 2010, to June 4, 2010. We will announce our winner on Saturday, June 4th. This giveaway is open U.S. residents 18 years of age or older at the time of entry and is void where prohibited by law.
The approximate retail value of this prize pack: The approximate retail value: $1,000 American Express Card ($100), Dwell Studios changing pad ($20) and Little Movers product/coupons ($50).
For additional rules, please click here for rules specifically pertaining to our 5 Days of Huggies® giveaways.
For more information about our giveaways, please see our site's terms and conditions of use.
THANKS to Huggies®!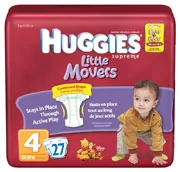 We have had SUCH a fun time this week celebrating childhood and parenting. And we are so grateful to our sponsor Huggies® Little Movers Diapers.
As we told you in our video of our fastest Little Mover Olivia, and shared in our posts this week, we have had all four of our babies in Huggies®!
We love Huggies® diapers — especially the Huggies® Little Movers Diapers with their phenomenal cut and fit.
Thank you Huggies® for sponsoring this event, for providing such exciting prizes, and, most of all, for making great diapers for our babies!
*This giveaway is part of a sponsored campaign with Huggies®. Our opinions and posts about the products are completely our own — I mean, good grief, we have been putting our babies and toddlers in Huggies diapers for eight years! So no worries, as always, we post only what is truthful.
Written by Janice Croze, co-founder of 5 Minutes for Mom.
You get our feed, right?