This post may contain affiliate links. Read my disclosure policy here.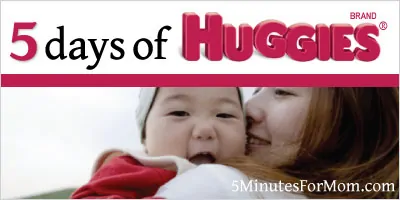 How Big is Your Family?
Susan and I come from a mid-size family. There are four kids. Susan and I are the babies — the BIG surprise that brought our mother to tears. (Not happy tears! LOL)
My parents already had a six year old daughter and a four year old son and they were done — DONE!
But God had other ideas. He had a fabulous set of twins waiting in the wings.
But Susan and I each have only two children.
Growing up with three siblings, it is hard to feel like I am "done" after only two children. I can't believe my baby will be out of diapers soon. (Well, I think we have many months of Pull-Ups ahead of us.)

Olivia is our last one in diapers too! (Sophia is a very independent girl and toilet trained in about one week last month!)
And as we told you in our video of our fastest Little Mover Olivia, (if you didn't see it, I embedded it again here. My Livvie is just SO cute, I can't help but post it again!) we have had all four of our babies in Huggies®! (Hence our loyalty to Huggies and our partnership with them for this giveaway event!)
But as much as I get those baby longings, my rational side breaks through and reminds me that I am at my limit — physically, emotionally and financially. With two VERY busy children, and trying to work to help provide for them, I honestly don't think I can add anything more to my plate.
Susan feels the same. Even though her girls are far less work to raise than my two kids, she has filled up her tiny townhouse to the max and can barely fit in another stuffed toy let alone another child.
So Susan and I are finished. We are packing up our baby clothes and maternity clothes and focusing on raising the four kids that we do have.

(And really, since Susan and I live two blocks apart and we raise our children together, it really is like we have four kids. Our kids have each other and if we had more, things would get really chaotic!)
Online it seems like we are odd ducks!
So many of you have four or more kids. It seems like par for the course. People don't think twice about the moms with six children in the momosphere.
We are in amazement of how you moms of many do it! Blog on sisters — you rock!
So, we want to know, how many babies DO you have? And are you finished? What is your magic number — or do you have one?
5 Days of Giveaways with Huggies!
We are celebrating family this week with Huggies®. Whether you haven't yet diapered your first, or you are on your eighteenth, Huggies® wants to share some FUN giveaways this week!
From Monday to Friday we are having fantastic prize packs, each worth between $400-$500! So check back every day for more Huggies fun!
(To see a list of all the giveaways that have happened so far, check out Monday's post, 5 Days of Huggies. We will add a list of the new giveaways at the bottom of that post.)

Our Fourth Huggies Prize Pack
Big or small, every loving family is a beautiful thing.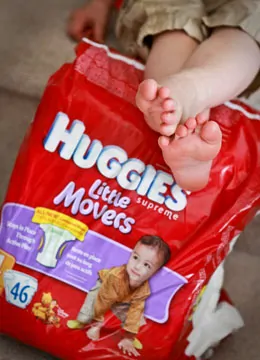 Today, we want you to tell us about your family. How many babies have you had and are you planning to have any more?
Day 4 Huggies Prize Pack
To Enter:
To enter please leave a comment below by Friday, June 4th, and tell us about your family. How many babies have you had and are you planning to have any more?
To make entering simpler for you, only one entry per person please.
This giveaway is open from May 25, 2010, to June 4, 2010. We will announce our winner on Saturday, June 4th. This giveaway is open U.S. residents 18 years of age or older at the time of entry and is void where prohibited by law.
The approximate retail value of this prize pack: The approximate retail value: JCPenny Portrait Studio gift card ($200). Little Movers product/coupons ($50), Lil' Grams gift card ($100) and Timi & Leslie diaper bag ($160)
For additional rules, please click here for rules specifically pertaining to our 5 Days of Huggies® giveaways.
For more information about our giveaways, please see our site's terms and conditions of use.
*This giveaway is part of a sponsored campaign with Huggies®. Our opinions and posts about the products are completely our own — I mean, good grief, we have been putting our babies and toddlers in Huggies diapers for eight years! So no worries, as always, we post only what is truthful.
Written by Janice Croze, co-founder of 5 Minutes for Mom.
You get our feed, right?