This post may contain affiliate links. Read my disclosure policy here.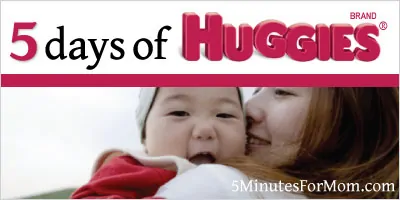 Ahhh, the diaper years…
Our sweet, innocent babies reward us with unconditional love, unlimited cuddles and never ending cuteness.
And while diapering isn't usually our favorite part of those years, it comes with the territory. Have baby must change.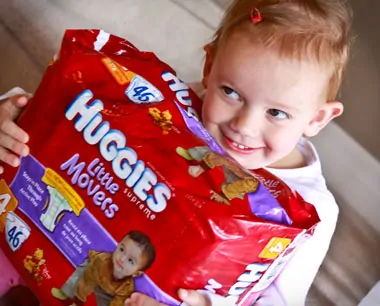 One thing I have noticed about diapering is that we moms are very brand loyal. We find something that works for us and we stick with it. A sale doesn't tempt us the way it would for a loaf of bread.
After a few months of diapering my first son Jackson, I found I preferred Huggies diapers. And with Huggies, Susan and I have remained – for all four babies!
So, when asked if we wanted to do a Huggies® promotion, we said for sure!
We love our Huggies – especially the Huggies® Little Movers Diapers!
Seriously – check out Olivia in all her diaper cuteness. That little monkey is one fast Little Mover! (I especially love the scene of her dancing in the rain in her diaper. SO Olivia – SO cute!)
5 Days of Giveaways with Huggies!
We know moms have paid their diapering dues, so Huggies® wants to reward you with some FUN giveaways this week!
Yes, from Monday to Friday we will have fantastic prize packs that you will really want to win. So check back every day for more Huggies fun!
Our First Huggies Prize Pack
We parents spend a significant portion of our time and our money diapering our children. There isn't any way around it. Babies require diapers — lots of them!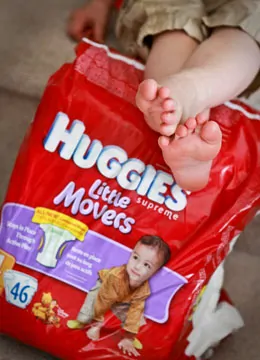 Today's giveaway is going to make one of you VERY excited about diapering! Oh yeah baby — win this one and every time you change that little bottom you will want to cheer!

Today's prize pack includes 6 months of Huggies® Diapers!!!
So, we want to know, what would you do with six months worth of diapers? How would it help your family, (or a family you know?)
Day 1 Huggies Prize Pack

Six month's worth of Huggies® Diapers in coupons
Huggies-branded Flip Cam — so you can capture all those fun moments with your family!
Dwell Studios Changing Pad — Great for Moms on the go – will need a portable changing pad with all those free diapers!
Skip Hop Dash Deluxe Diaper Bag — perfect to carry all those coupons, Flip Cam and of course the adorable changing pad!
To Enter:
To enter please leave a comment below by Friday, June 4th, and tell us what would you do with six months worth of diapers? How would it help your family, (or a family you know?) To make entering simpler for you, only one entry per person please.
This giveaway is open from May 24, 2010, to June 4, 2010. We will announce our winner on Saturday, June 4th. This giveaway is open U.S. residents 18 years of age or older at the time of entry and is void where prohibited by law.
The approximate retail value of this prize pack: Six month's worth of Huggies Diapers in coupons ($288). Little Movers Flip Cam ($100), Dwell Studios Changing Pad ($18), Skip Hop Deluxe Diaper Bag ($58).
For additional rules, please click here for rules specifically pertaining to our 5 Days of Huggies® giveaways.
For more information about our giveaways, please see our site's terms and conditions of use.
Don't miss our other Huggies Giveaways!
*This giveaway is part of a sponsored campaign with Huggies®. Our opinions and posts about the products are completely our own — I mean, good grief, we have been putting our babies and toddlers in Huggies diapers for eight years! So no worries, as always, we post only what is truthful.
Written by Janice Croze, co-founder of 5 Minutes for Mom.
You get our feed, right?