This post may contain affiliate links. Read my disclosure policy here.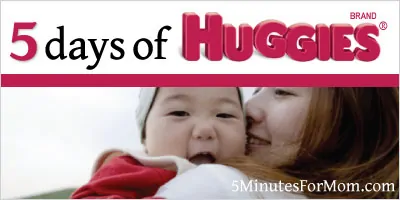 When did your little ones 'get on the move?'
Remember those days when you could put your infant on a blanket on the floor, grab a load of laundry out of the dryer and come back to still see her happily playing — in the exact same place?
But then it happens. Oh, it happens so fast.
Suddenly that little pre-crawler can squirm and shimmy her way all over the place. Taking your eye off of her for even a minute becomes impossible.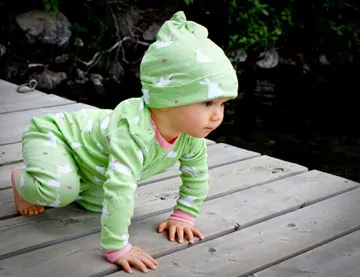 Soon, she pushes herself up onto all fours and tries to crawl. I call it being stuck in "neutral." My little ones would rock back and forth on all fours wondering why they aren't moving forward. And then when they do start moving, they are in reverse!
But, oh so quickly, they get the hang of it and they are crawling everywhere!
Just weeks later, those once helpless little babes pull themselves up on the coffee table and start cruising around. We know then that the baby days are soon to come to an end.
As they reach out their tiny hands and toddle towards us with their first few steps, it is bittersweet. Our babies are on the move. They are growing up. College will be just a blink away.
Diapers for those Little Movers!
As Susan and I told you yesterday in our video about our Little Mover Olivia, (if you didn't see it, you have to go check out my Livvie's cuteness!) we have had all four of our babies in Huggies®.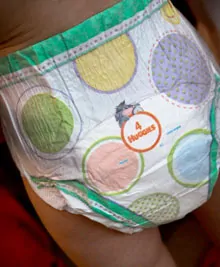 There are a number of reasons I prefer Huggies®:
They're gentle enough for my sensitive-skinned children
They don't have a strong fragrance to them
I find they give us the best leak protection
They FIT and move with my super active babies and toddlers!
As you saw in our video of Olivia, (running, climbing, dancing, jumping,) my kids are really on the move!
The Huggies® Little Movers Diapers move with them with a unique form fitting cut. Now, my toddlers have never said, "Wow, Mom — these diapers have a great fit!" but I can tell they are happy in their Little Movers. (Maybe a bit too happy!)
So, today, we want to know, when did your little ones 'get on the move?'
How old were they when they started to crawl or walk? (Or have you forgotten? I know it is so easy for it all to blur together!) And if your babies are not yet crawling, you could tell us what you are looking forward to (or fearing) about the 'moving' stage.
5 Days of Giveaways with Huggies!
We know moms have paid their diapering dues, so Huggies® wants to reward you with some FUN giveaways this week!
From Monday to Friday we are having fantastic prize packs that you will really want to win. So check back every day for more Huggies fun!
(To see a list of all the giveaways that have happened so far, check out Monday's post, 5 Days of Huggies. We will add a list of the new giveaways at the bottom of that post.)

Our Second Huggies Prize Pack
Parenting is an all consuming job. It is the most wonderful, rewarding experience a human being can have. But it is also darn exhausting!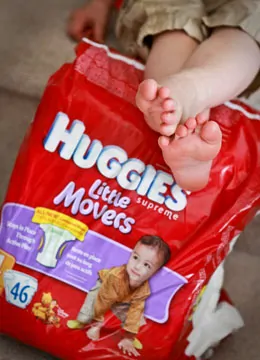 Today's giveaway is about FUN — for the little ones AND you!
So we want to know, when did your little ones 'get on the move?'
Day 2 Huggies Prize Pack

Coupons for $50 worth of Huggies® Little Movers Diapers. What would our giveaway be without some Free Diapers!
Huggies-branded Flip Cam — so you can capture all those fun moments with your family!
$100 Gymboree Play & Music Gift Certificate — Opportunity for you to create even more fun memories with your children. It is perfect for birthdays, holidays and every day celebrations.
$250 Ticketmaster.com Gift Card — Give you a chance to go out for a show, or take your children out for a night of family fun.
$100 Restaurant.com Gift Card — You can even go out for dinner before the show!
To Enter:
To enter please leave a comment below by Friday, June 4th, and tell us, when did your little ones 'get on the move?' If your babies are not yet crawling, you could tell us what you are looking forward to (or fearing) about the 'moving' stage.
To make entering simpler for you, only one entry per person please.
This giveaway is open from May 25, 2010, to June 4, 2010. We will announce our winner on Saturday, June 4th. This giveaway is open U.S. residents 18 years of age or older at the time of entry and is void where prohibited by law.
The approximate retail value of this prize pack: Ticketmaster.com gift card ($250). Little Movers product/coupons ($50), Little Movers Flip Cam ($100), Gymboree Play & Music gift certificate ($100), and a $100 Restaurant.com gift card ($40).
For additional rules, please click here for rules specifically pertaining to our 5 Days of Huggies® giveaways.
For more information about our giveaways, please see our site's terms and conditions of use.
*This giveaway is part of a sponsored campaign with Huggies®. Our opinions and posts about the products are completely our own — I mean, good grief, we have been putting our babies and toddlers in Huggies diapers for eight years! So no worries, as always, we post only what is truthful.
Written by Janice Croze, co-founder of 5 Minutes for Mom.
You get our feed, right?