This post may contain affiliate links. Read my disclosure policy here.
Taylor Swift: The Eras Tour is hitting movie theaters this weekend. So to celebrate, I decided to show you all our Taylor Swift Eras Tour outfits – Poison Ivy and Daisy – that Olivia and I wore this summer when we saw Taylor in Seattle.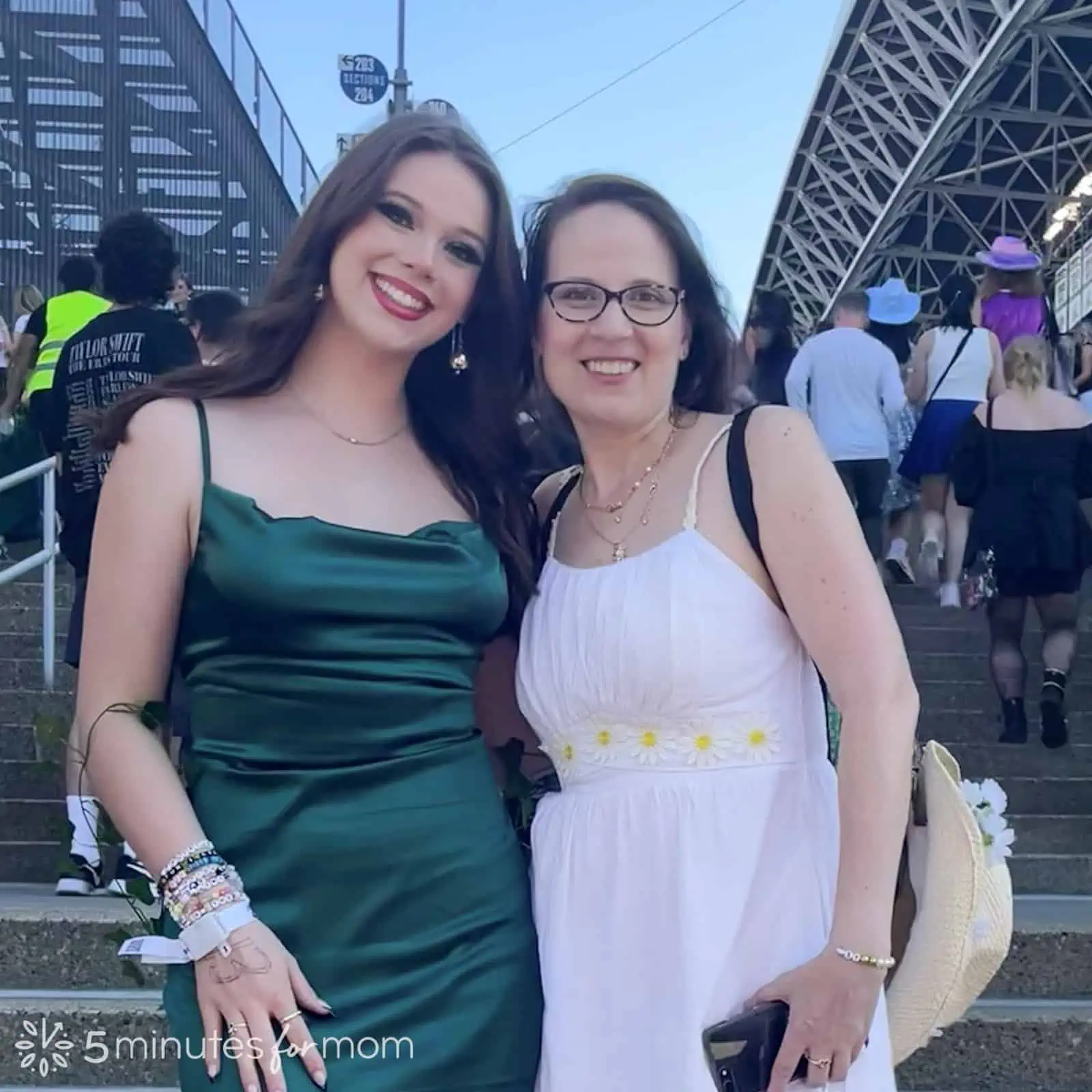 Yes, Olivia and I went to see Taylor Swift in concert this summer. And YES – it was definitely one of the greatest nights of our lives!
I bought Olivia and myself tickets on the original pre-sale (and no matter how much I could have sold them for, there was no way I was giving those up.)
It was so incredible to share that fabulous experience with my daughter. We LOVE Taylor!
I turned 50 this summer and Olivia just turned 16 in September, so it was kind of an early birthday celebration for both of us. It was a fantastic weekend and our wonderful, generous friend, Jenny Ingram, hosted us at her place for the weekend. It was so great to see Jenny in person too – it has been so long since I've seen any of my American friends.
Olivia and I dressed up as Poison Ivy and Daisy from the lyrics in one of Taylor's songs, Don't Blame Me.
Taylor Swift Eras Tour Outfits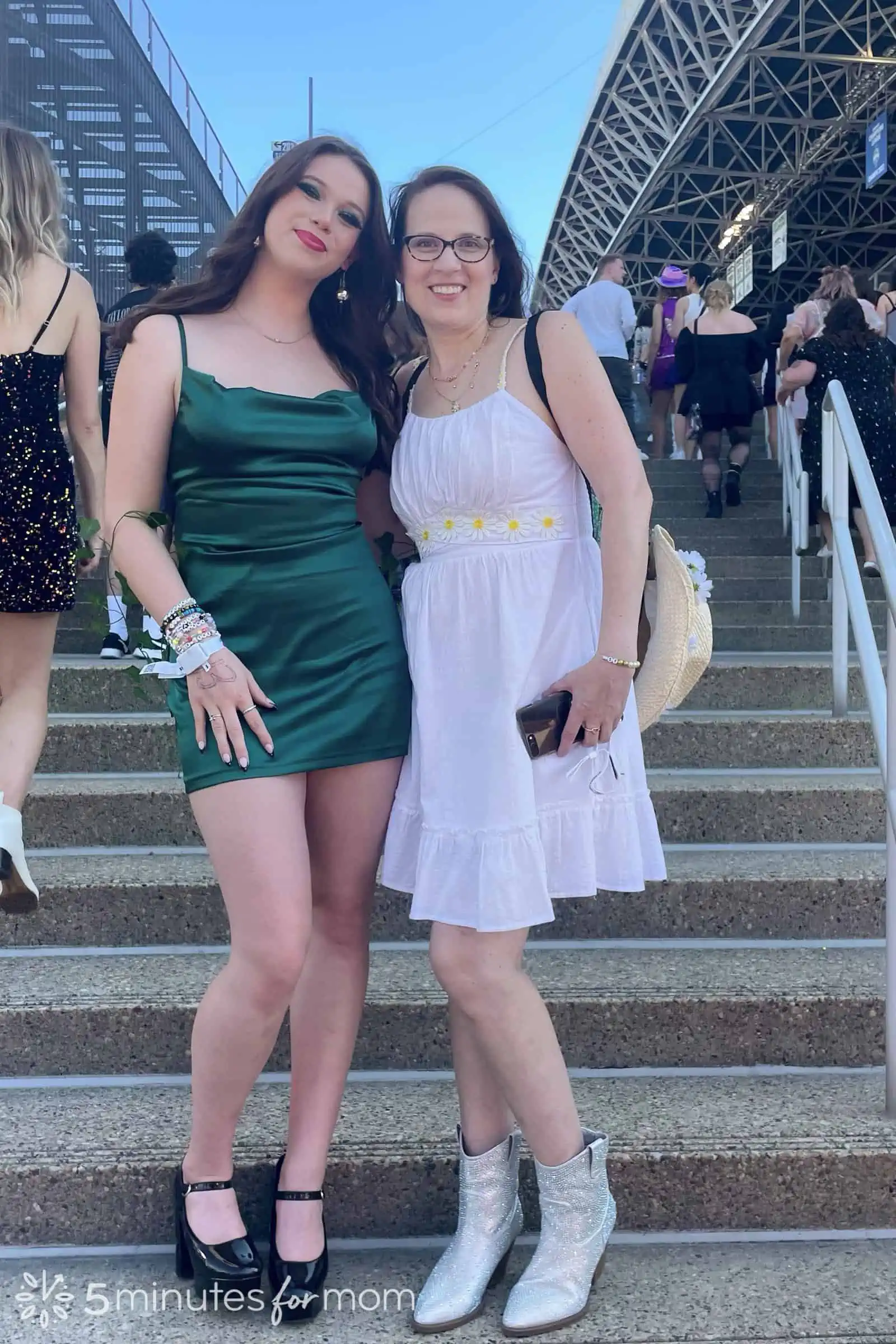 Olivia wore a green dress and a strand of ivy around her shoulders and I sewed some daisy trim on a white sundress and wore a cowboy hat trimmed with daisies. I also got some rhinestone cowboy boots for extra fun and sparkle.
I love this fun and easy Eras Tour outfit idea of Poison Ivy and Daisy. It is perfect for a friend duo costume or mother-daughter Taylor Swift costume idea and it is SO quick and inexpensive to create.
To transform into Poison Ivy, just grab a green dress or outfit, some ivy and a green hued eyeshadow or palette.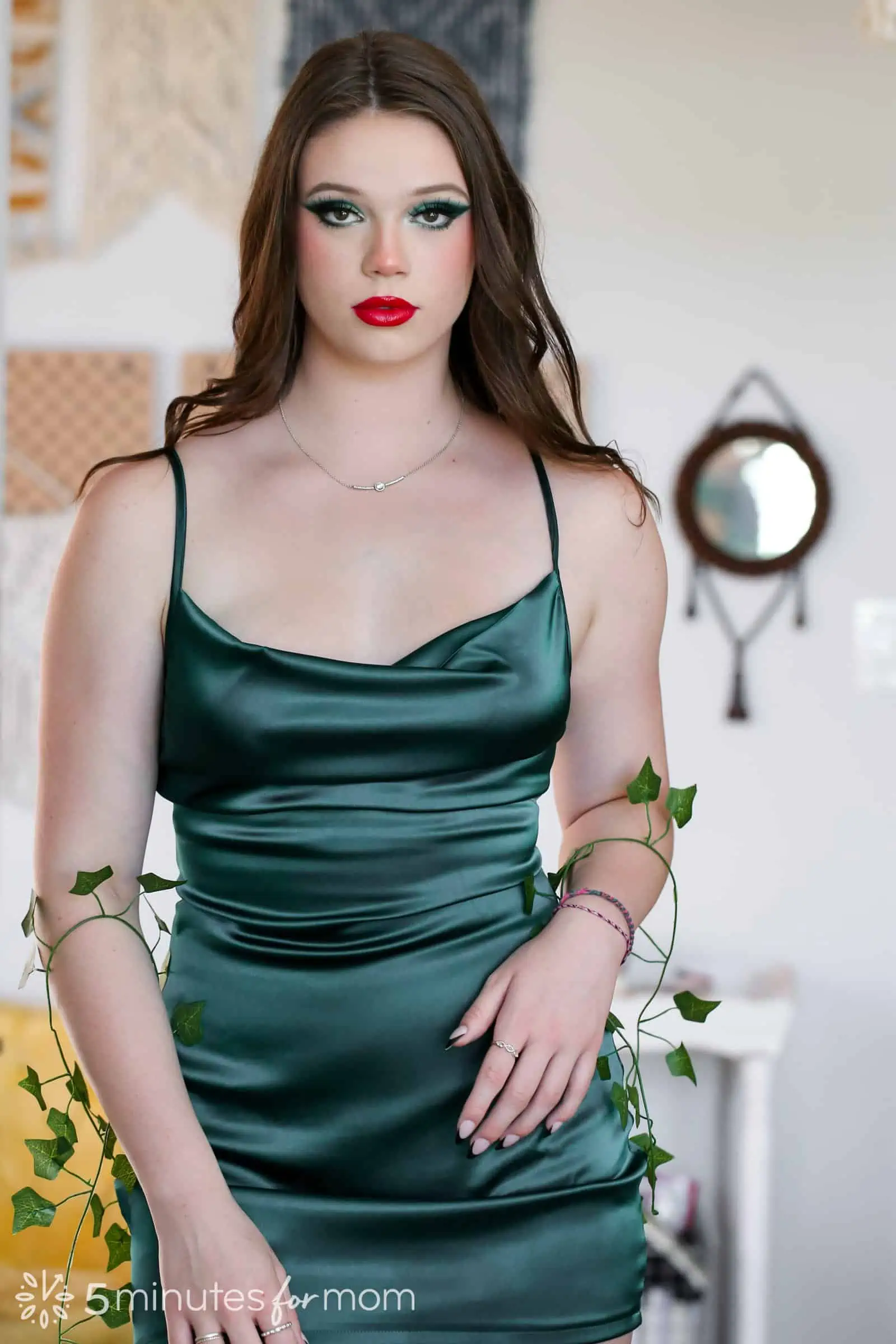 We bought this inexpensive green dress on Amazon. I tailored it a bit, shortened the hemline (I accidentally shortened it a bit too much, but Olivia didn't mind) and it worked beautifully. We also ordered the ivy on Amazon, but if you don't have time to order it on Amazon, your local dollar store will probably have ivy strands too.
Turning into a daisy is just as easy. I bought this adorable daisy trim on Amazon. It is inexpensive and you can quickly hand stitch it on to any dress or outfit. If you don't want to keep the daisy trim after, you can easily just stitch rip it out.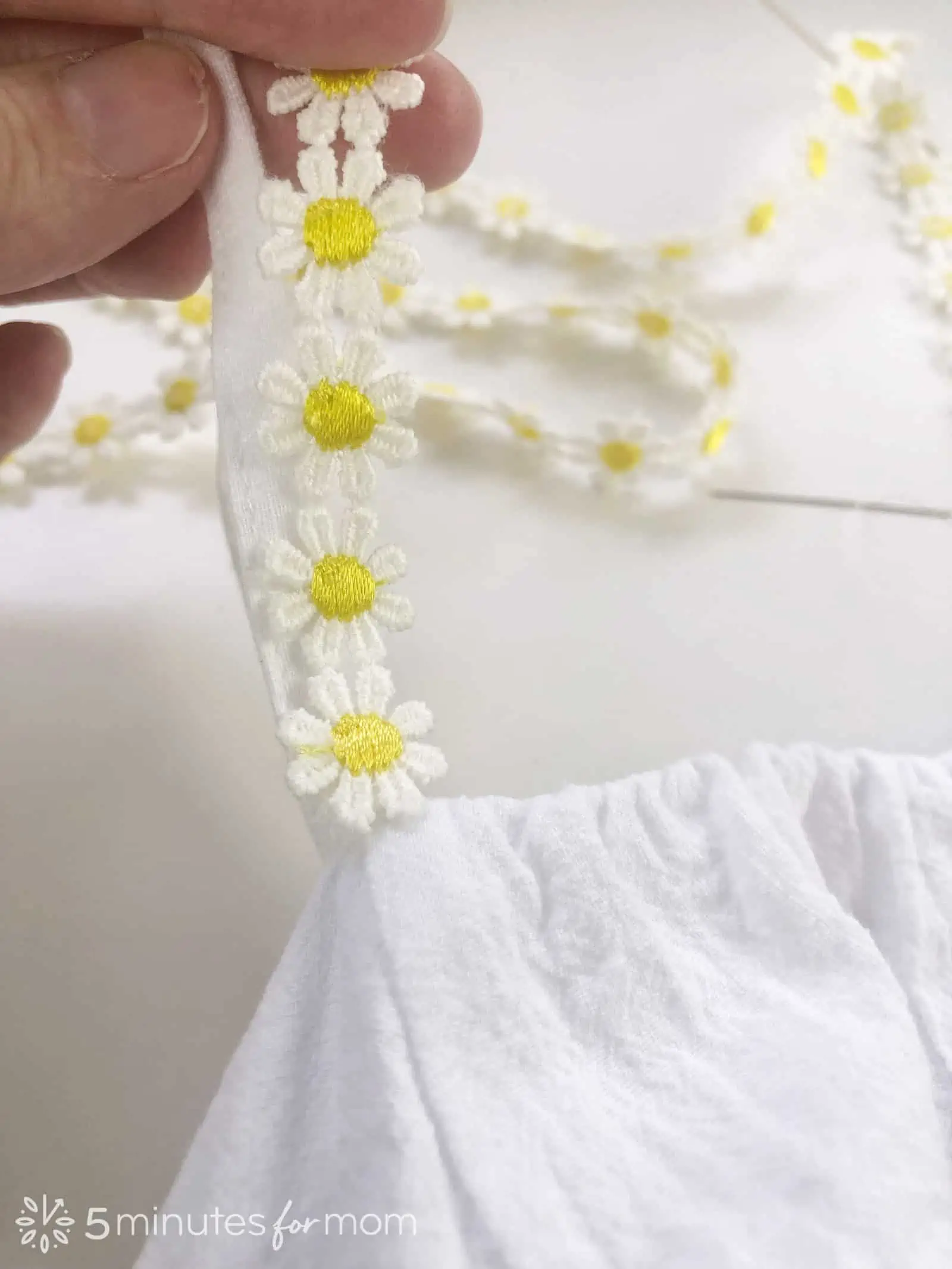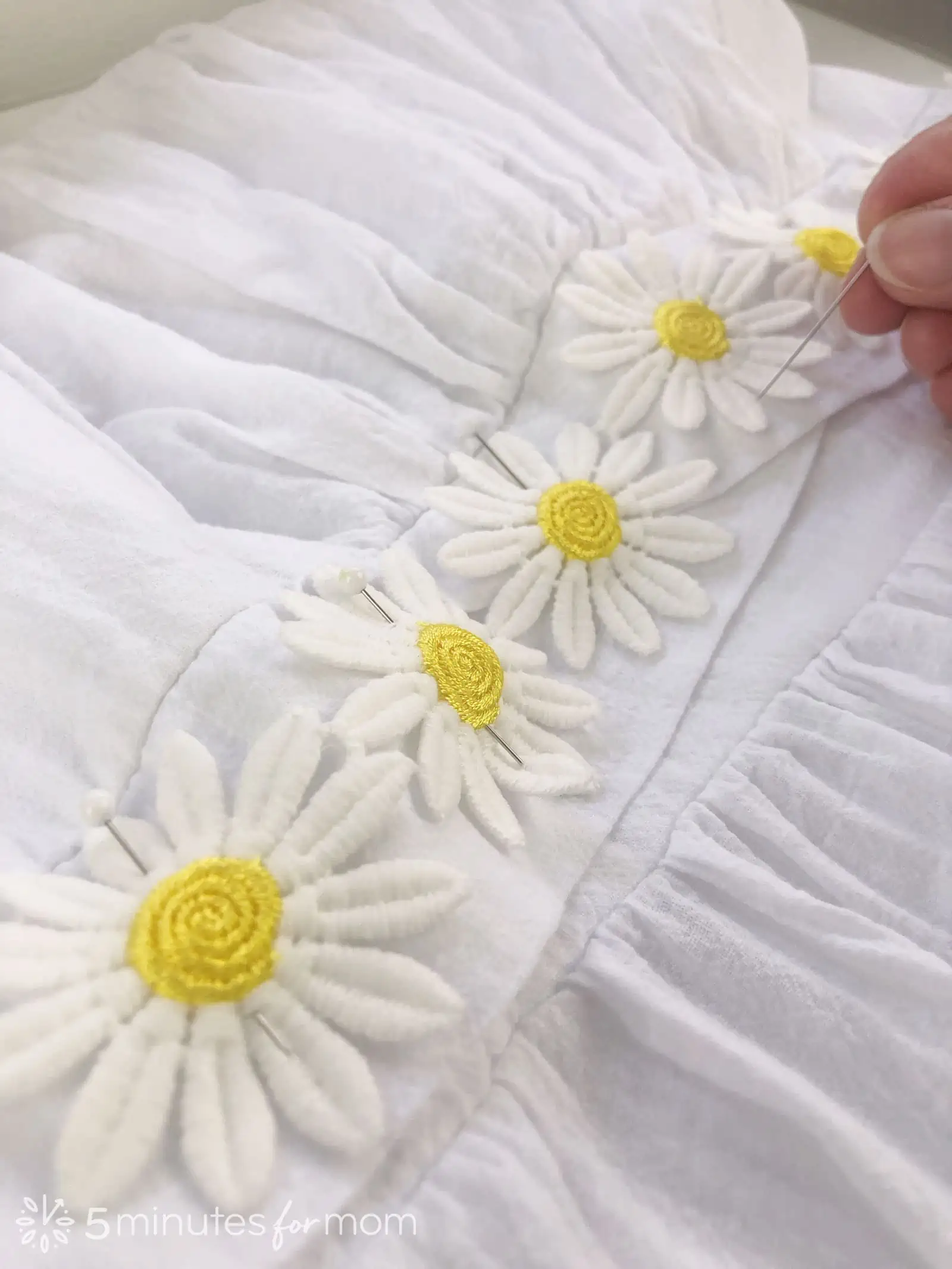 I bought the white dress on Amazon too. And I love it. It is super comfy and cute and definitely something I can wear again and again. Personally, I love the daisy trim and I am keeping it.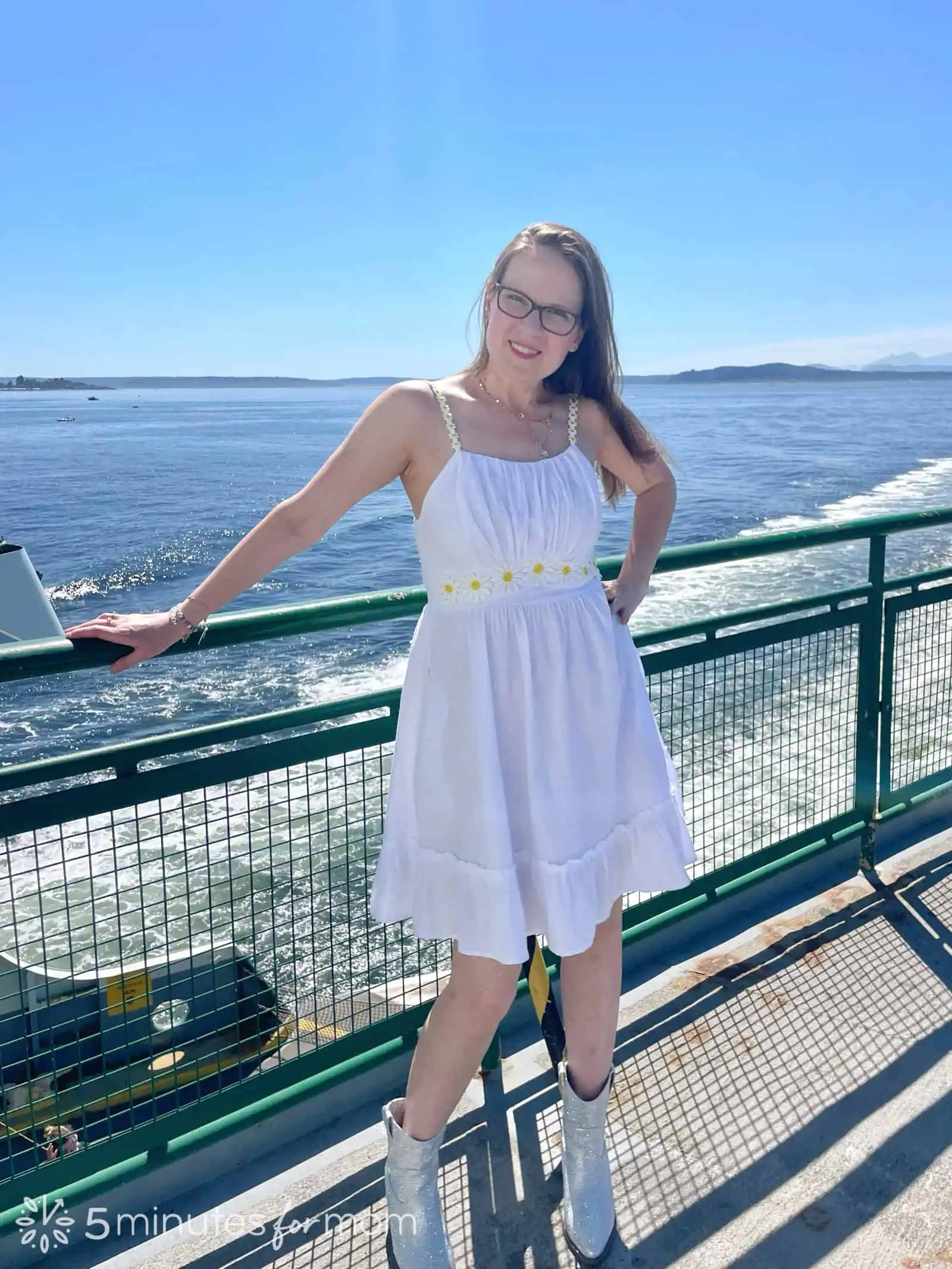 We found daisy flowers at our local dollar store and stitched them on to a cowboy that I already owned. (I was having so much fun catching up with Jenny and her family, I ran out of time getting ready and so in a last-minute sewing scramble Jenny jumped in and stitched my cowboy hat daisies before we rushed off to catch the ferry to the show.)
Poison Ivy and Daisy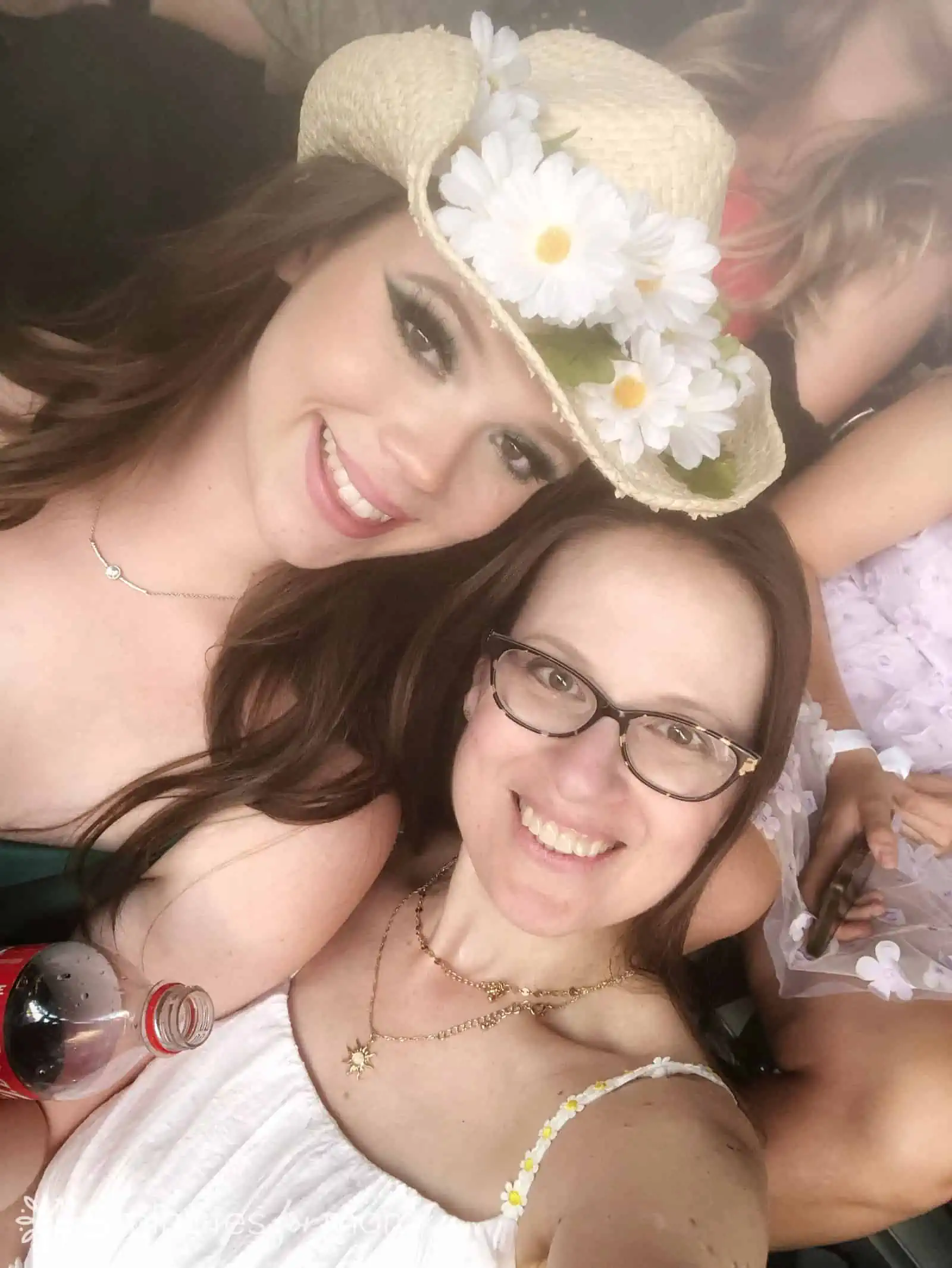 The hat turned out so sweet, Olivia stole it from me for awhile. She looks just so darn cute in a cowboy hat, don't you think?
If you want to add some cowgirl sparkle, I bought these rhinestone ankle cowboy boots on Amazon and they are really beautiful and pretty comfortable too. I was very surprised at how nice they are. I definitely recommend them.
(Olivia and I brought flip flops with us in our clear stadium backpacks though, because we knew we would be on our feet for a long time. And man am I so grateful we did have the flip flops. I guess I am old now and even just high heel cowboy boots were too much for all the walking and standing we had to do.)
We bought our clear stadium bags on Amazon as well. Here in Canada, we haven't had to use clear bags before. So I am glad we got these ones before we left. They were inexpensive and did the job perfectly.
(We had so many Amazon deliveries getting ready for the concert. Thank goodness for Prime.)
If you are looking for a quick Eras Tour outfit idea if you are heading to Taylor Swift: The Eras Tour movie or if you are lucky enough to have tickets to one of Taylor's upcoming World Tour dates, we hope these Poison Ivy and Daisy ideas are helpful.
Have Fun!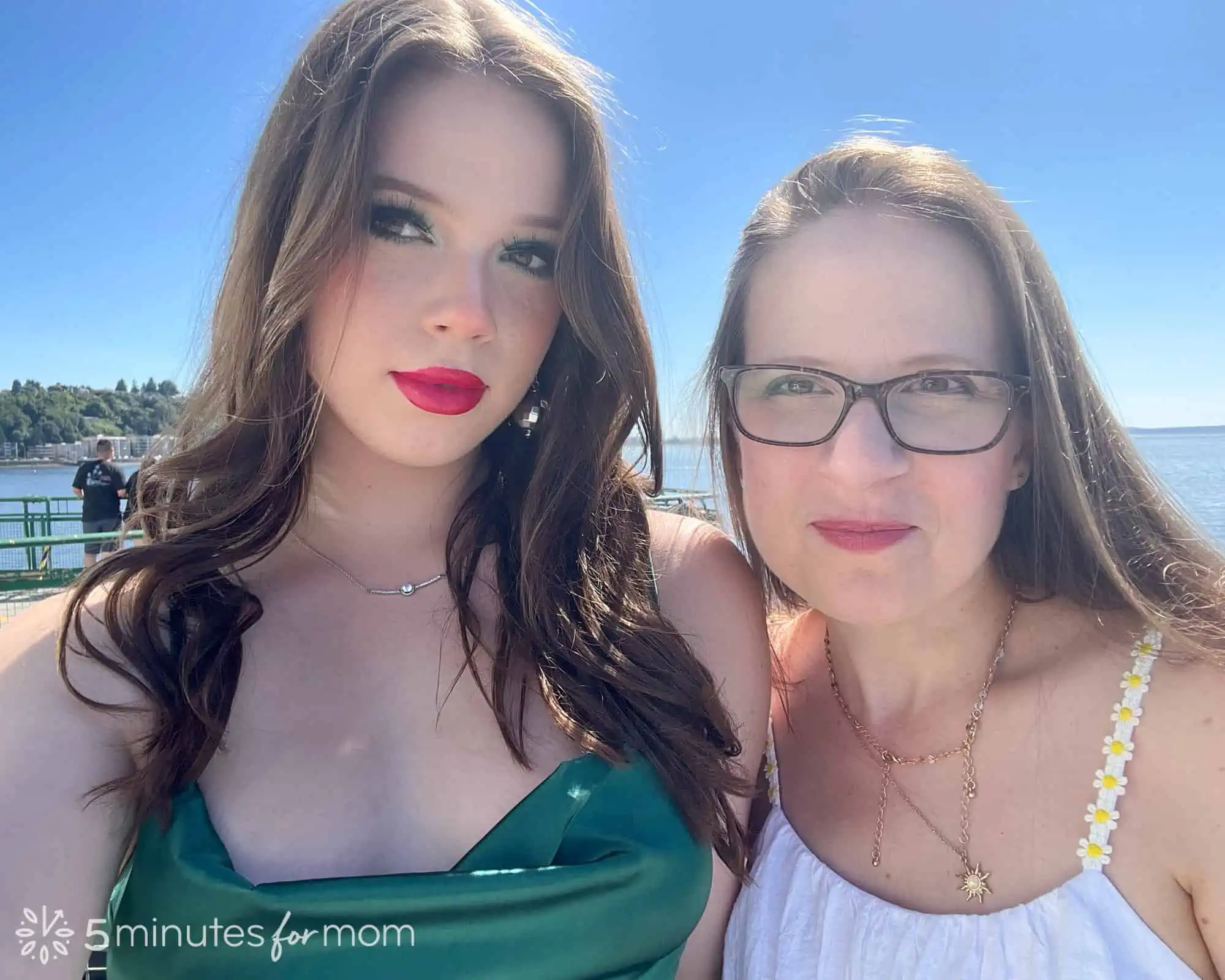 Discover More Costumes and Outfit Ideas
Pin it for Later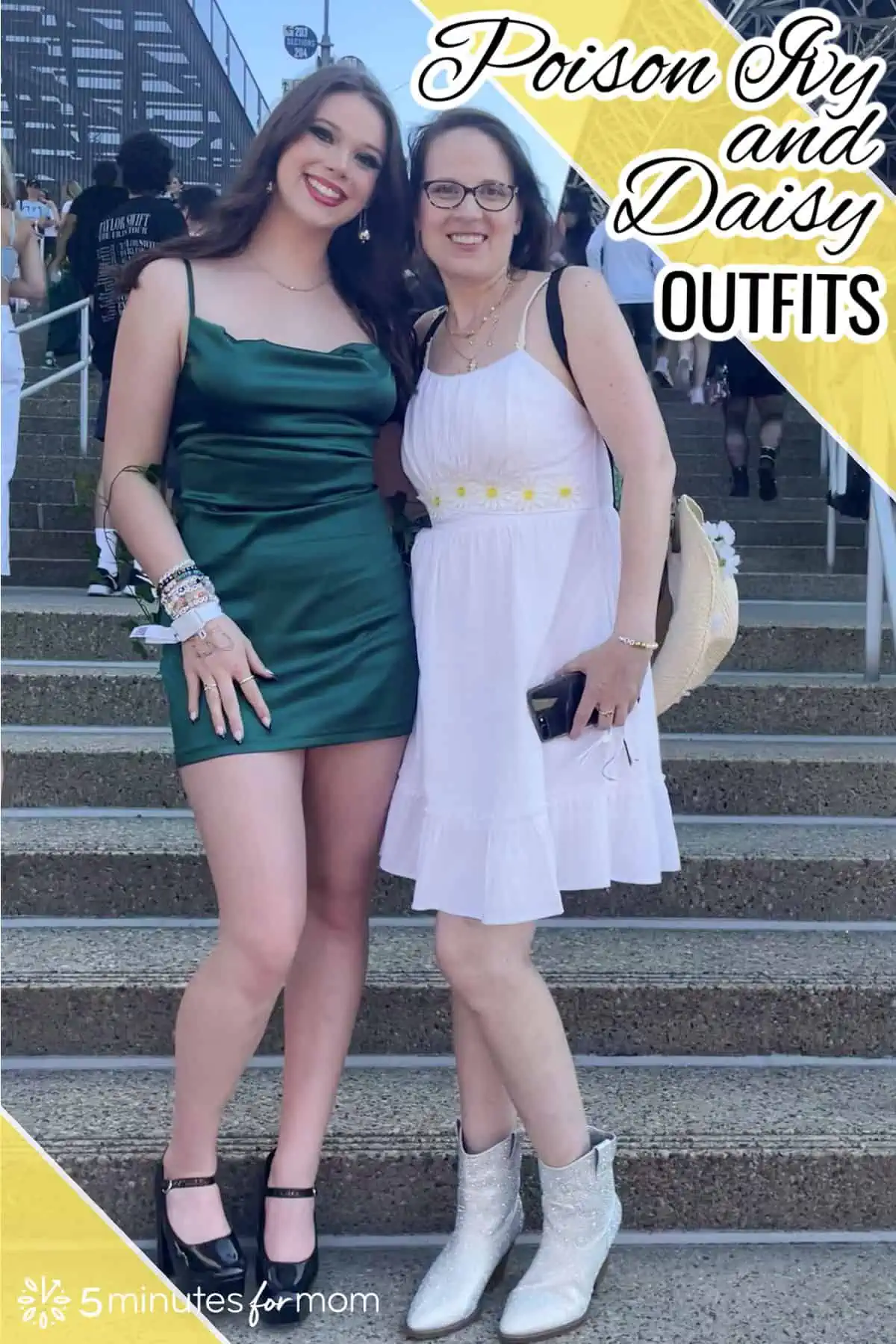 Written by Janice Croze, co-founder of 5 Minutes for Mom
Talk with me: @5minutesformom and Facebook.com/5minutesformom
Pin with me at pinterest.com/5minutesformom