This post may contain affiliate links. Read my disclosure policy here.
Stuffed Sweet Potatoes with Chicken and Hojiblanca Olives is an easy dinner idea that is healthy, satisfying, and delicious. And if you have picky eaters, stuffed sweet potatoes make a fun, versatile meal that you can customize to please everyone in the family.
Campaign financed by the European Union.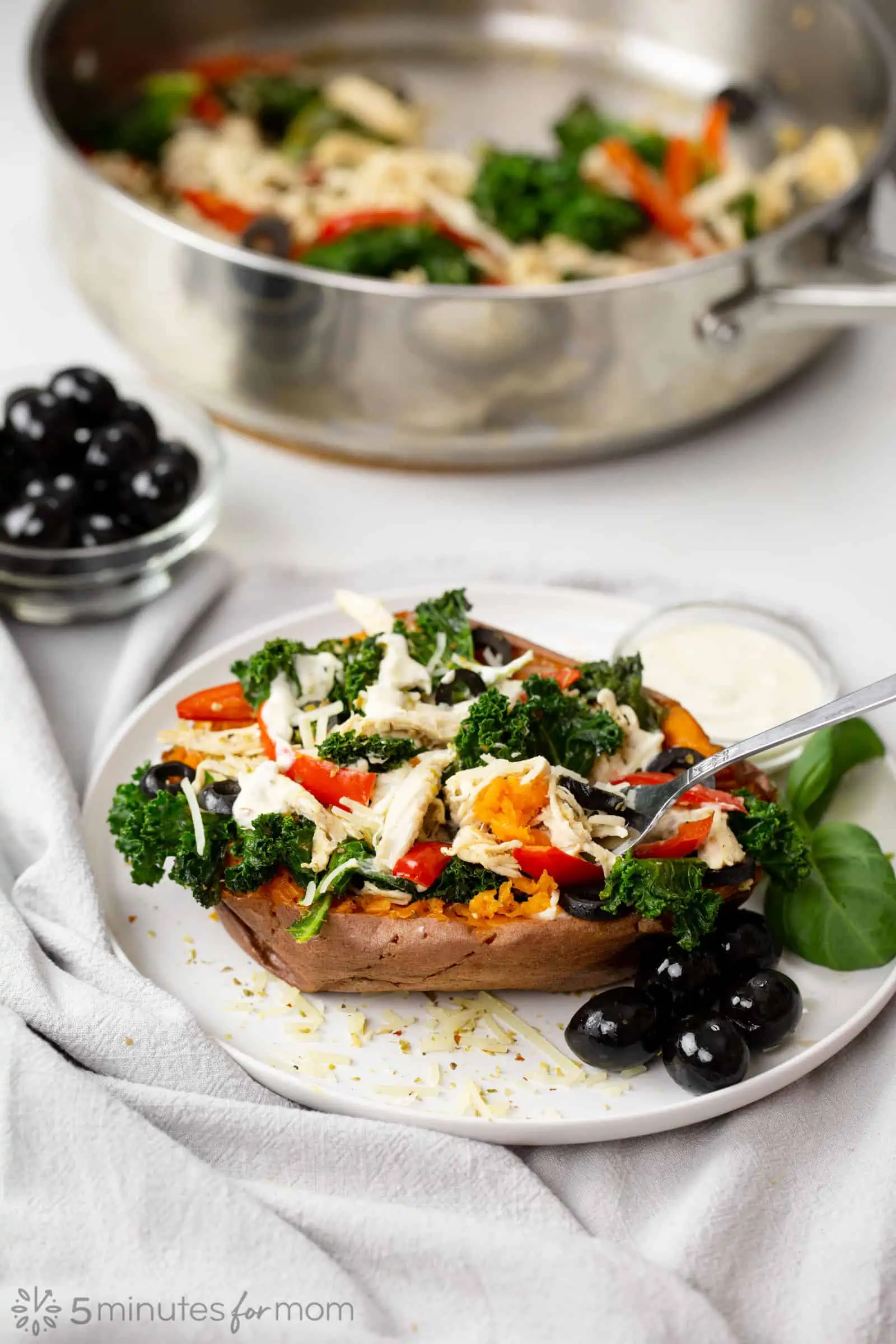 Trying to come up with new spins on dinner is one of life's constant frustrations – especially as a busy parent!
So for an idea you may have not tried yet – may we suggest Stuffed Sweet Potatoes?
Basically, we are just baking some sweet potatoes and topping them with veggies and protein to turn them into a well-rounded meal.
You can switch up your toppings however you want — and if you have someone in the house who doesn't like sweet potatoes, you can just throw in a regular russet potato to stuff/top for them.
And since the toppings can vary with all different varieties of veggies and protein, this meal can work with even the pickiest of eaters!
For these Stuffed Sweet Potatoes with Chicken and Hojiblanca Olives, we used rotisserie chicken to make this meal as quick and easy as possible.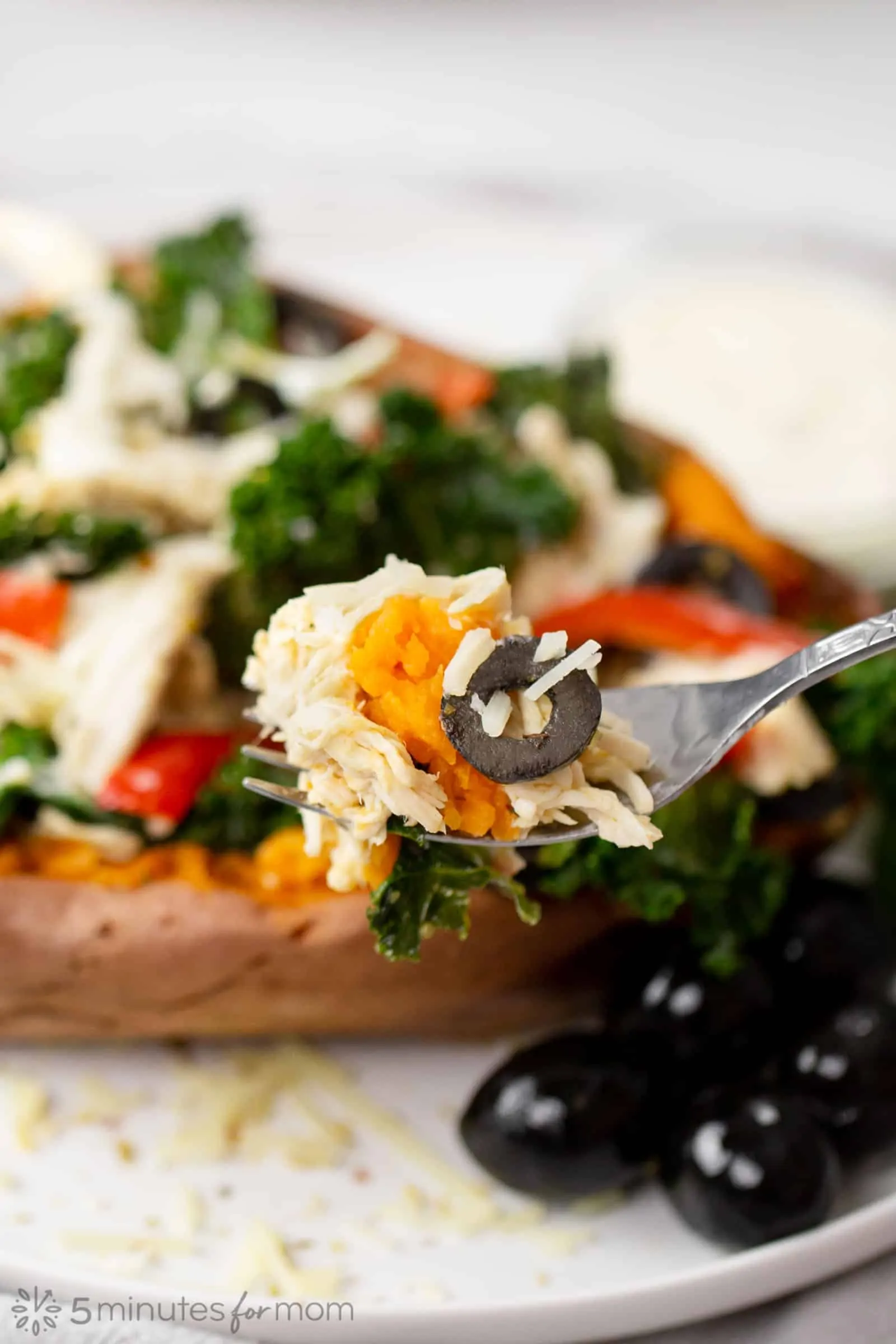 So whether you have already cooked chicken shredded and waiting to go or you grab a rotisserie chicken from the grocery store, you can throw this meal together super fast.
How to Bake Sweet Potatoes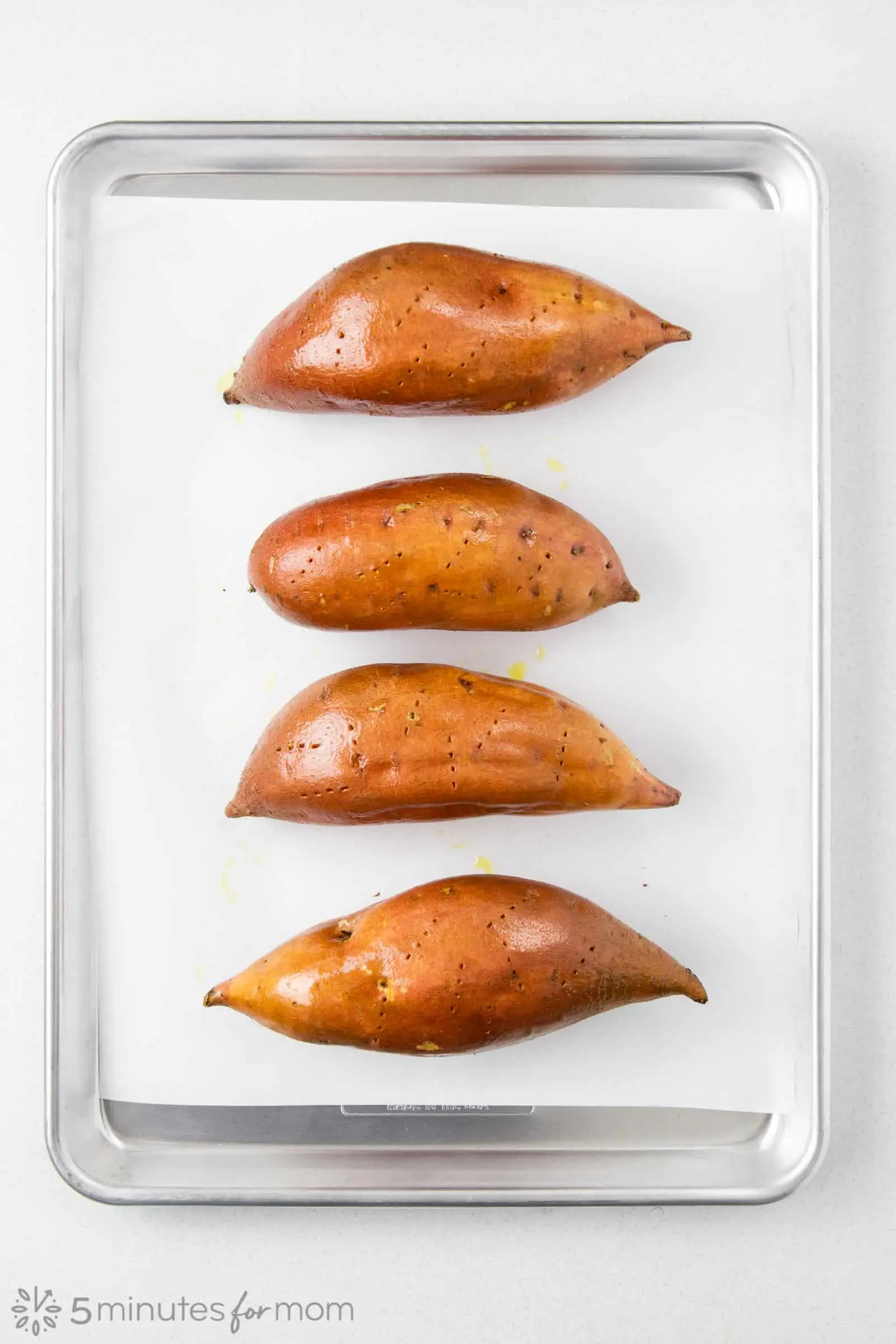 Roasting sweet potatoes in the oven is so simple – the trick is just remembering to pop them in the oven an hour before you need them ready.
When buying, try to choose sweet potatoes that are similar in size so that they take the same amount of time to cook. If yours do vary in size, no worries, just take the smaller ones out of the oven earlier than the larger ones.
Make sure you wash and SCRUB your sweet potatoes well to remove dirt. Sweet potato skins are safe to eat and contain extra fiber.
And don't forget to dry your sweet potatoes. Drying the potato skins helps them crisp while they are baking.
Poke several holes in each sweet potato with a fork or a knife to allow steam to escape – and keep your sweet potatoes from exploding. I have never had a sweet potato explode and I really hope I never do. That must be a terrible mess!
Then rub olive oil all over each sweet potato and place on a baking sheet lined with parchment paper or foil. (The sugary juice flows from roasting sweet potatoes, so lining your baking sheet helps with clean up.)
Bake in the oven at 400F to 425F for about 45-60 minutes, depending on the size of the sweet potatoes.
Sweet potatoes are fully cooked when they are soft and a knife easily slides throw the thickest part.
Allow the sweet potatoes to cool for a few minutes and then slice open and fluff with a fork.
If you don't have time to bake sweet potatoes in the oven, you can cook them in the microwave, although they probably won't be as crispy and fluffy.
To microwave sweet potatoes, follow the same steps as for the oven, (remembering to poke holes!) and then wrap the sweet potatoes in a damp paper towel and cook for 5-10 minutes on a microwave-safe dish, turning over halfway through cooking time.
Do you put holes in sweet potatoes before baking?
Yes, pierce holes in sweet potatoes with a fork or a knife when baking in an oven or microwave.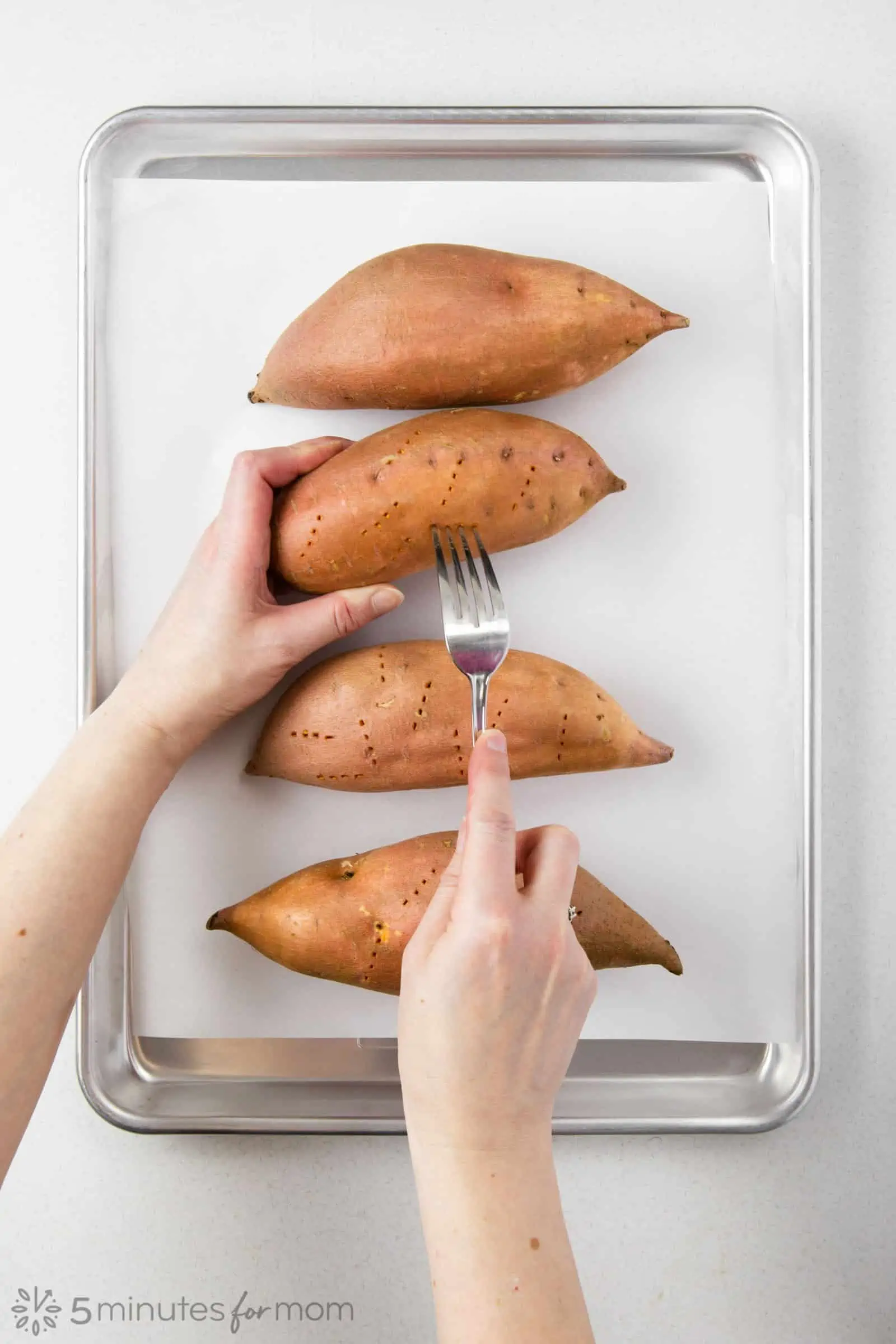 Piercing the skin of potatoes and sweet potatoes keeps steam from building up pressure inside the potato – and keeps them from expoding.
What temperature should you bake a sweet potato?
You can bake sweet potatoes between 400F and 425F. We usually bake sweet potatoes at 400F for about 50-60 minutes, depending on the size of the sweet potatoes.
How do you tell if a sweet potato is cooked through?
When the sweet potato is fully cooked it will be soft and oozing, with the skin wrinkled and crisping.
To test for doneness, insert a knife through the thickest part of the sweet potato. It should slide through easily, with no resistance. (We prefer to use a knife verses a fork so that I can reach to the center of the sweet potato.)
You can also test a sweet potato for doneness by inserting an internal thermometer into the center. A sweet potato is fully cooked between 205F – 211F.
What toppings are good on sweet potatoes?
Sweet potatoes are so delicious you can eat them as is or with just a pat of butter and a sprinkle of salt or cinnamon.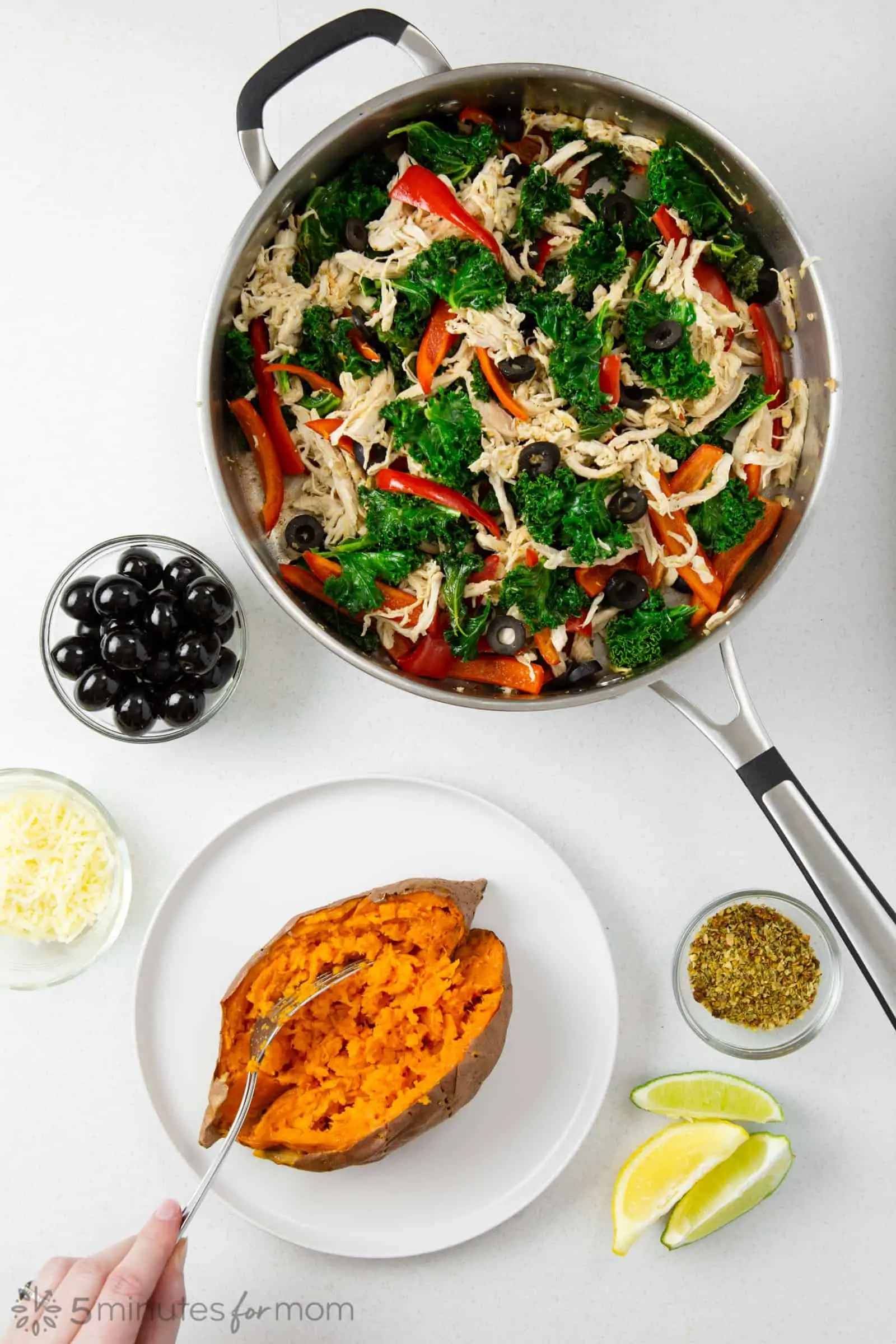 Or, you can go all out and load up your sweet potatoes with any kind of toppings you can dream up — cheese, yogurt or sour cream, beans, ground beef/turkey/chicken, veggies, chives, herbs, olives, etc.
Don't Forget the European Olives
Whether it is in a snack or a meal, adding European olives is a quick, convenient, and affordable way to get antioxidants, minerals, healthy fats, and fiber in your diet.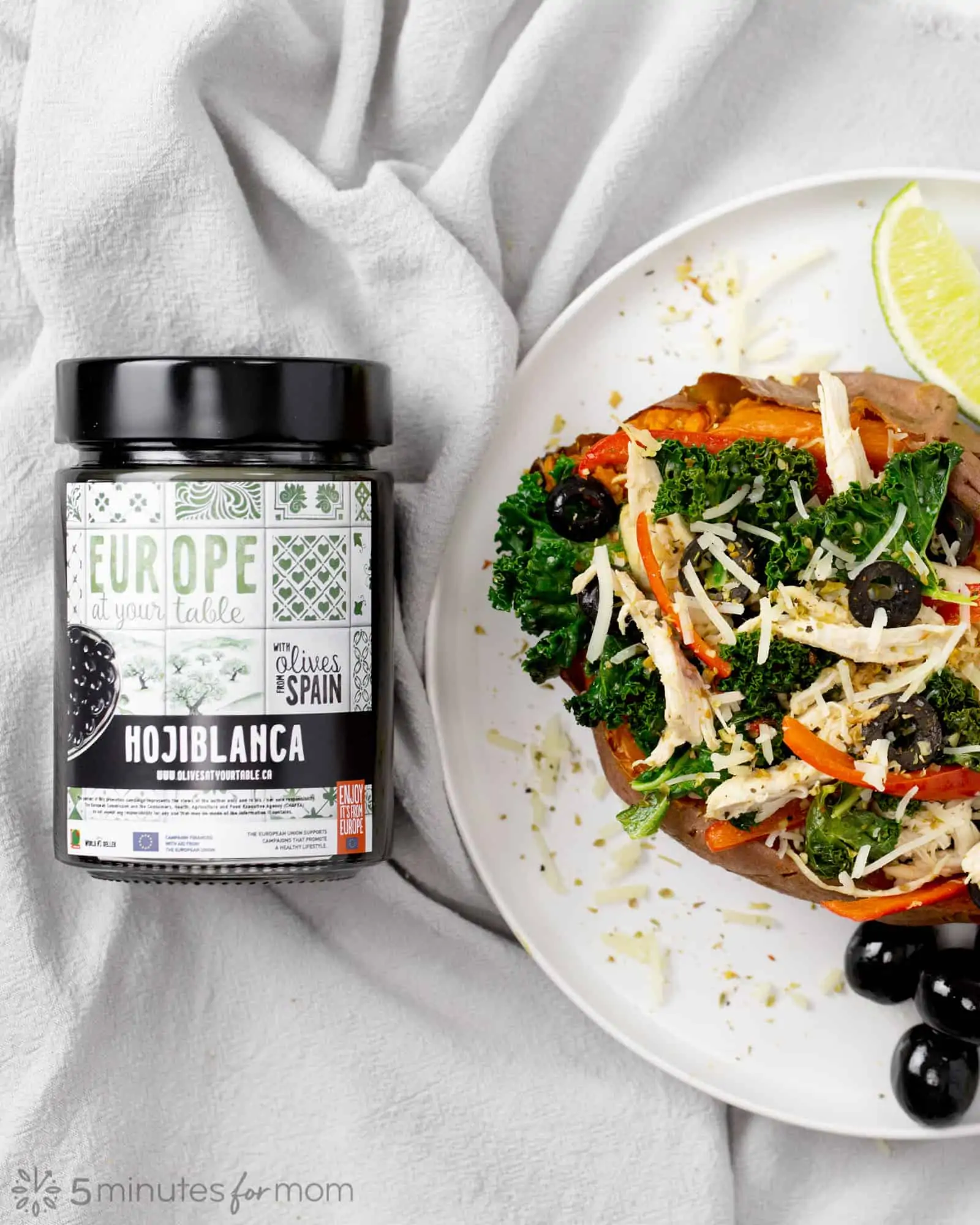 Adding Hojiblanca olives to our Stuffed Sweet Potatoes creates extra depth and flavour, while bringing extra nutrients.
And did you know that one out of every two olives eaten in Canada is Spanish? Yes, Spain produces a large variety of olives, including the flavourful Hojiblanca olives we used in this recipe.
Tangy Yogurt Dressing
We topped our stuffed sweet potatoes with our simple go-to yogurt dressing/dip base. We make yogurt salad dressing and dips for everything — veggies, tortilla chips, salads, and more.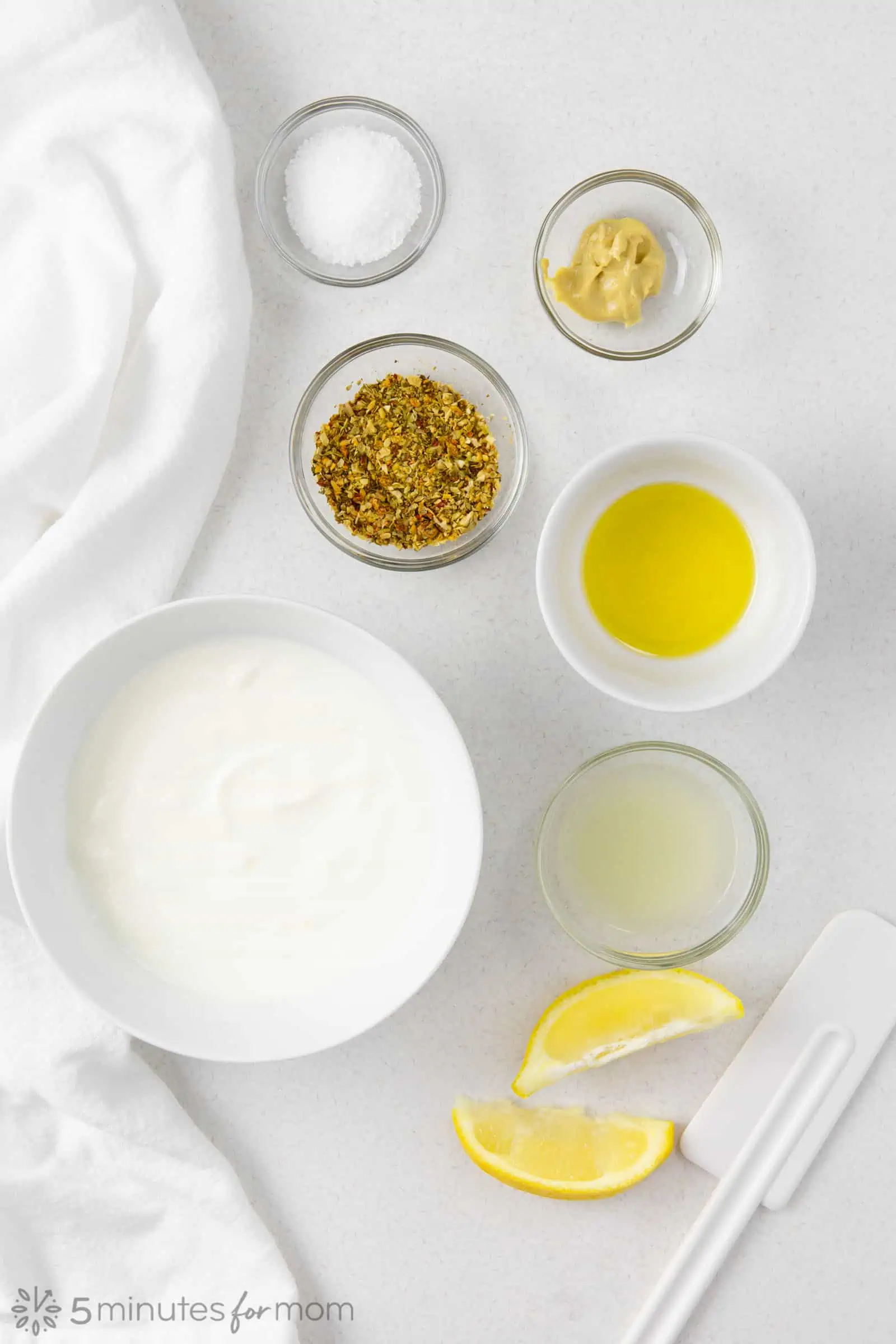 We use plain yogurt (for the best flavour and consistency, we prefer a 6 percent fat blend of plain yogurt – you can use whatever your favourite brand is for plain yogurt) and mix in some olive oil, lemon or lime juice, seasoned salt, and a blend of herbs. Sometimes we add in Dijon, as we did for this recipe. But the Dijon is optional – whatever suits your mood.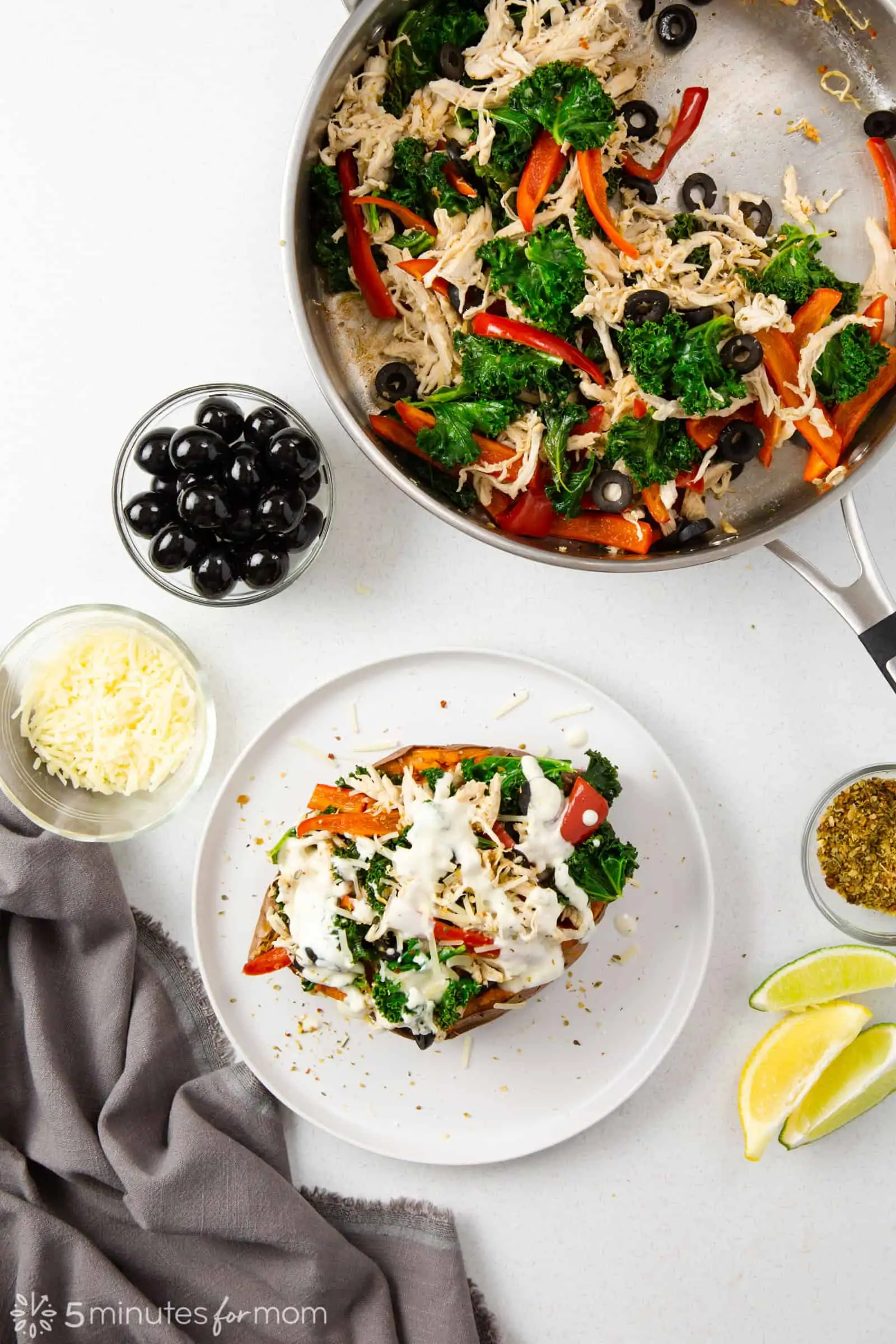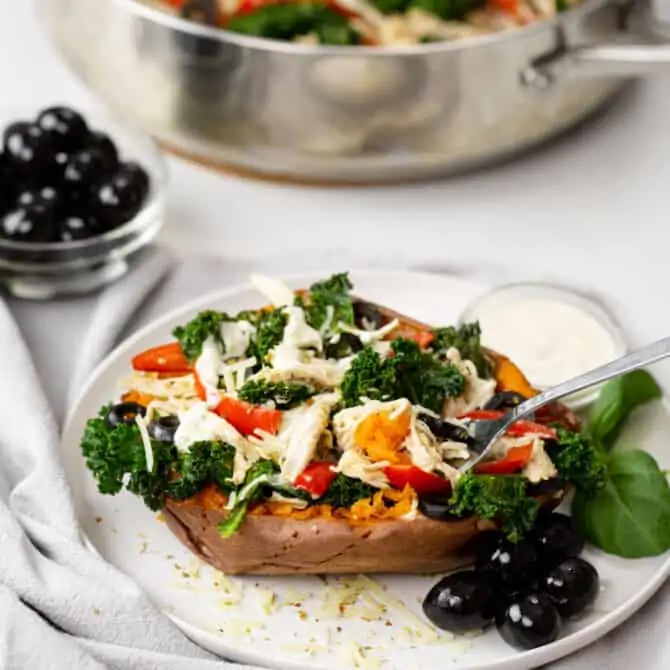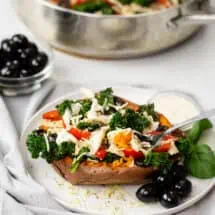 Stuffed Sweet Potatoes with Chicken and Hojiblanca Olives
Stuffed Sweet Potatoes with Chicken and Hojiblanca Olives is an easy dinner idea that is healthy, satisfying, and delicious.
Print
Pin
Rate
Servings: 4
Calories: 468kcal
Ingredients
4 medium sweet potatoes
1 tsp olive oil
Yogurt Dressing Ingredients
1 cup Plain yogurt or sour cream
1 tsp olive oil
1 tsp Dijon mustard
1 Tbsp lime or lemon juice
Seasoned salt
Herb blend of choice
Chicken and Veggie Ingredients
2 cups shredded chicken
1 bunch of kale or spinach
2 bell peppers
1 cup sliced Hojiblanca olives
1 Tbsp olive oil
Instructions
Wash and dry sweet potatoes - make sure to scrub off all the dirt

Pierce each sweet potato 4-5 times w a fork

Drizzle olive oil on sweet potatoes and rub all over each sweet potato

Place on parchment or foil covered baking sheet

Bake in a 400F oven for 50-60 minutes or until soft and knife pierces easily into center

While potatoes are baking, prepare yogurt dressing

In a small bowl, add yogurt with 1 tsp of olive oil, Dijon mustard, lemon juice, salt and herbs

When potatoes are done remove from oven and set aside to cool slightly

In a medium pan, add 1 tbsp of olive oil along with chicken, sliced peppers, kale and olives. Sauté until chicken is browned and peppers are softened. Season with salt, pepper and herbs of choice. Add a tablespoon or two of water if needed.

Slice open sweet potatoes lengthwise and gently "squish" open, fluffing the insides with a fork

Stuff each potato with the sautéed chicken and veggies. Garnish with cheese and yogurt dressing
Nutrition
Calories: 468kcal | Carbohydrates: 54g | Protein: 25g | Fat: 18g | Saturated Fat: 4g | Polyunsaturated Fat: 2g | Monounsaturated Fat: 10g | Cholesterol: 60mg | Sodium: 755mg | Potassium: 1212mg | Fiber: 10g | Sugar: 15g | Vitamin A: 35574IU | Vitamin C: 96mg | Calcium: 210mg | Iron: 3mg
Enjoy! it's from Europe
The content of this promotion campaign represents the views of the author only and is his/her sole responsibility. The European Commission and the European Research Executive Agency (REA)do not accept any responsibility for any use that may be made of the information it contains.

Disclosure: This post is sponsored, so extra thanks for reading and sharing.
Written by Janice Croze, co-founder of 5 Minutes for Mom
Talk with me: @5minutesformom and Facebook.com/5minutesformom
Pin with me at pinterest.com/5minutesformom
More Recipes You Will Love…
Don't miss these other delicious and healthy recipes…