This post may contain affiliate links. Read my disclosure policy here.
Are you looking for pretty teen Halloween costumes? We're excited to show you our DIY Halloween costumes for teens and tweens. We created these costumes for our girls a few years ago and we wanted to share them with you again.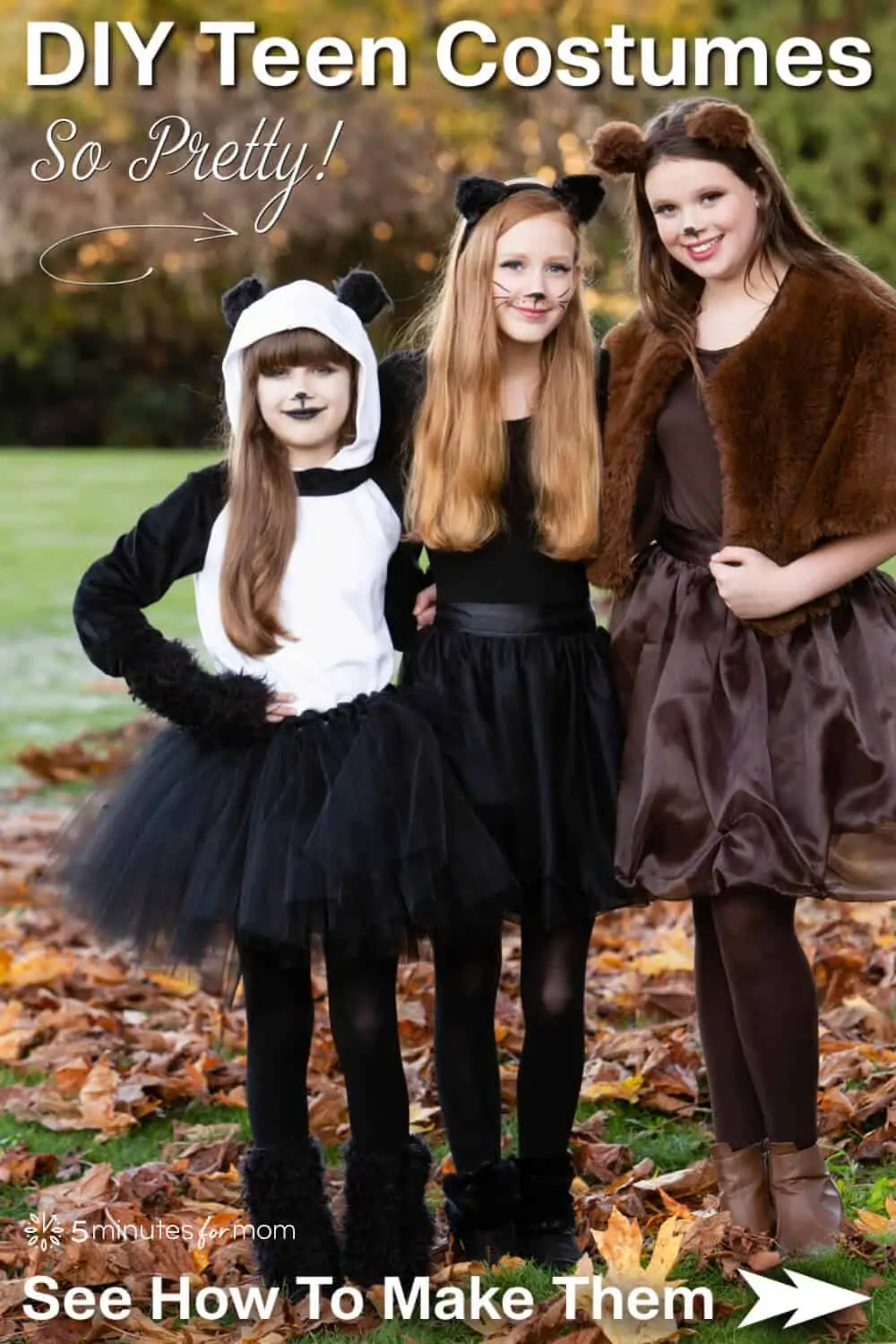 Since our girls are getting older, we made pretty costumes that are perfect for tweens and teens. When we made these costumes, my daughter Olivia, who is dressed as a brown bear, was 11 years old. Susan's daughter Sophia, dressed as a Panda bear, was also 11 years old. Susan's oldest daughter Julia was 13 years old and she's wearing a pretty cat costume for teens that is more "grown-up" for a teenage girl than our previous cat costumes we made when the girls were younger.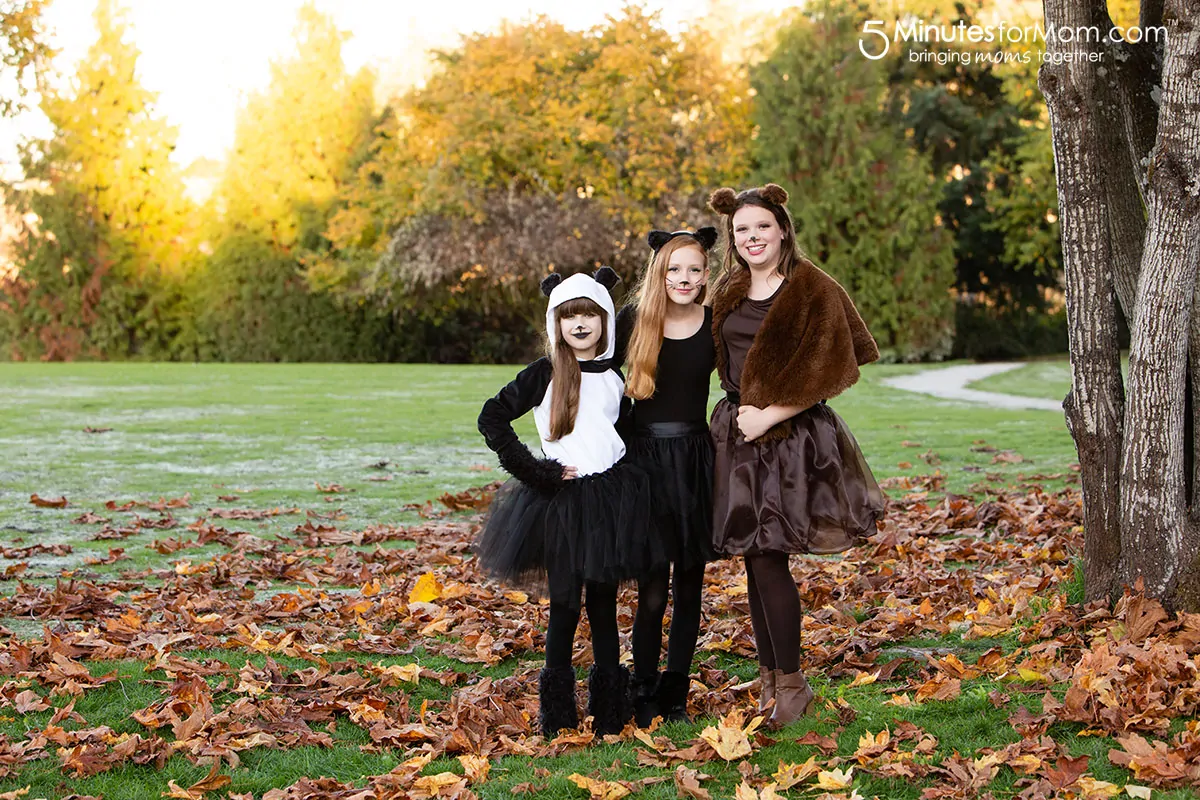 The planning goes on for months. My daughter, Olivia, and my nieces, Julia and Sophia are so obsessed with their DIY Halloween costumes, that before they have even finished trick or treating they are already discussing their ideas for next year's Halloween costumes.
But I don't mind. I love the excuse to get creative and make Halloween costumes for girls.
I have so much fun with the girls this time of year, sketching out their costume designs concepts, scouring the local fabric stores for the perfect materials, sewing the costumes, and having our annual costume photo shoot. I think it may be my favourite time of year.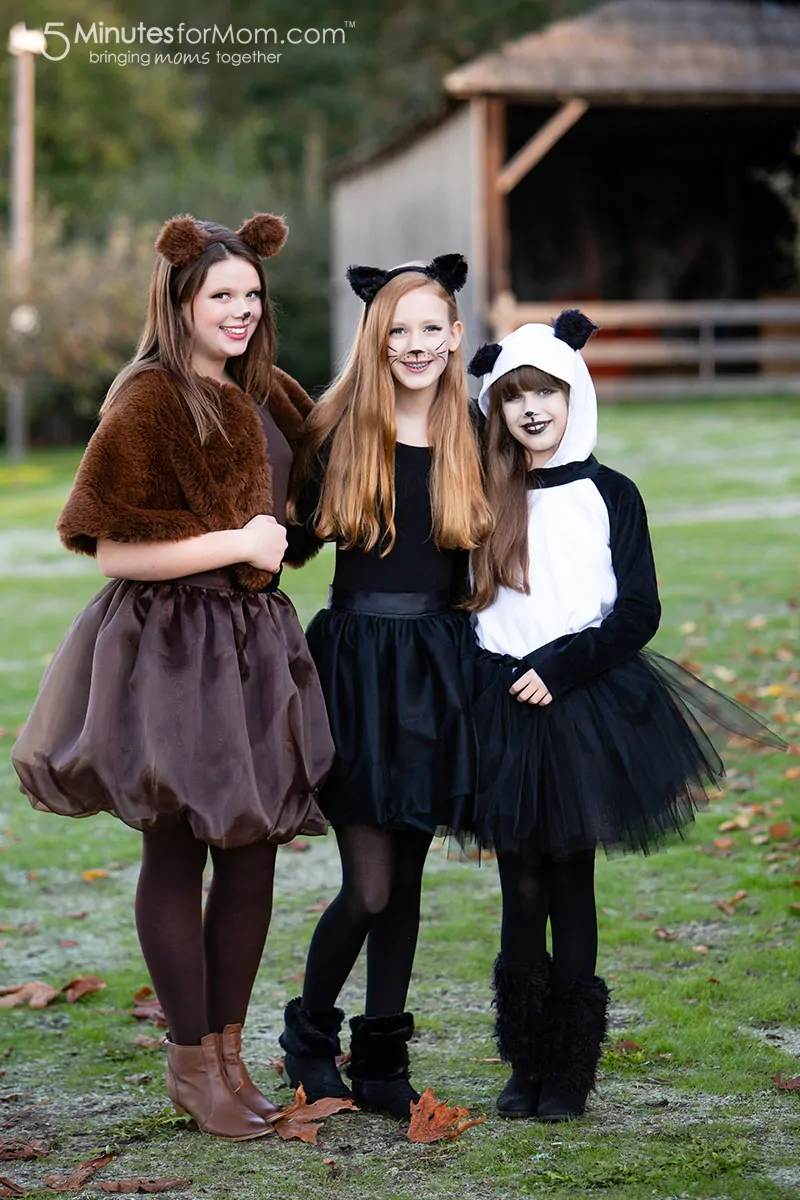 Teen Halloween Costumes
As girls get older and turn into tweens and teens, it can be hard to keep their Halloween costumes warm while also looking pretty enough for attending Halloween parties.
Our girls wanted these costumes to be pretty and animal-themed.
It can be quite cold here in Vancouver on Halloween, so to keep them warm and cozy in their fancy attire, I once again made faux fur shawls or capelets to finish off their outfits.
Three years before we created these teen Halloween costumes, we made cat costumes perfect for younger girls. The next year, Olivia was a Fall Flower Fairy while we made Julia and Sophia each a deer costume. And the year after that, Olivia was a unicorn, Julia was a fox and Sophia was a bunny.
This year, Julia is a black cat again, but this version we designed to be an easy cat costume for teens. Olivia's brown bear costume and Sophia's panda bear costume are also great for girls of all ages. Here is a look at our DIY Halloween Costumes for Teens…
DIY Black Cat Costume for Teens and Tweens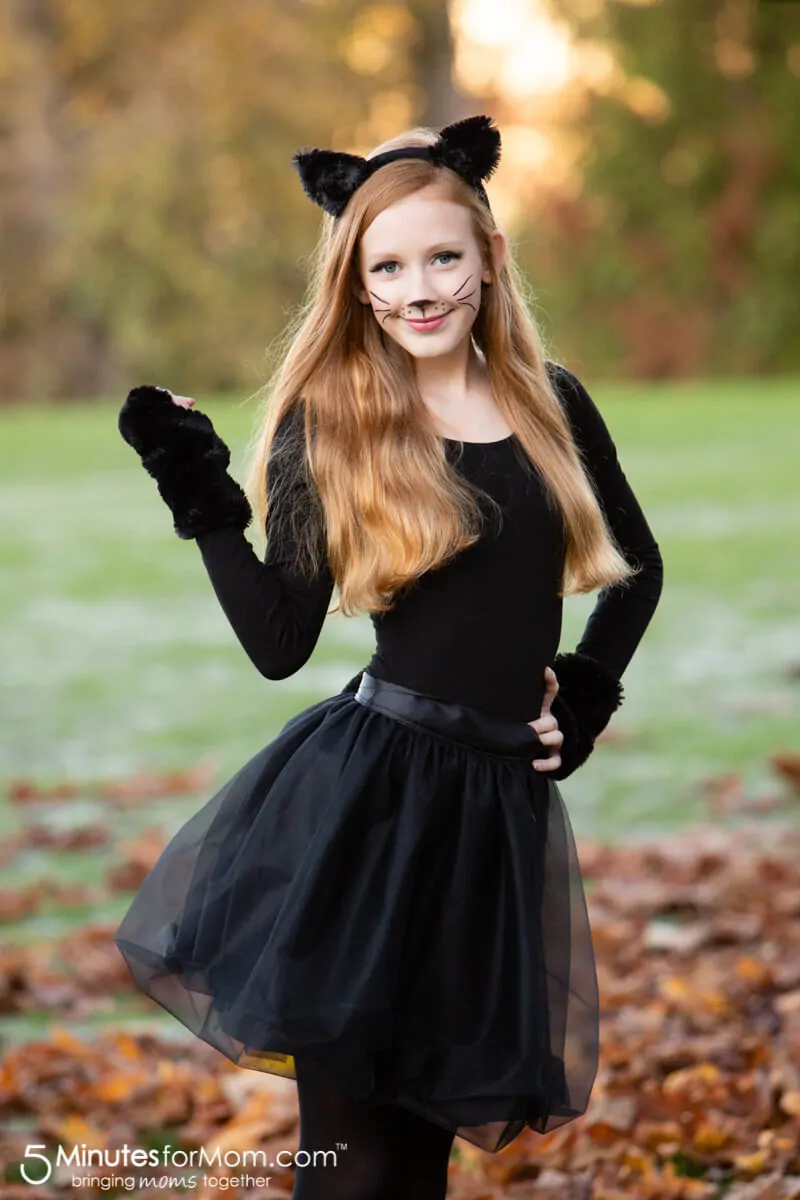 For Julia's black cat costume we used a gorgeous, super soft faux fur to make cat ears, fingerless gloves to keep her paws warm, leg warmers which we used as boot cuffs, and a black cat tail.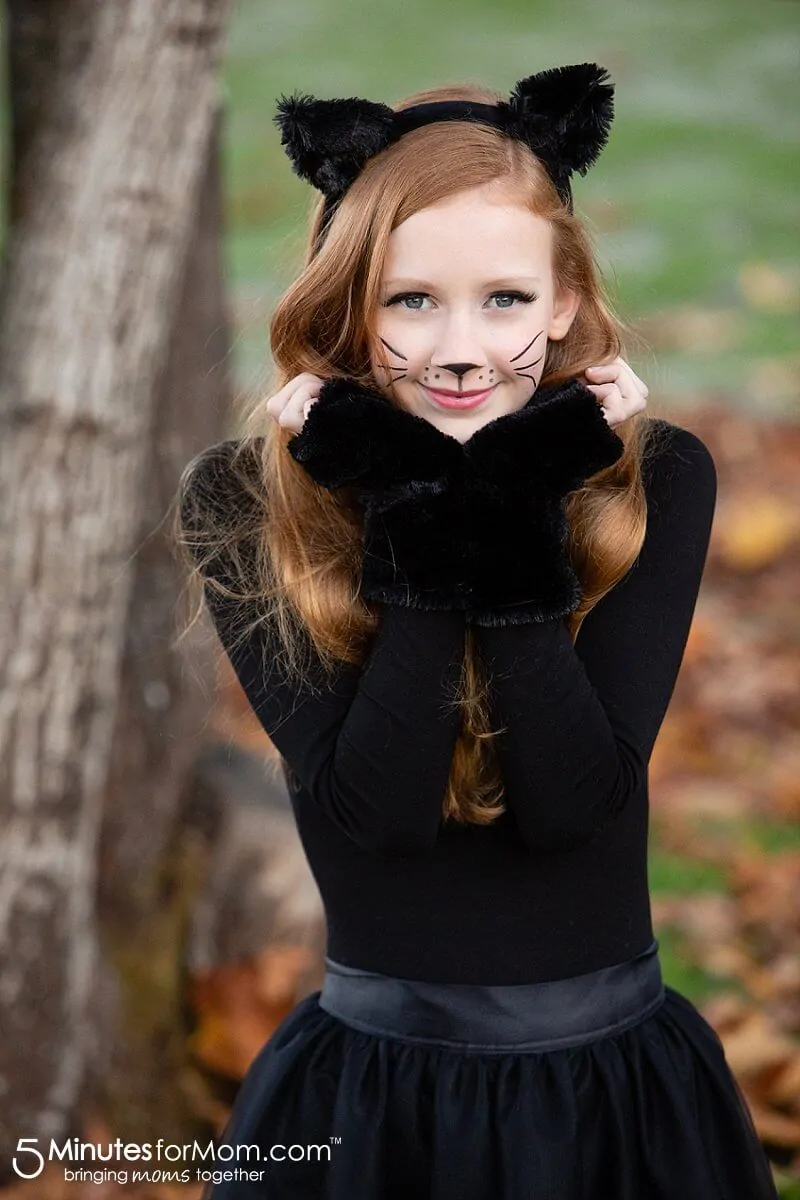 Julia loved the organza bubble skirt I made her last year for her fox costume and wanted something similar this year.
So I made this ribbon-trimmed black half circle skirt with a bubble overlay in soft crinoline. Since I used organza for her fox costume skirt, I wanted to use a different fabric this year.
We found this soft crinoline that had a soft hand and a bit of a sheen. Once again, I added pintucks at the bottom of the bubble skirt to add some lift and create more volume. The crinoline worked beautifully and we all loved how it turned out.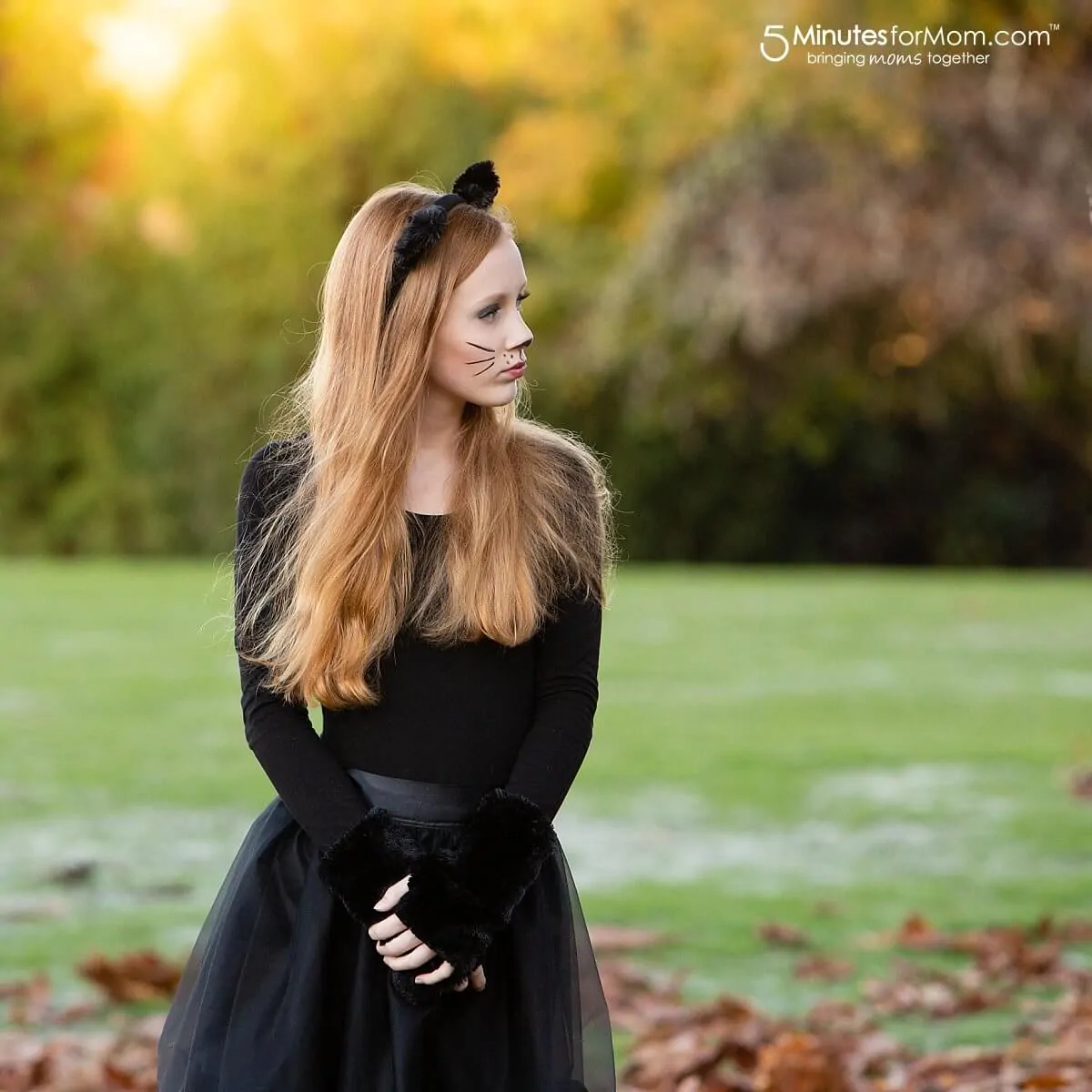 DIY Brown Bear Costume
Olivia wanted some serious brown fur to create her brown bear look. It took us a little while to find the perfect fur and I almost gave up and ordered some online. But then, in the clearance bin at one of our local Fabricland stores, we found this piece of brown faux fur.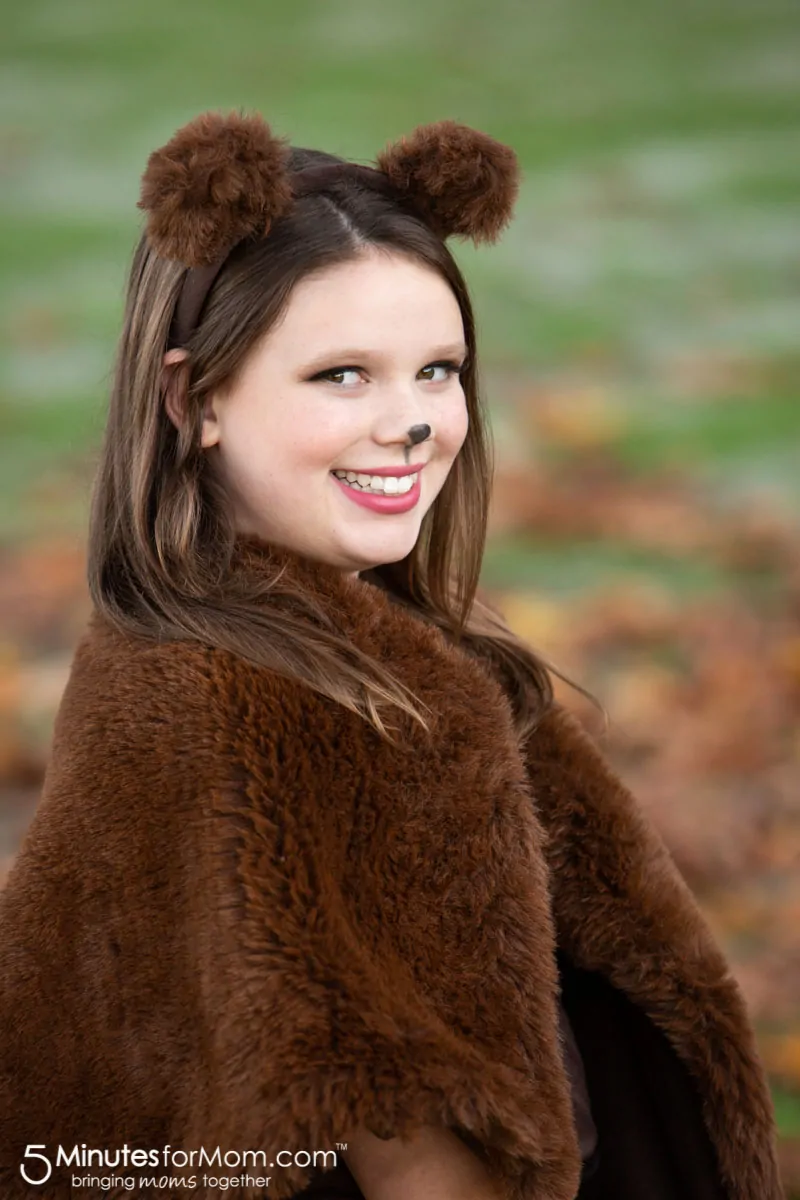 We were able to make adorable brown fur ears and a super warm capelet. To make sure the capelet was extra soft and comfy, I lined the inside with brown chenille minky fabric. It is so warm and wonderful.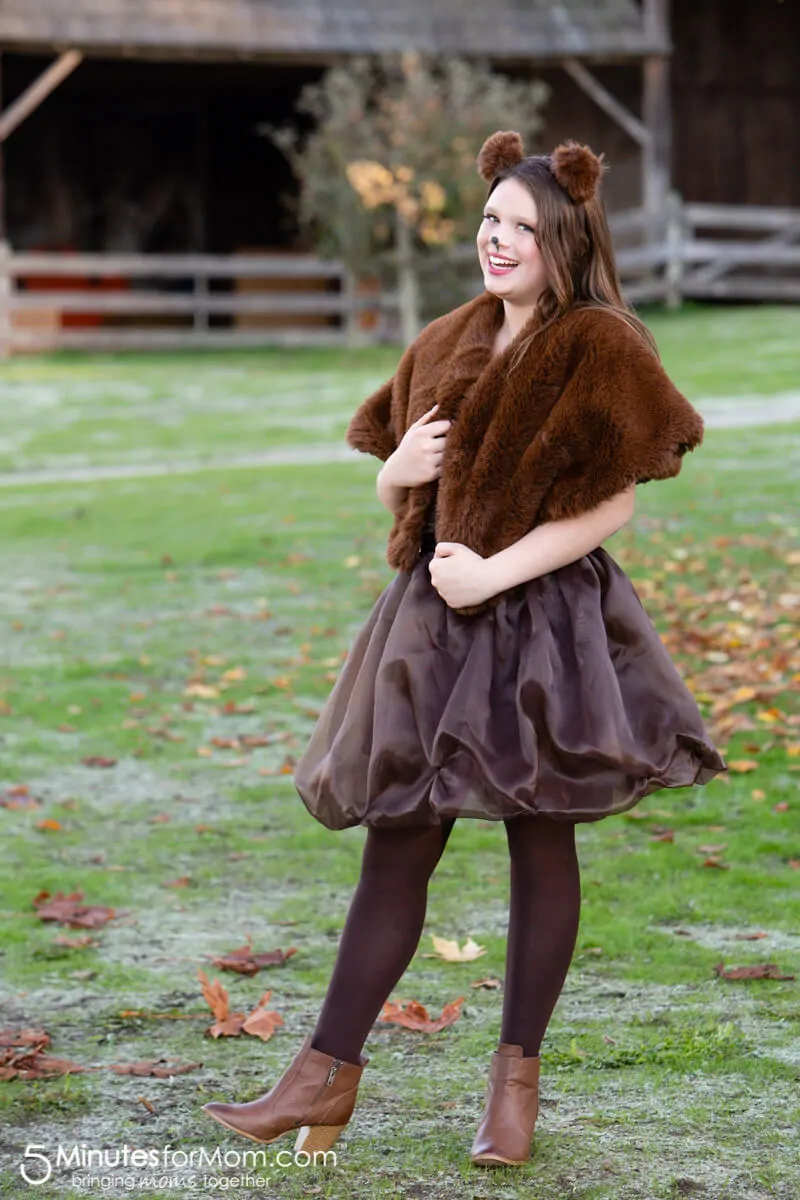 I also made an A-line dress with a brown knit fabric and trimmed the neckline and sleeves with the same brown chenille minky fabric that I used to line the capelet.
Finally, I made an organza bubble skirt, with small pin-tucks to allow for more volume in the skirt and a ribbon trimmed waistband, that Olivia wore on top of the A-line dress. As far as teen Halloween costumes go, this outfit is a sure winner!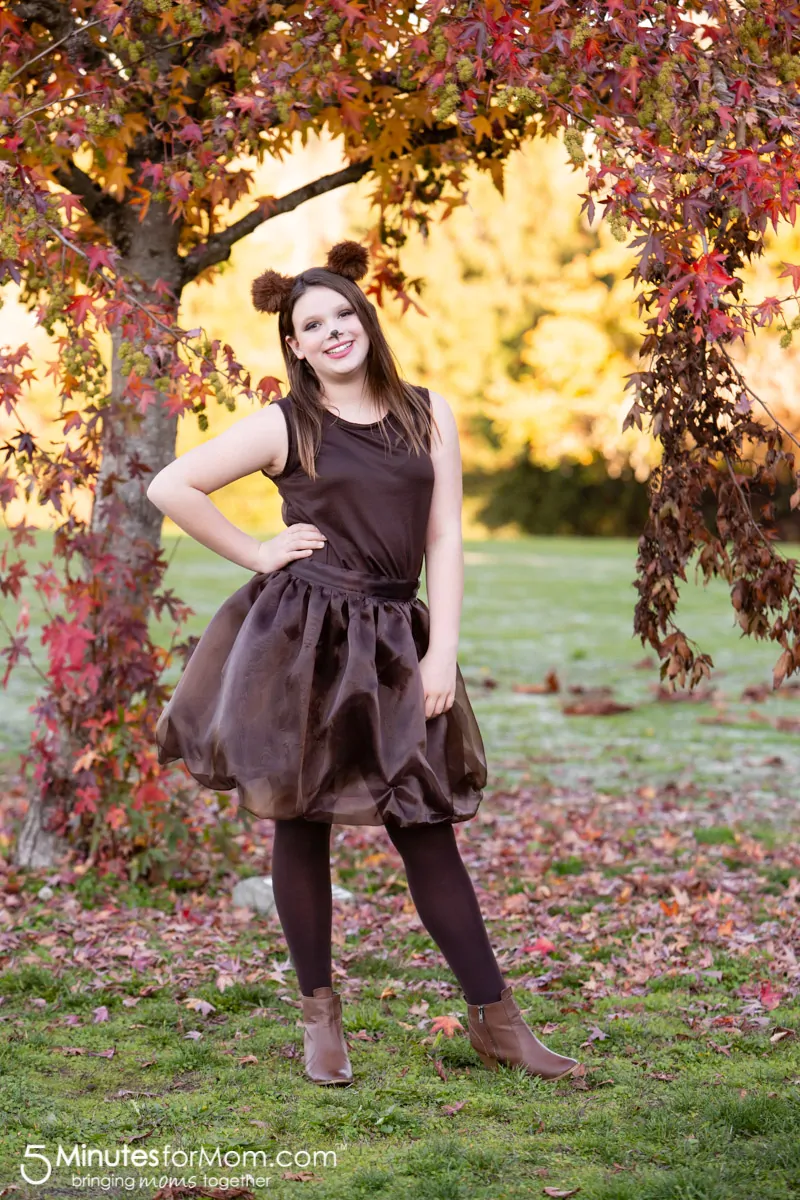 I loved Olivia's bear costume so much that I actually borrowed it and wore it to a Halloween party myself on the weekend. She has grown up so much this past year that we now wear similar sizes. Since the costume fit me too, I couldn't resist wearing it myself. Thankfully, Olivia was happy to share.
DIY Panda Bear Costume
How adorable is our panda bear Sophia!?!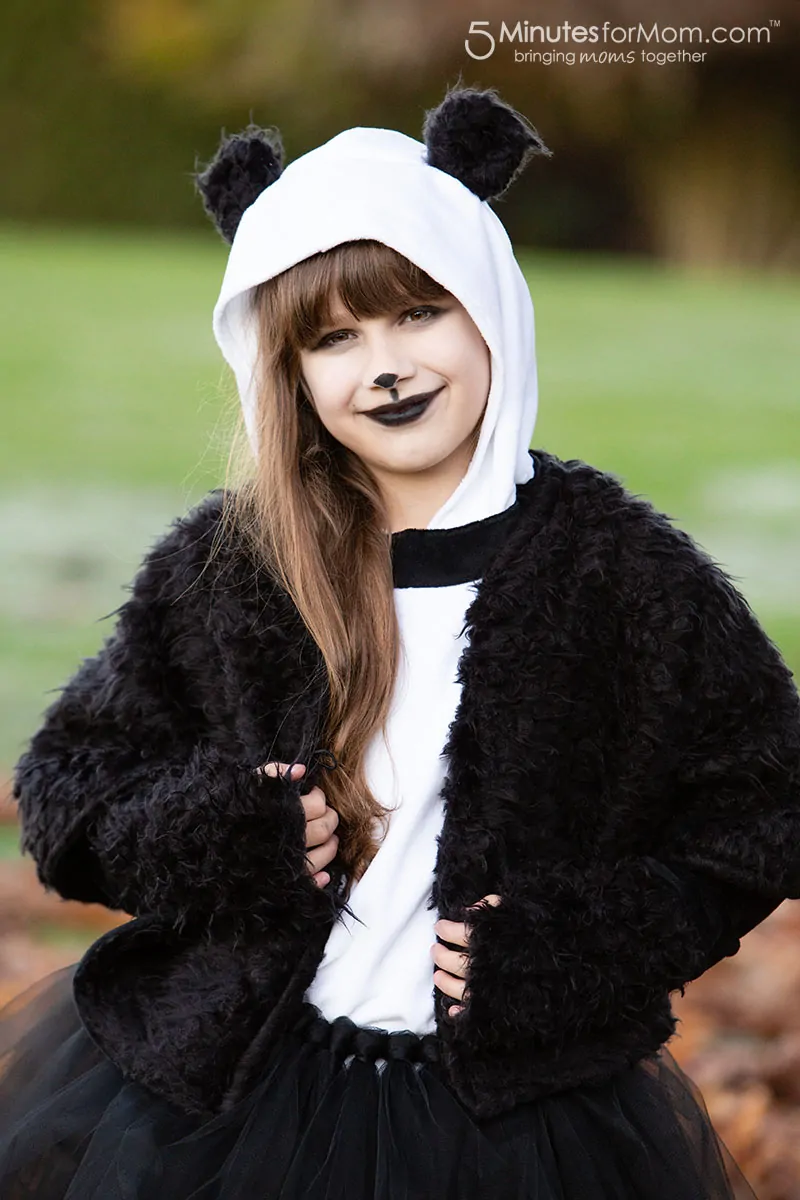 I am so in love with this costume! I am just thrilled with how well it turned out.
For this panda costume, we made a chenille minky hoodie in panda black and white with black fur ears, a black tulle no-sew tutu, black faux fur fingerless gloves and leg warmers, and a black fur capelet, lined with black chenille minky.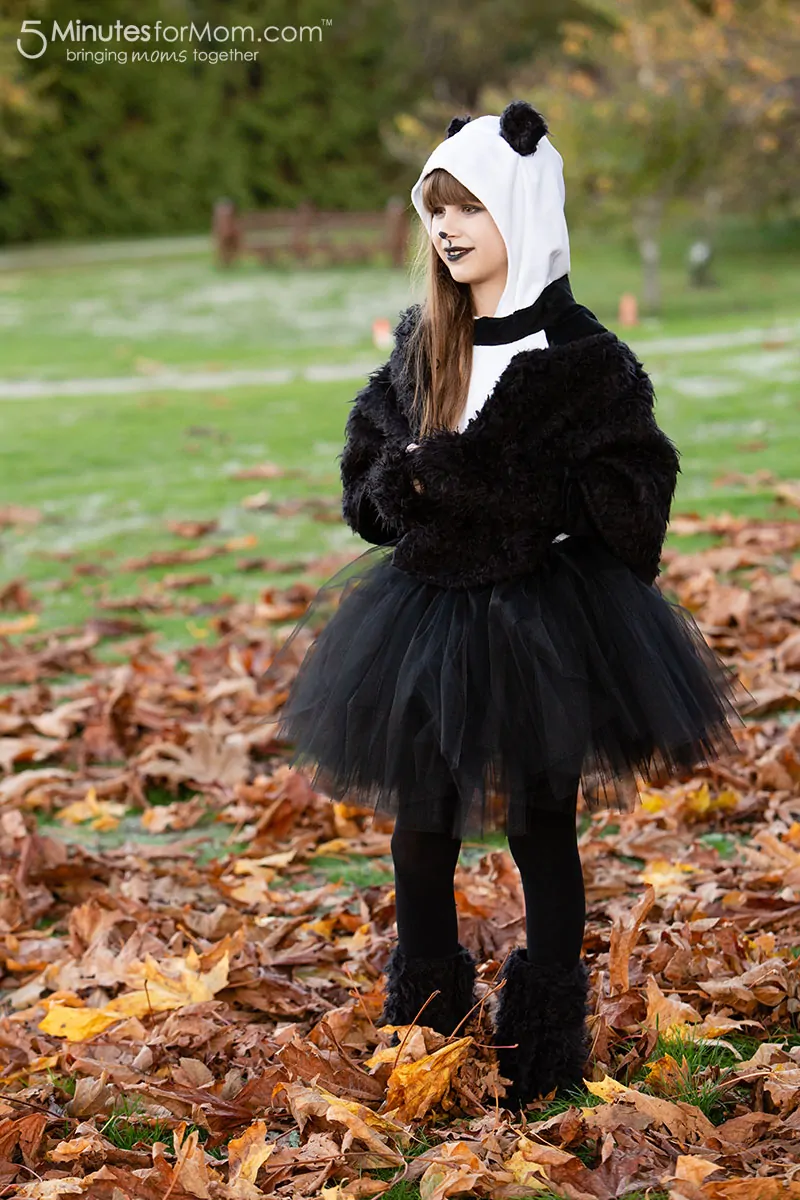 The Panda Bear costume we made for Sophia is definitely the costume that will get the most wear this year since the minky hoodie we made is so super soft and cozy, Sophia will be using it all winter long. (I think I will have to make myself a minky hoodie too.)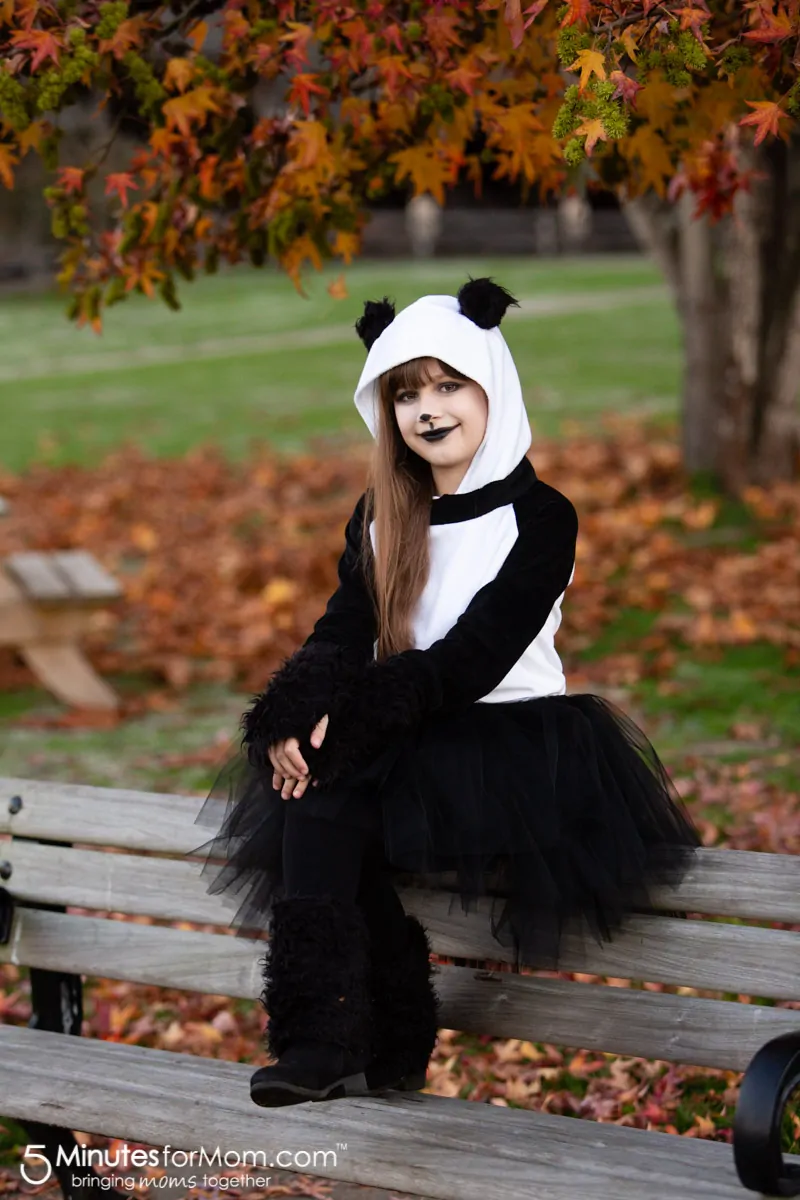 Wishing You a Happy Halloween!
We hope you have a safe and fabulous Halloween!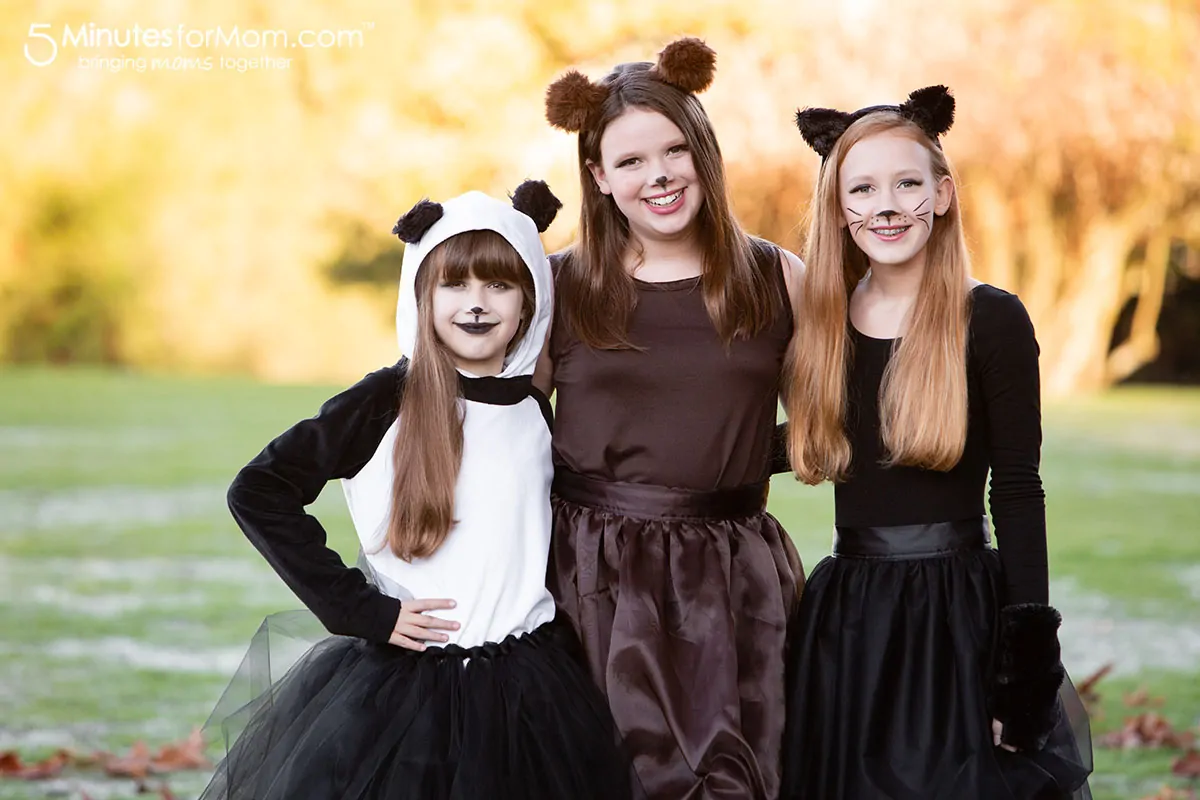 Thank you for reading and sharing. We really appreciate you.
Please share with us in the comments your links to your Halloween posts and photos. We would love to see your costumes too.

Written and photographed by Janice Croze, co-founder of 5 Minutes for Mom and Janice Croze Photography.
Talk with me: @5minutesformom and Facebook.com/5minutesformom
Pin with me at pinterest.com/5minutesformom

See More Of Our Halloween Costumes
Have you seen our girls' costumes from the year before? See how we made these unicorn, fox, and bunny costumes that are perfect Halloween costumes for girls of all ages… from little girls to teenagers.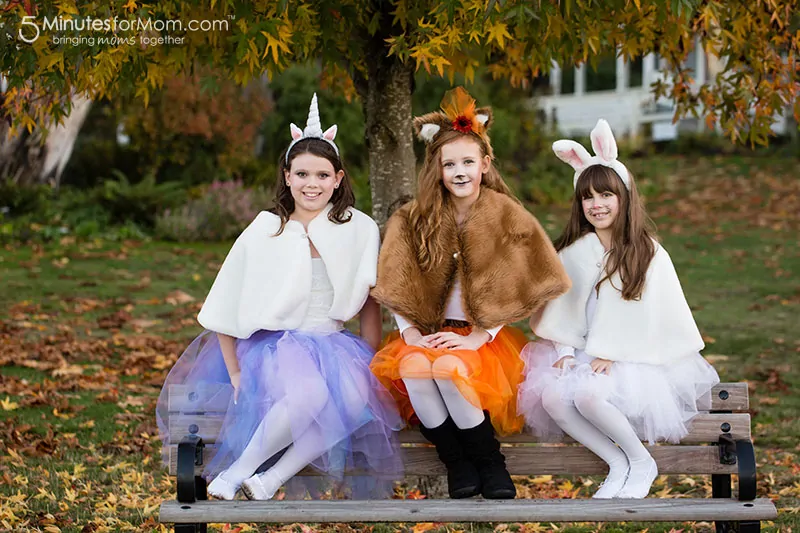 Reader Interactions