This post may contain affiliate links. Read my disclosure policy here.
Have you ever made a miniature garden? Amy has created this tutorial to show you how to make a miniature garden that is perfect for a Mother's Day gift idea. You kids will love making an edible garden with you. Whether you want to make a gift for your mother, sister, or your mother-in-law, this little edible garden will show how much you care.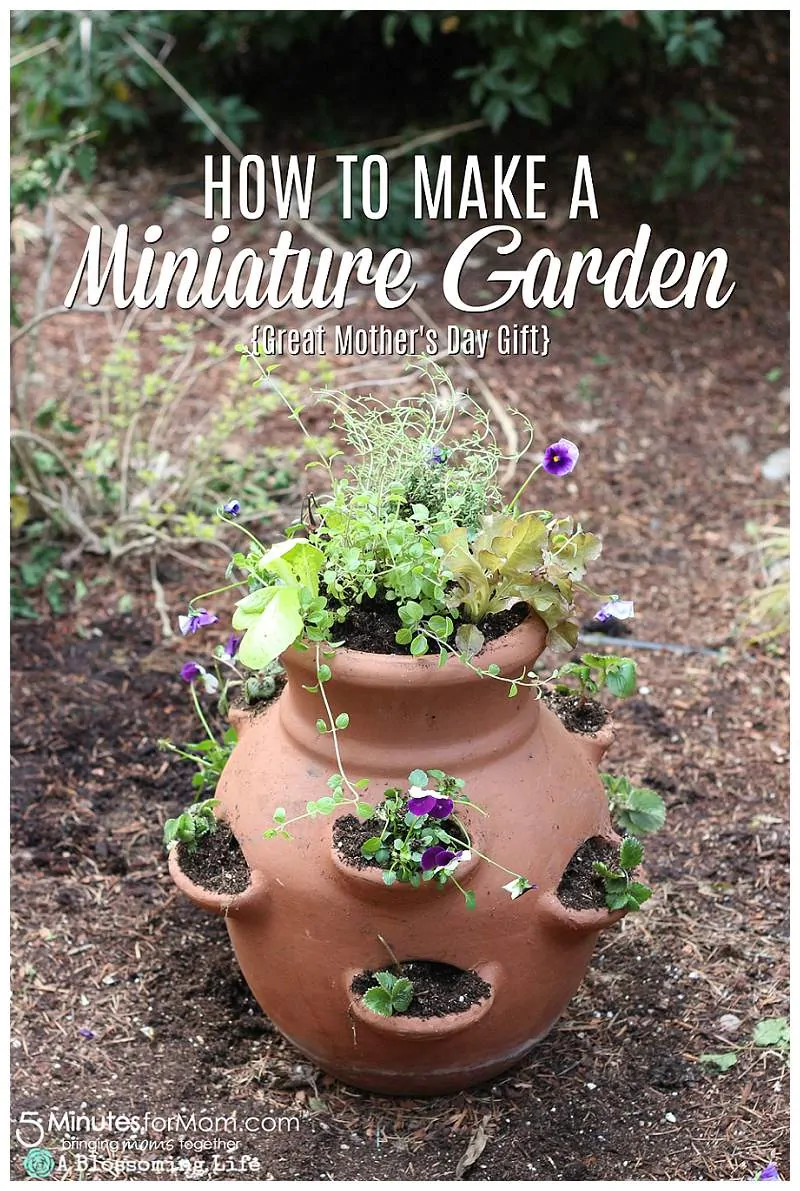 Mothers Day is coming up and now, being a mother, I've been thinking about what I would like. I'm definitely more of a simple person that doesn't like too many fancy things. So, when it comes to gifts, I love gifts that are thoughtful, useful, and something I need… and I especially love homemade gifts my kids help make.
Enter this adorable, mini, edible garden. I actually made a similar miniature garden for my mom a few years back, and every year we give my mother-in-law a new plant for her garden. It's such a fun gift that continues to give throughout the years.
We recently moved into a 1970's ranch that we need to renovate and make our home. We loved the plot of land that it was on, but it didn't have a garden. Which is kind of odd in the town we live in… Everyone has a garden, but not our house. So, we are starting, slowly but surely, to develop the land to our liking. Some people like me, don't have garden space yet, don't have much space or any space at all for a garden, or even the time.
This edible miniature garden is perfect for the porch or entryway and doesn't take much maintenance.
How To Make An Edible Miniature Garden
I wanted to create something that was not only edible, but also beautiful.
First, I used a strawberry pot. This allows more space to plant, which in turn allows for more variety of plants. Instead of just having space at the top of the pot to plant things, it allows space on the sides to also plant. You can pick one of these up at most nurseries or big box stores.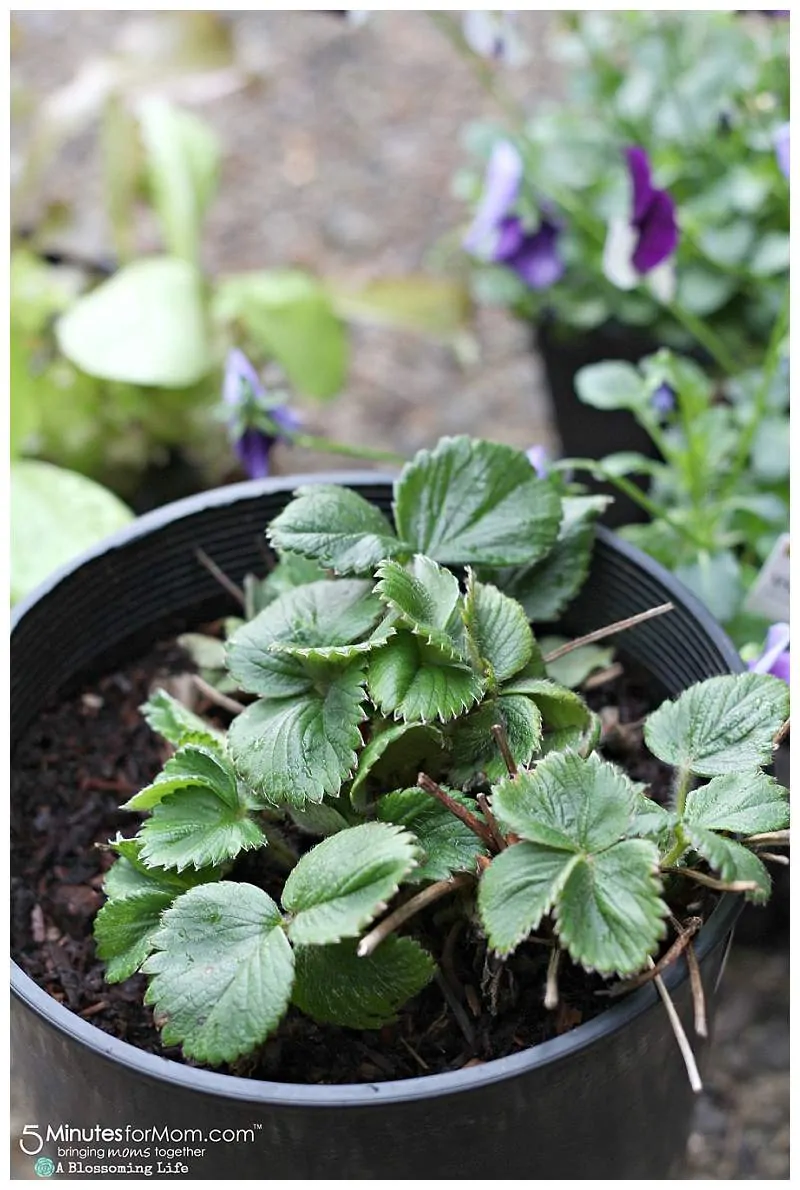 Some of the plants I included in this edible mini garden are strawberries (ever-bearing, so they will produce multiple times during the summer, not just once), oregano, thyme, lettuces, and violas (also edible). You can definitely plant other varieties of plants, but these just worked well for spring here in Oregon.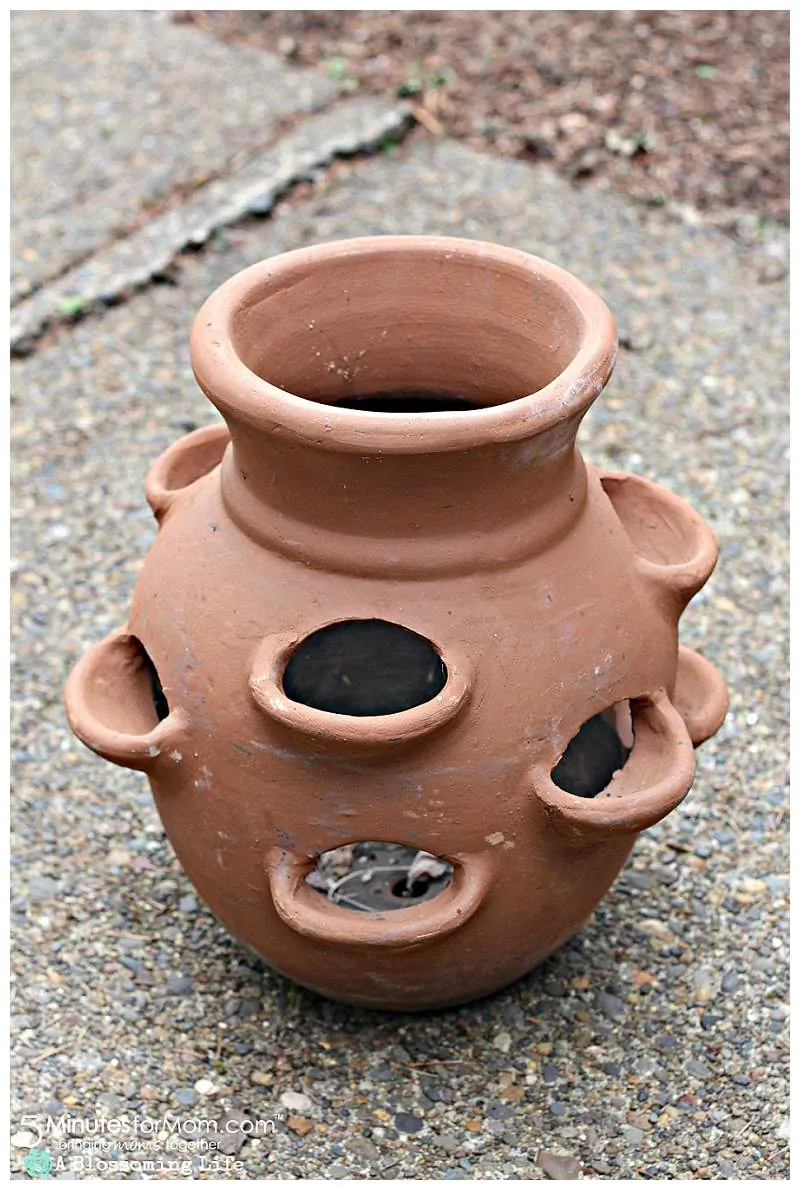 To get the pot ready, I placed rocks at the bottom for drainage, then filled it up with great, organic potting soil.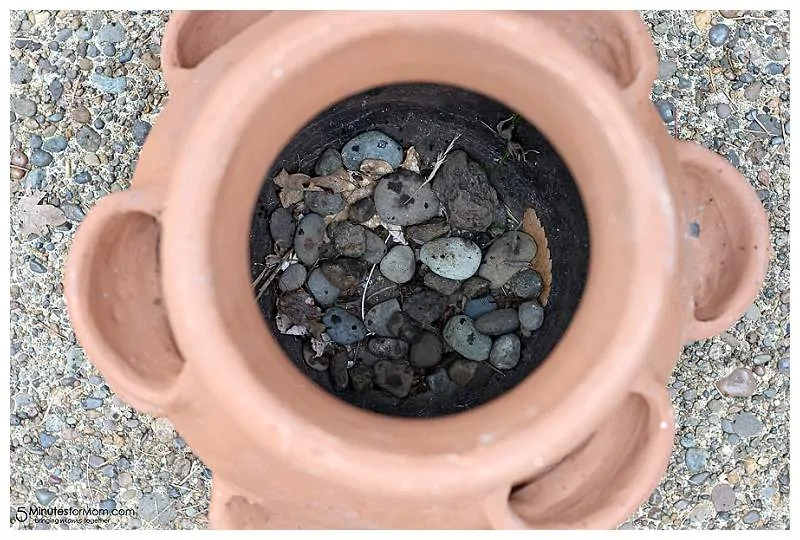 Then, I placed some strawberry plants and a few violas around the base of the plant. When the strawberries grow and mature, the fruits will hang over. The top was filled with lettuces, thyme and oregano, and more violas. The flowers are to add a punch of color, and I love how they and the oregano add an airiness to the pot with their wispy stems.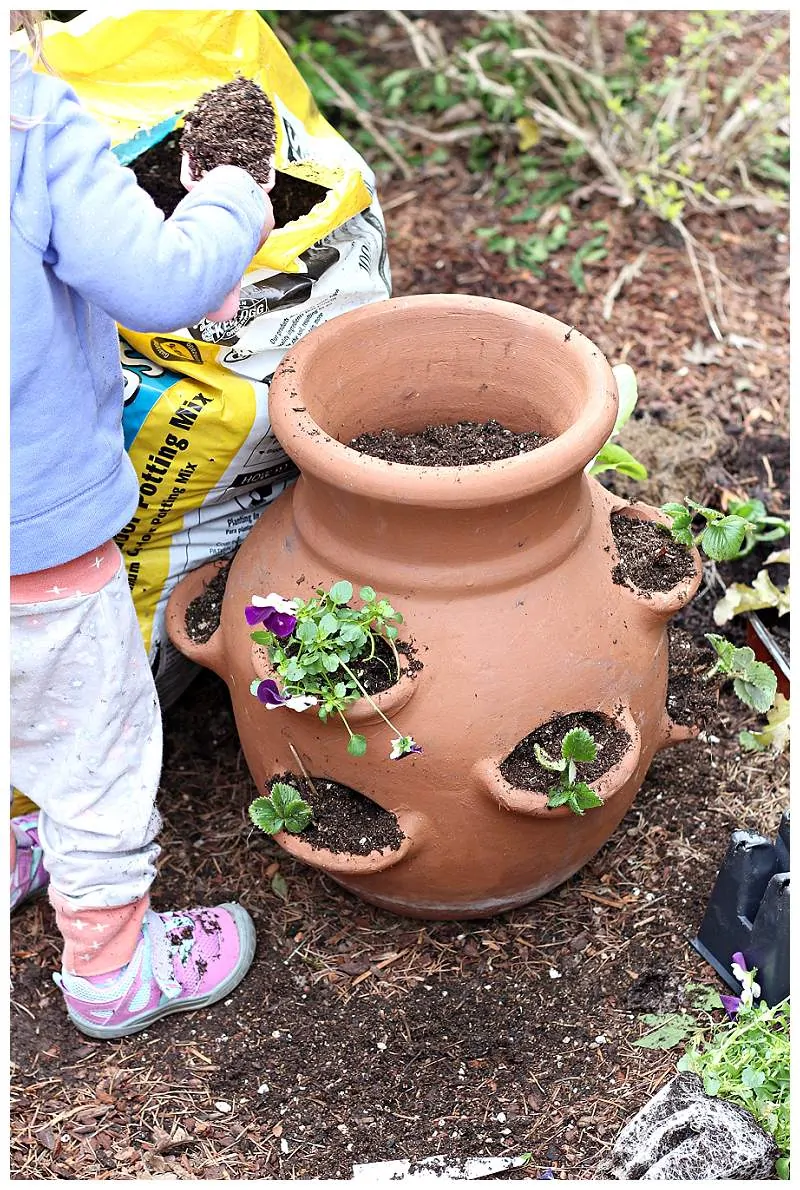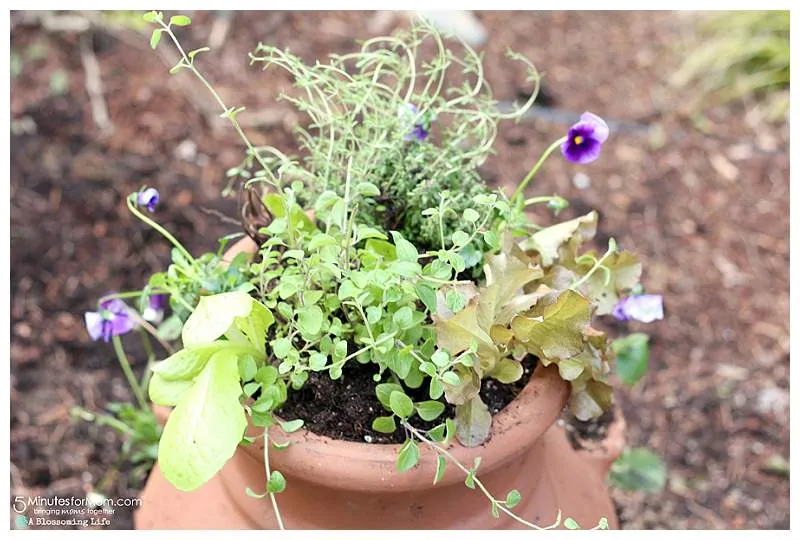 My daughter helped me with this project, and she had so much fun digging in the dirt, "handing" me the plants, and watering them. So, not only is this a fun gift for my mom, but also a sweet gift from my daughter, too. Plus, my two year old remembers everything, and she will love going over to her grandparents house to see how her beautiful present is growing.
I love how this DIY edible miniature garden turned out!
Pin This DIY Edible Miniature Garden Tutorial For Later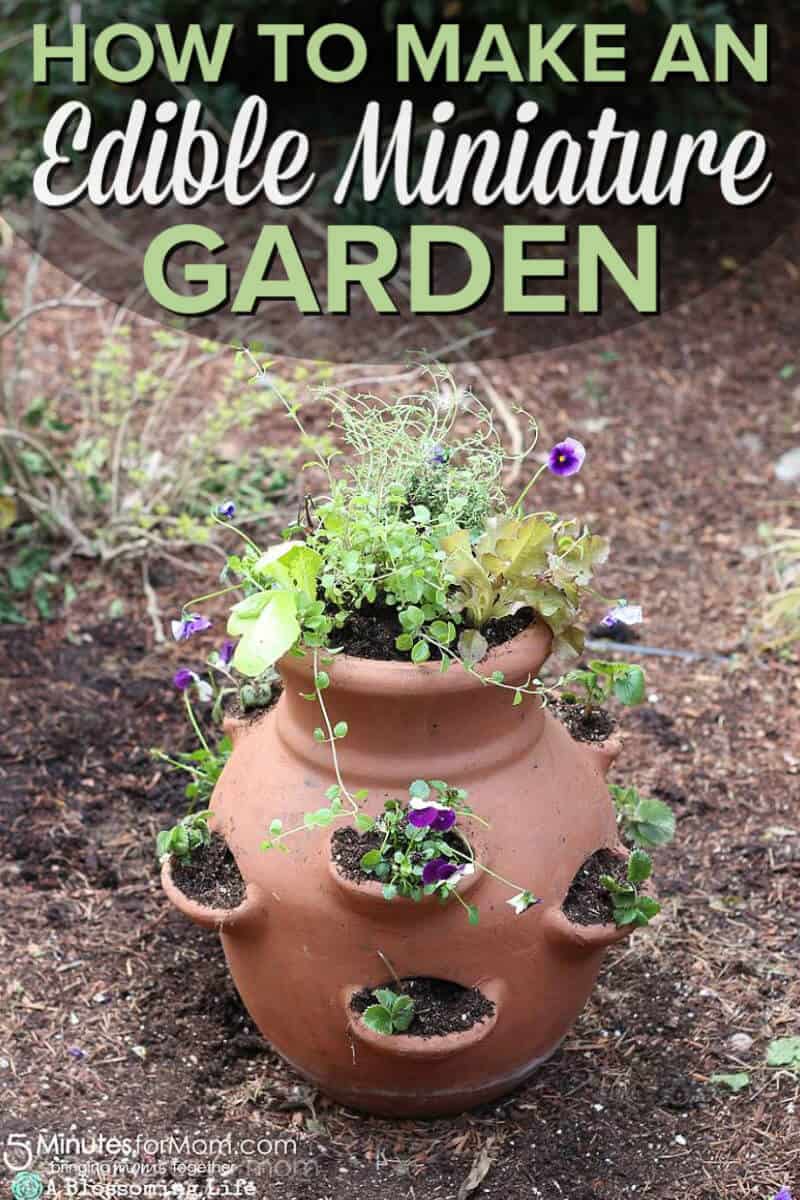 More Gardening Ideas
Here's another DIY Mother's Day gift idea that kids can help make for moms who love flowers… Flower Thumbprint Planter.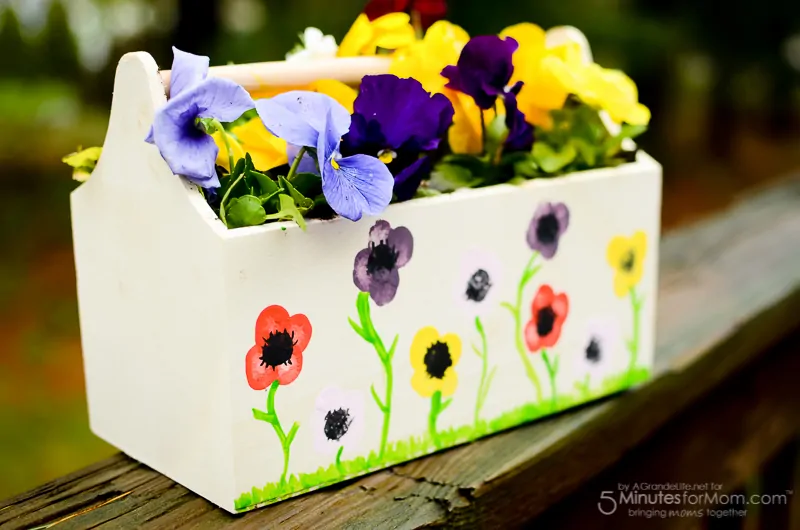 Read our complete Container Gardening Series…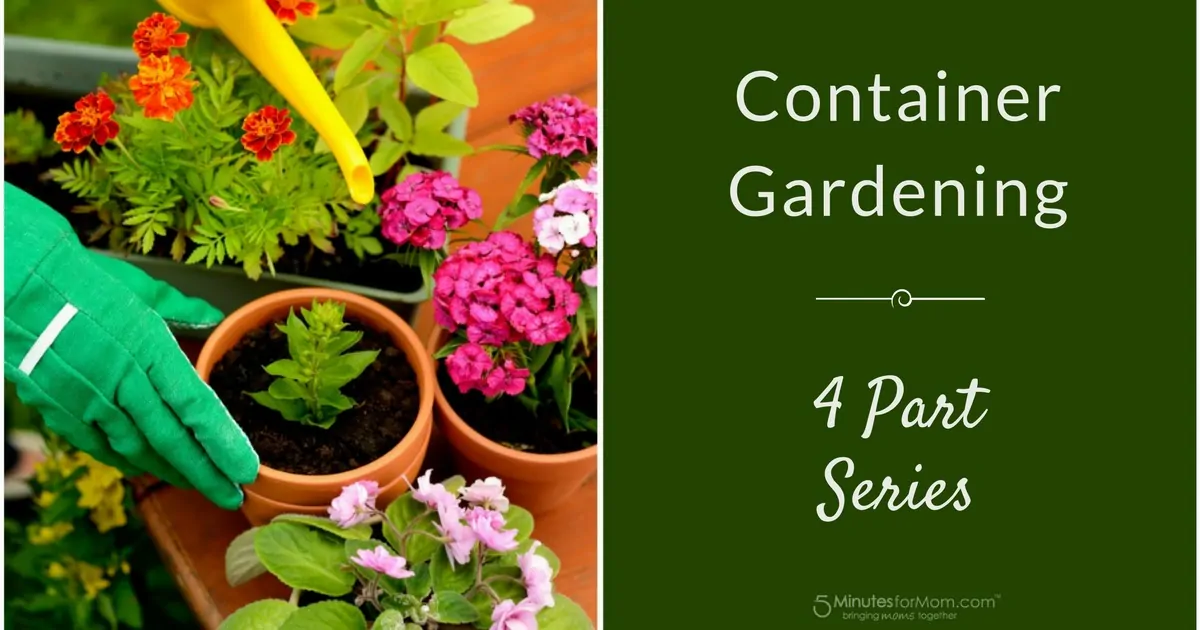 Part 1 – Planning your Containers and Space
Part 2 – Deciding what to Plant
Part 3 – Tools and Supplies You Need For Container Gardening
Part 4 – Keeping Your Container Gardening Pots Looking Their Best