This post may contain affiliate links. Read my disclosure policy here.
Are you excited for spring? We can't wait for spring to come… it's been a long cold winter and the snow still keeps coming. But very soon, the weather will warm and we'll be able to enjoy our gardens again. So it's time to decide what to plant.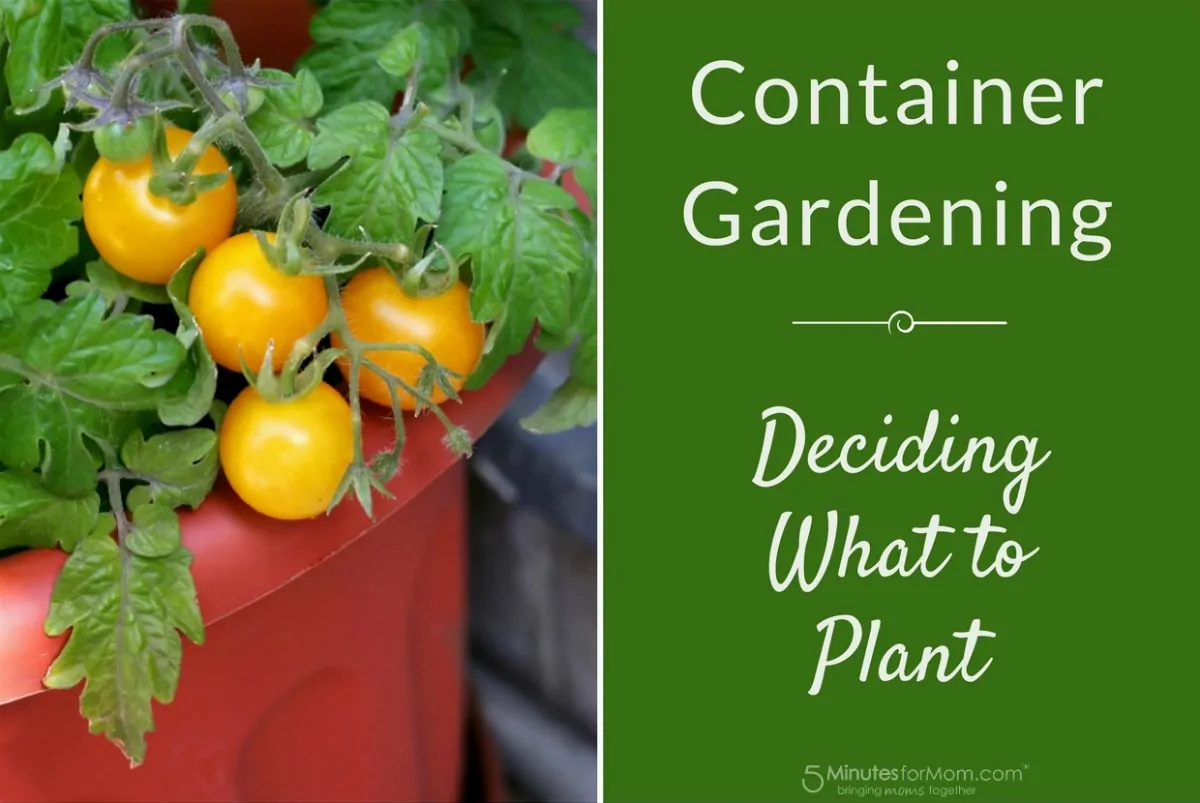 We are planning our gardens and sharing a 4 Part Container Gardening Series here at 5 Minutes for Mom.
Yesterday we talked about Planning your Containers and Space, today is for Deciding what to Plant, and tomorrow we will share what Tools and Supplies You Need For Container Gardening. The fourth day will be about Keeping Your Container Gardening Pots Looking Their Best. And then later in the summer we will share Container Gardening Fall Cleanup and Pot Storage.
Once you have planned your space, and have a general idea of what types of plants you want to grow, then comes the fun part – determining which varieties will do best.
One of the best parts about growing your own flowers or vegetables is that you can pick unusual varieties – those that you don't see in the nursery or grocery store.

Where do you find plants suitable for containers?
Although many more big box stores and garden centers do carry container-specific plants, there is a whole world of choices.
One of the best way to find the more unusual or newest choices is through Seed Catalogs. Try to find varieties that are determinate — these are plants that have a definite end –- they grow to a certain size and stop, as opposed to plants that grow forever. They don't, in most cases, require any support, like a trellis, to grow. They also put more of their plant energy into flowers and fruit (vegetables) instead of making long vines.
Tomatoes, beans, squash and cucumbers all come in determinate and indeterminate (grow into very long vines) varieties.
Most seed companies send their catalogs free of charge, and they offer a wealth of information. Varieties that are suitable for containers will be marked or even in their own section. Most will have photos, growing instructions, sunlight and space requirements.
Even if you don't order your seeds or plants directly from the catalog, they can help you to set up your garden area.
Also, most seed companies have evolved into gardening companies, and offer more than just seeds. You can purchase plants and have them shipped at the perfect time of year for you to plant in your pots.
You can also purchase trees and shrubs via the mail.
Many will be bare root, and look like they are dead, but fear not! They are just sleeping. Once planted, they will leaf out and flourish.
Other plants available by mail are cacti, succulents, houseplants and herbs.
If you are purchasing plants by mail, make sure they are from a reputable dealer, and that the seller is certified to send plants to your state. There are some restrictions for state to state shipments due to soil contaminants and diseases.
When you have narrowed your selection of what you intend to grow, it is a good idea to visit your local garden center. They can recommend varieties that will thrive in your area, and will most likely have them in stock.
If you are planning on planting flowers, most floral plants don't need the same space requirements as vegetables. Vegetables plants, because they have a larger root system and need for more nutrients require larger containers.
Space Requirements For Common Vegetables
Container size
Plant Variety
Plants/Container
Half-Gallon
Most herbs, parsley
One Plant
One Gallon
Cabbage
Cucumbers
Green Beans
Leaf Lettuce
Spinach
Swiss Chard
Patio Tomatoes
Two Plants, Bush Variety
Two or Three Plants, Bush Variety
Cover Surface with Seeds for Mesculin, then leaf lettuce
Seed, then thin to 2 inches apart
One Plant
One Plant
Two Gallon
Beets
Carrots
Eggplant
Peppers
Radishes
Plants Seeds, thinning to 2 inches apart
Plants Seeds, thinning to 2 inches apart
One Plant, try Japanese varieties
Two Plants
Plants Seeds, thinning to 2 inches apart
Three gallon
Tomatoes
Standard determinate varieties
Another great plant that grows well in containers is Strawberries. You can purchase bare root in the winter, and plant them just before the last frost.
You will get big, beautiful, flavorful berries in just a few months. Strawberries are our favorite plant to grow in containers.
Determining what to plant is not something you need to decide all at once. It's perfectly okay to start with a few plants and work your way into more.
If this is all new to you, take your time, build some confidence, and add more plants as you go.
Here are a few great places to shop for seeds…
Burpee.com
Rareseeds.com
Nichols Gardening
Stokes Seeds
Tip: You can get 5% cash back at Burpee.com when you go through ebates.com.
Read our complete Container Gardening Series…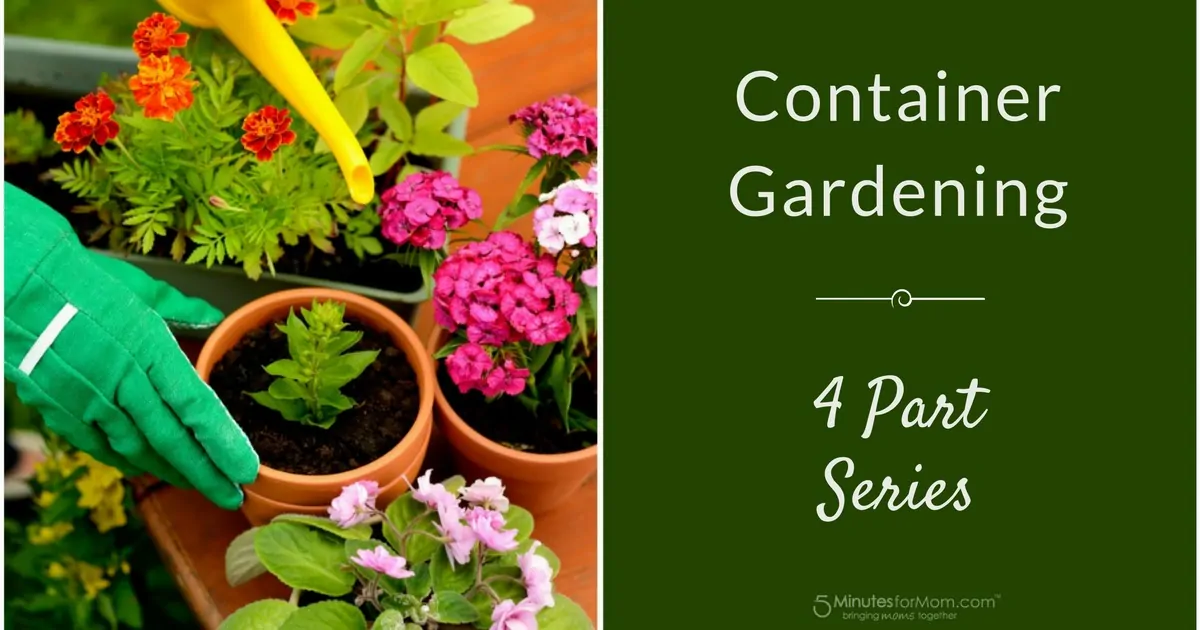 Part 1 – Planning your Containers and Space
Part 2 – Deciding what to Plant
Part 3 – Tools and Supplies You Need For Container Gardening
Part 4 – Keeping Your Container Gardening Pots Looking Their Best

Coming this summer… Bonus – Container Gardening Fall Cleanup and Pot Storage

Pin it for Later

Disclosure: This post contains affiliate links.
Written by the team at 5 Minutes for Mom
Talk with me: @5minutesformom and Facebook.com/5minutesformom
Pin with me at pinterest.com/5minutesformom