This post may contain affiliate links. Read my disclosure policy here.
Once your container garden has been planted and the pots have been placed in their new homes, there are many chores that will come up over the season. Watering, feeding, and keeping them looking their best can take several hours per week, depending on what you have planted.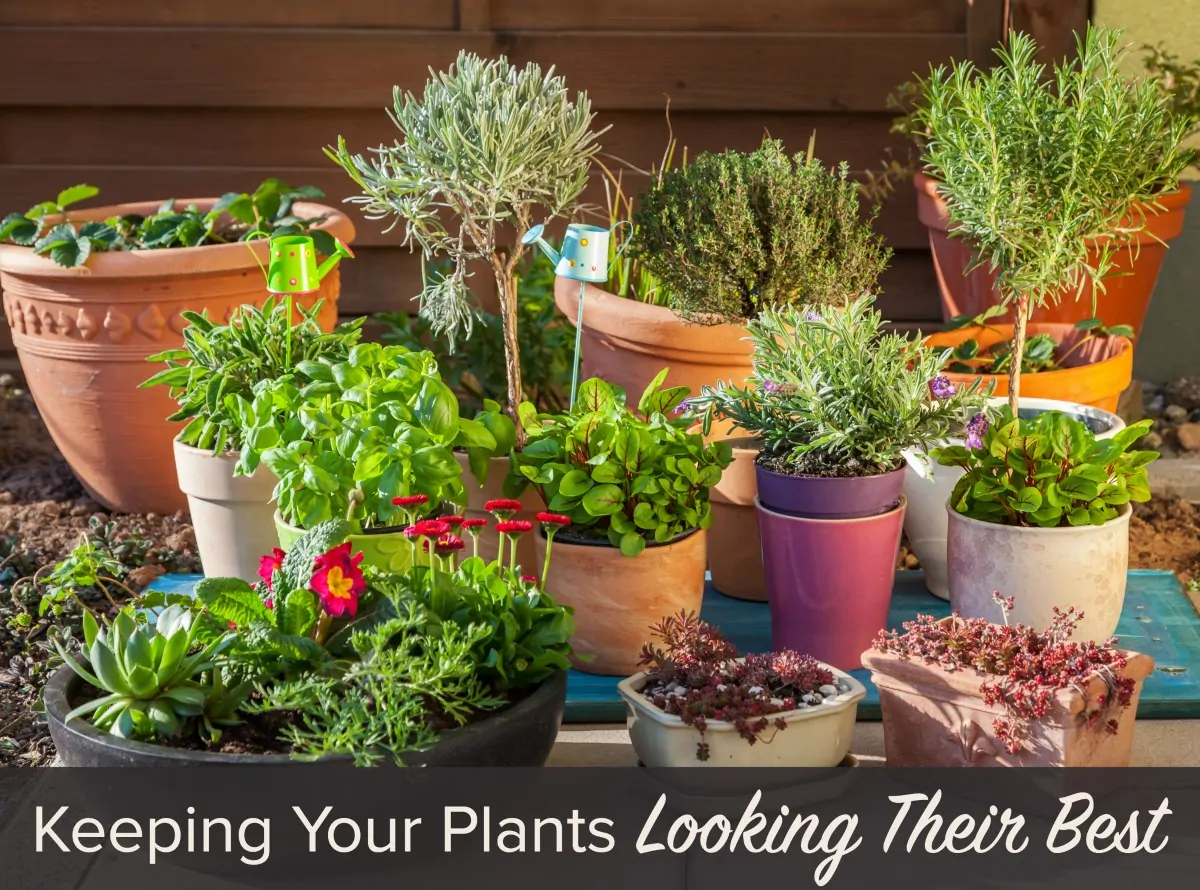 We're excited for spring and so we're sharing a 4 Part Container Gardening Series.
First we wrote about Planning your Containers and Space, then we discussed the process of Deciding what to Plant, and yesterday we shared what Tools and Supplies You Need For Container Gardening. And today you'll learn tips for Keeping Your Container Gardening Pots Looking Their Best. And later in the summer we will share Container Gardening Fall Cleanup and Pot Storage.
You've put hard work into planning and planting your container garden, now you want to ensure you keep those plants growing nicely and looking their best.
Watering
Let your plants dry out between watering. If they even wilt a little bit that's perfectly fine. The key is to not overwater your garden. When plants are overwatered, their roots don't grow and may rot. Also, the central portion of the plant – called the crown – can rot, and all your hard work will be destroyed.
The best way to gauge if your plants need water is to water deeply, and let the soil dry out between watering. If the end of the leaves are turning dark and dying, that's one of the signs of overwatering. Just wait a few more days to water again.
If your plants are in direct sunlight for a majority of the day, and your climate is very warm, you may need to water those containers more often. Vegetables need more water than flowers. Very large pots or trees and shrubs require less frequent watering, but a deep soaking to maintain their health.

Feeding
All plants can benefit from an occasional feeding. A favorite product that your plants will love is Superthrive. A blend of vitamins and minerals, a few drops in your weekly watering will make your plants flourish. It is available at most local garden centers or big box stores, and a bottle will last forever. It can be used with other fertilizers or alone.
There are also many plant foods that can be sprinkled on top of the soil, come in a pellet form, or can be mixed in when planting that are time released. This saves the trouble of remembering to feed your plants throughout the season.
Pest Control
Plant pests are a fact of life… even indoor plants may get them. The key is to be vigilant and not let the pests get out of hand.
Check your plants weekly for any webs, nests, of holes in leaves. You may see a 'trail pattern' on leaves where the insects have tunneled through the leaf.
When you see evidence of any pests, it's time to make a trip to your local garden center to see what remedies are available.
Some, like mealy bugs may be eradicated by touching them with a cotton swab that has been dipped in alcohol. Aphids can be eliminated by introducing Ladybugs into your garden. There are all types of pest controls ranging from Organic and tried and true home remedies, to chemicals.
Unless you have a major infestation, it is probably better to use the simplest method to eliminate the pest.
Deadheading and Cleanup
It's a fact – as your plants grow and age, some leaves and blossoms will fade and die. To keep your plants looking their best, make it part of your weekly routine to remove the wilted and faded growth.
Not only will your plants look more vibrant, they will also be healthier, because the plant will be putting its energy into the new growth, instead of trying to make seed (flowers are the seed makers).
You can also pinch off the growing tips of your plants to change their shapes. By removing the tips of the stems or branches, it causes the plant to make new tips, which encourages bushier, fuller plant growth. This is especially helpful if you have a tall, spindly plant. Just pinch out the top, and within a week or two you will see lateral shoots coming from the stem.
Create a weekly routine of watering and checking your plants for any problems that might arise is a great way to keep your plants healthy for the season. Be sure to pick any vegetables as they ripen to keep vegetables producing.
Read our complete Container Gardening Series…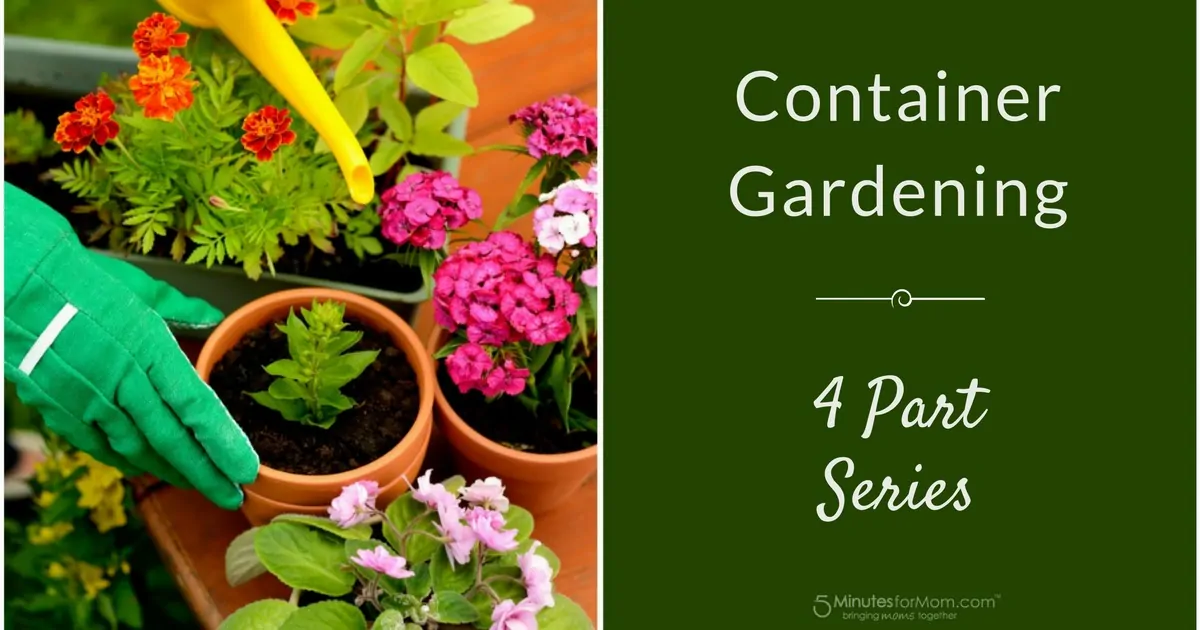 Part 1 – Planning your Containers and Space
Part 2 – Deciding what to Plant
Part 3 – Tools and Supplies You Need For Container Gardening
Part 4 – Keeping Your Container Gardening Pots Looking Their Best

Coming this summer… Bonus – Container Gardening Fall Cleanup and Pot Storage

Pin it for Later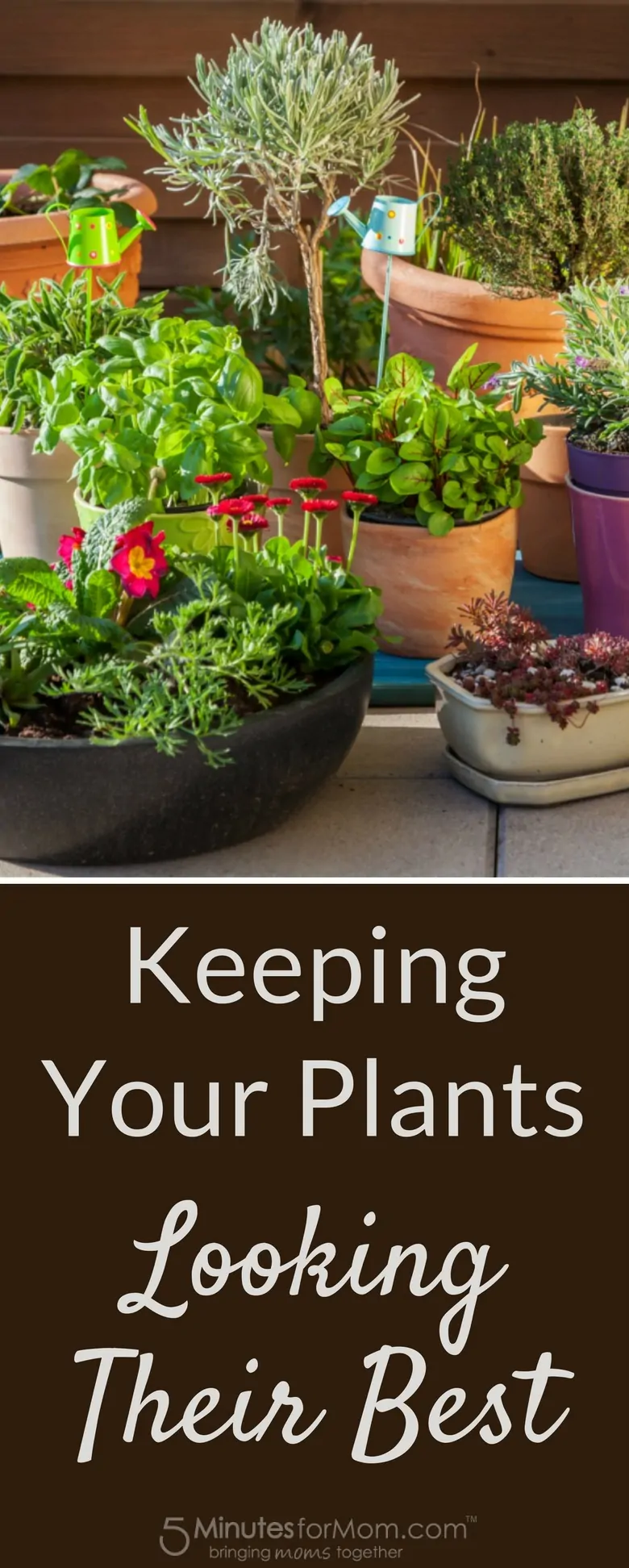 Written by the team at 5 Minutes for Mom
Talk with me: @5minutesformom and Facebook.com/5minutesformom
Pin with me at pinterest.com/5minutesformom