This post may contain affiliate links. Read my disclosure policy here.
Learning is better when it's fun. Boring black and white, photocopied worksheets don't cut it when you're trying to motivate your child to study during summer. So stop trying… send them on a learning adventure instead! Thanks to Workman Publishing for sponsoring this post.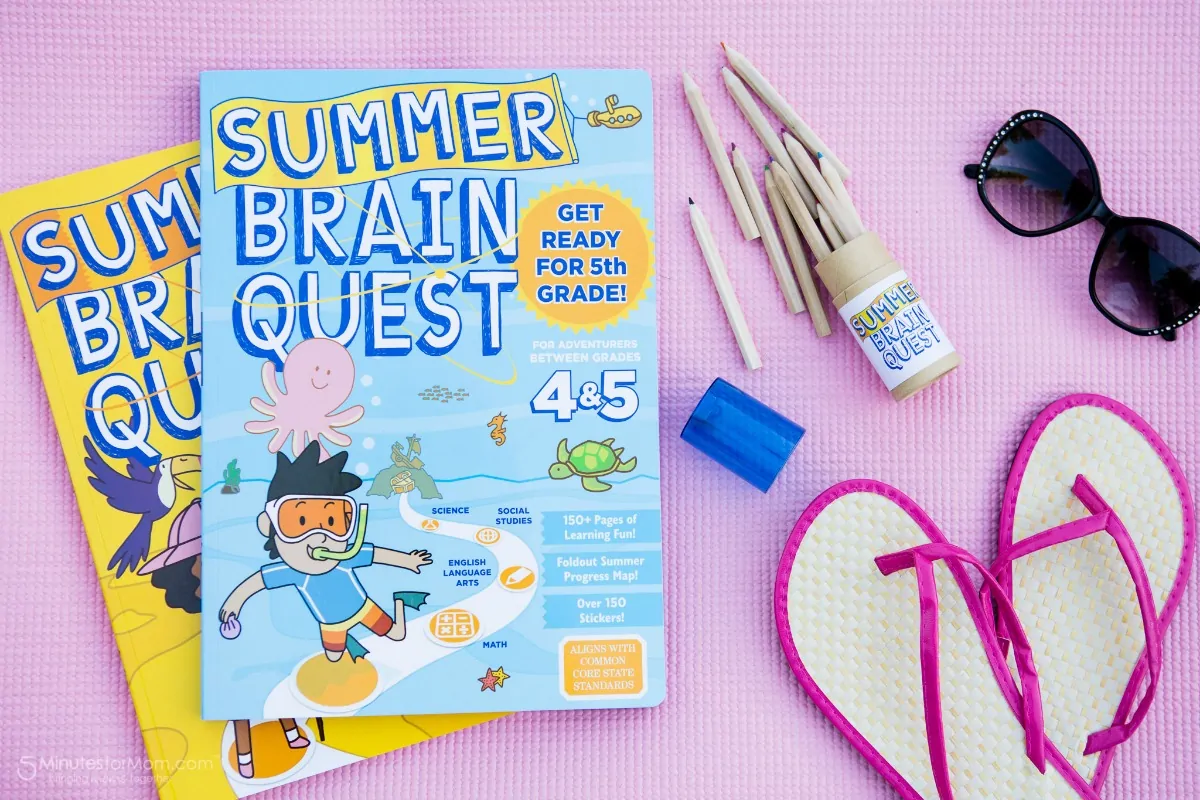 I'm excited to share the most AWESOME workbooks for summer time learning that I've ever seen. In fact, these can't really even be called "workbooks". These are personalized, interactive quest packed adventure books!
They are visually captivating and will excite your child immediately.
I'll be honest… my kids aren't usually motivated to do any type of learning workbook. But they LOVED these. My youngest, Sophia, is in 4th grade right now, and decided she wanted to work through ALL of the books — even the ones for younger grades because they all looked like such fun. LOL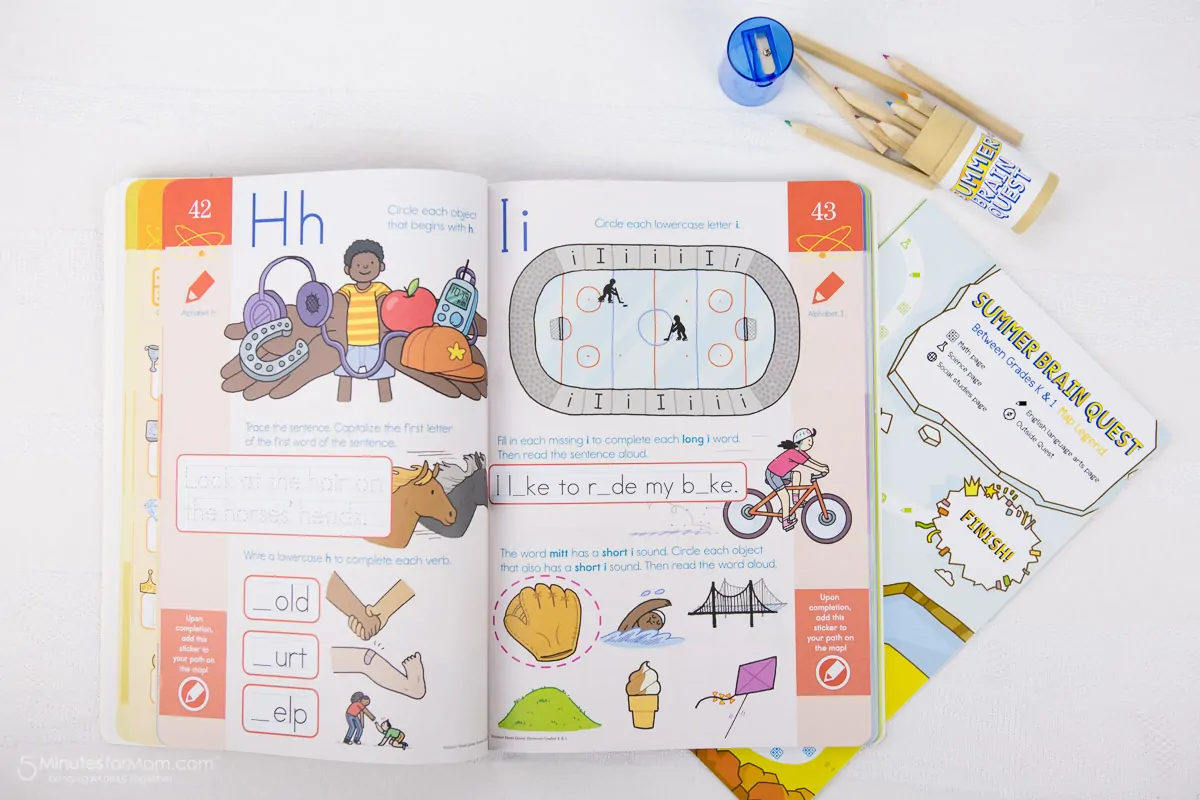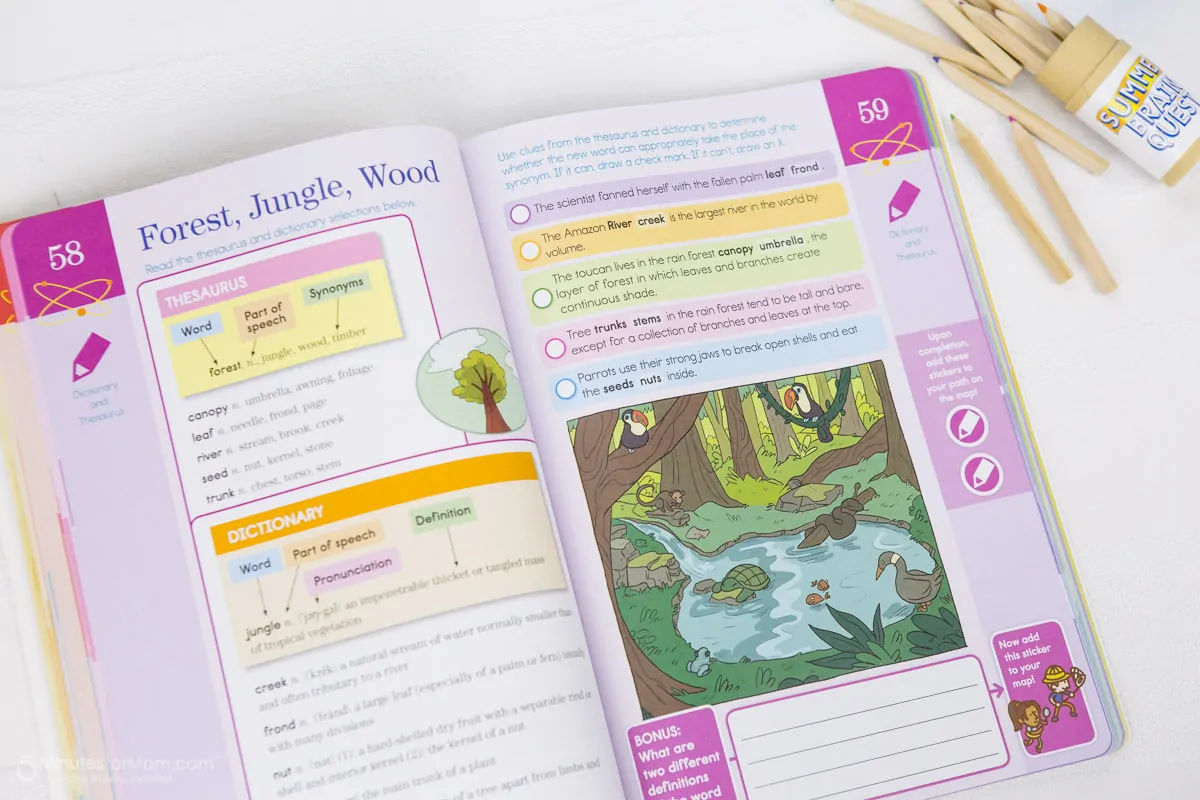 And my oldest, Julia, is in 6th grade right now and insisted she wasn't missing out on the fun. So she started working on the book that prepares kids for 6th grade. Which I don't mind at all, because it's a great review for her.
They are both so excited to get started, they aren't waiting for summer!

What ARE These Wonderful Workbooks?
If you're familiar already with #1 bestselling Brain Quest brand (which has 45 million copies in print), you'll understand why Summer Brain Quest is so fantastic.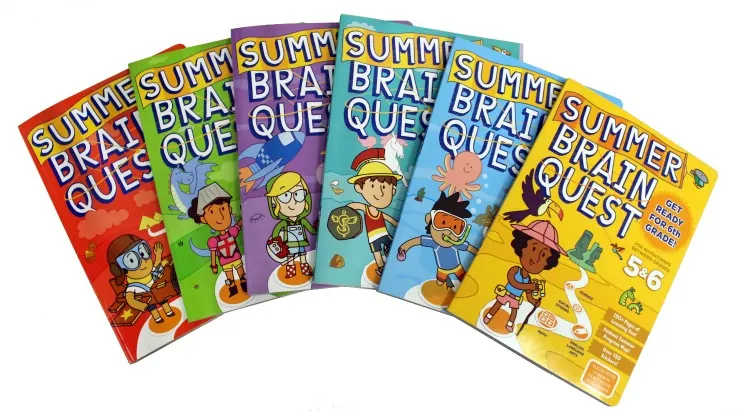 First of all, each Summer Brain Quest workbook comes with a pull-out map that acts like a game board and progress chart at the same time. As kids complete activities, they get stickers to put on their map that track their progress.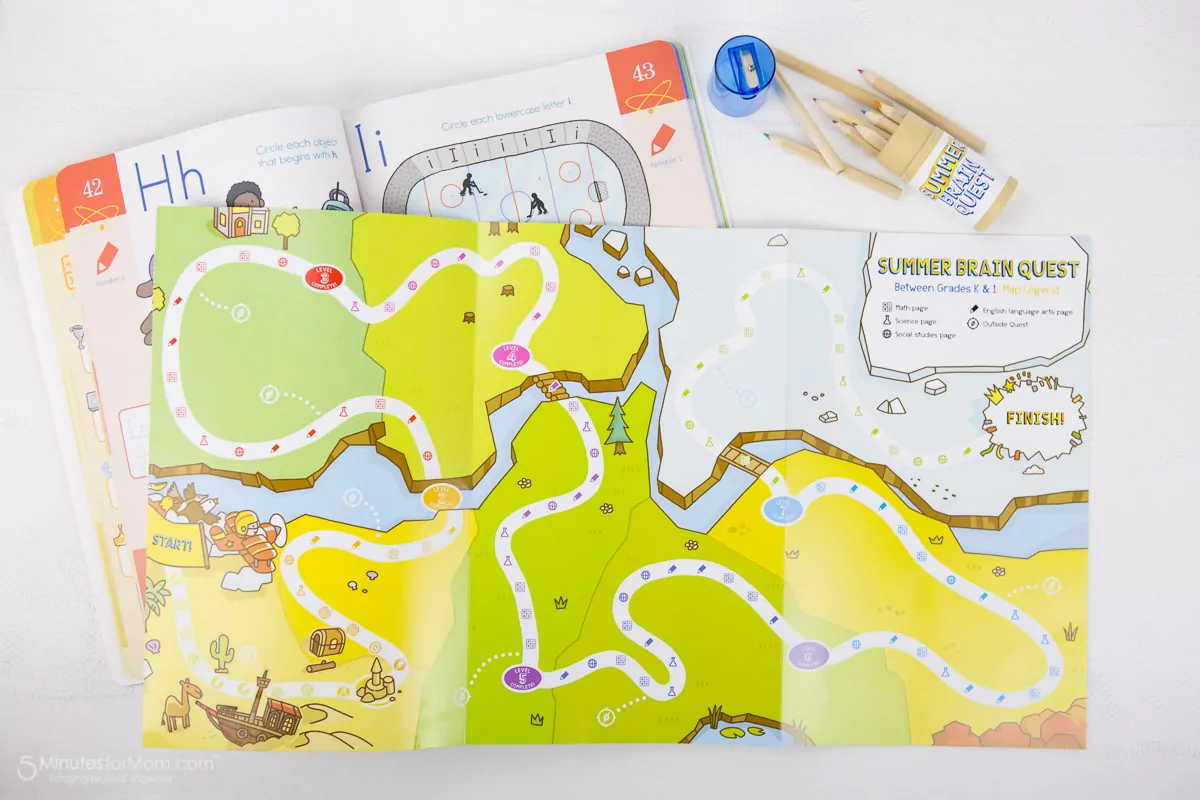 They're interactive and personalized.
Summer Brain Quest creates a one-of-a-kind learning experience by personalizing the path of activities and lessons throughout the summer learning adventure.
Personalized learning is an educational method where exercises are tailored to each child's strengths, needs and interests.
The interactive format ensures kids practice the basics while still having a voice in what and how they learn.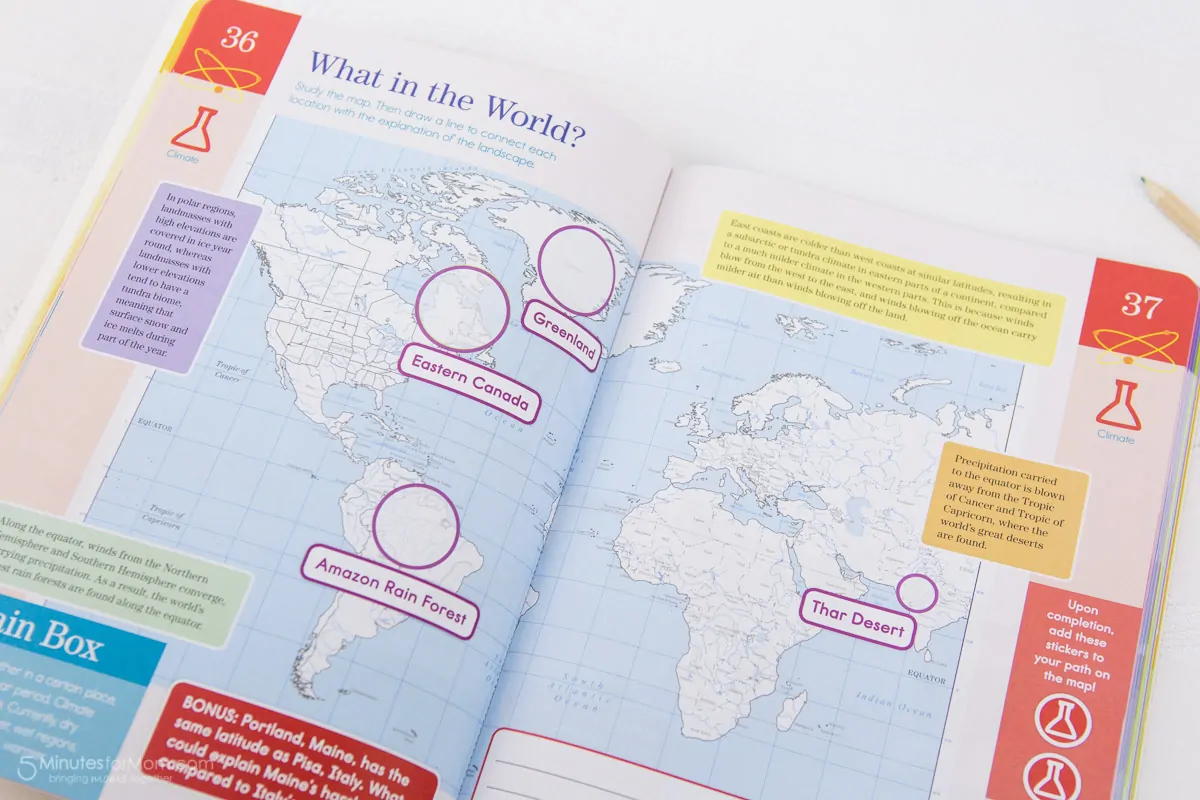 My girls love how Summer Brain Quest is structured like a game where the pull-out map guides kids on a learning quest. They fill in their route on the map by earning stickers for completing workbook pages and they also get stickers for doing outdoor activities.
It's amazing how motivated they are to add stickers to their maps.
Their journey is personalized just for them as they take ownership of their own learning path by choosing routes. They can decide if they want to do extra math problems or practise more hands-on science. And they can jump around within the book to follow their curiosity.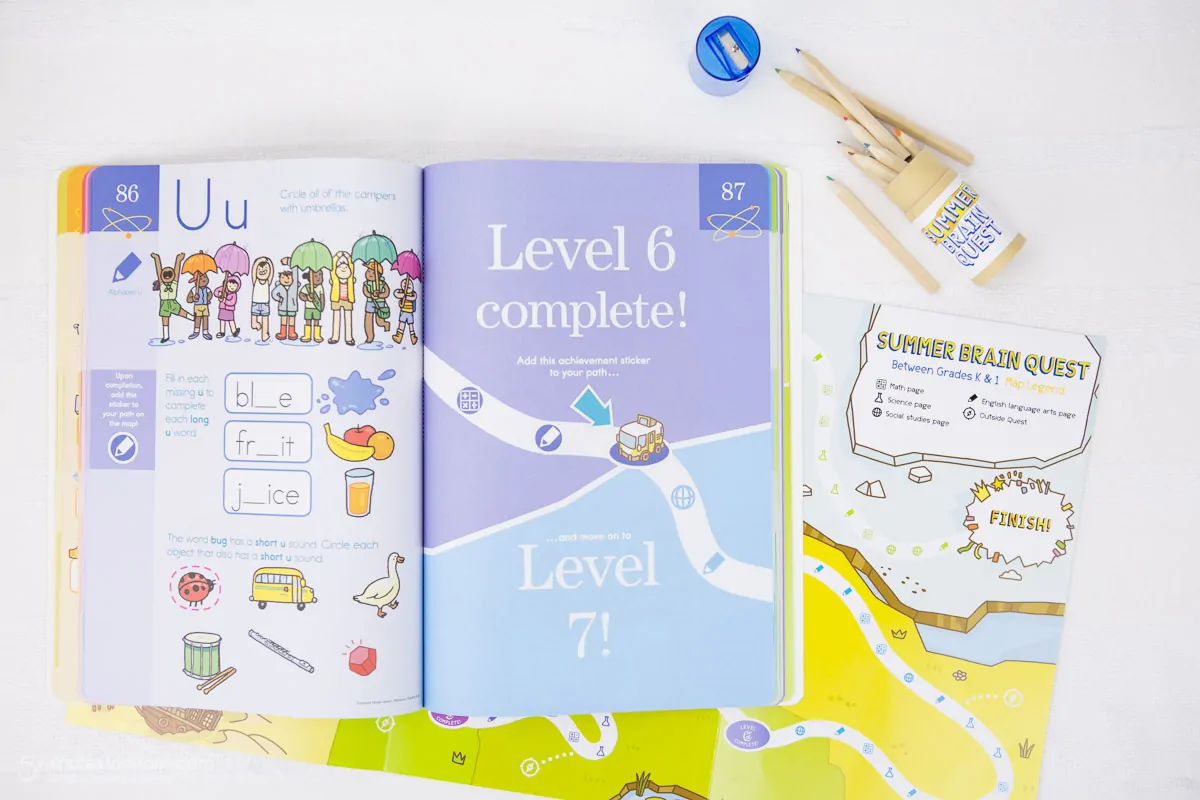 I can't get over the fabulously creative artwork and layout of these books. Video game artist Edison Yan created the super cool artwork. You will not find a more visually appealing workbook anywhere.
You'll also be pleased to know that each workbook has been created in consultation with an award-winning teacher specializing in that grade. All exercises are aligned to Common Core State Standards, Next Generation State Standards, and state social studies standards.
Janice and I are so impressed by the Summer Brain Quest samples, that we purchased extras so that each of our girls have their own copies.
What Is Summer Slide?
Studies show that the "summer slide" can cause students to lose about two months of grade level equivalency in math, and many also lose reading achievement.
Trying to stop summer slide can feel like a pressure on parents, but Summer Brain Quest will take a load off moms and dads and help everyone have a relaxing summer.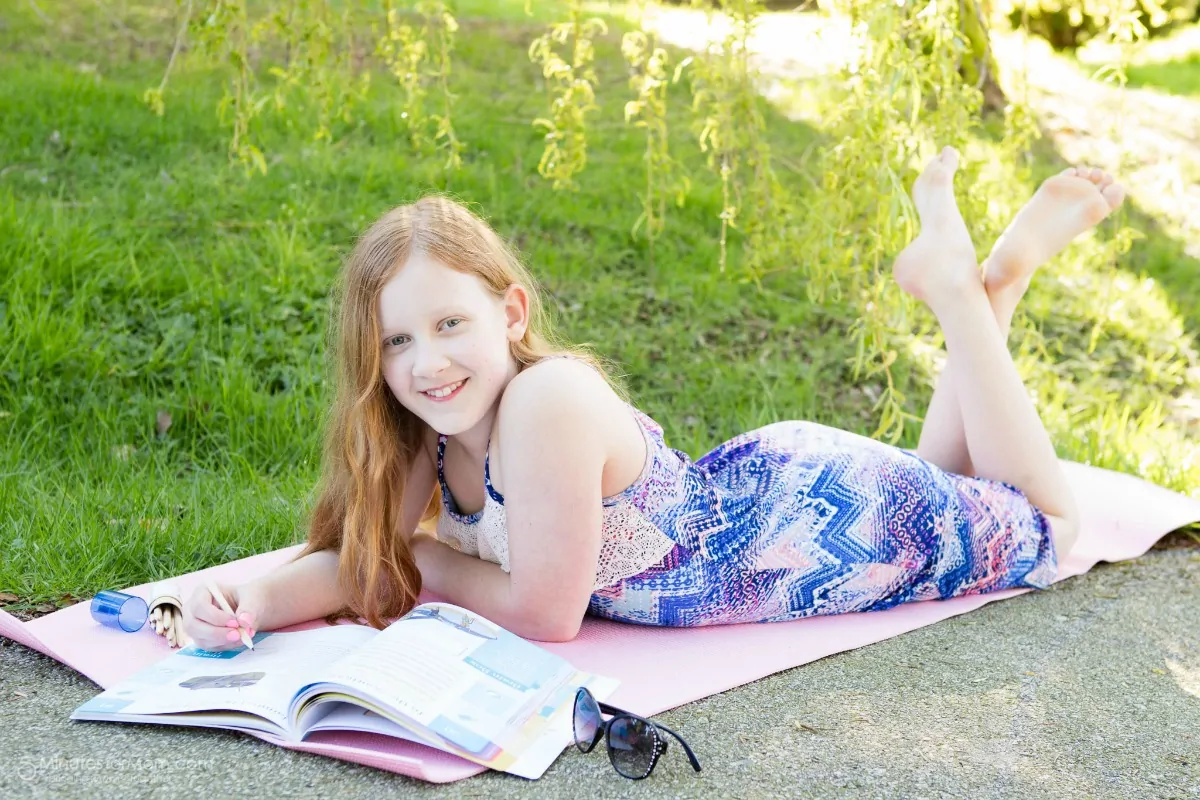 These books are an awesome tool for parents, homeschoolers, tutors, and teachers to help kids between kindergarten and 6th grade.
Learn More at the Official Site
Visit the Workman Blog
Follow @WorkmanPub on Twitter, Instagram, and Pinterest
Like @WorkmanPublishing on Facebook
Pin it for Later


Disclosure: This post is sponsored by and prizing and samples provided by Workman Publishing.
Written by Susan Carraretto, co-founder of 5 Minutes for Mom
Talk with me: @5minutesformom and Facebook.com/5minutesformom
Pin with me at pinterest.com/5minutesformom