This post may contain affiliate links. Read my disclosure policy here.
Kids love summer — when waking up means a day spent exploring outdoors or playing in the neighborhood pool instead of a day stuck in a classroom.
While we moms love the freedom and fun our kids experience when summer vacation finally arrives, keeping kids engaged and active (and not bickering with each other) all summer long can be a challenge.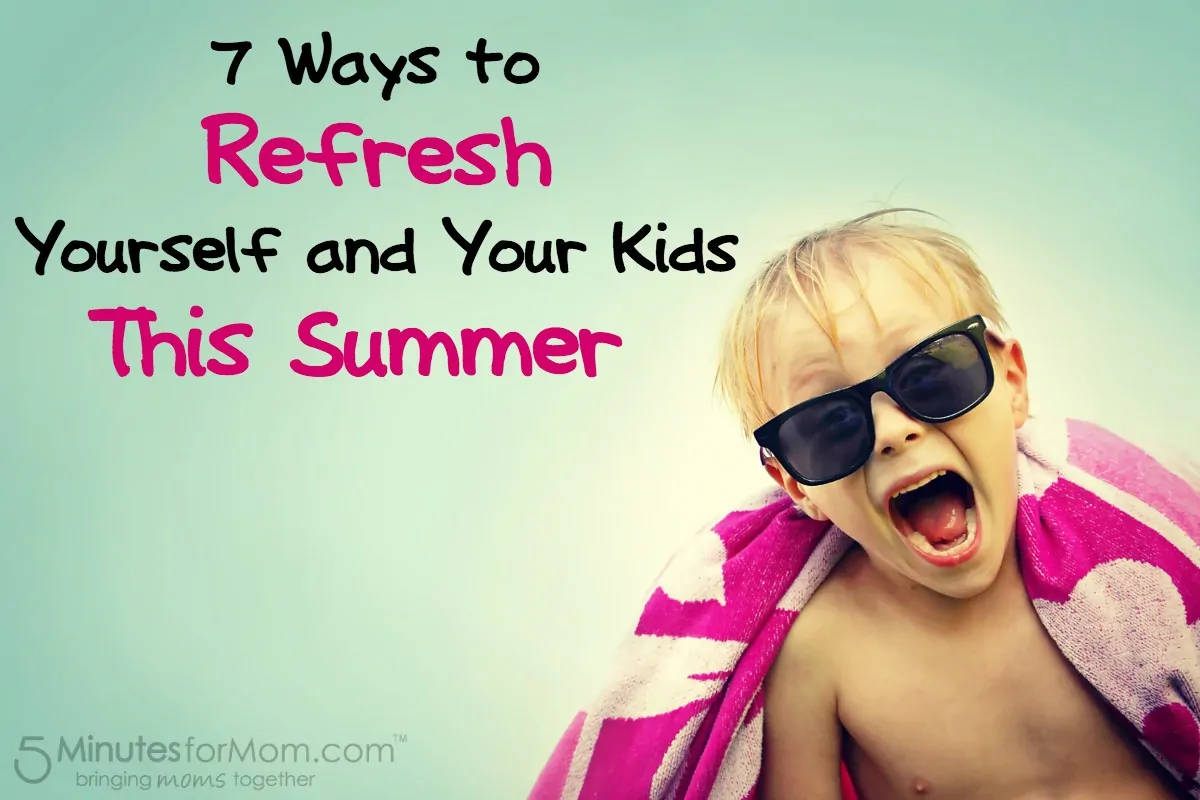 If you're both looking forward to and dreading the summer, arm yourself with some easy ways to rejuvenate yourselves and relieve any tension from sibling squabbles.

Here are seven ideas to help keep you and your little ones feel fresh and and have fun all summer long.
Structure With Free Play
Kids thrive within a certain measure of structured routine even during the easy-going summer months. From reducing power struggles to making sure sleep doesn't get slighted, structure keeps boundaries intact, which will help reduce kids' anxiety and tendencies to act out.

That being said, too much structure can make summertime feel like a chore for you and your children. Keep itineraries light or schedule in ample amounts of free, unguided play. It will help encourage your children's imagination and social skills, and it will provide you with some much-needed breaks.

A Constant Pitcher of Cool, Iced, Herbal Tea
Kids who play hard need to re-hydrate themselves with something other than sugary, caffeine-filled soda or other less-than-nutritious water alternatives. Since water is the best thing for thirsty bodies, but kids love a break from water's monotony, keep a pitcher of iced, herbal tea in the refrigerator at all times.

Whether you choose a fragrant tea made from calendula flowers or a bright, brisk mint tea, sweeten it with a little maple syrup or honey, and you and your children will find it hits the thirst spot even better than an ice-cold soda.

Or go even colder and try this lemon iced tea smoothie recipe.

Matinee Movie Mondays
Plan a regular matinee Monday event that can take place at various locations throughout the summer: a local movie theater, in your den, or at a friend's or grandparent's house.

It will let your kids pause from their running about, and it will give you back some precious time and space to yourself. Consider using the movie time to keep yourself refreshed, whether you take in a weekly massage, go to a yoga class, or meet a friend for afternoon tea.

Keep Water Guns Stocked and Full
There are few summer happenings as satisfying as an impromptu water gun fight, especially if you get to be the instigator.

Keep water guns stocked and full so that when the moment presents itself, you'll all be happily armed and ready to go.

Weekly Library Trip
The library is a fascinating world of books, events and other media that, if you don't guide them to it, your children are likely to miss out on. By taking a weekly library trip, you and your kids will learn about new books, series, and events in your community.

You'll also instill the joy and discipline of reading in them. Children who read not only tend to do better in school, but they also act with more empathy toward siblings, friends, strangers — and yes, parents.

Make Ice Cream
Instead of relying on the ice cream truck or skipping it altogether due to the sugar, preservatives, and other poor-quality food items within store-bought brands, why not make wholesome ice cream with your children? Get an old-fashioned hand-crank machine that requires physical work, and set about gathering excellent ingredients.

Buy milk, eggs and cream from a local farm. Go berry picking in the woods, and use what you forage. Making ice cream can become both a quest and a reward that will also give you and your children a greater appreciation for the food providers in your community.

Plant and Tend a Garden
One way to create structure, meaningful chores, and refreshment that will last all summer long is to plant and tend a garden with your children.

Even if you have no experience with gardening, sit down together, do some research, and make a plan regarding what you'd like to grow. Most of us are woefully detached from how food is grown, and a home garden can transform that ignorance into empowered knowledge.

Give each child a section of the garden to grow whatever he or she wants to. From beans and tomatoes to squash and arugula, you and your children can experience summer's bounty in an entirely new way.
Use these ideas to refresh yourself and your kids throughout the summer. A little gardening, some water gun fights, weekly library trips and some cool treats will keep the whole family happy and having fun all summer long.
And take some time to get creative outside with your kids. Use spray chalk to make a race track for their cars, draw hopscotch, or make pretty photo backgrounds.
Summer goes fast… so enjoy making memories with your children as you relax and enjoy the season.
Share With Your Friends
We'd love, love, love a tweet or a pin… Thanks so much! 🙂
[Tweet "7 Ideas for a Refreshing and Fun Summer for the Whole Family"]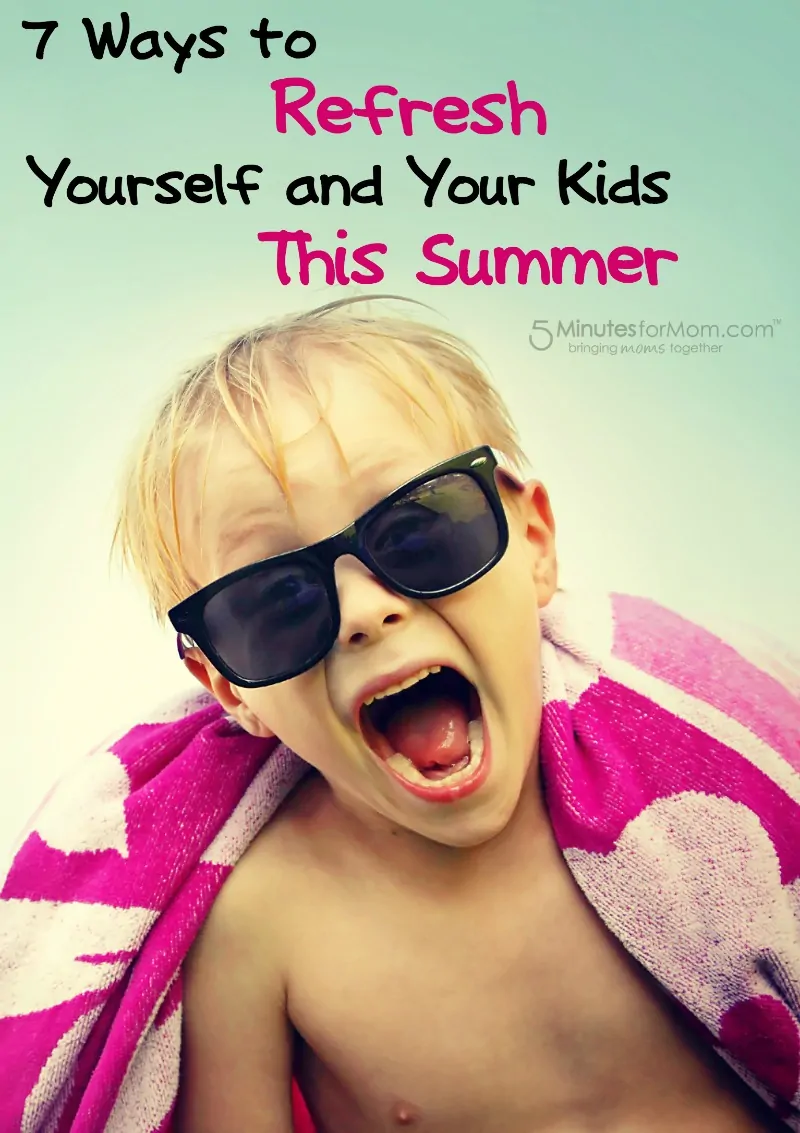 Images from Dollar Photo.
Talk with us: @5minutesformom and Facebook.com/5minutesformom
Pin with us at pinterest.com/5minutesformom