This post may contain affiliate links. Read my disclosure policy here.
Summer break is such a fun time of year for relaxing and spending time together as a family. But it can also lead to kids complaining about being bored. So it's smart idea to have make a summer bucket list for kids of activity ideas and make a routine that works for your family.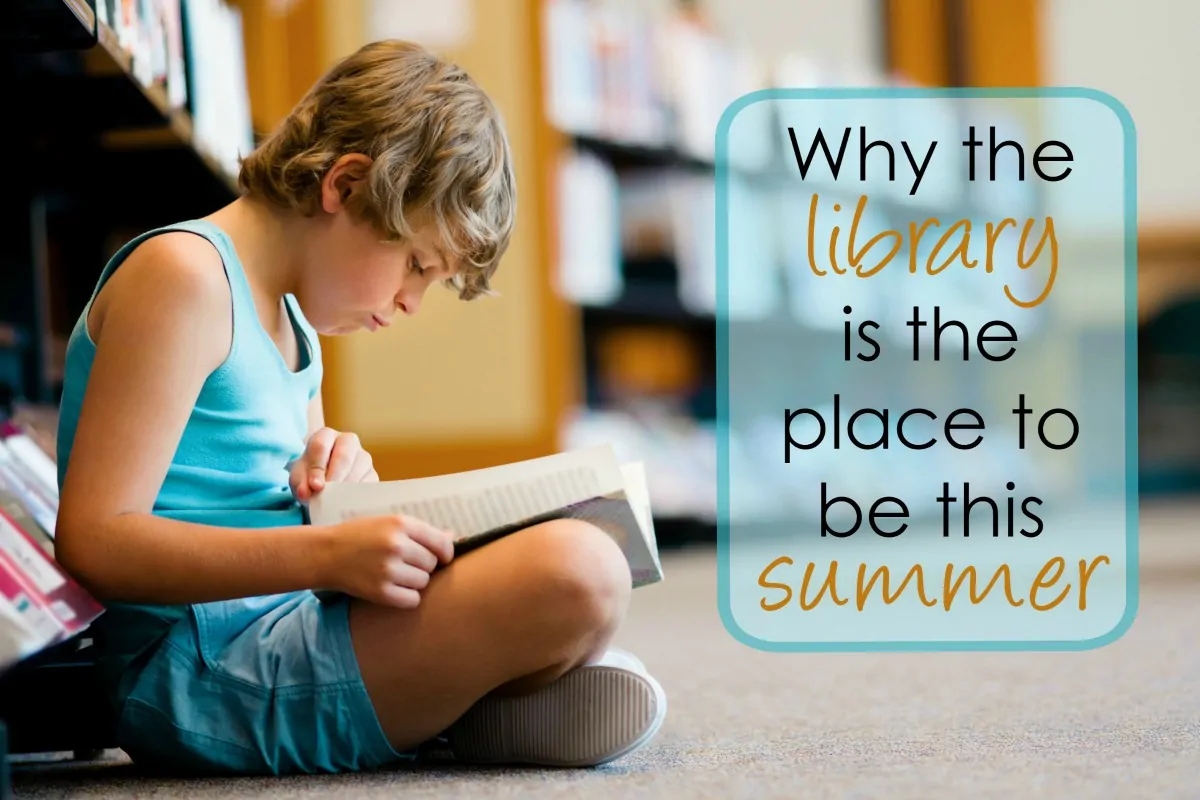 While my children are all old enough now at 7, 9, and 14, for me to not feel obligated to find things to engage them all day long, we do have some regular parts of our routine.
Our community pool is a favorite hang out spot for them (as is a lounge chair in the shade for me!), and they've taken to regular bike rides around the neighborhood. Though they often go out and about in our community on their own, one part of our shared summer ritual hasn't changed for years.
Every Thursday, we each grab a big bag and head out for our city's public library. As soon as we enter the doors, the blessed air conditioning isn't the only thing welcoming us. Who doesn't love a freshly filled library bag full of new books?
Routine = Sanity Saver
Did you notice how I said that we have a dedicated library day?
For us, that routine is a key part of the experience. The kids know when to expect the trip, and they prepare by wrapping up with the books they want to return before Thursday comes.
Summer days can soon blend into one another, so it's nice to have one special day that differs from the others. I am the type of person who craves routine, and as a result (for better or worse), my kids all seem to function better when they know what to expect. Thursdays just happen to be the perfect day for us since the library opens mid-morning, and our pool happens to be closed on that day, too.
For many years now, we've kept up this tradition, and a weekly visit is still a good fit for our book borrowing needs.
Summer slide? What summer slide?
If you have school-age kids, you've no doubt heard the term summer slide, referring to the loss of skills children can experience during the summer break from school.
You've also likely heard that one of the most reliable ways to keep summer slide at bay is by having your child continue to read during that break. To take it a step further, it appears that the effect is even greater when children are allowed to pick their own reading materials. What better place to do just that than the public library?
My younger two often leave with a mixture of comics, graphic novels, chapter books, and a few picture books whose covers caught their attention.
Allowing my kids to peruse the aisles to see what strikes them as interesting not only gives them their own reading freedom, it can often take up a good chunk of a morning… in a place where they feel socially obligated to use quieter-than-usual voices! Win, win!
If your kids need some suggestions for what to read, try these books for middle school boys and books for middle school girls. And our friend Amy has some really helpful suggestions for how to choose the right book for kids at various reading levels.
Oh, I wanted to read that!
Not too long ago, my daughter asked for help finding nonfiction books on a particular topic.
We headed out of the kids' section of our library and into the "grown-up area" to her delight. After we found a couple of good candidates for her to check out, all of a sudden I was struck by the youthful face of River Phoenix staring at me from a book cover, standing on display at the end of a shelf in the nonfiction section.
Back in 2013 when Last Night at the Viper Room came out, I had put it on the list of books I wanted to read someday, where I promptly forgot about it since that list really only lives in my head, which is already filled with three kids' ever-changing shoe sizes, a dozen passwords, and all the extraneous song lyrics from the 90s a girl could ever need.
But as soon as I saw the cover, I knew that my someday had come, and if I hadn't been at the library that day, I likely would never have remembered that I had wanted to read it. (It was a detailed and engaging biography of the super talented actor, by the way, with an excellent trip back through pop culture woven in, especially for those of us of a certain age, ahem.)
Don't think that library trips only have to be about the children's section. Do you have any books on a list in your head that you've been meaning to read?
Summer reading programs, book clubs, and special events, oh my!
It seems to be a common thing for public libraries to run their own summer reading programs, which my children have participated in at various levels over the years.
This year, they've opted instead to focus on logging their minutes and using the online activities provided through the Scholastic Summer Reading Program, which they've been enjoying ever since I was reminded of it by Jennifer's post here a few weeks back about summer reading challenges.
Even though they're not participating specifically at our library, they are finding fresh material for their reading there, and we're hoping to check out some of the local events our county's library system is offering, too. In past years, there have been puppet shows, ice cream socials, and literature-related movie showings.
Check out what is available in your community, and while you're there, fill up a bag with some new books for the week, too!
As always, if you're looking for book recommendations for yourself or your kids, be sure to check out our reviews at 5 Minutes for Books before you head out to the library. We hope to add to your list!
Pin it for Later