This post may contain affiliate links. Read my disclosure policy here.
Jennifer Donovan, 5 Minutes for Books managing editor, mother of a teen daughter and a tween son, brings you some book recommendations for middle school girls.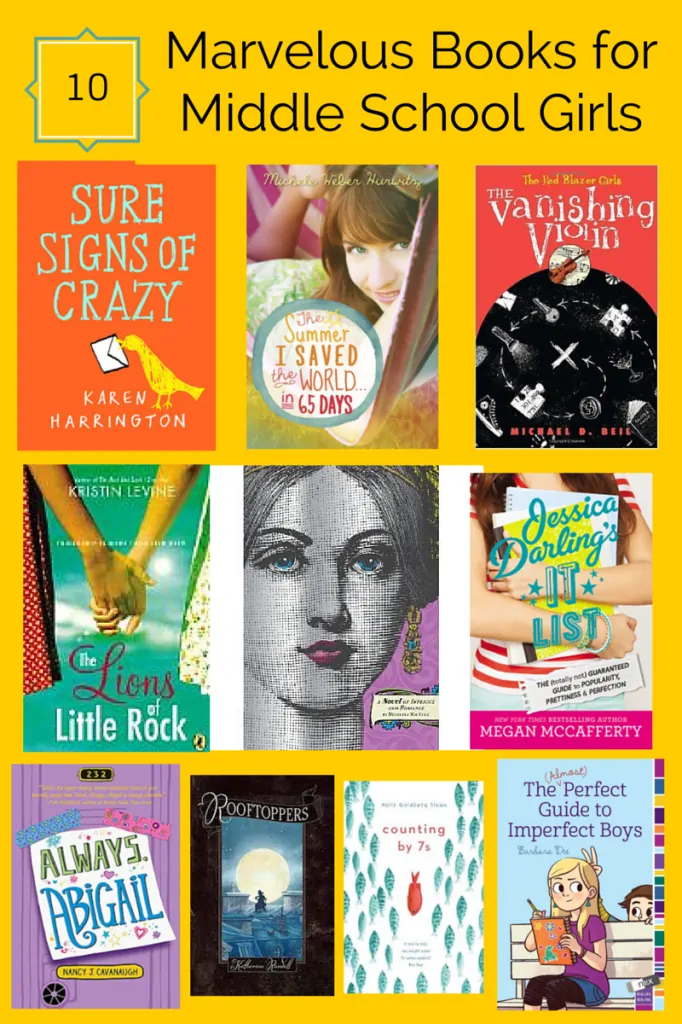 That 12 – 14 range is a tricky one as far as finding great books for your kids. I think that it's a little easier to find books for middle-school boys than it is the girls, because once girls feel like they've outgrown those elementary chapter books, they often end up in that young adult range of books that often contain sexual and social content for which they aren't quite ready (or at least their parents aren't ready!).
These are some books I've enjoyed that will appeal to girls who are changing their images or want to go a little deeper with emotional content, or just want a fun mystery. Click through the links to read my full review
Jessica Darling's It List and Always Abigal each deal with that biggest of issues facing middle school girls: when to grow up. Of course, they are all aging, but some girls develop faster (physically and emotionally), leaving those who haven't sometimes feeling left out.  They both have girls trying to make the cheer squad (and a lot of humor).
The Summer I Saved the World in 65 Days actually deals with that next stage, the summer before high school, but treats it in the same way as the books listed above with no content that would be objectionable to younger readers. The idea of really wanting to make a difference will appeal to this generation for sure.
Sure Signs of Crazy is the kind of dark novel that appeals to many bookloving girls. I know it's the kind of book I was drawn to when I was in junior high. Sarah lives with her dad, because her mom is locked up in a mental hospital after killing Sarah's twin Simon. I said dark, but it's honestly more of a book on self-exploration than the heavy emotional roller coaster that you might predict.
Counting by 7s is another of this type of book, featuring a genius orphan and a misfit almost-homeless Vietnamese family, as well as a quirky teacher who ends up wrapped up with all of them. This was a funny and emotionally resonant book that I enjoyed (as did my 10-year-old son).
There are now four books in the Red Blazer Girls series, which I highly recommend for girls looking for a good mystery with a realistic middle school setting. I reviewed The Vanishing Violin (which was also a great audiobook listen). These junior detectives, named for their private school uniform, are smart girls and the book is peppered with snappy dialogue.
For girls who are fans of historical fiction, I have several titles to recommend for this age group:
The Lions of Little Rock deals with the civil rights era, and a friendship between two girls which the societal laws of the time want to keep apart.
Prisoners in the Palace is a book looking at the childhood of Queen Victoria. It was a fun mystery that also focused on the upstairs/downstairs (royalty versus staff) a la Downton Abbey.
Rooftoppers is quirky book set in the 1930's in Paris, featuring an orphan girl and homeless street kids. An advanced reader looking for something different should definitely check this one out. Click through the link to my full review to read some of my content notes/reservations.