This post may contain affiliate links. Read my disclosure policy here.
I love ice cream.
Actually, I love food in general, but ice cream really stands out for me. If I didn't have to be a good example for my children, I would eat several bowls a day.
I also love to eat fresh, local food. Eating local is both environmentally friendly and delicious – as anyone who's ever had a garden knows, fresh food tastes better.
Between my love of ice cream and my love of local food, you can imagine my joy when a friend who was moving across the country passed along her ice cream maker. For the past few months I have been making my own ice cream. And now that summer is here and my farmer's market is bursting with all sorts of local fruit, I have been using that fruit in my ice cream.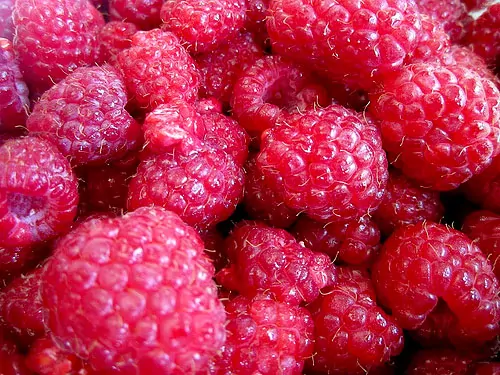 Raspberries have always been one of the best parts of summer for me. Some of my earliest memories are of picking and eating ripe raspberries in my grandmother's garden.
When I bought my own house, raspberries were one of the first things I planted in the garden. Here in the Pacific Northwest the raspberries are ripe right now, so I decided to create my own recipe for red raspberry ice cream. Why should strawberries have all the ice-creamy fun?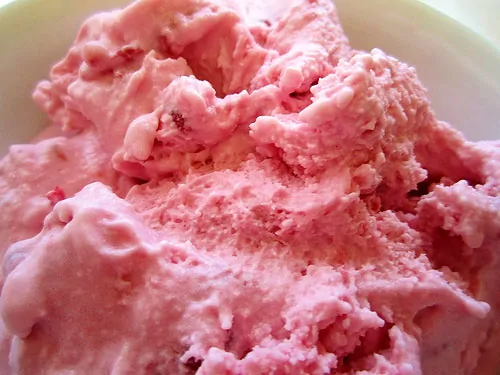 Amber's Red Raspberry Ice Cream

Ingredients:
3 cups fresh raspberries, washed
1 3/4 cups sugar
1 1/2 cups milk
2 1/2 cups heavy cream
1 teaspoon vanilla

Instructions:
Combine 1 cup of the sugar with the raspberries, and mash well. Set aside.

Combine the remaining sugar with the milk, and beat well using a mixer or by hand for a few minutes, until the sugar is dissolved. If the sugar isn't well-dissolved, you can end up with gritty ice cream, and no one wants that.

Add the cream, vanilla and mashed raspberry mixture to the milk and sugar, and stir to combine.

Prepare the ice cream based on the instructions that came with your ice cream maker. I have an electric ice cream maker with a freezer bowl, and it took about 27 minutes to reach the desired consistency for me.

Remove from the ice cream maker, and enjoy! You can freeze any leftovers to eat later.

Yield: Approximately 2 quarts
I do feel compelled to warn you of one thing. If you make this ice cream and feed it to your 2-year-old, for heaven's sake make sure he's not wearing a white T-shirt. Learn from my mistake!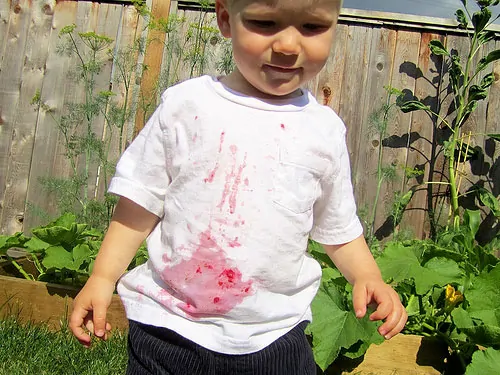 Have you ever made your own ice cream? How did it go? And tell me – what is your favorite ice cream flavor?
Written by 5 Minutes for Mom Contributing Editor, Amber Strocel. Check out her blog, Strocel.com.