We are huge fans of PicMonkey. All of us here at 5 Minutes for Mom use PicMonkey regularly to edit photos and create collages, buttons, banners, and more.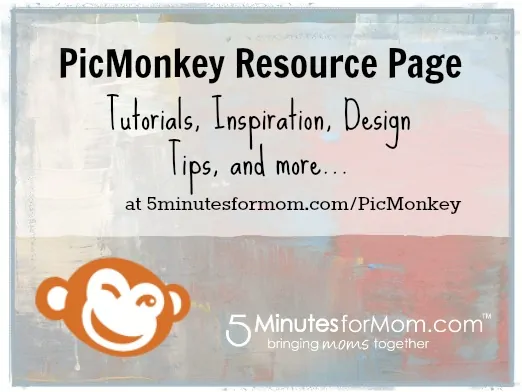 We always recommend PicMonkey to bloggers and friends, so we are creating this resource page for you to easily find PicMonkey tutorials and How To posts, as well as to link up your PicMonkey posts.
BlissdomCA 2013 Photos
BlogHer13 Photos
Janice was at BlogHer13 in Chicago and took photos during the conference and at many of the parties and events. We edited all the photos in PicMonkey. We ran many through their quick filters and added fun embellishments.
During the conference we shared our photos on Twitter, Instagram and Facebook.
You can see the full set of our BlogHer13 photos in the gallery below. There are 66 photos and you can either watch the slideshow or click on the arrows to browse through them…
PicMonkey Tutorials
We are collecting our favorite posts about PicMonkey and have chosen some of the best PicMonkey tutorials on the web and brought them all right here for you to quickly find. With these incredible how to posts and photo editing tutorials, you will be a wild PicMonkey editing expert in no time. Have fun — and may you and the Monkey be life long friends.
Pin This Page and watch for updates….
Latest Tutorials
Don't miss our newest PicMonkey tutorials…
At 5 Minutes for Mom, we regularly publish PicMonkey tutorials and PicMonkey related posts. You can see all of our PicMonkey posts in our PicMonkey Category.
Here are three of our latest "How To" PicMonkey Photo Editing Tutorials:
5 Tips to Make Your Conference Photos Share-Worthy
PicMonkey Tutorial — Master the Clone Tool and Make Stuff Disappear….
How to Fix Bad Flash Photos – PicMonkey Video Tutorial
PicMonkey UDPATES Collage and Editor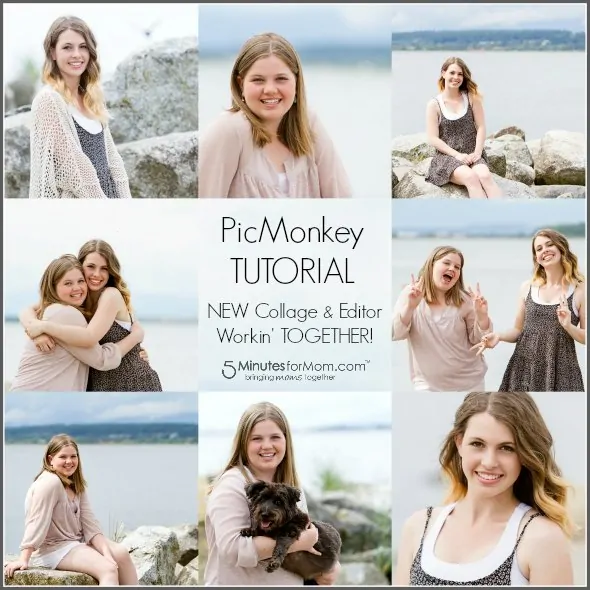 On July 16, 2013, PicMonkey made their greatest update ever, allowing users to edit images while in Collage AND to move their collages directly into Editor without having to save and reopen their collage. We PicMonkey fans all cheered – loudly!
To find out more and learn tips on moving seamlessly between Collage and Editor, check out our post about the great update. We also have made a detailed VIDEO TUTORIAL that walks you through the complete process of creating and editing a collage in the new Collage and Editor.
Getting Familiar with PicMonkey — PicMonkey Beginner Tutorials
If you are new to PicMonkey or just want to make sure you are not missing any PicMonkey skills, check out these fabulous tutorials:
Playing with PicMonkey — Arts, Crafts, Printables…
Creating Watermarks, Transparent Images and Facebook Headers
Resolution, Resizing, and Printing
Fonts are FUN – PicMonkey Text Tutorials
Overlays or Textures at PicMonkey Transform your Photos
Touch Up Techniques
PicMonkey for Play, PicMonkey for Work, PicMonkey for All
PicMonkey Tips, Tricks, and SECRETS
Please Note: PicMonkey periodically sponsors different events here at 5 Minutes for Mom. We chose to build this resource page because we love PicMonkey and want to help our readers find great photo editing and collage making tutorials. Also, we just think that photos – and life really – is all a bit more fun with PicMonkey.