This post may contain affiliate links. Read my disclosure policy here.
This week, PicMonkey made their GREATEST UPDATE EVER!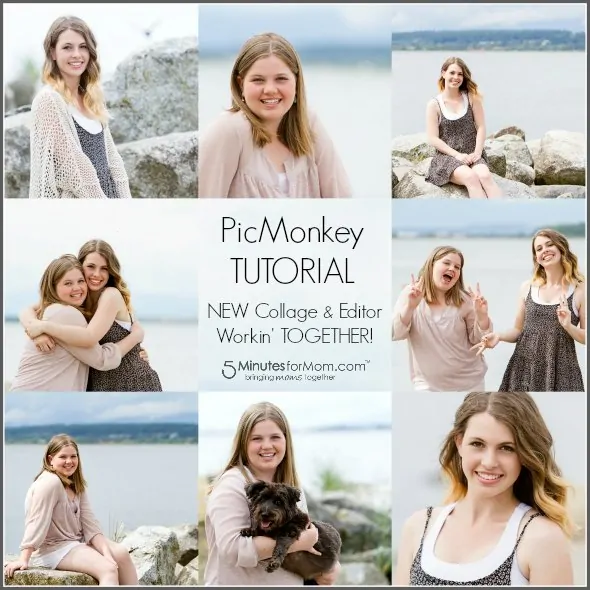 We have loved the Monkey since he first brought back fabulous online photo editing options to us former-Picnik devotees. It was a harsh shock to us bloggers when Google closed down Picnik. But the brilliant minds behind Picnik rescued us with PicMonkey and restored peaceful online photo editing amongst the blogosphere.
BUT, as much as we adored the Monkey and appreciated his free and low cost online photo editing solutions, there were a couple things that made us a wee bit crazy — the inability to resize images in Collage and having to save a photo collage and then reopen it in editor to use the editor functions, such as adding text. We survived and made the extra steps, but we longed for an easier way.
PicMonkey SOLVES the Problem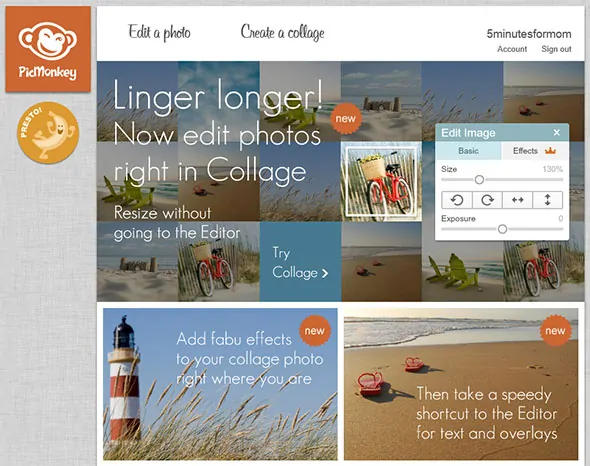 With the latest update, PicMonkey users can now edit their images IN their collage cells and take their collages directly to the Editor, with no saving!
Edit IN Collage
YES – you can make basic edit changes, (Resize, Rotate, Flip and Exposure,) to your images WHILE they are in their collage cells. Need to resize your photo to fit properly in your collage? No problem! Zoom and pan right in collage. Are some photos a little darker than others in your collage? Don't panic. You can increase the exposure on each individual photo in your collage.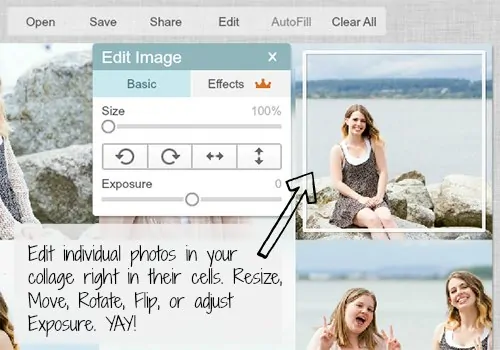 If you want to do more editing to an image in your photo collage, you Royale subscribers can add six of the most popular one-click effects – Orton, Cross Process, Dusk, Intrepid, Tranquil and Black and White – to your photos right there in their collage cell.
Open a Collage Photo In Editor AND Bring it Back to Collage!
Even better, Royale subscribers can "Open image in Editor" and the image jumps into the Editor where you can play and perfect your photo with all the power PicMonkey packs into his Editor.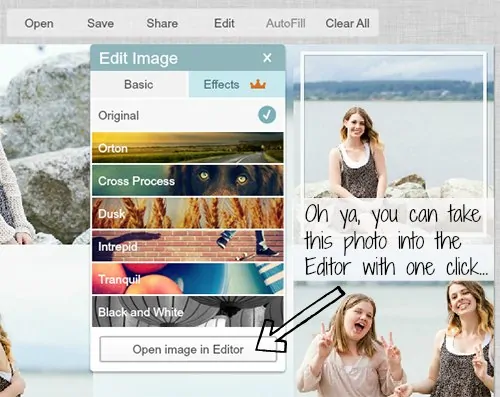 Once your image is perfect and ready to go back, a simple click brings it back to it's spot in your collage. Now, was that easy or what?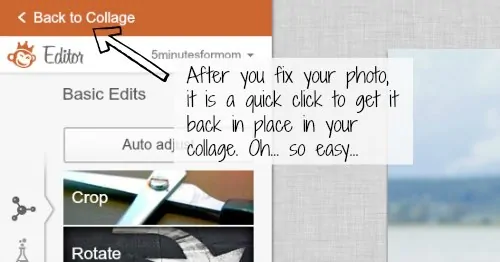 If you cropped your photo before taking it from Collage to Editor, it will remember the cropped size when it gets back into Collage. As well, if you move your photos to different cells within your collage, all your edits remain. Yes, breathe in the peace and tranquility.
Collage Complete? Proceed DIRECTLY to Editor — No Need to Save
When your collage is complete, you no longer need to save it to your computer and reopen it in Editor. Now, with a quick click you can send your entire collage to the Editor and add your PicMonkey pizazz, such as text, overlays, effects, frames, etc. THANK YOU PicMonkey, THANK YOU!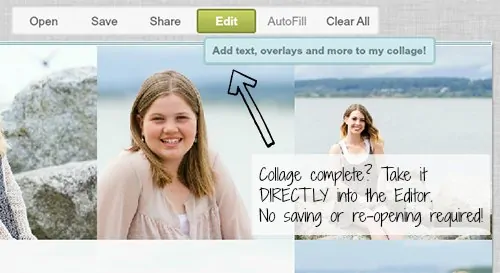 Just remember that once you send your collage to the Editor you cannot send it back to Collage. So make sure it is all perfect before you leap over to the Editor.
PicMonkey Editing Video Tutorial
Want to see these changes and how to maneuver around the NEW PicMonkey features in real time? Click and watch my PicMonkey Video Tutorial where I walk you through the new features and show you how to make fabulous photo collages on your computer.
Don't Miss Our Upcoming PicMonkey Twitter Party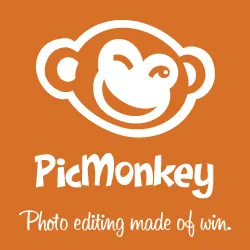 This Monday, July 22nd, 8-9pm Eastern, we are having Twitter Party with PicMonkey. So make sure you hop on the hashtag, #PicMonkeyFun, as we share:
Editing tips and tricks
Our favorite PicMonkey tools
The fabulous NEW features at PicMonkey
AND we will have PicMonkey partying right there with us, answering all your PicMonkey questions…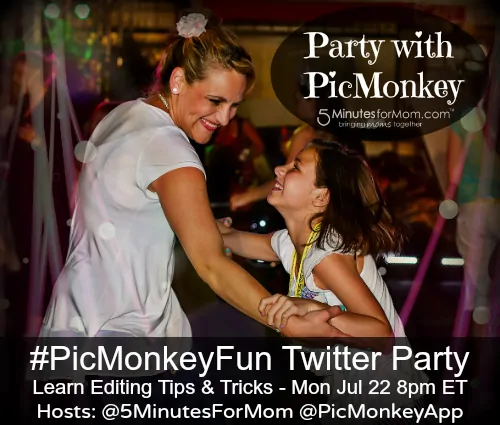 Click here for more info and to RSVP for our #PicMonkeyFun Twitter Party.
Written and photographed by Janice Croze, co-owner of 5 Minutes for Mom and owner of Janice Croze Photography
Please Note: PicMonkey is sponsoring a Twitter Party with 5 Minutes for Mom on July 22, 2013 and is sponsoring our BlogHer 2013 coverage here at 5 Minutes for Mom. We love PicMonkey and we are so grateful for their support and their appreciation of the mom blogging community. As always, our opinions are 100% our own.