This post may contain affiliate links. Read my disclosure policy here.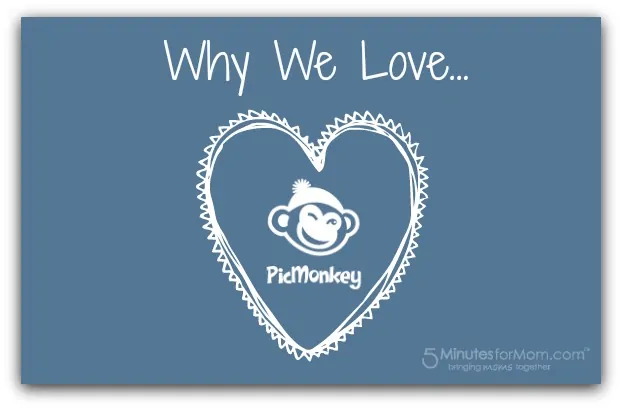 We are PicMonkey fans.
Multiple times a week, we publish posts here at 5 Minutes for Mom with images or collages that have been edited on PicMonkey.com. We are very grateful for all the time and energy PicMonkey has saved us by allowing us to whip together fabulous, "pinnable" images quickly and easily.
In fact, we are just so darn grateful PicMonkey is available at all…
As many of you know, before there was PicMonkey, there was Picnik. But after Google purchased and then closed down Picnik, (and all of us Picnik users cried out in horror,) the founders of Picnik pitched together once again and created PicMonkey.
Cue huge sigh of relief from bloggers who counted on Picnik to quickly create "pinnable" images for their blogs!
Once again we had a free, online, photo editing website where we could quickly and easily create fun collages and edit and add text to images.
For bloggers and people who don't own photo editing software, such as Adobe Photoshop, the creation of PicMonkey was crucial.
But even for many experienced and devoted Photoshop and Lightroom users like myself, the fact that the Picnik team started PicMonkey was also important.
I don't use PicMonkey because I do not have Adobe Photoshop. Actually, many of the images I import into PicMonkey have been processed through Lightroom and often Photoshop. But there are times when PicMonkey is just so darn fast, and convenient, that I turn to it to whip together collages or add text, etc., to images I have already enhanced or edited in Photoshop or Lightroom.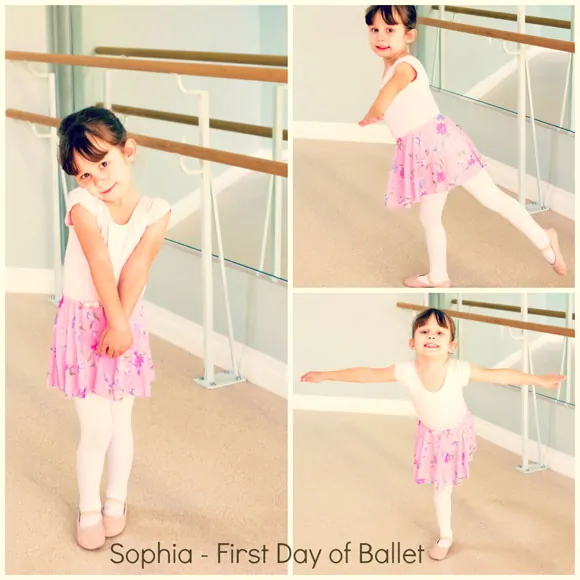 So, it comes as no surprise to us here at 5 Minutes for Mom that PicMonkey is continuing to grow and gain appeal in this image-centric, photo-editing and filter obsessed, world.
Of course, for a business to grow, they must bring in revenue.
In December, Picnik announced their premium Royale membership — exclusive extras available only to paid subscribers.
With this initial launch of the Royale plan, only monthly subscriptions were available. However, this past week, PicMonkey has announced their annual Royale plan for $33/year. The annual option is 45% off the monthly price and equates to $2.75/month.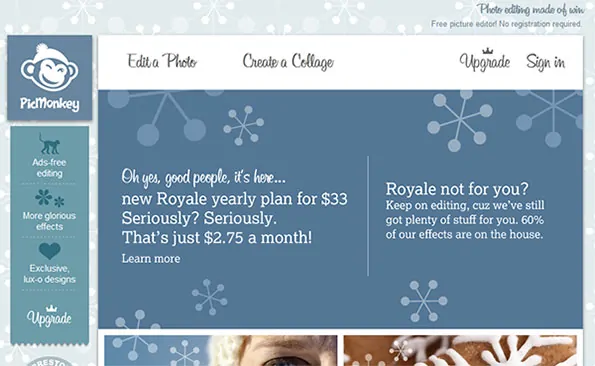 And what a deal it is!
For everything that PicMonkey offers their users, $33 a year is an incredible value. Honestly, we believe in supporting the websites we use, so we were more than happy to sign up as soon as they offered the Royale monthly subscription. We want PicMonkey to continue to thrive and offer their users the best service possible.
Last week, I had a chance to chat with PicMonkey Executive Lisa Conquergood, who was part of the former Picnik. We discussed why a team of former Picnik staff decided to create PicMonkey, the upcoming changes at PicMonkey, some tips on using PicMonkey, and more.
It was fascinating to speak directly to Lisa and to hear her perspective and passion for their company. Click on the player below to listen to our interview or to download the mp3.
Note: This is not a compensated post. We simply adore PicMonkey and wanted to share this exclusive interview with you.
Written by Janice Croze, co-founder of 5 Minutes for Mom.
We want to get to know you better — Tweet with us: @5minutesformom, find us on Facebook: Facebook.com/5minutesformom, or join our newsletter list.