This post may contain affiliate links. Read my disclosure policy here.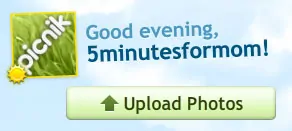 "OMGosh, I feel like someone just stole my dog. Dude, so heartbroken! I use Picnik all the time!"
– Blogger, Lisa Douglas of Crazy Adventures in Parenting
Imagine you are an electrician, standing on the top of your ladder, and you reach down into your tool belt for your favorite tool. As you slip your fingers around the well worn, familiar handle, you hear someone call out, "Oh, by the way buddy, did you hear you only have April to use that (insert some really important tool)? Yeah — those are being cut. Gone man. You are gonna have to use something else…"
Well, you might just fall off your ladder, or jump down to go mess with the person who is messing with your work!
BUT, if you are a blogger, and your favorite tool – Picnik – has just been closed by the almighty Google, well you will be out of luck.
Yes, the shocking news is flying around Facebook that Google is shutting down the popular free photo editing site, Picnik, which it acquired in March of 2010.
Picnik users, traumatized that one of their favorite and critical tools was just being axed from the Internet, quickly started to complain on the Picnik blog:
"This is horrible news, for a myriad of reasons. What a bad business decision. And what a slap in the face to your loyal fans." — Amy B. from Freaky Perfect
"I've shifted from shocked and disappointed to sad to now just flat-out disgusted. There's a reason I'm never on Google+, and that won't be changing." — Heather from Heather Yarnell Photography

"I'm going to ravage your site for what it's worth. And just think, I was going to sign up for a premium membership in a month. I'm so disappointed in you, Picnik. "Bigger things"? Yeah, good luck with all that. Guess we weren't big enough for you." — Cassandra from Design by Cassandra
What I found most frustrating about the "break up post" to their users that Picnik published on their blog was their sing song "life is great even though we screwed over our customers" attitude:
CONTINUE READING at BABBLE'S MOMCRUNCH…
If you found this post helpful, we would love it if you gave it a Stumble, Tweet, Pin, or Facebook Like. Thanks so much! We really appreciate your support of 5 Minutes for Mom.
Written by Janice Croze, co-founder of 5 Minutes for Mom.
We want to get to know you better — Tweet with us: @5minutesformom, find us on Facebook: Facebook.com/5minutesformom, or join our newsletter list.