This post may contain affiliate links. Read my disclosure policy here.
We LOVE PicMonkey — we can't say it enough around here. SO, we asked the Monkey if he wanted to have some summer fun with us on Twitter.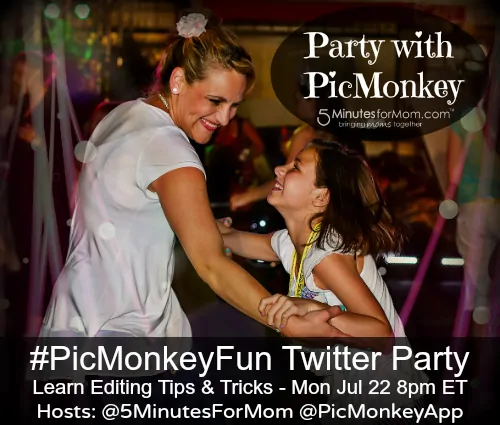 Fortunately, the Monkey loves a good party — so get ready for #PicMonkeyFun next week, Monday, July 22nd, 8-9pm Eastern.
The party will be all about making your photos DAZZLE this summer, whether they are shots of your kids at the beach or of your peeps at the latest blogging conference…
Twitter Party Fun…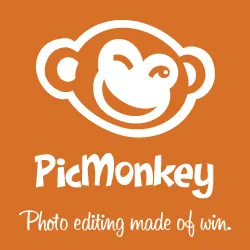 During the #PicMonkeyFun Twitter Party, we will cover:
Editing tips and tricks
Our favorite PicMonkey tools
The fabulous NEW features at PicMonkey
AND we will have PicMonkey partying right there with us, answering all your PicMonkey questions…

Click Here to Tweet —–> Join @5minutesformom & @PicMonkeyApp for #PicMonkeyFun #TwitterParty Mon, Jul 22, 8pm ET
Party Details
Date: Mon, July 22nd, 2013
Time: 8 pm Eastern / 7 pm Central / 5 pm Pacific
Hashtag: #PicMonkeyFun
Party hosts to follow:
@5minutesformom
@PicMonkeyApp
Meet our Guest Panelists
Our Twitter Party will feature some of the most passionate PicMonkey devotees, with some of the best PicMonkey tutorials and posts in the blogosphere. You will learn their best tips, tricks, and secrets to creating eye catching, professional PicMonkey collages and photo edits.
Make sure you follow all of these talented women and their fantastic blogs:
Katrina, aka @KatrinasKitchen, from In Katrina's Kitchen
Jeanette Nyberg, aka @artchootwit, from Artchoo!
Trina Cross, aka @beginnerbeans, from Beginner Beans
Allison McDonald, aka @NoFlashCards, from No Time for Flash Cards
Robyn Wright, aka @RobynsWorld, from Robyn's Online World
Lolli Franklin, aka @1momof5, from Better in Bulk
Kelly Loubet, aka @Childhood, from Everyday Childhood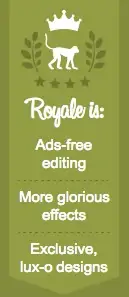 Prizes:
Thanks to PicMonkey, during the party we will select 8 lucky prize winners and award…
If you win and you already have an account, PicMonkey will extend the time on your account.
RSVP so we can Start Following You Now
If you will be joining the party, Click Here to RSVP on Twtvite or use the widget below to RSVP so we can start following you even before the party.
Photo Credit — Photo taken by Janice Croze Photography. Pictured is Christine Young of From Dates to Diapers and her daughter Julia, partying it up at Disney Social Media Moms Celebration
This Twitter party is sponsored by PicMonkey. We love PicMonkey and we are so grateful for their support and their appreciation of the mom blogging community. As always, our opinions are 100% our own.