What Is A Twitter Party?
A Twitter Party is a live chat using the Twitter social media platform and the Hashtag(#) search feature to connect participants to the conversation stream.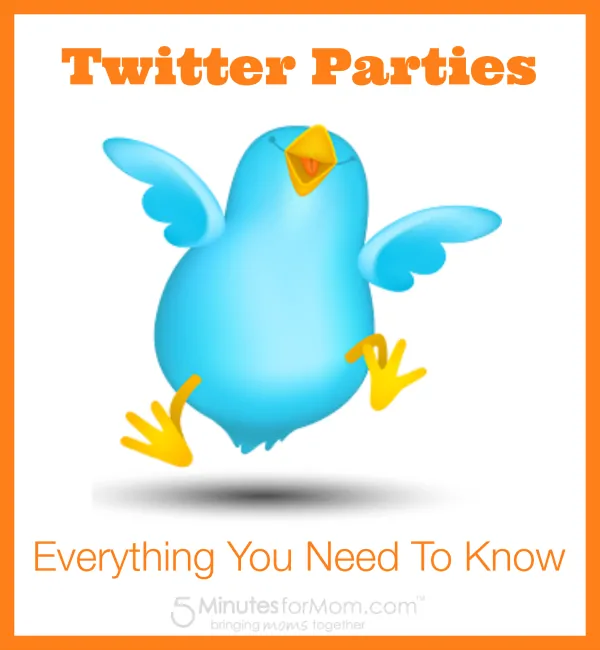 For participants, a Twitter Party is a fun way to find new like-minded friends on Twitter and increase your number of followers while you join in a ultra-fast-moving conversation with hundreds of people. You may even win a cool prize.
For sponsors, it's a way to quickly grow your social media reach and engage in dialog with current and potential followers and/or customers. You can think of a Twitter Party like a super-charged, online version of a Meet-and-Greet party you might hold at a physical store.
Brands large and small are having social media influencers host Twitter Parties for them every day.
We can host one for you.
We are @5minutesformom on Twitter and we have over 84,200 Followers.
Why We Love Twitter Parties
Before Twitter such a party could not exist. But now in this wonderful age of dialog that is both one-to-one and many-to-many at the same time, we can sit at home in pajamas while joining in a virtual party connecting hundreds of people all over the world.
The hashtag(#) based conversation stream allows us to meet tons of people and chat and laugh while talking intimately with brands that we love.
How Does A Twitter Party Work?
A Twitter Party generally has one or more hosts who post about the event ahead of time, invite their followers and spread the message using their various social media outlets.
The host(s) tell people what the Hashtag(#) will be ahead of time in a blog post announcing the party. The Twitter Party Hashtag might incorporate the name of the brand, topic area, location or other influencing factors. It can be tricky to decide upon the hashtag, so the host should spend some time selecting a good match for the party.
Most often Twitter Parties have brand sponsors who provide prizing to randomly selected participants. Winners are usually selected by one of the hosts running the event and sponsors then ship prizing directly to the winners afterwards.
Depending on the topic of discussion at the party, there may be an invited panel of experts who participate in the conversation.
Is A Twitter Party The Same As A Twitter Chat
A Twitter Party is similar to a Twitter Chat and the exact definitions may vary depending on who you ask. But generally I think there are a couple of differences…
A Twitter Party usually has some prizes randomly awarded during the event to participants.
A Twitter Party is usually a one-time event whereas a Twitter Chat is often a weekly or otherwise prescheduled and repeating discussion using Twitter.
A Twitter Party is usually sponsored by a brand or website.
How To Join A Twitter Party
Joining in a Twitter Party is simple.
The main thing is to follow the search hashtag(#) that is provided in the party announcement post and then include that hashtag(#) in your reply tweets so that Twitter streams the conversation together.
Another good idea is to add your Twitter Handle to an RSVP linky list if one is provided in the party announcement post. RSVP'ing is often optional, but a great way to get people – including the party host – to follow you.
During the party, the host asks questions related to the topic like this…
Q1: What household chore do you hate the most? #PartyHashtag
Participants answer like this…
A1: I hate laundry more than anything! #PartyHashtag
Throughout the party (which are typically one hour long) or at the end, the host will announce randomly selected participants as winners. For example…
W1: Our first prize winner receiving an xxx from @sponsor is @winner #PartyHashtag
The hosts will usually plan a topic theme, questions and brand related information tweets to share during the party.
How To Keep Up
[Tweet "How to keep up during a fast moving Twitter Party…"]
The conversation during a Twitter Party moves FAST and it can feel hard to keep up. It can be very helpful to use a website such as twubs.com or tweetchat.com that helps you follow the hashtag Twitter Stream and allows you to pause/resume the flow.
Another common strategy is to use TweetDeck or HootSuite with multiple columns set up for the party host(s) and the hashtag.
Why Should You Join A Twitter Party?
You'll have fun, learn new things and meet new friends, brands and PR reps. You might even win a great prize.
Anyone can join any Twitter Party… they are completely free and open to the public.
Why Should You Sponsor A Twitter Party?
[Tweet "10 reasons why your company should sponsor a Twitter Party…"]
Here are 10 reasons for a company, organization or brand to sponsor a Twitter Party.
Meet and talk to your current followers and customers.
Extend your reach to find new followers and customers.
Convert followers to customers.
Introduce new products or services.
Initiate conversation and spark interest in your subject area.
Start dialog about your product or services benefits and uses.
Point out the need your business fills.
Create interest in your product offering.
Answer questions about your company, products and/or services.
Generate buzz about your brand.
How To Sponsor A Twitter Party
We can host a Twitter Party for you!
When you select us to run your Twitter Party Campaign, we take care of everything. We will…
Plan and host the entire Twitter Party.
Write and publish 1 or 2 posts on 5 Minutes for Mom inviting readers to the event.
Provide Social media support through Facebook and Twitter.
Send out a Newsletter blast about the party.
Place a Banner advertisement on the site the week of the party.
Provide you a Hashtracking report with party stats after the event.
As a sponsor you only need to supply the prizing and any ideas you might have for the theme of the party and we will take care of the rest. Pricing for such a campaign is affordable, contact us and we'll provide the details.
See our upcoming and previous Twitter Party posts here.
If you are interested in having your business sponsor a party so that you can benefit from a huge stream of twitter love, let's get your party started!
Find us @5minutesformom on Twitter.