This post may contain affiliate links. Read my disclosure policy here.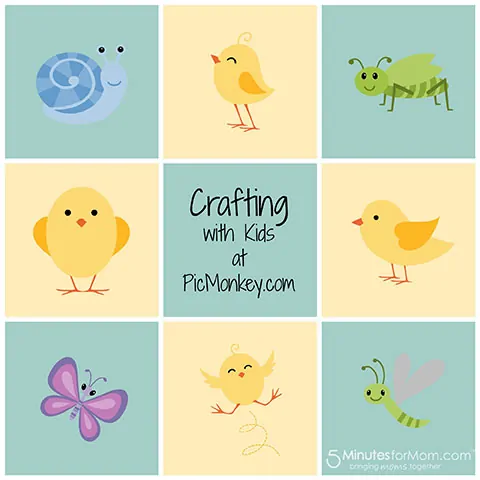 If your kids are like mine, they LOVE crafts and LOVE to take pictures with my iPhone.
So, while I was working on my post the other day about the fantastic new light-inspired textures, effects, and overlays at PicMonkey.com, it gave me an idea — PicMonkey play for my kiddos!
Yes, with PicMonkey's adorable designs and overlays, as well as their super fun photo filters and treatments, kids can have just as much fun as we can over there. In fact, there is an endless amount of creations your kids can come up with at PicMonkey. They can edit and enhance their own photos, make collages and photo designs, create crafts and coloring sheets and cards, and so much more.
Here are a few craft ideas for kids of different ages:
For the Littles…
My daughter just loves to color. She can color for hours on end. And, as much as she loves coloring, she loves to give her coloring projects to her friends and family.
So I thought making "coloring cards" for her to design, color, and gift would be absolutely perfect.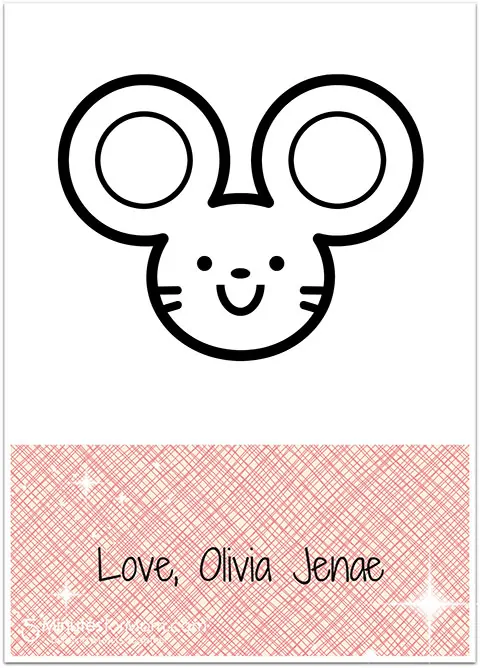 Depending on the age of your child, you can either design the card by yourself and just have them color it, or help them pick out the colors, and the pictures they want on the card. To make this card a little more polished, I added some color, overlays, and border.
Here is how I did it:
First, I went into the "Collage" creator on PicMonkey and chose a 5×7 card layout. Then I added a color swatch to the bottom section of the layout. I saved that on my computer and then opened it in the photo "Editor" on PicMonkey.
In the "Editor," I added some "Sparkle Stars" overlays and some Text, chose a fun character for Olivia to color, (in Overlays, under "Ordinary Beasts",) and then added a border around the card.
For Older Kids and Teens
With all the photo capturing options our kids and teens have at their finger tips, helping our kids to express their creativity and develop their eye for design and photography is so easy.
Encourage your child or teenager to take whatever photo-capturing technology you have handy — mobile phone, iPad, etc — and head out to capture images that are meaningful to them.
Then, upload the image on the computer and show them around PicMonkey and how they can edit, enhance, and transform their images into incredible pieces of art. Depending on their age and independence level, either work with them or leave them to their own devices and see what fabulous things they can do with their photos.
The different photo effects can be so fun and addictive. Your kids will love how they can transform a photo into countless different versions and moods. Some of my favorites are the new light-inspired Effects such as "Light Flare" and the "Camera Look" effects.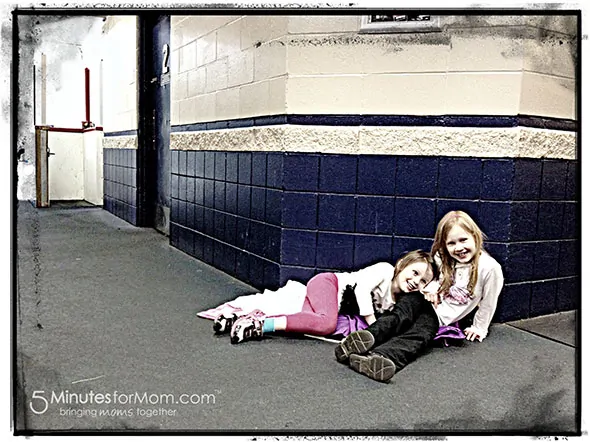 The wonderful thing about editing an iPhone or mobile phone picture with PicMonkey is that the photos we take on those devices are not the highest quality. It isn't the same as taking a photo with a DSLR. So, running the photo through editing software can hide the photo's imperfections while putting creative spins to the photo that make it into a striking piece of art.

Here is how I did it:
For this photo, I used a very flawed photo from my iPhone. I love this image because of the story it tells — my youngest daughter on the left with her cousin Julia passing time at the hockey rink. My daughter and I spend countless hours waiting for my son during his endless hockey practices and games.
The photo is crisp where it should be soft and soft where it should be crisp. It has an ugly white balance due to the fluorescent lighting and the walls and floor are dirty.
SO, to funk up this photo and mask the fact that my subjects are a bit blurry, I used the "Gritty" effect, and adjusted the darkness and the fade. Then, I added a funky border from the "Sketchedy" border options.
For All Ages
Creating photo-art and designs at PicMonkey can take you anywhere you want to go. You can make all kinds of cards, crafts, collages, etc. You and your kids can stretch your creativity as far as you want.
Have fun with your kids choosing their favorite pictures and pairing them with colors and designs that suit their personalities. Use the different layouts and swatches in the "Collage" section and then save the image and re-open it in the "Editor" section to add the overlays, text, borders, etc.
Kids love pictures of themselves. From "selfies" to photos we capture, kids love to be the center of attention.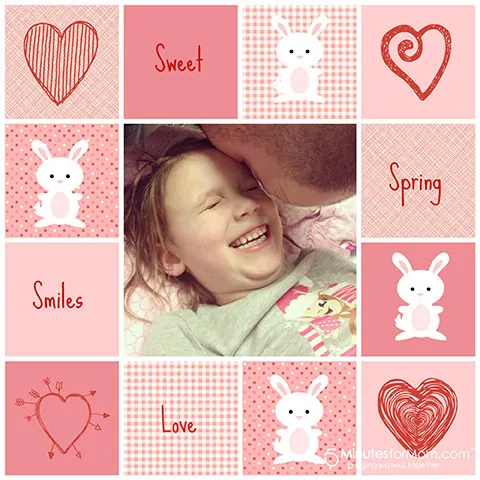 So, for this design I made my daughter, Olivia, literally the center of attention.
Here is how I did it:
I used a square image I had edited in Instagram and had saved on my phone. I opened it the "Collage" section and chose a layout from "Tile Border." I put the image in the middle and then chose colors from "Swatches" for the other squares that complemented the photo.
Then I saved and re-opened in the Editor. I went to the "Overlays" section and added some designs from the "Hearts" category and a cute little bunny from "Cutimals." I then added text using the "Sue Ellen Francisco" font.
Now Olivia has a super adorable image we can print for her room or give as a gift, or print as spring postcards where she can color and write on the other side and send to friends or family.
How are you keeping your kids busy this Spring Break? What are your favorite crafting with kids websites?
Want to Share? We love it when you do! Stumble, Tweet, Pin, Facebook… whatever suits your mood. Thanks so much! We really appreciate your support of 5 Minutes for Mom.
Written by Janice Croze, co-founder of 5 Minutes for Mom.