This post may contain affiliate links. Read my disclosure policy here.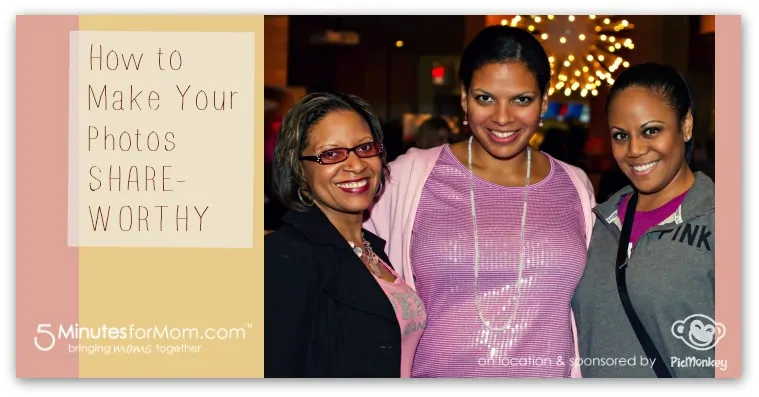 When you arrive home from a blogging conference like BlogHer13, you likely have a phone full of photos or perhaps you even lugged around a DSLR to capture it all.
It's time to get those photos out there to share with all your conference friends.
Here are 5 simple photo editing tips to quickly edit your shots with PicMonkey to get your friends, liking, tweeting and sharing your photos.
Use a filter to quickly fix lighting.

Chances are most of your photos are indoor shots with poor lighting and the white balance has gone a little crazy. One quick solution is to use a fun filter that can fix the lighting and add a cool effect with only a click or two. If you are really hating the lighting or you are dealing with the unfortunate effects of flash, PicMonkey has a great black and white filter option too. Black and white can hide a thousand flaws.

Add names or Twitter handles to photos.

You will have photos of new and old friends and to make those photos more interesting and memorable for everyone, it helps to add text labels to the photo to show who's who.

Make collages to share many photos at once.

With PicMonkey, you can make and edit collages shockingly fast. And now, with the new update to collage, you can quickly edit your collage and be posting your creation in a flash!

Use touch up tools to fix shiny faces, remove blemishes, or reduce red eye.

Flash can make any face look shiny. And with the long days at conferences, most of us aren't exactly powdered and ready for our close up. With PicMonkey's many touch up tools, you can do a little "post" make up work.

On the photo below of me with Disney rep, Marshall Weinbaum, I used a little Airbrush, (remember to fade the effect,) Shine Reduce, Spray Tan to even skin tones from neck to face, and Red Eye Remover to remove a small bit of pink in our eyes.

Remove distractions from your shot by cropping, darkening the photo edges and/or using the clone stamp tool.

When you're taking photos in a crowded room, you don't have the luxury of clearing unwanted objects and bystanders from your background. Thankfully, with some quick edits you can clean up the photo afterwards.

For example, we removed many distractions from the following photo using PicMonkey edit tools. First, we cropped, then used the clone stamp to remove the yellow drink and finally darkened the edges.

I've cropped this final shot with square proportions so I can share it later through Instagram which crops all photos into squares. (To share photos on Instagram that I have edited with PicMonkey on my computer, I upload photos to DropBox, then open on my phone and upload to Instagram.)
Have fun editing your photos!
If you publish any posts or photos about BlogHer13, you can link them up in our BlogHer13 RoundUp.
We're thrilled to feature our friends at PicMonkey as sponsors of our BlogHer13 related content. We are editing all of our BlogHer 13 photos in PicMonkey and sharing them on Twitter, Instagram and Facebook. Thanks PicMonkey — we love you guys!

To help you become PicMonkey wizards, and to help you share your PicMonkey wizardry secrets, we've created a PicMonkey Resource Page full of free tutorials, tips and tricks, as well as a LINKY for you to link up your own PicMonkey posts.