This post may contain affiliate links. Read my disclosure policy here.
BlogHer 2013 is now a memory. I am back at home and back to the "real" work of blogging.
Blogging can often be a lonely, coffee-fueled existence. We spend countless hours at our computers — working while our households sleep, cramming work time in between hockey practice and playdates, and promising our kids we "just need to finish this one last email, publish this one last post, edit this one last photo."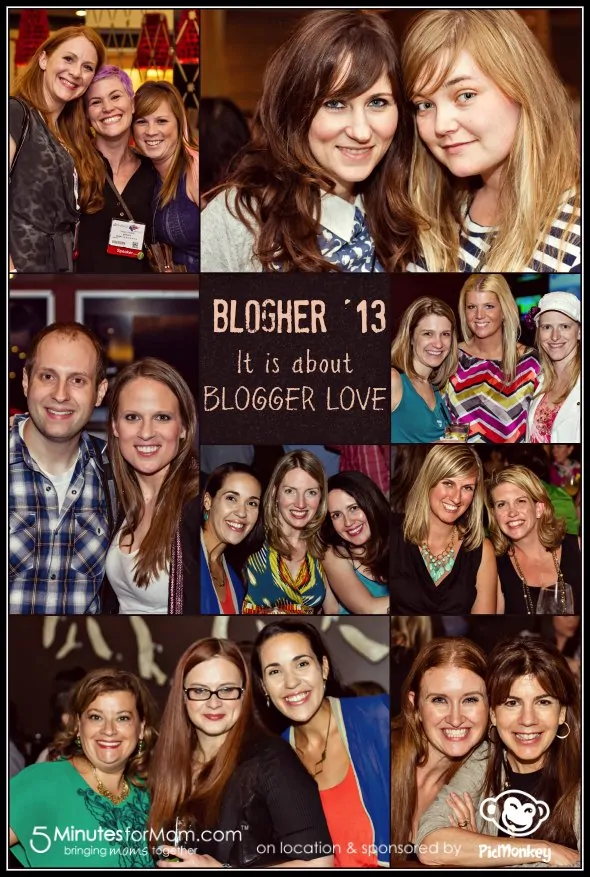 But at certain times of the year, we get to indulge in the bonuses of blogging — the "champagne and cupcakes" side of this mad world we created. BlogHer is one of those times.
Now don't get me wrong. I worked my butt off at BlogHer'13, meeting with companies and PR reps, networking my way through the massive expo hall, and photographing parties. I was so exhausted at times, I would have almost switched with my twin sister Susan, (co-founder here at 5 Minutes for Mom,) who was at home working 12 hour days to keep up with all the work she had to handle on her own.
ALMOST. Yes, there is always the best part of a blogging conference that keeps me going when conference exhaustion overwhelms — my blogging friends, new and old.
Being with our own kind, our peers, is indescribable. It is our other "home," where people understand the sacrifices and stresses we face every day.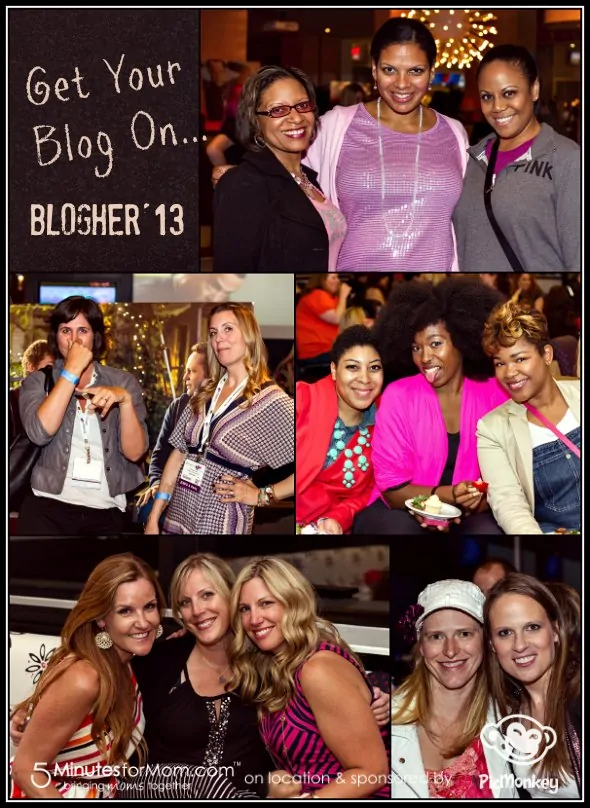 Life as a blogger is incredible. Susan and I are so blessed to get to work every day as professional mom bloggers. But it isn't easy. In fact, it is downright terrifying some days, as you hope and pray enough contracts come in to pay the bills.
So, my blogging friends are my medicine, my healing. They understand me. They hug me. And even as technically one could call us, competitors, we don't. We help and encourage — and always pass the champagne and cupcakes.
BlogHer13 Gallery – Click on Any of The Photos Below
You are welcome to share and/or post any of our BlogHer13 photos, we just ask that you link back to us. To make it easy, you can copy and paste the html snippet below to include in a post.
We're thrilled to feature our friends at PicMonkey as sponsors of our BlogHer13 related content. We are editing all of our BlogHer 13 photos in PicMonkey and sharing them on Twitter, Instagram and Facebook. Thanks PicMonkey — we love you guys!

To help you become PicMonkey wizards, and to help you share your PicMonkey wizardry secrets, we've created a PicMonkey Resource Page full of free tutorials, tips and tricks, as well as a LINKY for you to link up your own PicMonkey posts.
Link Up Your #BlogHer13 Posts
Share your #BlogHer13 posts and find others in this linky list…
Written and Photographed by Janice Croze, co-founder of 5 Minutes for Mom and owner of Janice Croze Photography