This post may contain affiliate links. Read my disclosure policy here.
These Gluten Free Oatmeal Chocolate Chip Cookies taste so delicious, no one will even know they are gluten-free.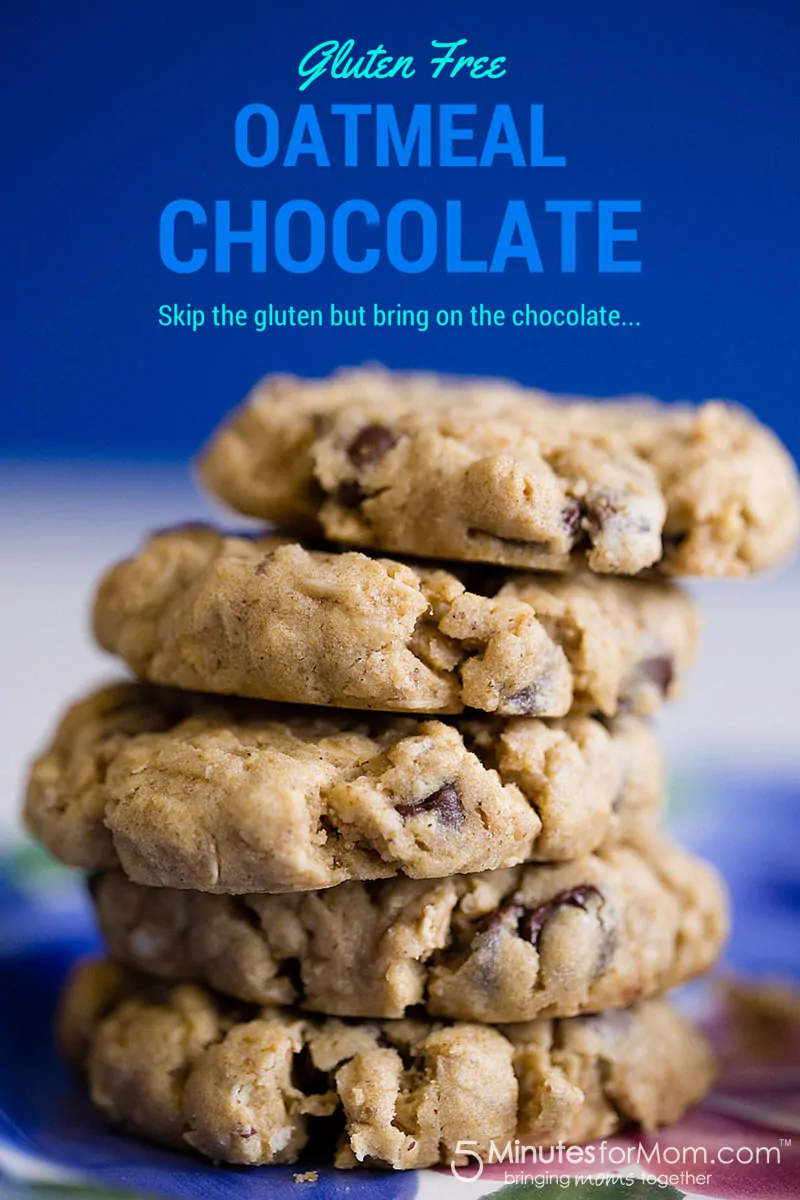 I was an Oatmeal Raisin Cookie girl. Until these cookies.
In fact, I was so solidly part of the Oatmeal RAISIN camp, that I winced a bit at the thought of chocolate chips in my oatmeal. For me, I would take raisins or nothing in my oatmeal cookies, thank you very much.
However, my daughter Olivia lives full time in the ALL things with CHOCOLATE camp. Since she put her first cookie in her mouth, she has refused to allow raisins to have anything to do with her cookies.
So, I have adjusted, as we moms will do, and no longer try to push the raisins. When I make oatmeal cookies, I make them plain. There. We both win.
But, several years ago Olivia tested positive for a screening blood test for celiac disease. Olivia is already one of the pickiest eaters on this planet, and so I was more than a little concerned if I have to remove all gluten from her life, forever.
At that time, I began my journey into gluten free cooking and gluten free baking. In order to stay positive about the situation, Olivia and I decided to make the best gluten free cookies ever!
And I created this recipe for Gluten Free Oatmeal Chocolate Chip Cookies. It's been such a fan-favorite, that I've updated this post to share with you all again.
It turned out that Olivia is not actually celiac, but we still find that we enjoy eating gluten free… especially with recipes as tasty as these Gluten Free Oatmeal Chocolate Chip Cookies. I also developed a gluten free flour mix recipe that works brilliantly.
Because I knew that adjusting to the taste of gluten-free will probably be challenging for Olivia, I added chocolate chips to the recipe.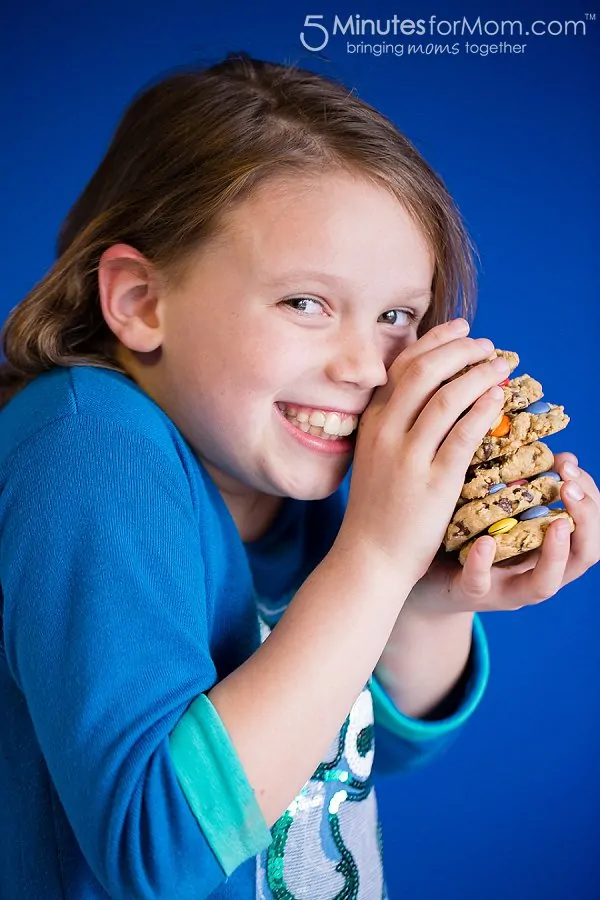 (Olivia also convinced me to top a handful of them with Smarties too, even though Smarties are not actually gluten free. At the time Olivia had to remain on gluten for her next round of tests, so I conceded.)
Olivia and I both LOVED the cookies and I am now a member of the Oatmeal Chocolate Chip camp. (I ate enough cookies to earn a life time membership, I am pretty sure.)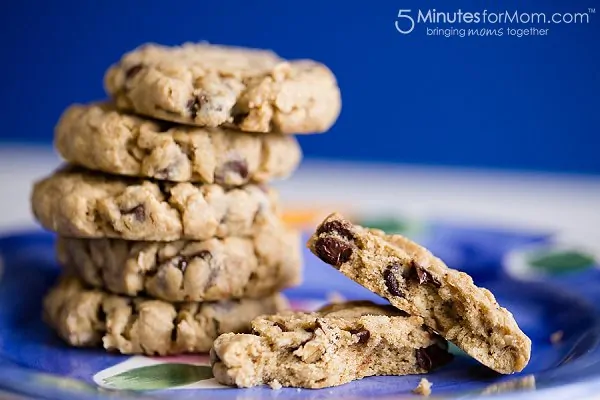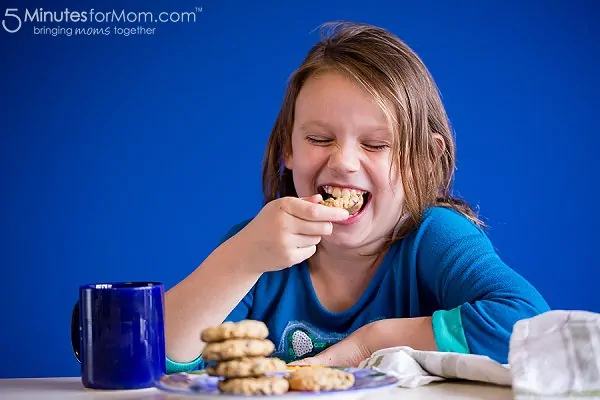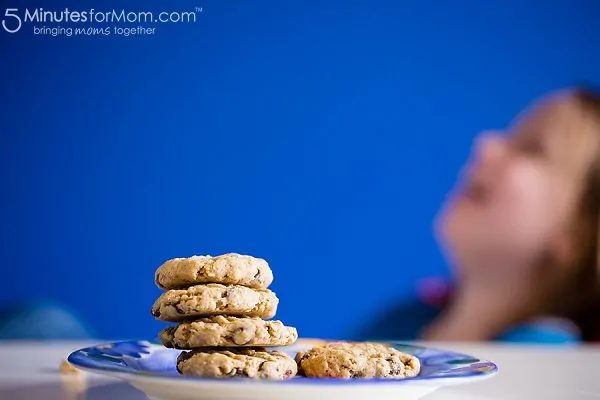 I have been experimenting with gluten free flours and recipes on and off for the last six months, and I love learning from the veterans gluten free bloggers.
This recipe I adapted from the Gluten Free Oatmeal Chocolate Chip Cookie recipe from The Baking Beauties.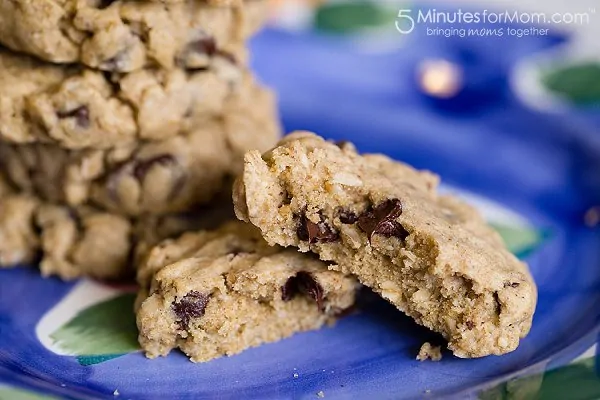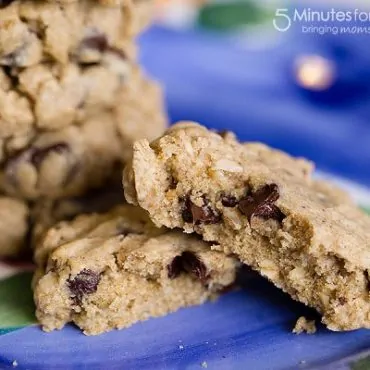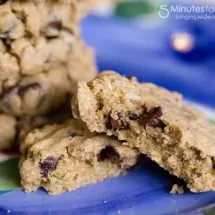 Gluten Free Oatmeal Chocolate Chip Cookies Recipe
A simple gluten free oatmeal cookie recipe, using gluten-free flour blend, gluten-free oats, and chocolate chips.
Print
Pin
Rate
Servings: 24 -30 cookies
Calories: 207kcal
Ingredients
1 cup butter softened
1 cup brown sugar packed
1/2 cup white sugar
2 eggs
1 teaspoon vanilla extract
2 1/4 gluten-free flour mix
1 teaspoon xanthan gum
1/2 teaspoon salt
1/2 teaspoon baking soda
2 cups gluten free rolled oats
1 1/2 cups gluten free chocolate chips
Instructions
Preheat oven to 350 degrees F and line baking sheet with a Silpat or parchment paper

Add flour, xanthan gum, salt, and baking soda to a large mixing bowl. Stir until well combined and set aside

With a mixer or by hand, cream butter and sugars together

Add eggs, incorporating one at a time to the butter/sugar mixture

Add vanilla and stir until well blended

Pour dry mixture into wet mixture, 1/3 at a time

Add oats and mix

Add chocolate chips and stir to distribute evenly

Form balls with about 2 tablespoons of dough

Place on lined cookie sheet and press down with a fork or by hand

Bake for 11-13 minutes, making sure not to over bake - I find that gluten free cookies don't brown as much as my regular cookies

Allow to cool for at least 10 minutes before eating and cool completely on wire rack before storing (I always eat my cookies when they are still so warm they are falling apart - I can't resist)

I refrigerated half of my dough and baked the second half the next day. I find gluten free cookies taste much better when they are fresh from the oven.
Nutrition
Calories: 207kcal | Carbohydrates: 25g | Protein: 2g | Fat: 12g | Saturated Fat: 7g | Cholesterol: 34mg | Sodium: 151mg | Potassium: 44mg | Fiber: 2g | Sugar: 18g | Vitamin A: 256IU | Calcium: 30mg | Iron: 1mg
Try More of our Gluten Free Recipes