This post may contain affiliate links. Read my disclosure policy here.
Gluten Free Pumpkin Bread is the perfect fall recipe! And this pumpkin bread is so fluffy and moist you won't be able to tell it is gluten free…
For the past several years, I have been trying to reduce gluten and limit my grains in an effort to ease my stomach issues and lower my carbohydrate intake.
For several months, I was completely off gluten and rarely had grains. But, I fell off that wagon and lately I have been eating some grains.
A few years ago, my daughter went through testing for celiac disease. While her results said she did not have celiac disease, I started working on my gluten free recipe repertoire. Even if she doesn't have celiac, I want to create gluten free treats her and the rest of our family.
I had a craving for pumpkin the other night, so I decided to whip up a gluten free pumpkin bread.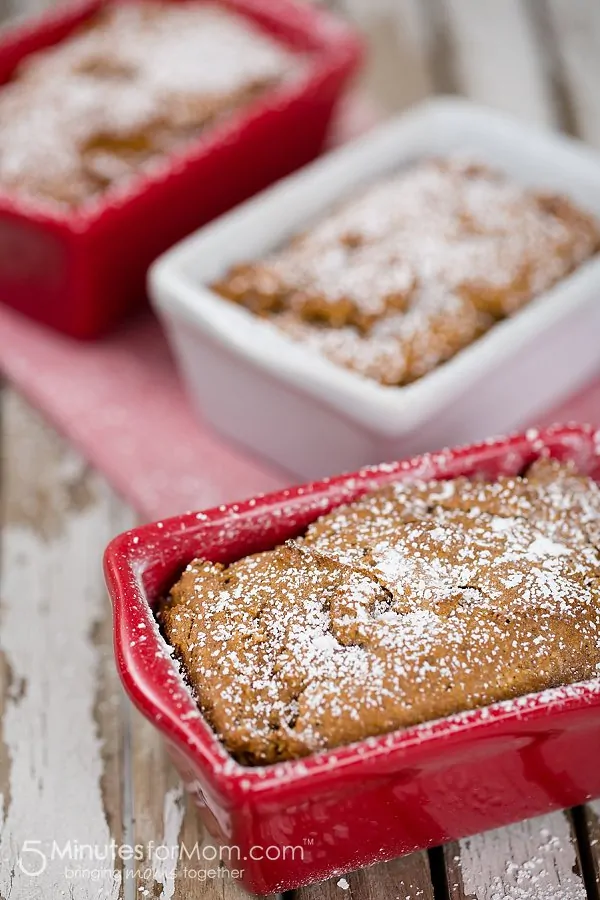 I have been researching and testing out different flour combinations and this one worked incredibly well. I actually wrote another whole blog post about how to make the perfect gluten free flour mix.
Gluten Free Pumpkin Bread Recipe
In this recipe, I used a larger percentage of almond flour, as well as coconut flour, to add more nutritional value to my pumpkin loaf. The almond and coconut flours also added great flavor and texture.
For this batch, I used butter, but you can use coconut oil if you want. I also used organic sugar that I have in my pantry from our recent work with Wholesome Sweeteners, but you can replace the sugar with honey or omit it entirely.
I used ceramic mini loaf baking dishes – I picked them up for a $1.50 each at Michaels – and the smaller size is perfect for these gluten free pumpkin loaves. The smaller size allows the center of the loaf to cook through. No one wants a mushy, uncooked mess in the center of the bread.
This gluten free pumpkin bread recipe filled three of these little loaf pans. They make perfect last minute neighbor or hostess gifts this holiday season.
Just make sure you cool the bread completely before wrapping them up. And good luck not eating them while you wait.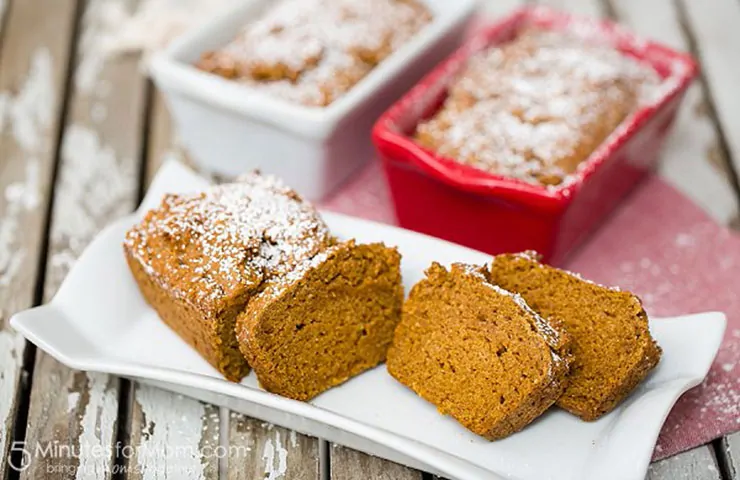 I ate TWO loaves myself as I worked until the wee hours. They were so delicious — I couldn't stop!
I promise, you will not miss the gluten. Your biggest problem will probably be stopping from devouring entire loaves all by yourself.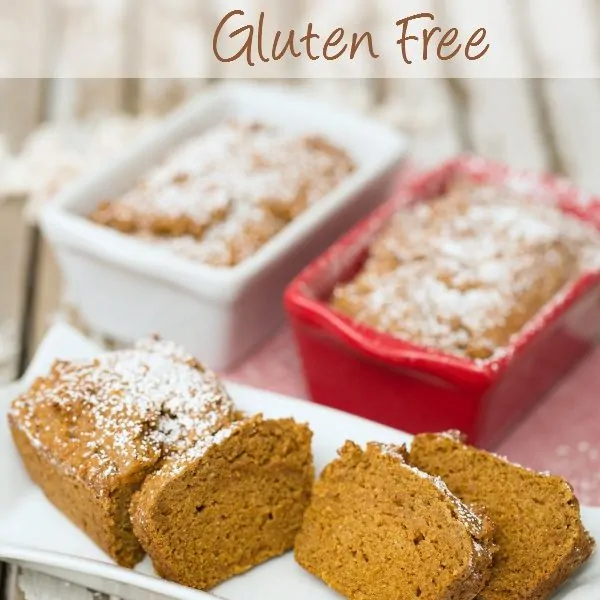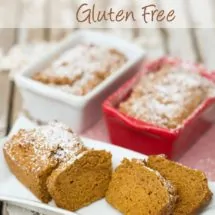 Gluten Free Pumpkin Bread
A scrumptious Gluten Free Pumpkin Bread recipe that is so fluffy and moist you won't be able to tell it is gluten free. This recipe makes 3 mini loaves or one regular sized loaf. I set the serving size to 6 people (1/2 a mini loaf) for the nutrition calculation.
Print
Pin
Rate
Servings: 6 people
Calories: 319kcal
Ingredients
3/4 cup almond flour
1/2 cup brown rice flour
1/2 cup tapioca flour
1/4 cup coconut flour
1 1/2 tsp xanthan gum
1 tsp gluten free baking powder
1 tsp baking soda
1/2 tsp cinnamon
1/4 tsp ginger
1/4 tsp all spice
1/4 tsp nutmeg
1/2 cup sugar
1/2 cup pumpkin puree
2 eggs
2 Tbsp melted butter cooled or coconut oil
2 tsp molasses
powdered sugar for dusting - optional
Instructions
Preheat oven to 350*F

Add dry ingredients to large mixing bowl and whisk together

In another bowl, combine sugar, pumpkin puree, eggs, butter and molasses

Add wet ingredients to dry ingredients and mix together

Scoop batter into three greased mini loaf pans

Bake for 30 minutes or until tops are browned and an inserted toothpick comes out clean
Nutrition
Calories: 319kcal | Carbohydrates: 46g | Protein: 7g | Fat: 13g | Saturated Fat: 4g | Cholesterol: 65mg | Sodium: 301mg | Potassium: 219mg | Fiber: 5g | Sugar: 20g | Vitamin A: 3375IU | Vitamin C: 1mg | Calcium: 86mg | Iron: 2mg
Pin it for Later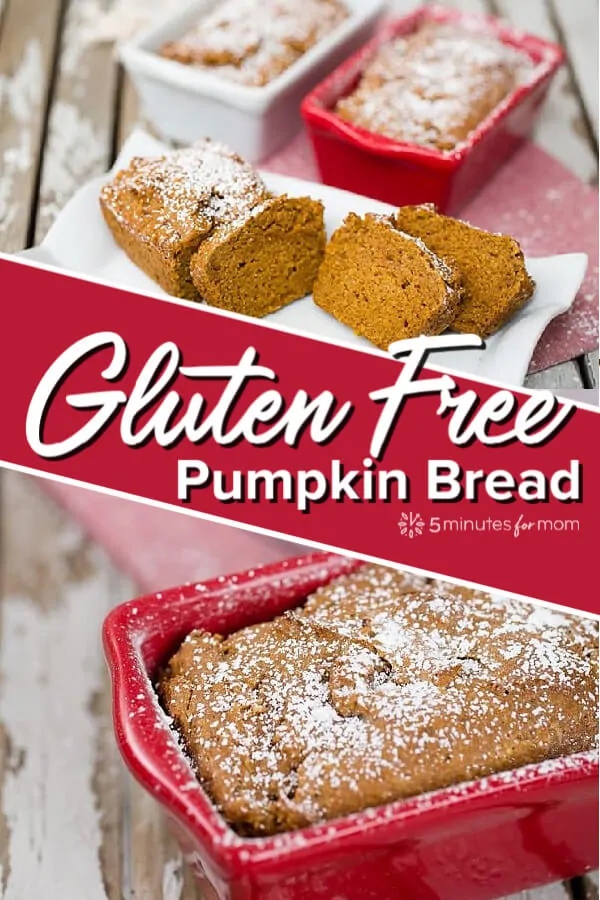 Originally published here at 5MinutesforMom.com on Dec 16, 2014.
Written by Janice Croze, co-founder of 5 Minutes for Mom
Talk with me: @5minutesformom and Facebook.com/5minutesformom
Pin with me at pinterest.com/5minutesformom
Don't Miss These Recipes
If you'd like another delicious bread recipe, make this Irish Soda Bread…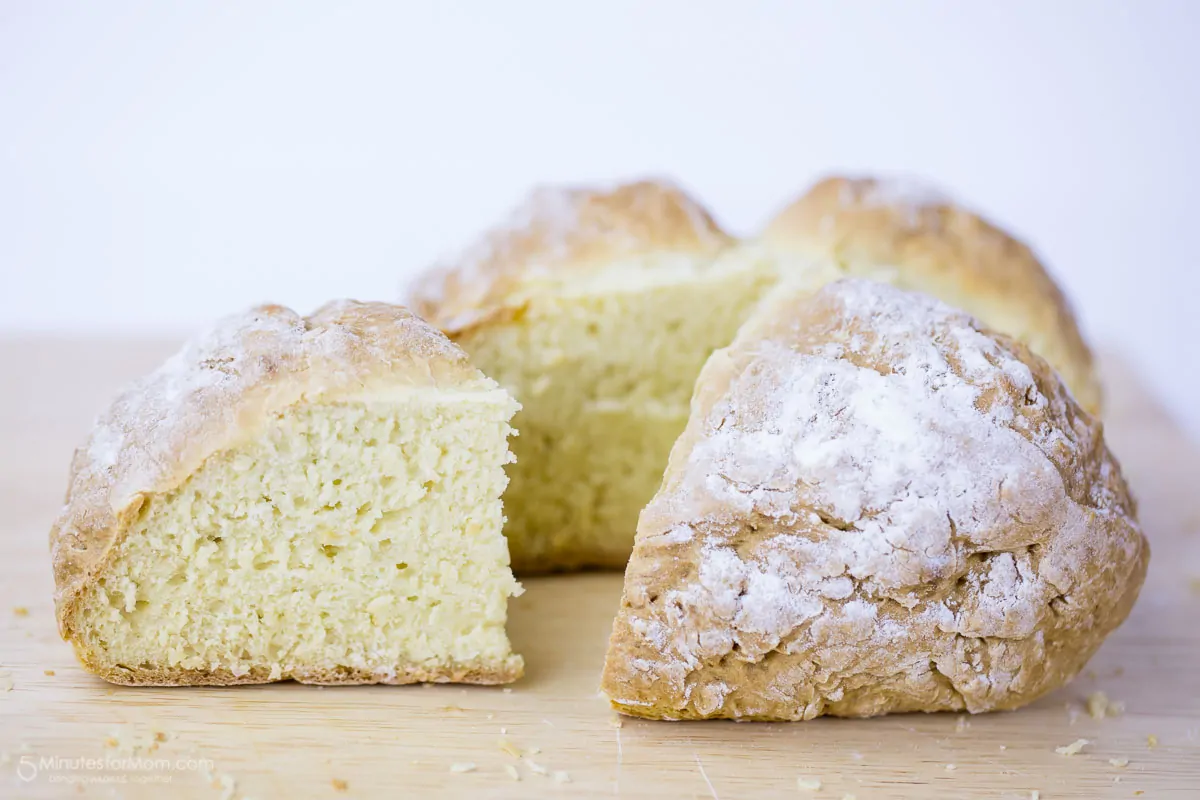 For another delicious fall recipe, try this
Gingerbread Bundt Cake
.