This post may contain affiliate links. Read my disclosure policy here.
Disney sent 5 Minutes for Mom contributing blogger Dawn Cullo to cover the screening of "Captain America" and to interview the cast. Dawn's expenses were paid for the trip but no other compensation was paid and all opinions are Dawn's.
"Captain America: The Winter Solider," is the second movie in the Captain America movie franchise.  It is based upon the Marvel comic book series first published in 1941.  The story follows Steve Rogers aka Captain America in his quest to defend his country and adjust to the modern world.
Since its debut in 1941 the Captain America comics have sold more than 210 million copies in more than 70 countries. This past weekend "Captain America: The Winter Soldier opened with a record-breaking $96.2 million which is the top April opening of all time and worldwide has brought in $303.3 million.
In Marvel's "Captain America: The Winter Soldier," Steve Rogers teams up with Natasha Romanoff, aka Black Widow and Sam Wilson aka Falcon, to battle a powerful yet shadowy enemy in present-day Washington, D.C.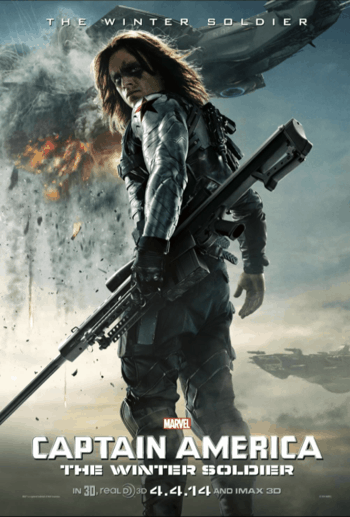 As part of my trip to Los Angeles a few weeks ago I had the opportunity to sit down in an interview room with 25 other bloggers and talk to Sebastian Stan about his role as the Winter Soldier.
About Sebastian Stan
Did you know that Sebastain Stan appeared on ABC's hit show "Once Upon a Time" as the Mad Hatter / Jefferson?  He was on the show in 2012 for a seven-episode arc. He has also appeared in the TV series "Gossip Girl" and "Kings".  Sebastian has appeared on the big screen as Bucky Barnes in "Captain America: The First Avenger". His other credits include "Black Swan," "Gone," and "Rachel Getting Married" to name a few.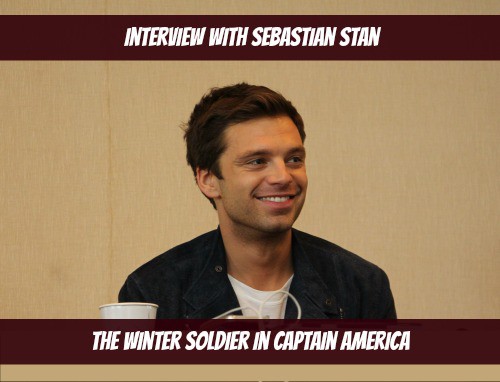 Playing the Winter Soldier
Sebastain said that comic books are not so easily transported to the screen, they have a lot of great information but when looking at ideas for how the Winter Soldier moves and behaves it was up to him to develop that. The training was hard and he was not use to that type of training before.  The diet and working out that was done for 6 months was tough.
He goes on to say that learning a fights was like learning a dance, the whole thing is planned out in detail and you can't have a lot of room for errors.  There was a lot of praciting those scenes. According to Sebastian "When you start training, it really feels like Cowboys and Indians that you played when you were six years old. It actually took me a while to stop making sound effects noises when I was getting hit."   He liked the  fighting sequences, the costumes and scenes done outside were every exciting to film. Sebastian also enjoyed doing the one on one combat.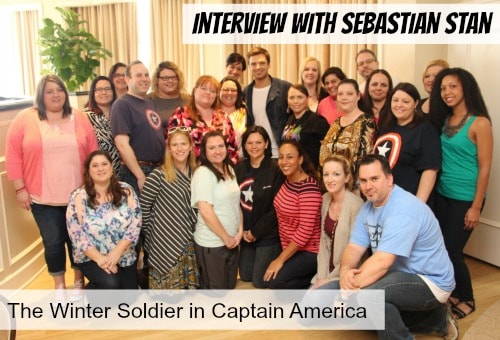 The Winter Soldier has no memory of his past.  In order for Sebastian to play this role he ended up observing his step-father who had developed Alzheimer.  People with Alzheimer disease struggle to try and know things, they respond to things that they hear and see. He watched is step-father a lot to learn how to translate the Winter Soldier onto the screen; it gave him a lot of material to work with.
Sebastian explained that his favorite scene in the movie were the car chases, he felt they had a lot of great visuals and the chase with Nick Fury was great. The most memorable moment on set was when Robert Redford was filming. He kept telling himself to "be present" and enjoy watching the legend at work. 
About the Bucky Barnes aka the Winter Soldier
Sebastian originally auditioned for the lead role of Steve Rogers aka Captain America, when he didn't get that he was still excited to be offered the role of Bucky Barnes as he really liked that character as well.
As I previously reported during the blog post with Marvel President Kevin Feige there was a controversy in brining the character of Bucky Barnes back from the dead. Edward Brubaker made it possible to bring back Bucky Barnes.  He went to publishing with his idea of using the Winter Solider idea of bringing Bucky back. He pitched his idea and they loved it. Producer Kevin Feige explains that at the time he had nothing to do with Brubaker's idea but they took the successful blue print of that concept and used it in this movie.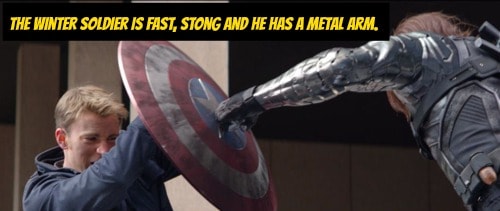 Photo Credit: Marvel Studios
According to Brubaker coming up with the Winter Solider was started when he was 8 years old. "I had already been reading the comics for about four years and I had ever issue of 'Captain America' from #100 on," recalls Brubaker. "I always thought there was an issue #99 where Captain America and Bucky got blown up by Baron Zemo and Bucky died, and then I went to San Diego Comic Con for the first time and I found out that didn't actually happen and that Stan Lee and Jack Kirby had just decided not to bring Bucky back when they brought Captain America back. I was a big Bucky fan and I thought to myself, "If I ever get to write a Captain America comic, I'm going to bring Bucky back"
Want more?
Here is a look at Marvel Studios President Kevin Feige talking about the Winter Soldier's role in this movie.
Find more information about Captain America at 
marvel.com/captainamerica 
and on
Facebook
 and 
Twitter
. You can follow along on my Captain America adventure by searching the hastag #CaptainAmericaEvent on social media.
Read the interview with Chris Evans as well as the interview with Marvel Studios President Kevin Feige, interview with Scarlett Johansson, interview with Anthony Mackie aka Falcon and  movie review of Captain America: The Winter Soldier.
Written by 5 Minutes for Mom Contributor, Dawn Cullo.