This post may contain affiliate links. Read my disclosure policy here.
Disney sent 5 Minutes for Mom contributing blogger Dawn Cullo to cover the screening of "Captain America" and to interview the cast. Dawn's expenses were paid for the trip but no other compensation was paid and all opinions are Dawn's.
As part of the Captain America portion of my recent trip to Los Angeles I had the opportunity to interview Scarlett Johansson about her role as Black Widow in the new "Captain America: The Winter Solider" movie.
The interview took place at the beautiful Beverly Hilton Hotel.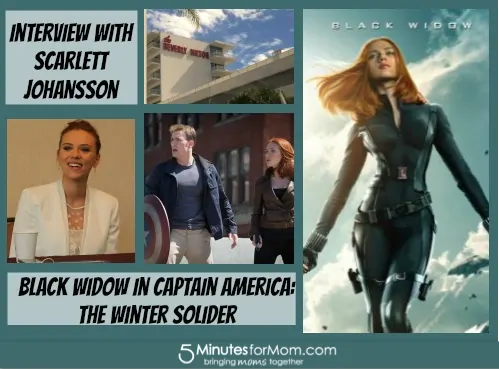 Scarlett Johansson is a New York native and made her professional acting debut at the age of 8 in the off Broadway production "Sophistry," with Ethan Hawke, at New York's Playwright's Horizons. She gained worldwide attention for her performance as Grace Maclean, the teen traumatized by a riding accident in Robert Redford's "The Horse Whisperer." Since then she has gone on to appear in numerous films. Most recently she lent her voice to Spike Jonze's sic-fi romance "Her," which was released in December 2013. In additional to film roles she still appears on Broadway, most recently as Maggie in "Cat on a Hot Tin Roof."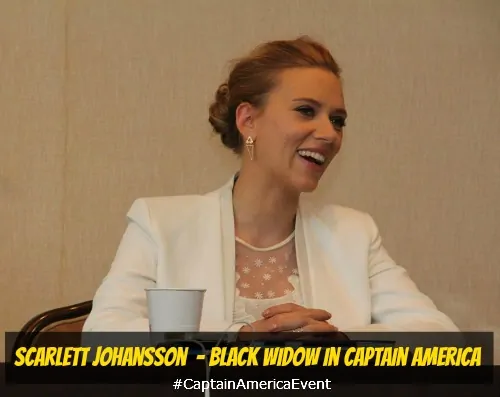 Scarlett Johansson walked into the interview room to a loud "Hello" from our group and was immediately excited to begin with the interview.
Who is Black Widow?
S.H.I.E.L.D Agent Natasha Romanoff, aka Black Widow is the world's most skilled assassin.  Since the events with the Avengers two years ago she returned to S.H.E.I.L.D. to take on new assignments.  In this movie she joins Captain America to help expose a conspiracy while trying to fight of assailants who want them silenced. According to Scarlett's co-star Samuel L. Jackson who plays Nick Fury "Natasha does things that Steve Rogers won't do, she doesn't ask questions; she just follows orders and there is no line she won't cross for Nick Fury and S.H.I.E.L.D."
Scarlett Johansson has played Black Widow in  "Iron Man 2", "Avengers", "Captain America: The Winter Solider" and will appear in the upcoming "Avengers Age of Ultron" due to be released May 2015.  Scarlett is excited to continue to play Black Widow because in this film there was an opportunity to find out more about her past.
According to Scarlett "We continue to open up the story and give little tidbits and throw the bone out once in a while as to where she came from and what her background is.  There certainly is a lot to explore in the past but certainly where she's going too.  When you take a character who's had the past that she's had, who had seen the darkest places, over time she appreciates what the right thing is in her mind and starts to understand humanity."
Scarlett loves playing the Black Widow because she has great source material. It would be wonderful to have the challenge of playing her in a full length movie. She uses her brain, whit and feminine wiles to get the job done and she is a very playful character. The Black Widow has a compelling story. She's not black and white, she has a grey moral code. Scarlett jokes that if fans want to see a Black Widow movie then the fans need to speak out. With Marvel Studios they tend to listen to the fans so if people want to see a Black Widow movie then it all depends on how loud the audience voice is.
The Black Widow Costume
According to Scarlett the Black Widow costume is the most comfortable of all the superhero costumes because there is no built in air conditioning, no head dress and nothing heavy to wear. It's pretty straight forward, just a one piece outfit. She is pretty amazed when she puts it on because it feels great. Once she puts on the belt, boots and gloves she said it feels pretty bad ass when it all comes together. She feels the costume helps sell her superhero role. Scarlett has learned to love the costume, but at first she was terrified of it and now she is proud to wear it.
Black Widow's Role in the Movie
In the movie it seems as though she's acting like Cupid for Steve Rogers aka Captain America. One would ask why is she so interested in finding Steve Rogers a girlfriend? According to Scarlett "In this movie we see more Natasha and she has a romantic side. Early in her lifetime she didn't care much about romance and never invested too much in finding love because she didn't want her loved one to be in danger. While she doesn't want to find romance for herself, she thinks that is what Steve would like and she wants to help him. She feels that his life could be enriched by sharing it with someone. She sees a little bit of herself in Steve and sees that he has been scarred by events in his past and wants to help him."
Black Widow In Action
Scarlett tries to do as much of the stunt work as possible.  However, Scarlett has what she calls her "stunt girlfriend" and her name is Heidi Moneymaker, yes that really is her last name. She has done the Black Widow stunts for every movie. Scarlett really likes Black Widow's fighting style, she says it is a flirtatious style with a nod to her gymnastics past. Scarlett starts the fight scene, Heidi does the middle and Scarlett finishes it. Scarlett wants to be as involved as much as she can, but mostly she ends up hurting herself because Heidi is the professional when it comes to stunt work.
Check out this quick 30 second clip to see Black Widow in action.
More about Captain America
"Captain America: The Winter Solider," is the second movie in the Captain America movie franchise.  It is based upon the Marvel comic book series first published in 1941.  The story follows Steve Rogers aka Captain America in his quest to defend his country and adjust to the modern world.  Since its debut in 1941 the Captain America comics have sold more than 210 million copies in more than 70 countries.  
In Marvel's "Captain America: The Winter Soldier," Steve Rogers teams up with Natasha Romanoff, aka Black Widow, to battle a powerful yet shadowy enemy in present-day Washington, D.C.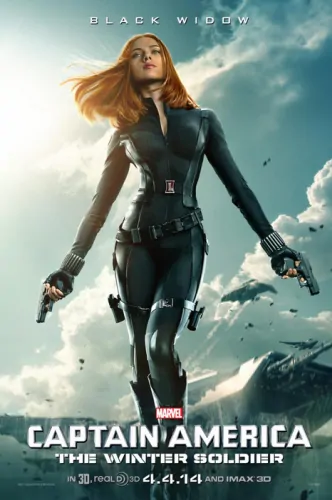 Check out this behind the scenes video of the cast talking about Black Widow and see her in action.
Find more information about Captain America at
marvel.com/captainamerica
and on
Facebook
and
Twitter
. You can follow along on my Captain America adventure by searching the hastag #CaptainAmericaEvent on social media.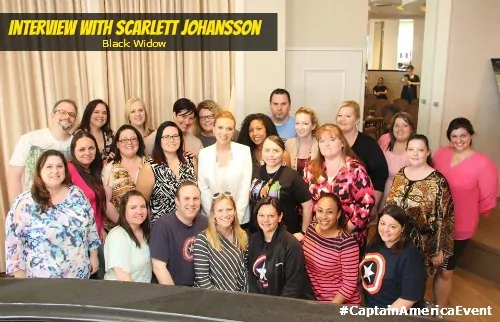 You can read about the interview with Chris Evans (aka Captain America) here as well as the interview with Marvel Studios President Kevin Feige here.
Written by 5 Minutes for Mom Contributor, Dawn Cullo.