This post may contain affiliate links. Read my disclosure policy here.
Give your kids tools to express their faith in creative ways with Faith that Sticks!
This post is written by Janice Croze, co-founder of 5 Minutes for Mom, and is part of a sponsored campaign with Tyndale. As always, our opinions are always 100% our own.

"We are going to make a reward chart for you," I tell my first grader, Olivia. Her eyes light up as if I had just told her that I saw Santa's sleigh coming over the tree tops. Bouncing with excitement, she tells me about how jealous she is of a boy in her class at school who has a reward chart and how he gets candy after he earns 15 stars. "Can I earn candy???" she asks me, as she gathers up her supplies for our reward chart project.
"Sure… how about we will have a special reward box and when you fill up your reward chart with stickers, you get to choose a prize from the reward box?" I suggest.
"AND you get to make the chart yourself!" I tell her as she jumps up and down. I show her the simple reward chart template I created, "You can decorate it with your Faith that Sticks stickers and when you complete a task or earn a star, you can add a sticker to your chart. You even get to decide what goals you want to work on and write them in the chart."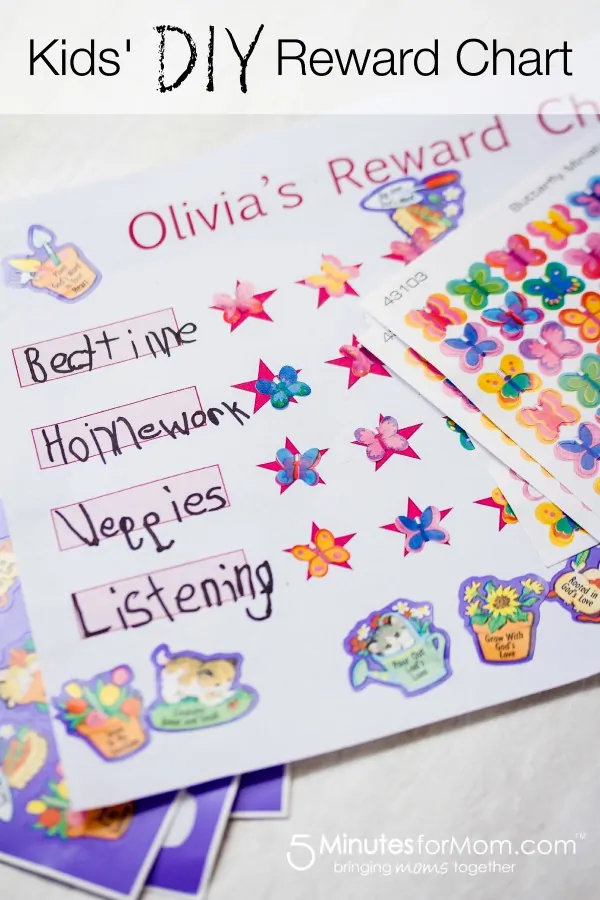 Livvie is thrilled — not only does she get to look forward to her very own reward box of presents, but she gets to be in charge of creating the chart herself. Olivia loves arts and crafts — and she loves to be in control too.
Together we talk about what areas or tasks she needs to work on and she decides her four goals will be getting to bed on time, doing her homework, eating her vegetables, and listening better.
Within just a few minutes, Olivia has chosen her Faith that Sticks stickers and is all set up and ready to begin…
Simple DIY Reward Chart for Kids
For this reward chart, I decided to make a very simple reward chart template to print out and then let my six year old do the real "creating."
I kept the chart limited to only four areas/tasks so we could focus on a manageable amount of issues at a time. I also made sure we could change the areas of focus from week to week if we choose to.
Free Printable Download
If you want to download a basic kids' reward chart for your own kids to build their personal reward chart, here are links to mine. I included a PINK version, Kids-DIY-Reward Chart Template – Pink and a BLUE version Kids-DIY-Reward Chart Template – Blue. They are FREE downloads.
Step 1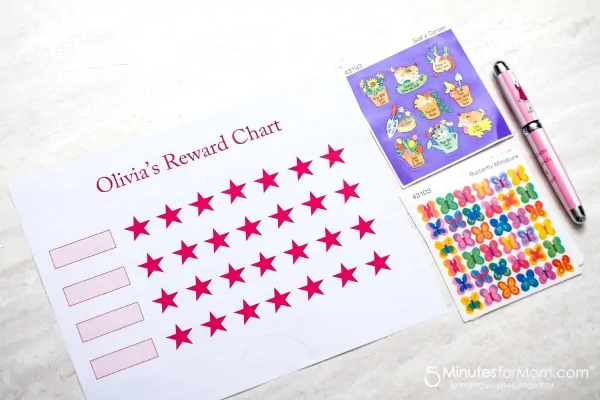 Print out a basic reward chart template and choose some stickers.
Step 2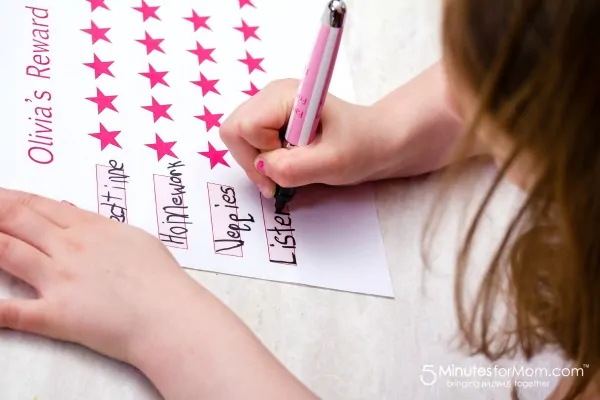 Work together with your child to decide what goals or tasks they want to work on. Help your child fill in their goals/tasks and decide on a reward system. We decided to make a reward box that Olivia gets to dip into when she fills up her sheet with stickers.
Step 3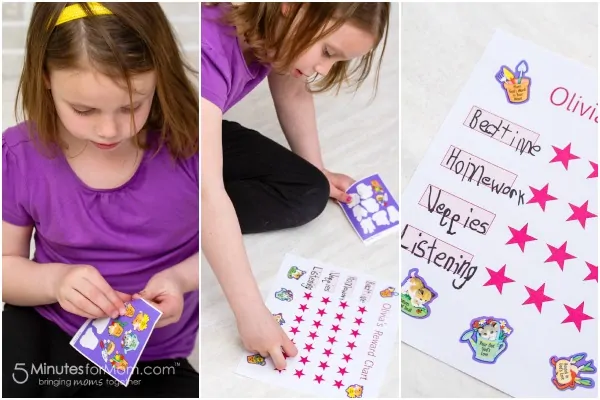 Have your child decorate their reward chart – we used the wonderful Faith that Sticks stickers Tyndale sent us.
Step 4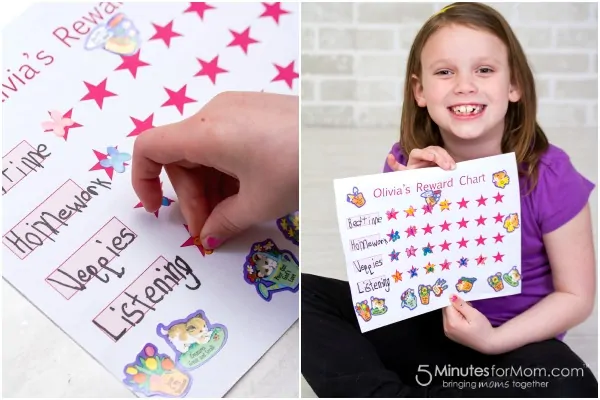 Watch the sticker magic happen! Olivia has been doing everything she can to earn stickers — so I better hurry to fill up that reward box with prizes. She is going to be ready soon!
Our DIY Reward Chart is a definite hit with both Olivia and me — why didn't I do it sooner? And I am so glad we used the sweet Faith that Sticks stickers. They are a great way to add in positive messages of faith to our day.
For more crafting fun with Faith That Sticks check out my arts and crafts post last week about painting photo mats for a matted picture craft. Also, you can visit the Faith that Sticks website or find them on Facebook.
Written and photographed by Janice Croze, co-founder of 5 Minutes for Mom and owner of Janice Croze Photography