This post may contain affiliate links. Read my disclosure policy here.
Give your kids tools to express their faith in creative ways with Faith that Sticks!
This post is written by Janice Croze, co-founder of 5 Minutes for Mom, and is part of a sponsored campaign with Tyndale. As always, our opinions are always 100% our own.

"What does this one say, Momma?" my first grader, Olivia, asks me as she sorts through her new Faith that Sticks stickers from Tyndale, choosing her favorites for the arts and crafts activity we have planned.
Let's sound it out: "Smile! God loves you a bunch!" we read together. The stickers are silver – Olivia's favorite color – with bunches of sweet, sketched flowers. Perfect. Olivia chooses them and a package of silver foil Easter stickers to match, along with some small square stickers that say, "God loves me."
With her stickers ready to go, Livvie gets out her paints, deciding to use a muffin tin for her paint tray. (That girl is clever — muffin tins are the perfect solution for paints.) Once I line the floor with paper to catch the mess, we are on to our project…
Simple and Fun Art Project for Kids — Matted Picture
Olivia loves to paint — what six year old doesn't? She gets to explore her creative side while making a mom-sanctioned mess in the process!
For a fun yet simple arts and crafts project, we had decided to paint photo mat boards, along with a picture for the inside, and use Faith that Sticks stickers to decorate the matting and create a sticker collage picture.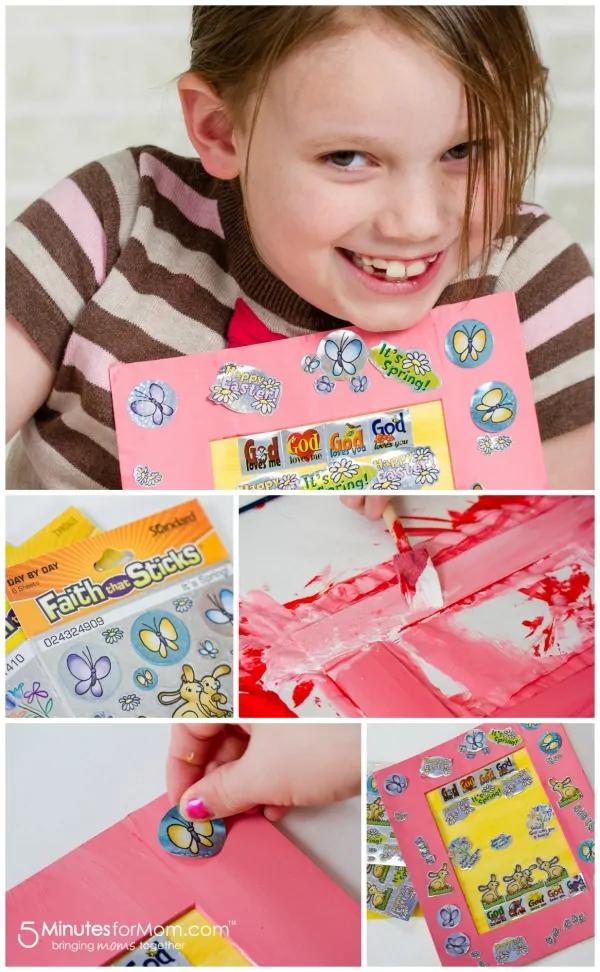 Using pre-cut cardboard photo mat boards is a fantastic way to create an art project for kids that is inexpensive and yet produces a quality craft worthy of a keepsake. You can use your child's decorated mat to frame a photo or their own painting.
Pre-cut photo mats can be purchased at craft stores, photo stores, or even at most dollar stores. I buy white mats so they are easy for the kids to paint over.
Supplies
Pre-cut photo mat board (we used a white 8×10″ board with a 5X7″ opening)
White card stock or heavy paper for background picture – matching size
Acrylic paint
Paintbrush
White glue
Faith That Sticks stickers
Step 1
Paint! The first task is to paint the picture mat board.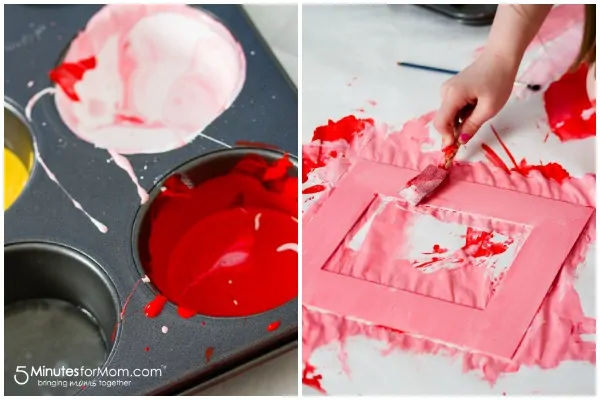 We used a foam paint brush for quick, even application. Olivia chose to mix colors to create a lovely pink.
Step 2
Dry! While I used a hair dryer to speed up the drying process on the mat board, Olivia got to work on painting the background for her sticker collage.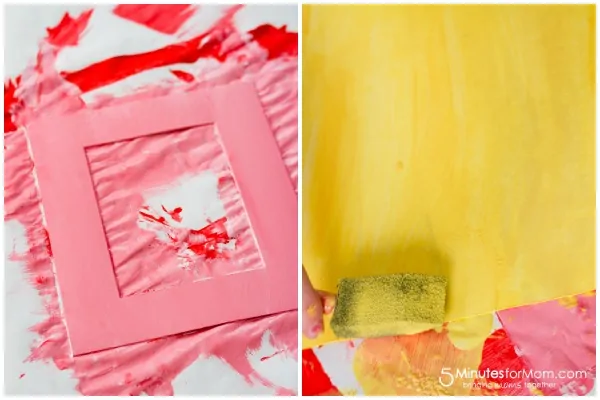 Thank goodness for hair dryers — neither of us wants to sit around and watch paint dry!
Step 3
Glue! After we dried the mat board and the background painting, Olivia glued her mat board to her background.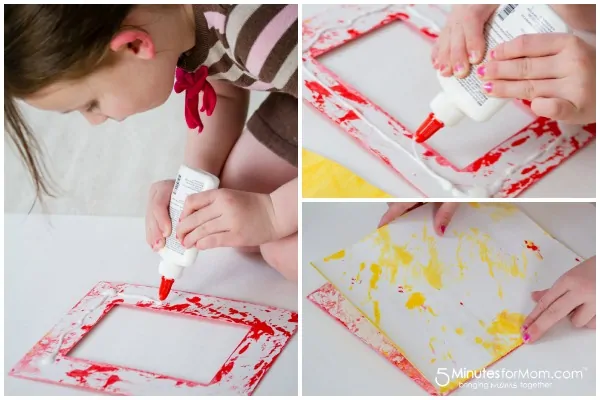 This step can be done at the end, but Olivia wanted to be able to tell exactly what area of the background was going to show through the mat frame.
Step 4
Create! After gluing together her painting and mat board, it was time for Olivia to get creative making her Faith that Sticks sticker collage.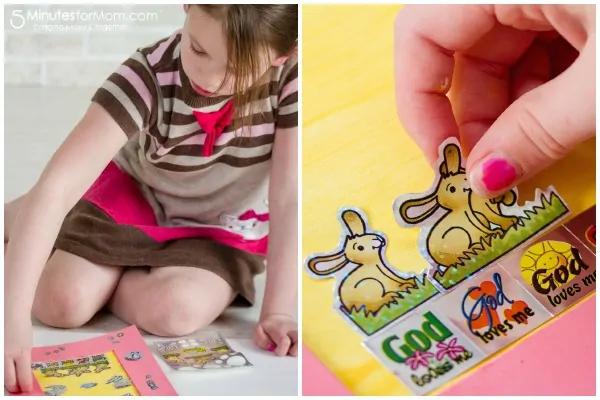 The butterflies and flowers were just right for decorating the mat and Olivia filled up her collage with bunnies, Happy Easters, and messages of God's love.
Step 5
Admire! Ta da — work of art! After all the fun, (and a little bit of clean up,) Olivia had completed her project.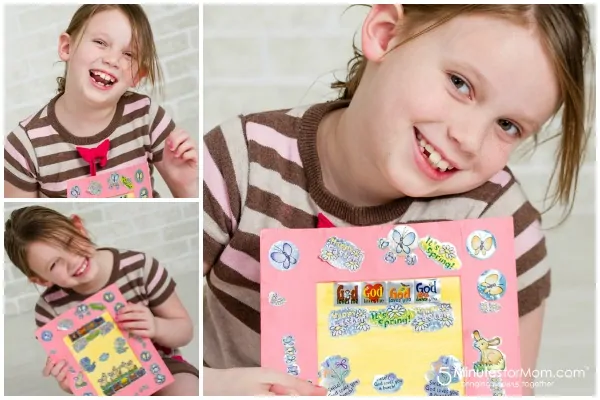 She loved it and I will make sure to pick up some more photo mats for the next time her cousins, Julia and Sophia, come over. This matted picture craft with Faith That Sticks stickers is a super fun and easy art project that allows kids to get creative while focusing on positive messages of faith.
For more information about Faith That Sticks visit their website or check them on Facebook.
Written and photographed by Janice Croze, co-founder of 5 Minutes for Mom and owner of Janice Croze Photography