This post may contain affiliate links. Read my disclosure policy here.
Disney sent 5 Minutes for Mom contributing blogger Dawn Cullo to cover the screening of "Captain America" and to interview the cast. Dawn's expenses were paid for the trip but no other compensation was paid and all opinions are Dawn's. "Captain America: The Winter Solider," is the second movie in the Captain America movie franchise.  It is based upon the Marvel comic book series first published in 1941.  The story follows Steve Rogers aka Captain America in his quest to defend his country and adjust to the modern world.  Since its debut in 1941 the Captain America comics have sold more than 210 million copies in more than 70 countries. In Marvel's "Captain America: The Winter Soldier," Steve Rogers teams up with Natasha Romanoff, aka Black Widow, to battle a powerful yet shadowy enemy in present-day Washington, D.C.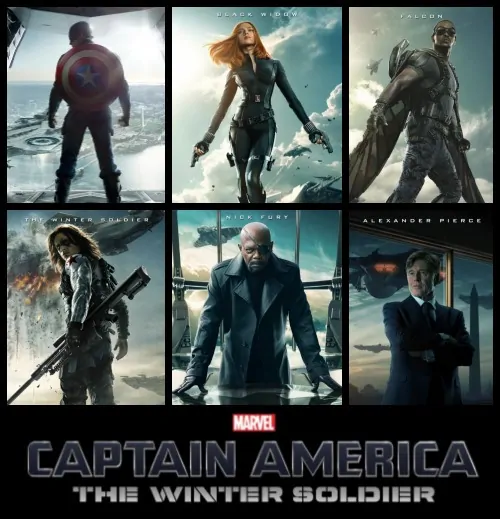 My thoughts
Before I accepted the assignment to attend the "Captain America" screening I actually hadn't seen any of the Marvel movies. What? Yes that is true but I took on this assignment knowing it would give me a chance to try something new. I have two little girls and for the past few years I've been covered in Barbies, Disney princesses and pixie dust. To be honest, I welcomed the change. This opportunity gave me the chance to jump into a new genre of movies for me. I cleared my calendar and did "research" and watched "Captain America: The First Avenger" and "The Avengers". I really liked the story of Steve Rogers aka Captain America and I liked the movie "The Avengers" very much. Once I saw both of those I was REALLY excited to see "Captain America: The Winter Soldier". You can rest assured that when you go see this movie with your significant other you will not be disappointed. I am super excited to see the movie again with my husband.  The movie has a lot of action and the storyline is good too. As a Mom you can know that there are no intimate moments between the characters; just a lot of movie stunts and car chases.  Be sure to stick around until the very end of the movie for two teasers. The answer is yes, you should go see Captain America: The Winter Soldier.
The Cast
Chris Evans is Steve Rogers aka Captain America Evans says that "As far as the character goes, Steve Rogers is now entrenched in the modern world. All of the people he knew are gone and there are many things that he struggles to understand. I always have interpreted Captain America as having a certain sense of loneliness given the fact that everyone knows who he is, but he doesn't know anyone. Because of that dynamic, I think he's a little suspicious of people's movies when they approach him."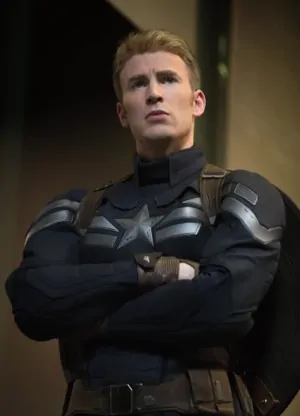 Scarlett Johansson is Natasha Romanoff aka Black Widow She is one of the world's greatest spies. Steve Rogers and Natasha Romanoff have worked together at S.H.I.E.L.D. for a few years now and she is helping him to adjust to his new role. Scarlett explains that she likes their friendship because it is more interesting then if they were to have a romantic relationship.
Anthony Mackie is Sam Wilson aka Falcon In the movie we are introduced to a new Super Hero named Falcon, he has been a comic book fan favorite since 1969.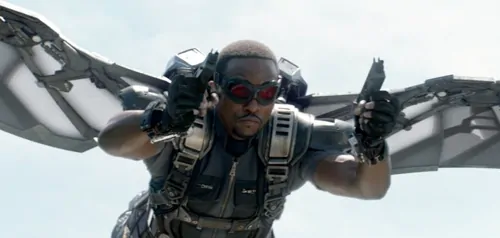 Falcon is not a member of S.H.I.E.L.D. but he agrees to help Captain America. He has the ability to fly with the help of a secret military suit with jet packs and wings that act as gliders. Sebastian Stan is the Winter Soldier The Winter Soldier is a super-soldier who is the world's greatest assassin that has eluded many intelligence agencies. The Winter Solider has been brainwashed and has no memories of he is previous life.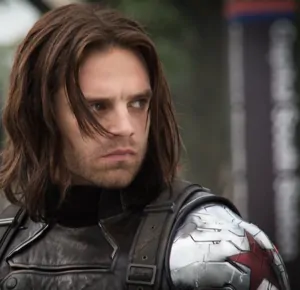 Samuel L. Jackson is Nick Fury Nick Fury is the director of S.H.I.E.L.D. and he is someone that Steve Rogers often turns to. In this movie Nick finds that he has to protect the security of the world by lying to people and doing things in secret in order to protect them.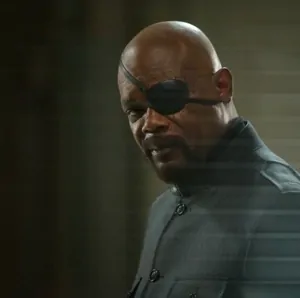 Robert Redford is Alexander Pierce He is a high ranking S.H.I.E.L.D. agent and is highly respected. He is responsible for interacting with the World Security Council, he is polished and well spoken.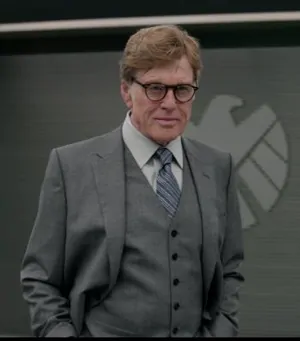 Movie Review
Captain America: The Winter Solider takes place in Washington, D.C. two years after the movie "The Avengers". A S.H.I.E.L.D. colleague of Steve Rogers comes under attack and he becomes caught in a mystery that threatens the world. Captain America and Black Widow try to unravel the truth but find they need assistance and enlist the help of Falcon. Eventually all three of our heroes come up against the Winter Solider. Since the movie takes place in Washington D.C. you will see Steve Rogers, Natasha Romanoff and Sam Wilson in scenes at some of the most prominent national landmarks, including the Jefferson Memorial, Lincoln Memorial, National Air and Space Museum, Capitol Building, National Mall, and the Theodore Roosevelt Bridge.  The movie has the feel of a 1970's political thriller. The world of S.H.I.E.L.D. is bigger and more powerful than ever and loaded with new weapons, vehicles, devices and gadgets that will excite and intrigue fans. Black Widow carries a cell phone that helps her to track incoming missiles and decode codes and process information quickly. Captain America is of course still using his shield but he also throws is a lot more during the movie instead of just using it to block his enemies attacks.  Captain America's suit has received an upgrade as well. Gone is the red, white and blue costume as it has been replaced by a navy blue suit with a hint of red on the sides with a silver star on his chest.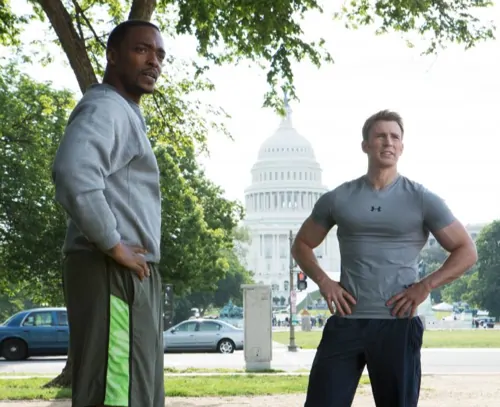 As the movie opens we are introduced to Sam Wilson but quickly Steve Rogers is off on an adventure with Natasha for an assignment involving hostages aboard a large ship.  In this opening action sequence the audience gets to see the power that Captain America has.  In the previous movie his background was being established, but in this film we really get to see what he can do. Soon Steve Rogers notices that things within S.H.I.E.L.D. are not right and he and Natasha try to figure out what is going on.  Eventually they get in over their heads and need to enlist the help of a new friend Sam Wilson aka the Falcon.  As the movie progresses there are more plot twists and interactions with the Winter Soldier. There are some amazing fight scenes in this movie and it is clear that the actors prepared a lot for their roles.  Since Steve Rogers is now a modern day hero he needed to update his fighting skills and in the movie you may recognize some of his fighting techniques in the style of Parkor, karate, Brazilian Jiu Jitsu, and boxing.
The executive producers are Louis D'Esposito, Alan Fine, Victoria Alonso, Michael Grillo and Stan Lee. The film releases April 4, 2014, and is distributed by Walt Disney Studios Motion Pictures.
Want more?
Read the
interview with Chris Evans
 as well as the
interview with Marvel Studios President Kevin Feige
and my
interview with Scarlett Johansson
. On Monday come back for an interview with Anthony Mackie who plays Falcon.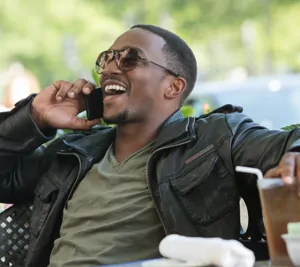 Written by 5 Minutes for Mom Contributor, Dawn Cullo.