This post may contain affiliate links. Read my disclosure policy here.
Looking for some new, creative Thanksgiving activities for kids to make your holiday extra special this year? You and your kids will love these fun ideas…
Check out the following activities that are sure to make your Thanksgiving extra special.
Let's start with 5 cute turkey craft ideas…
1. Turkey Treats Craft
Turkey Treats are easy enough for kids to make and pretty enough to proudly display with your Thanksgiving decorations. Our contributor Tonya made this cute craft for us here at 5 Minutes for Mom.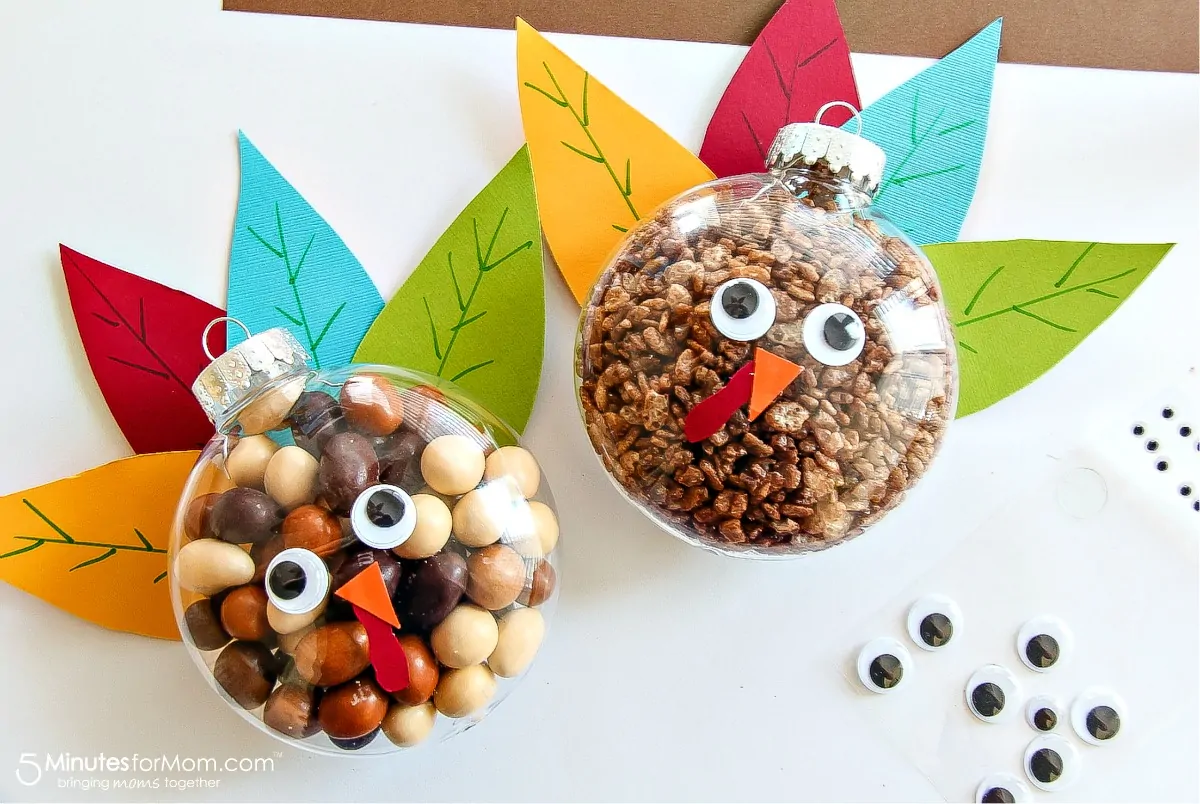 2. Turkey Pumpkin Craft
This turkey pumpkin craft from Mom Trends is a perfect activity for little kids to get ready for Thanksgiving. They'll be thrilled if you decorate your Thanksgiving table with their turkey pumpkins.
If you have extra little pumpkins around from Halloween, this is one of the best Thanksgiving activities for kids because it's so quick and you already have the supplies.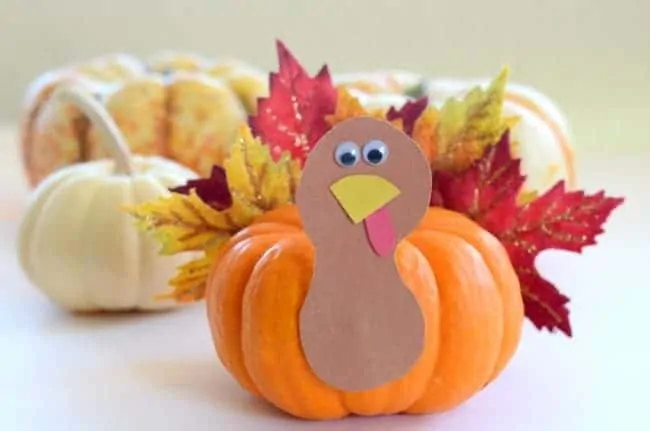 3. Turkey Handprint Craft For Kids
We love handprint crafts! They are so cute and simple to make. This turkey handprint craft from Simple Everyday Mom is bright and colorful.
If you have lots of kids over for your family Thanksgiving dinner, you could have them all work on these Thanksgiving activities for kids.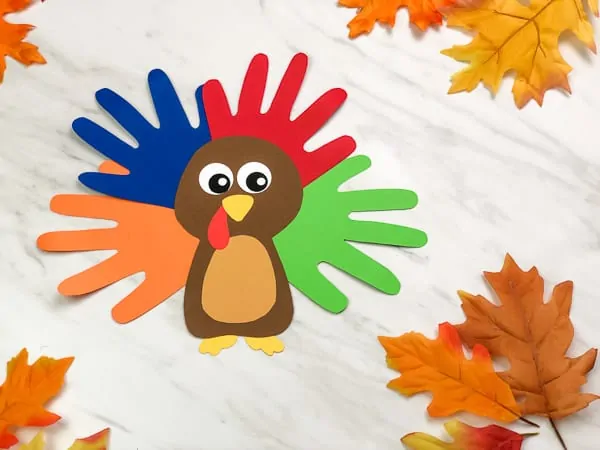 4. Feather Turkey Craft
We love these cute feather turkeys from Non-Toy Gifts. These are another incredibly easy Thanksgiving activity for kids.
It's a great way for kids to spend some time thinking about what they're thankful for.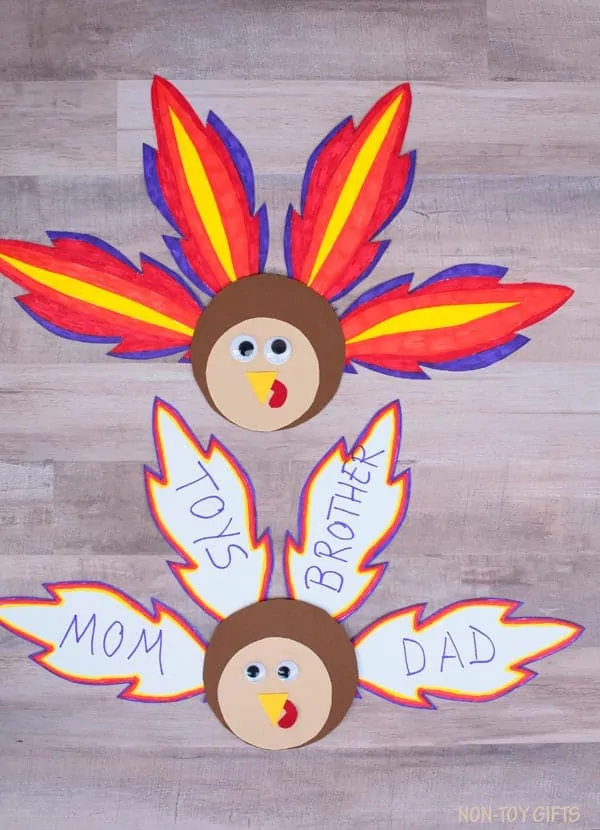 5. Popsicle stick turkey craft
Here is another fun turkey craft… this time kids can make a Popsicle stick turkey. This craft from About A Mom is another activity kids can do while Thanksgiving dinner is cooking.
After your kids have made their popsicle stick turkeys, encourage them to make up some fun stories with their turkeys as the characters.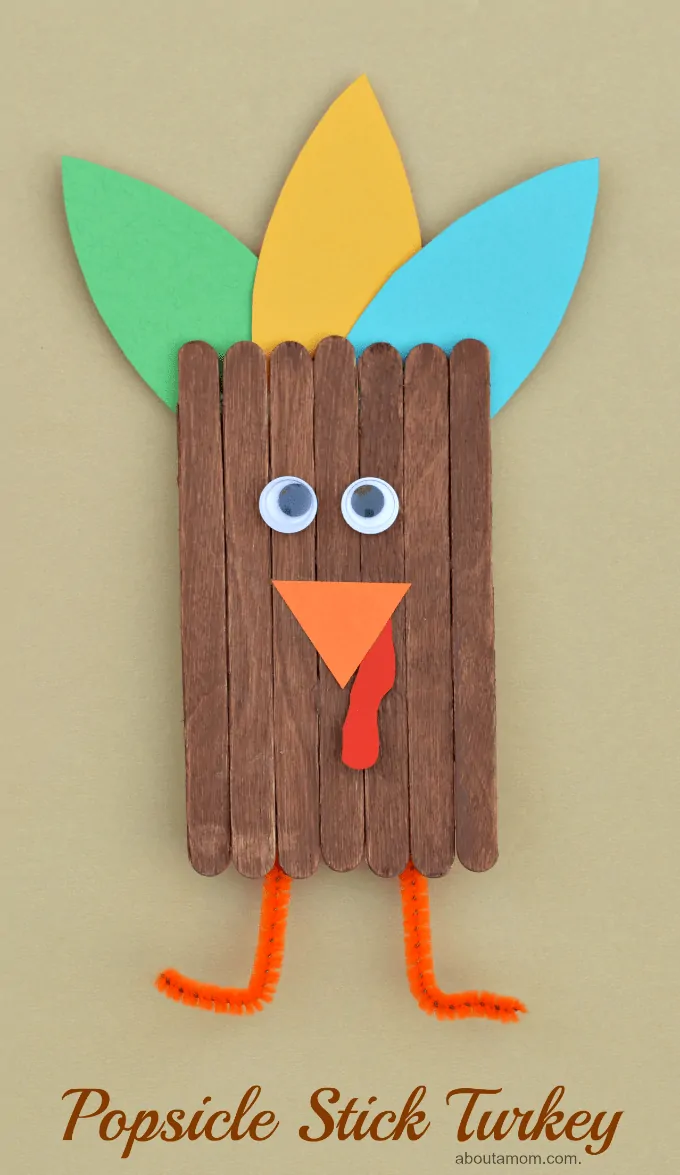 Once you're done making your turkey crafts, here are some more Thanksgiving activities for kids.
Create a Thankful Book
Start a new family tradition to last through the years. Create a thankful book to display at Thanksgiving. Encourage your guests to sign their name and write something they are thankful for inside.
To make the book, you will need a small notebook, preferably with a dull cardboard cover. Next, decorate the book with a turkey handprint. Paint your child's hand and thumb brown. Paint each finger a different fall color, such as red, green, orange and yellow. Stamp your child's hand on the front cover. When the paint dries, help your child draw legs, an eye, and a beak. You can use small leaf cookie cutters dipped in paint to make leaf stamps as well.
Or you could make a DIY journal with tea stained paper.
Don't forget to share the gratitude messages inside during dessert. Continue this tradition each year. Just think of the memories that will be stored inside this treasure.

Bake a Special Recipe
Baking together for Thanksgiving is a lovely way to spend time together. Spending time in the kitchen making Thanksgiving recipes is often one of the best Thanksgiving activities for kids.
Kids will love baking these apple donuts!
You could make it even more special if you connect it to this recipe…. Tell your children you are going to bake a "secret" cranberry bread recipe. The recipe can be found in the children's Thanksgiving book, Cranberry Thanksgiving by Wende and Harry Devlin. In this Thanksgiving tale, Grandma is not happy when her granddaughter Maggie invites Mr. Whiskers to Thanksgiving dinner. Grandma doesn't like Mr. Whiskers because he is unkempt and straggly. She likes her guest, Mr. Horace who is neat and tidy. But when Grandma's secret cranberry bread recipe is stolen, it's Mr. Whiskers who saves the day. Talk to your children about the importance of kindness, being compassionate, and not judging others based on appearances. Don't forget to share a warm piece of your special cranberry bread with your Thanksgiving guests!

Make Thank You Cards
Decorate construction paper thank you cards by using cookie cutters shaped like leaves and acorns in brown, red, yellow, and green paint. Stamp on orange paper. Sprinkle gold glitter on top of the wet paint to make your fall design sparkle. Once the paint is dry, help your child write a special thank you inside for someone they love. Grandparents love this!

Bring Out the Board Games
Thanksgiving is a time to create special family memories. After dinner, shut off the cellphones, laptops, and i-pods. Instead, pull out some classic board games to play with the family.
And remember games don't have to be purchased at a store. Here are some printable Thanksgiving games and activities your kids will love.
These are simple games that the whole family can play.

Pin these Thanksgiving Activities for Kids for Later
I hope these fun activities will help make your Thanksgiving extra special.
Have a wonderful holiday!