This post may contain affiliate links. Read my disclosure policy here.
This Beetlejuice Lydia Deetz costume is my favorite costume I have ever made! Our re-creation of the black dress worn by the character of Lydia Deetz in Beetlejuice The Musical is the ultimate cosplay outfit or DIY Halloween costume for teenage girls.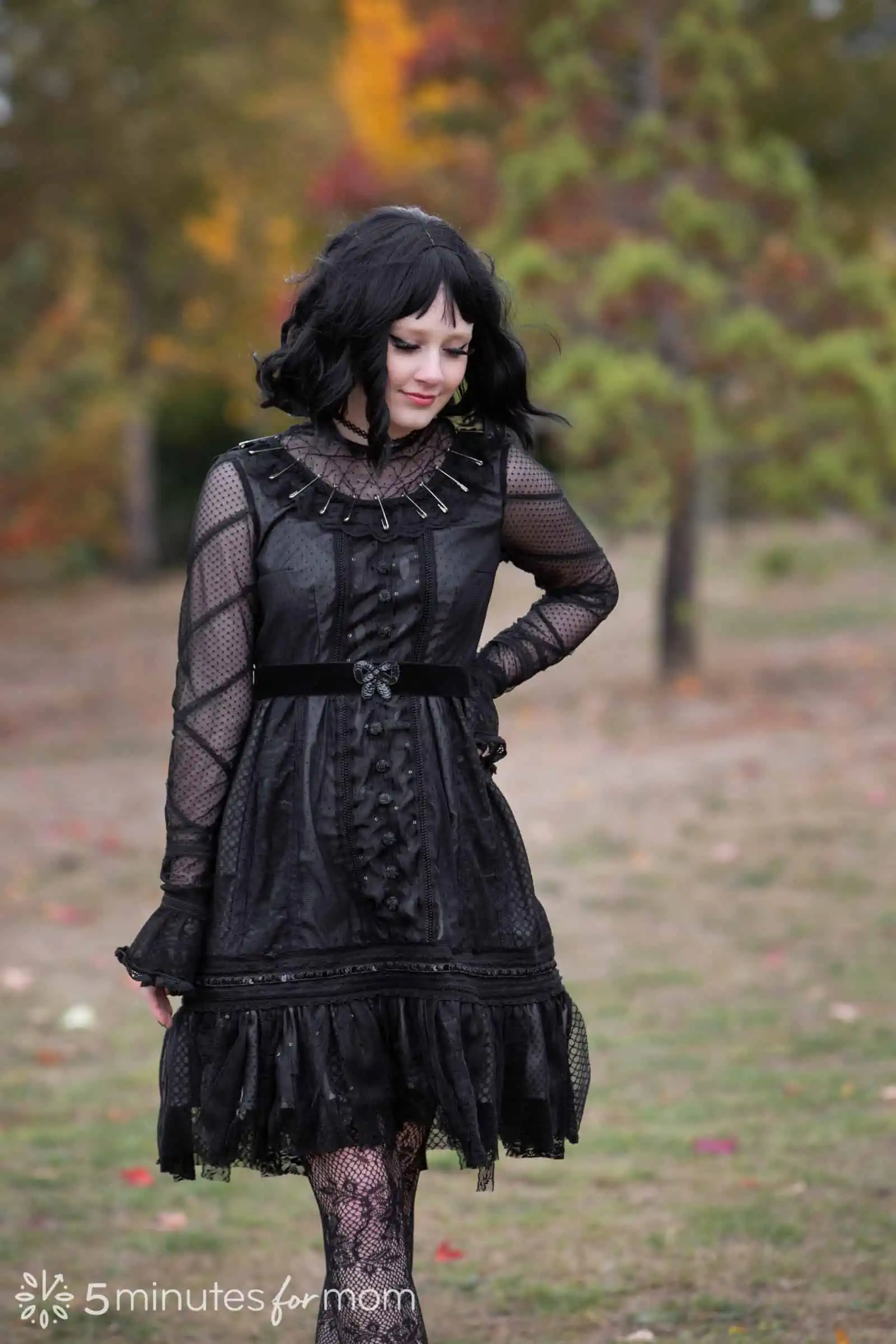 When Julia told me a couple of years ago that she wanted to dress up as Lydia from the Broadway version of Beetlejuice, I begged her to change her mind because I knew re-creating that intricate dress would be so much work.
It took us ages to make this dress. I spent hours examining screenshots and photos of the Beetlejuice black dress, shopping for fabrics, laces, and trim, drafting my pattern, and trying to sew the best Lydia dress I possibly could.
I finally finished the dress, and Julia and I both absolutely love it! She wore a black wig, black Dr. Martens, black patterned fishnet tights to create this fabulous DIY Beetlejuice Lydia Deetz costume.
This dress was the hardest, longest sewing task I have ever attempted. But it was by far the most rewarding.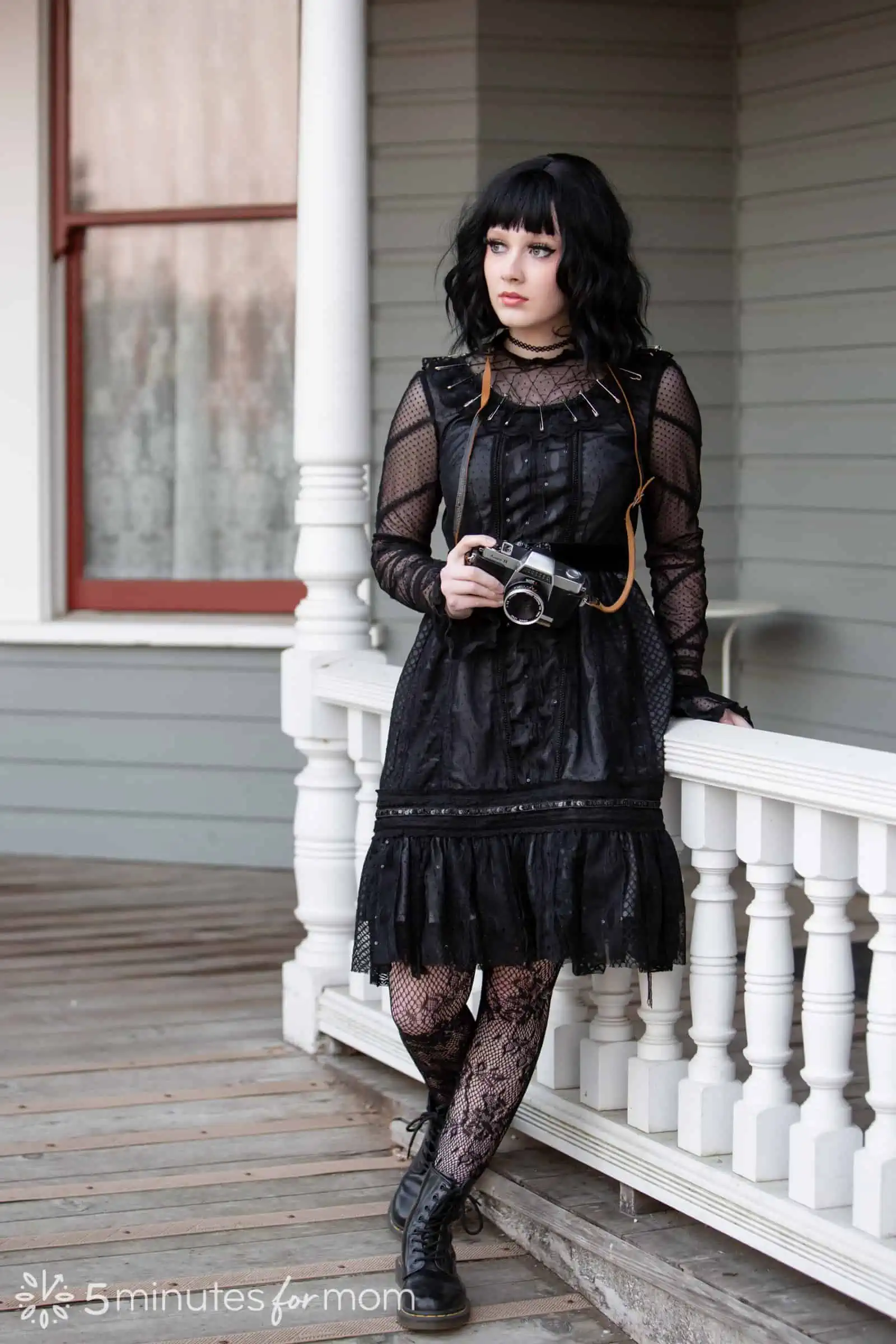 Our Lydia Deetz Costume Creation Process
I started making this Beetlejuice Lydia Deetz dress for Julia in 2021, and I barely managed to get a version of it sewn together at the last minute for her to run out the door to a Halloween party. But I didn't have any time to take photos of her wearing it. Later, I finished the dress and she wore it for Halloween in 2022. But, I didn't even post about the costume here on the blog until now – just ten days before this year's Halloween.
So what took me so long to make and write about this costume?
The reality is that I am always running behind schedule and sewing falls to the bottom of the URGENT to do list. Then, I have to sew like crazy at the last minute to finish the project.
By the time I am finished sewing I am already behind on the rest of my URGENT task list and I don't have time to create the sewing pattern and tutorial for the blog!
You see… the main reason I am always so behind on my to do list is that I live with a severe chronic illness. I rarely tell people about it and I didn't even mention it here at 5 Minutes for Mom for ten years. Honestly, it is really hard to admit how sick I am and how debilitated I am. But, my reality is that I am living within very tight limitations about what and how much I can do. So, while I desperately WANT to keep working and get everything done that I want to do, my body does not allow me to.
Therefore, once again I find myself in the same predicament. Halloween is ten days away. I haven't finished the tutorial for this Lydia dress. AND I have two costumes I still need to sew for THIS Halloween!
So, this is my plan — I'm sharing some photos I took of Julia last year in our Beetlejuice Lydia Deetz costume from the Broadway Musical AND if you want to learn more about how I designed and created this dress PLEASE let me know in the comments.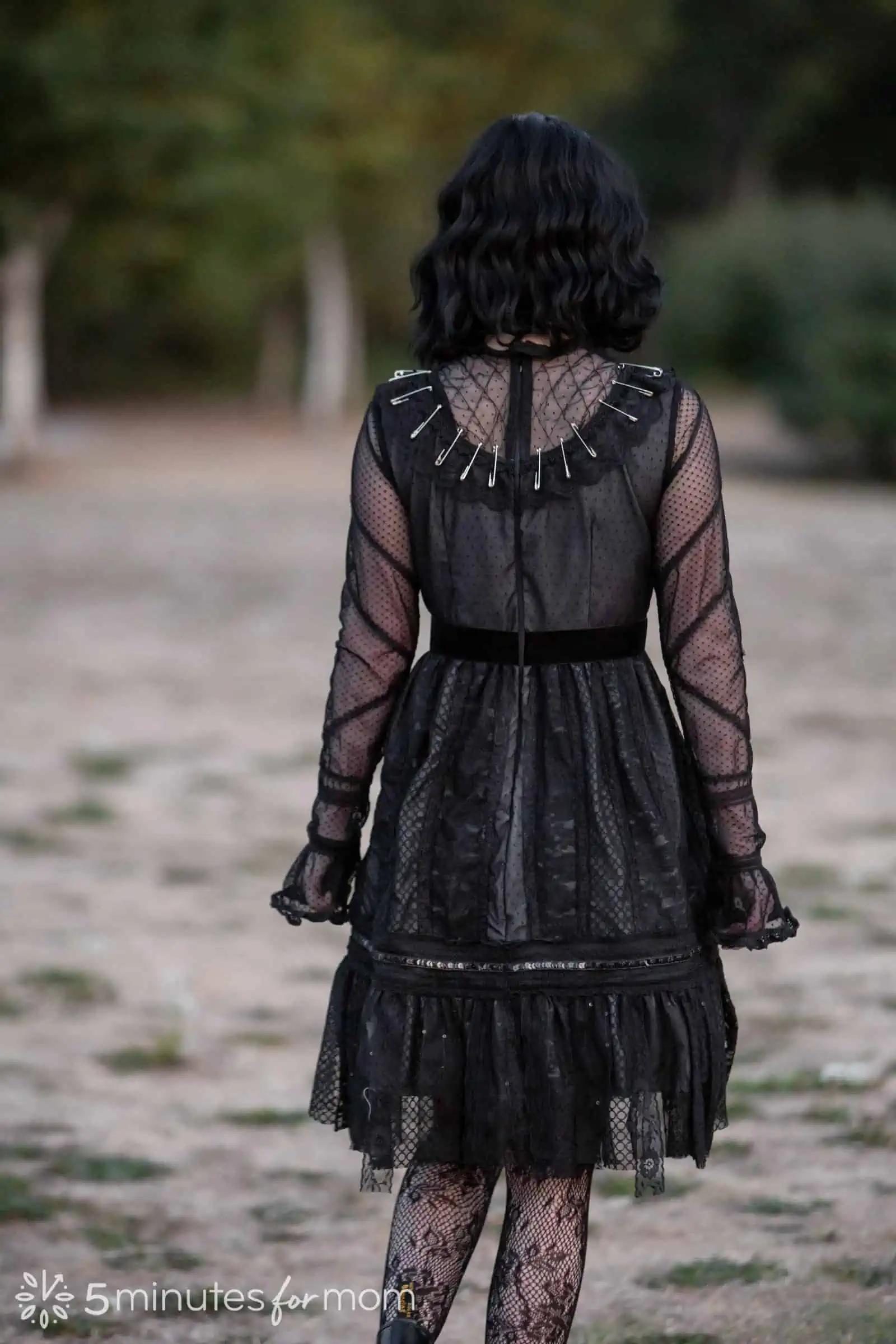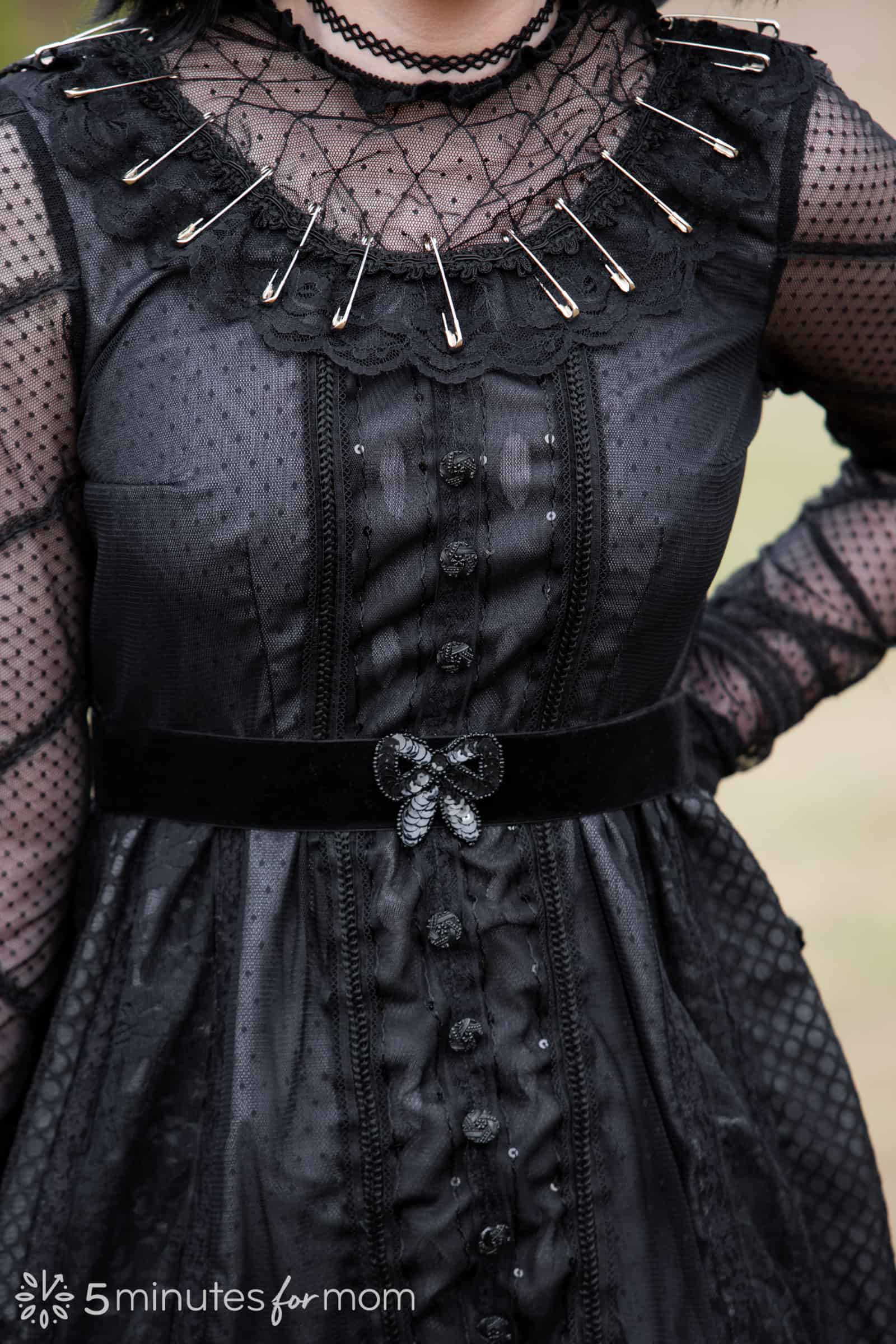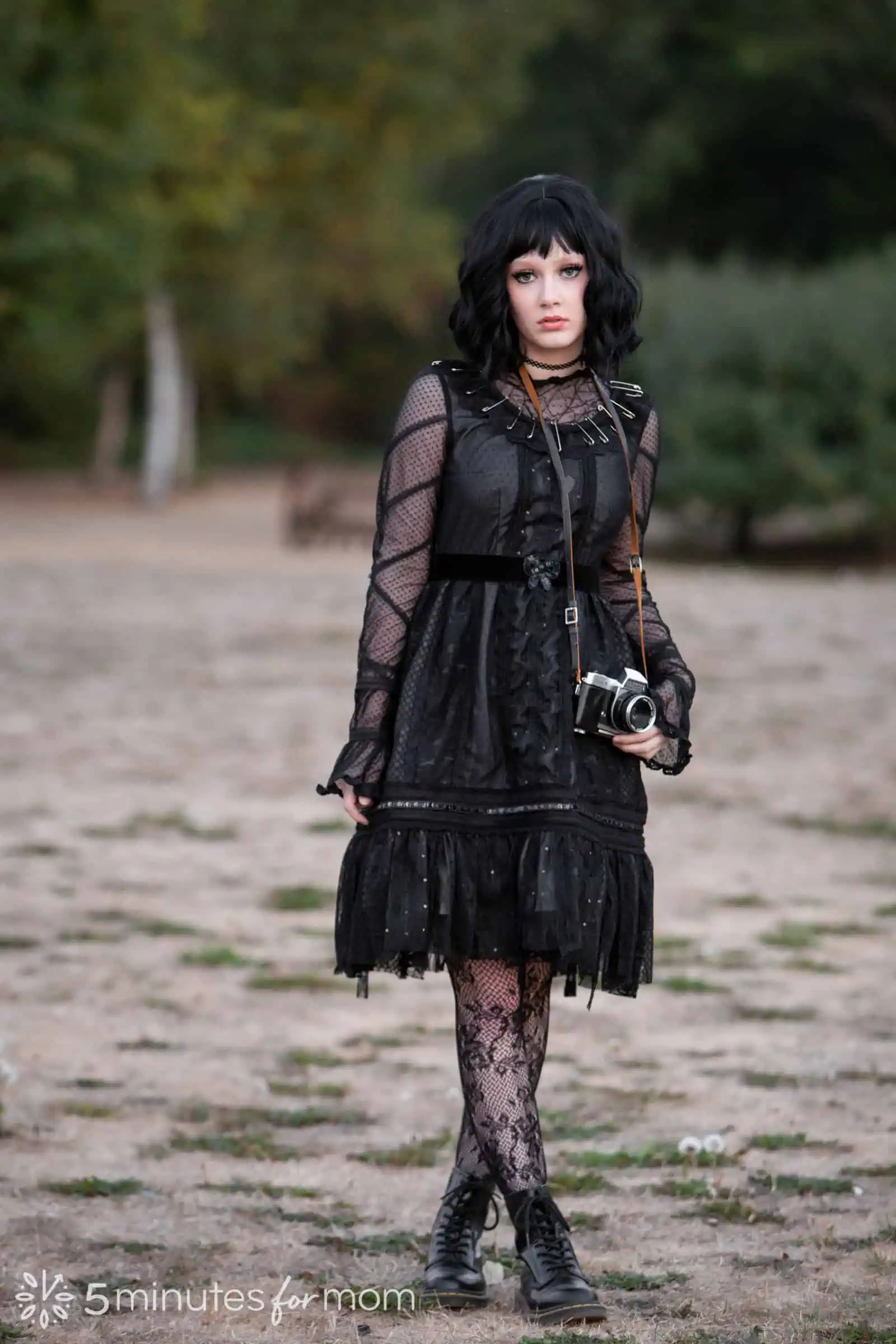 If there is enough interest, then I will create an in depth tutorial with all the details and instructions so you can sew a gorgeous Lydia Deetz dress that is inspired by the black dress worn in Beetlejuice the Musical.
Our Halloween Costumes Through The Years
Be sure to check out some of the other Halloween costumes that I've made and how stunning our girls looked dressed in them for Halloween over the years.
I've truly had so much fun sewing all these Halloween costumes over the years. Our annual Halloween photoshoots have been a blast and I love looking at the photos every year.
As I mentioned earlier, in 2021, Julia wore an initial version of the Lydia Deetz costume. That same night, I was scrambling to finish a Britney Spears costume for Olivia, that I also finished at the last minute and didn't have time to photograph. And I ran out of time to make Sophia a costume that year, but she said she didn't mind as she wanted to relax at home and hand out candy to kids.
In 2022, I made Sophia a fabulous goth outfit and Julia wore the Lydia Deetz costume. I'm realizing now that I also never blogged about that goth costume I made for Sophia, so I'll share photos of that outfit soon. And that year Olivia wanted to keep it simple and tossed on some bunny ears on her way out to a Halloween party.
Now we're in 2023 and Julia is actually in Italy (for her gap year), so this will be the first year since 2014 that I have not sewn her a costume. Julia is always the most excited about Halloween and ever since they were little, she'd get Sophia and Olivia planning their Halloween costumes in the summer.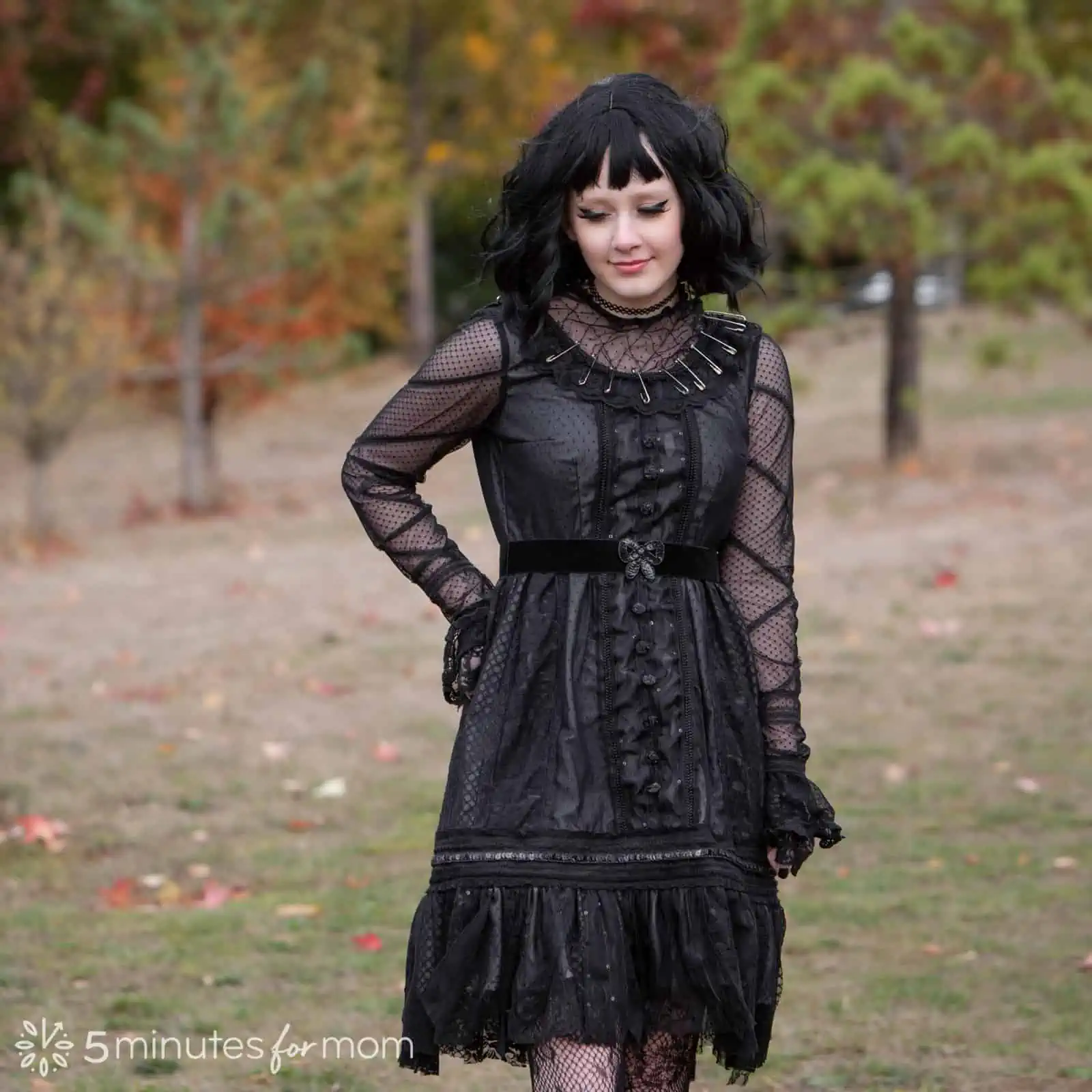 Thankfully Sophia wants to wear our Beetlejuice Lydia Deetz costume, which makes me so happy that my enormous amount of effort will to be put to good use again.
And I'm now frantically working on sewing a costume for Olivia and her friend… which I will hopefully get done in time. Stay tuned!

Do you want to know how to make this costume?
If you would like to see a detailed sewing tutorial for how I made this DIY Beetlejuice Lydia Deetz Costume, please leave me a comment. If there's enough interest, I will make a step-by-step DIY tutorial.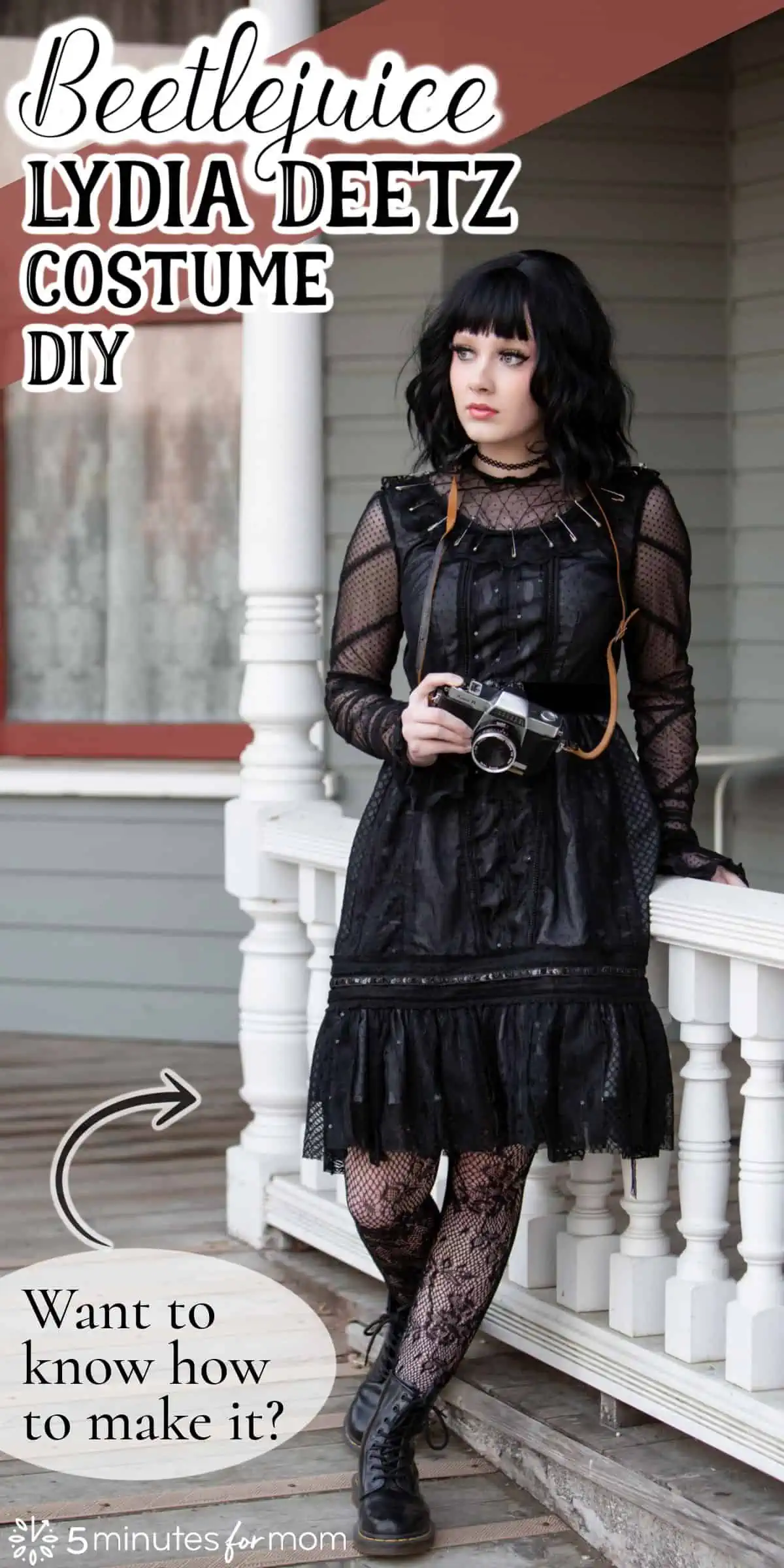 Written and photographed by Janice Croze, co-founder of 5 Minutes for Mom
Talk with me: @5minutesformom and Facebook.com/5minutesformom
Pin with me at https://pinterest.com/5minutesformom/