This post may contain affiliate links. Read my disclosure policy here.
Have you ever made a DIY journal with tea stained paper? We made these tea and coffee stained handmade journals for a school project using pieces of foam core, regular computer paper, and fabric from the dollar store. These homemade journals are easy to make and turned out beautifully. Read on for our step by step DIY tutorial…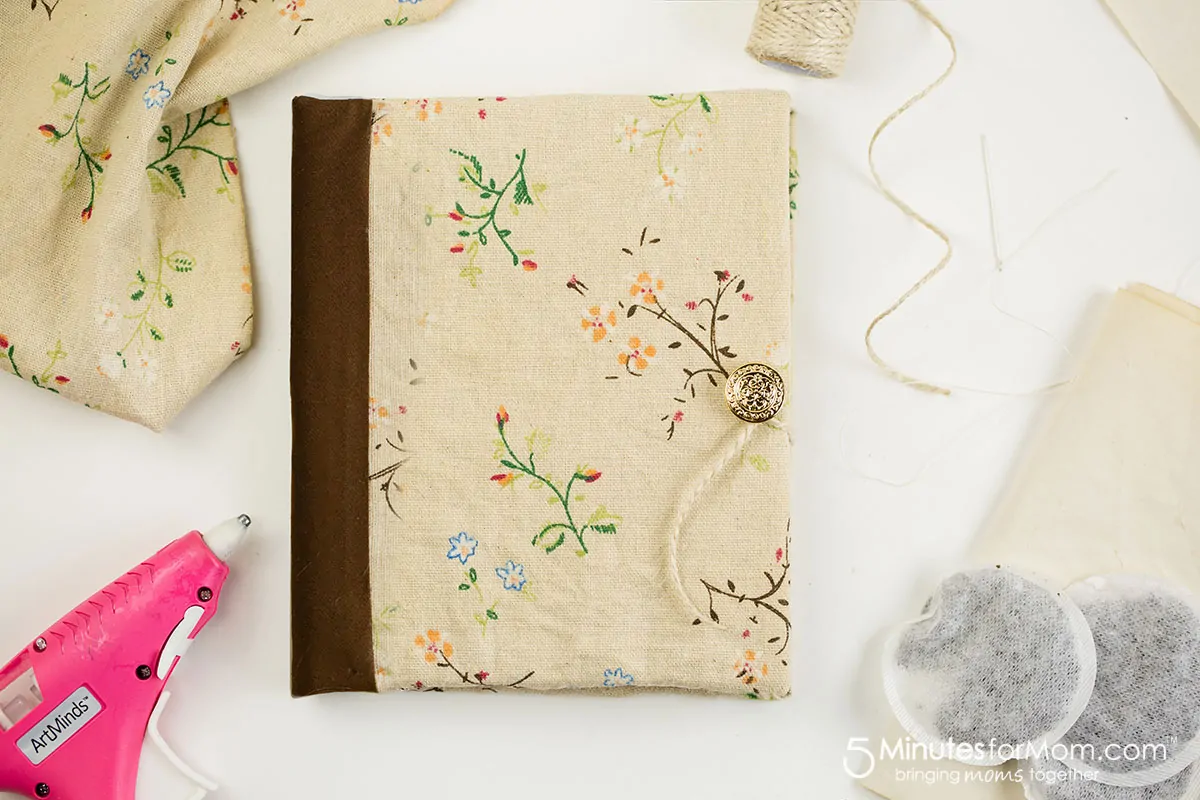 Sometimes fifth-grade homework is just plain fun.
My ten-year-old daughter Olivia came home from school a few weeks ago bubbling over with excitement for her homework — something that usually only happens when the assignments include creating videos.
But this grade five homework assignment had her creative mind bursting as she handed me a cardboard mock-up of her design idea and listed out the materials she needed to gather up. She wanted to start working immediately.
Her school project was to create a handmade diary with entries written by a girl immigrating to Canada in the 1910's. Olivia had decided that her diary would be written by a girl leaving France because of World War I.
Designing Our DIY Journal
Olivia's design for her DIY journal included coffee or tea stained papers, twine to bind the papers, a vintage button for a closure, and she wanted to cover her diary in leather.
I was thrilled with her enthusiasm and we discussed her design ideas and went through the materials we already had in our craft and sewing supplies.
While I loved her idea of a leather-bound diary, I didn't have any scrap leather pieces to make a journal cover, and I didn't want to hit up the fabric store.
I did have, however, some fabric that I had bought last year at the dollar store to use for a craft with the girls covering hardcover sketch books. We hadn't had the chance to do the craft yet and the rolls of fabric were perfect to tea stain and use for this project.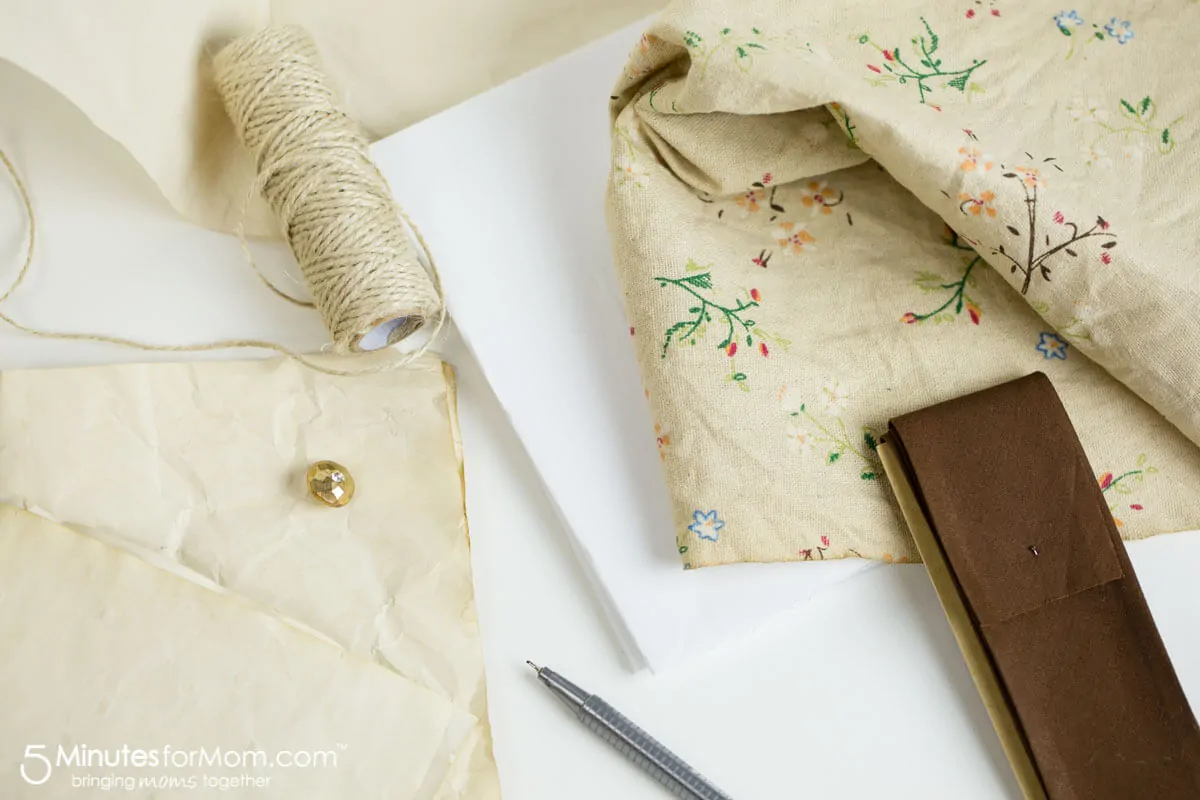 Olivia chose a vintage button from my button collection from my mother and grandmother, and we assembled the rest of our materials.
For the outer fabric binding of the book, we decided on some old brown bias binding that I have in my sewing stash from my mom's old supplies.
To construct the cover of the book, we used foam core. I have a ton of foam core in our house because I use it for photography backgrounds and reflectors. It is the perfect crafting material and I seem to always be grabbing it to use for crafts.
We also used some jute rope from Michaels that we had in our craft supplies.

Supplies To Make A DIY Journal with Tea Stained Paper
Here is our complete list of supplies:
Foam Core
X-Acto knife and cutting mat (or a thick piece of cardboard to use as a cutting surface)
Ruler
Fabric for book cover
Fabric for binding on cover
Twine, string, or ribbon
Embroidery Needle (optional)
Button
Needle and thread (for sewing on button)
Scissors
Glue gun or your choice of glue
Tea bags or coffee grounds
Paper (to be tea stained for journal pages)
Step One — Cut Foam Core and Paper to Desired Size for Journal
The first thing we did was decide the size of a book Olivia wanted for her DIY Journal. We then cut the foam core cover pieces to size.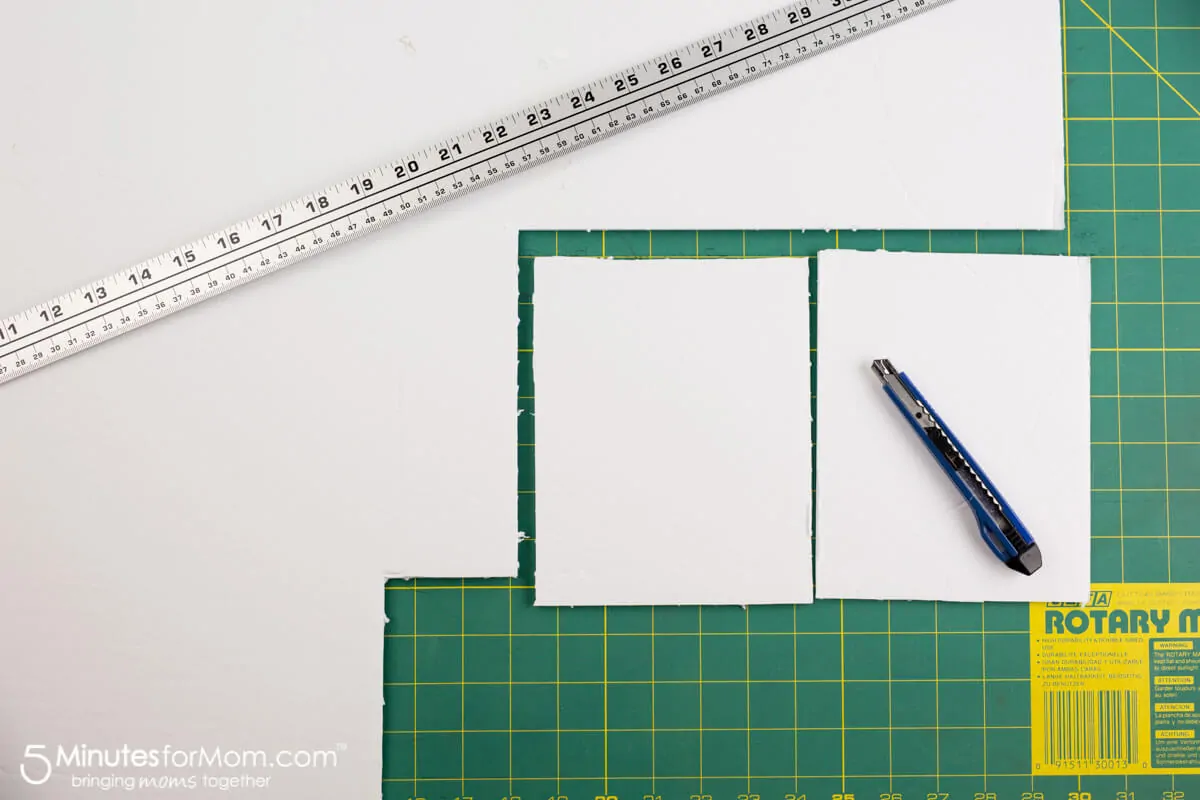 Next, we cut regular 8.5×11″ computer paper down to a size slightly smaller than the foam core covers.
Please note that to bind our pages together, we will be folding the pages and sewing them together.
So, when you cut your pages, they will be the width of the two pieces of foam core side by side, since they will be folded down the middle. When we are cutting the pages with the paper cutter below, the pages are already folded in half.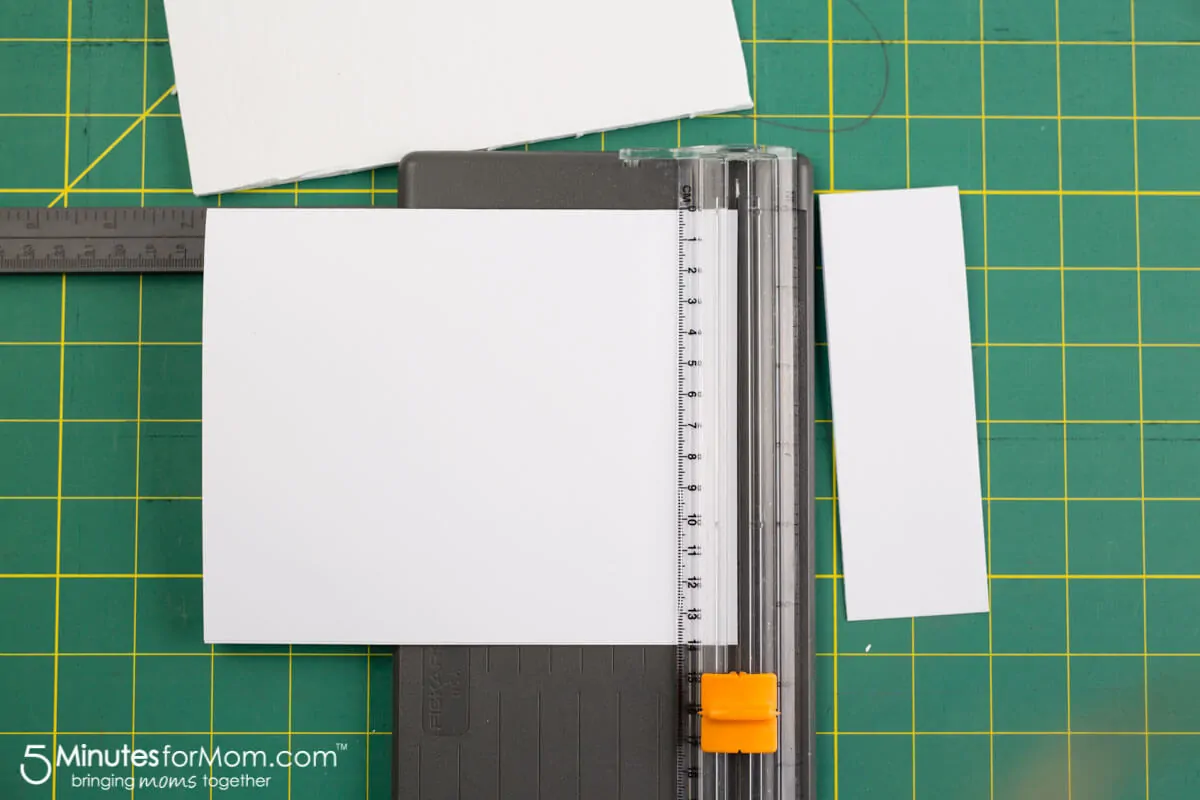 Step Two — Coffee or Tea Stain Paper and Fabric
Since Olivia wanted to start making her tea stained paper and fabric that night, we had to use whatever supplies we had on hand.
Of course, just a couple days before, I had done a huge purge of our kitchen cupboards and thrown out ALL of our old tea bags. I had boxes of tea that were decades old and I threw out everything that I hadn't bought in the last year.
All we had left were herbal tea bags and coffee pods for my Keurig. (The black tea bags in the pictures here are from later that week, when we made a second journal for Olivia.)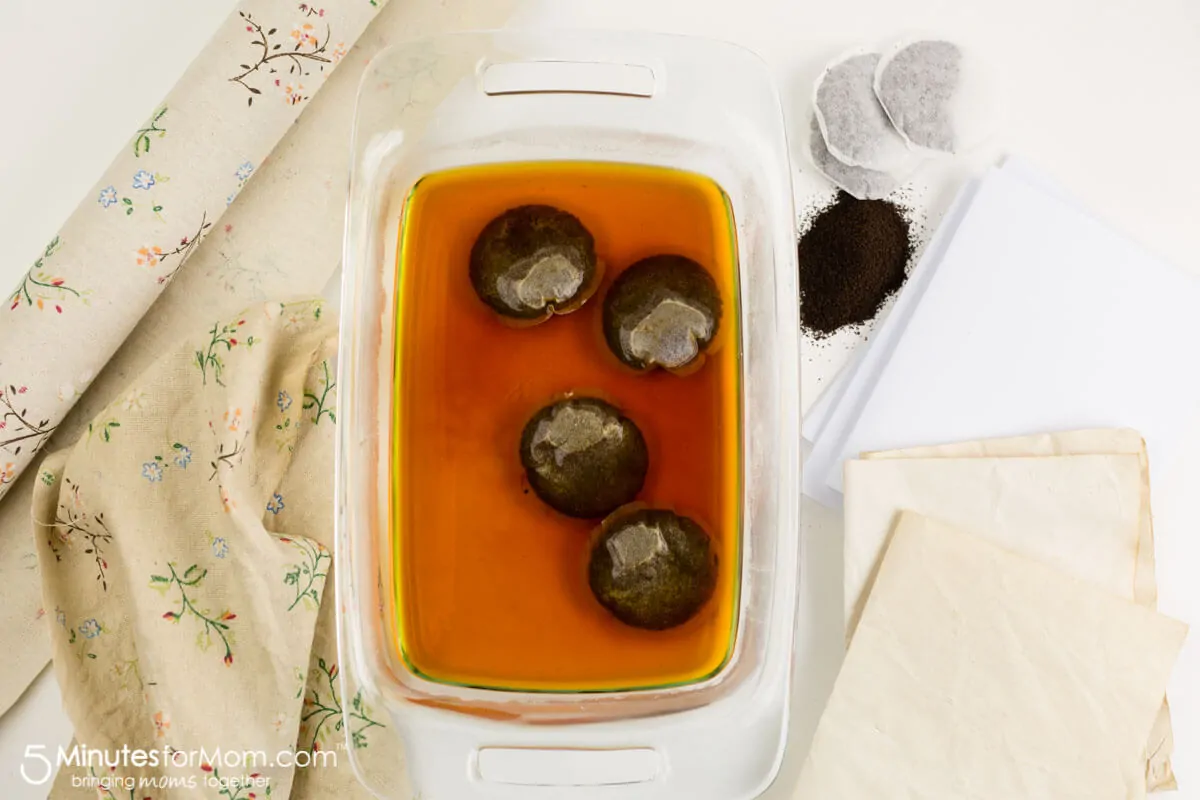 So, inadvertently, we ended up testing:
Which works better — Tea Staining or Coffee Staining?
The first batch of papers we made with a few herbal tea bags and coffee. The result was a creamy, faded look.
The second batch we made we used black tea bags, (I ended up finding a box in the back of another cupboard that I hadn't cleaned out yet.)
The black tea stained papers were darker and showed the crumples in the paper much more, as you can see in the photo below. The top papers are tea stained and the bottom papers are coffee stained.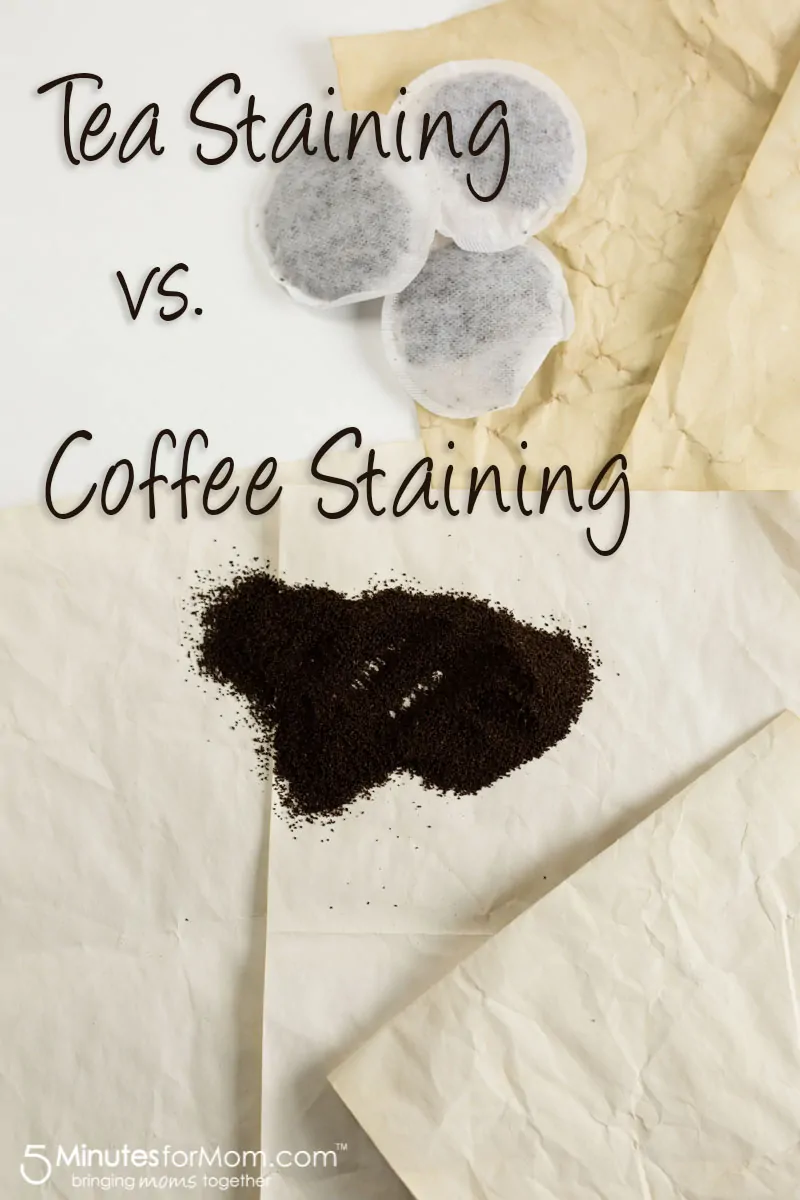 Whether you use coffee or tea to stain your paper, the process is the same and very simple.
Brew some strong coffee and pour into an appropriately sized container. Or if using tea, pour hot water into a container with multiple tea bags. Allow to cool enough so that you don't burn yourself.
We crumpled our fabric and paper and then briefly soaked one sheet at a time for about 10-30 seconds. If you leave the paper too long, it will tear. For fabric, you may want to leave for several minutes, depending on how you dark you want your staining.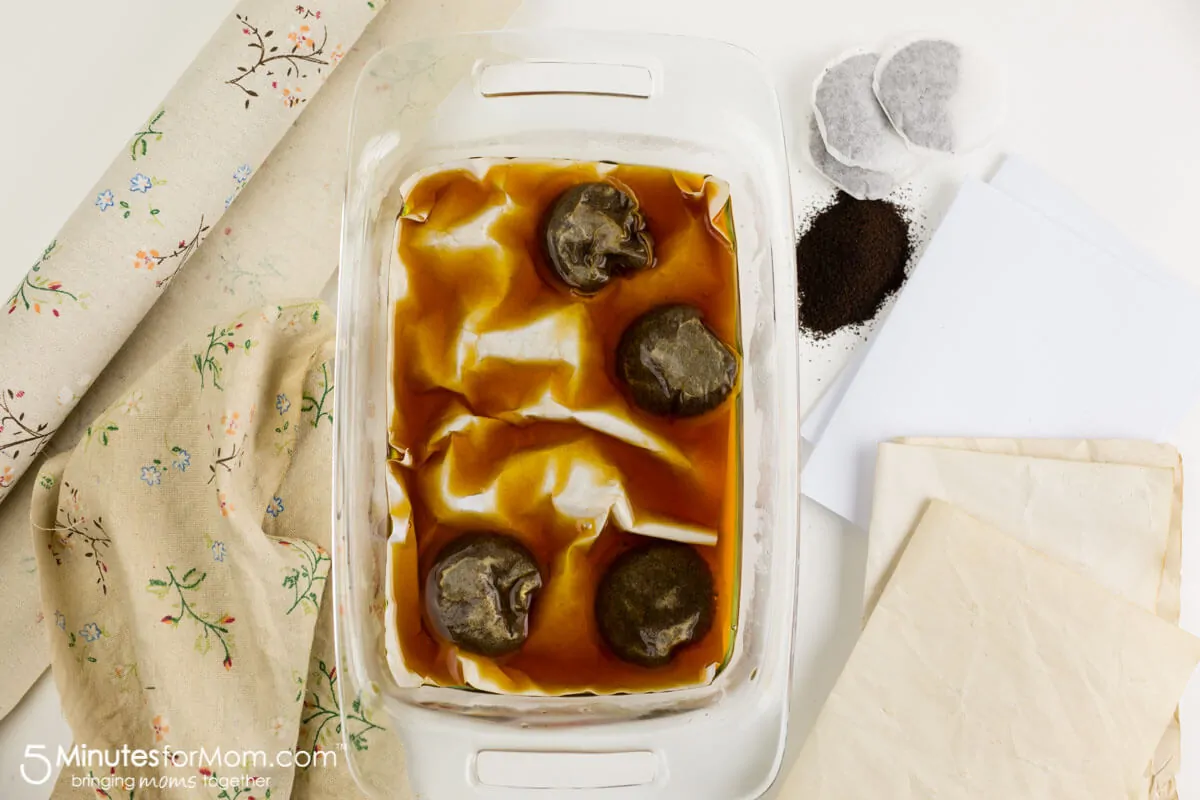 Then we carefully laid out the wet papers on cookie sheets and baked in the oven at 200F for about 10 minutes, keeping an eye on the pages to ensure they didn't burn. (We hung up our coffee stained fabric and allowed it to dry overnight. If you are staining fabric for a project that you will be washing, you can set your stain with vinegar and cold water.)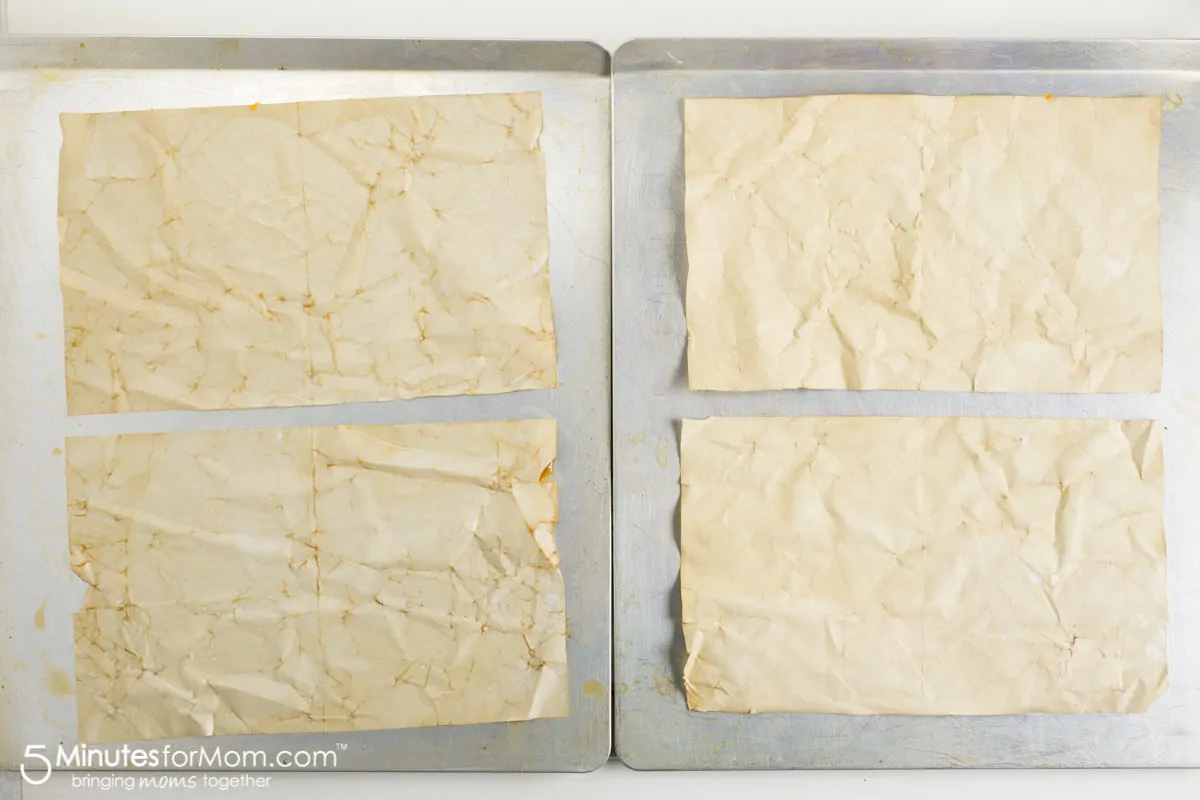 Step Three — Cut Book Cover Fabric
Now, it is time to start putting the book together.
If you haven't already, cut your book cover fabric to the size you will need to make the journal cover.
To determine the size, lay the foam core pieces on the fabric, leaving room for the spine.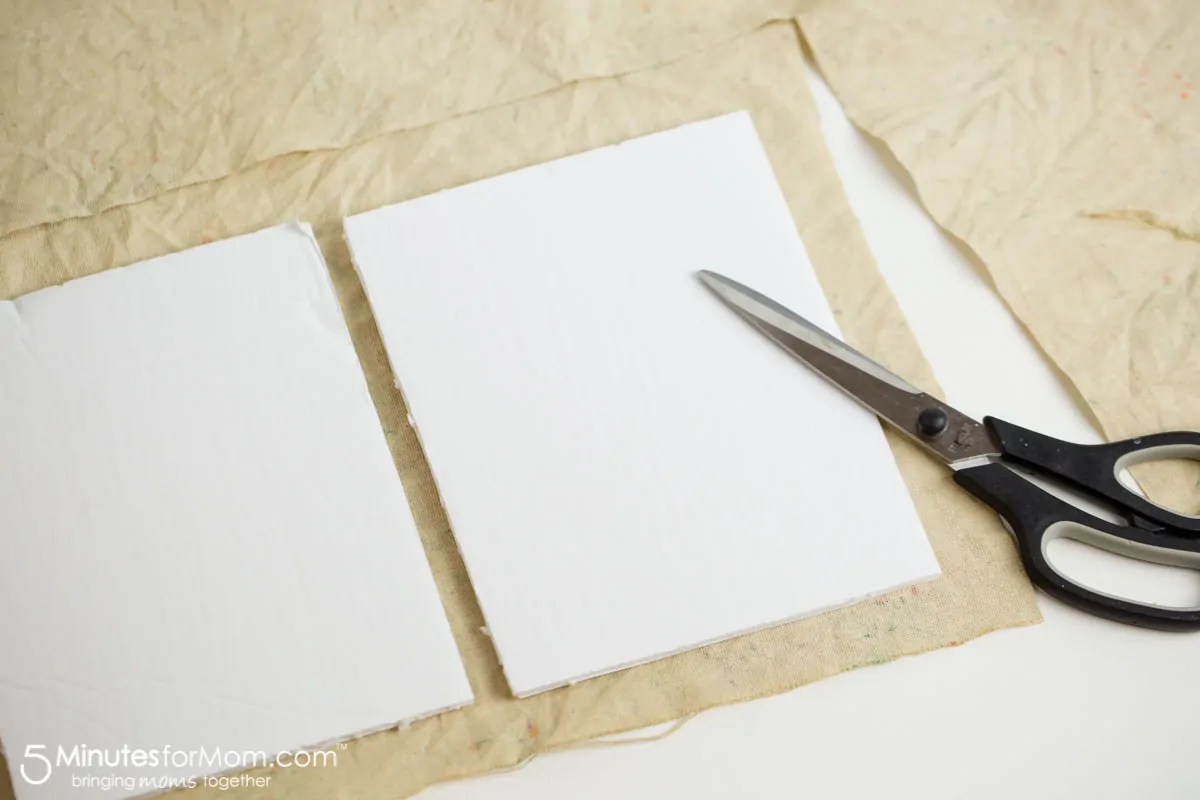 For our first DIY journal, Olivia and I only left a small amount of room for the book spine, so that the brown binding would wrap around further on the front and the back of the book.
It didn't leave room for too much paper, especially the wrinkled, coffee-stained sheets, but it wasn't a problem because her book didn't have too many pages.
If you want to have more pages in your journal, make sure you leave more room in the spine area as we did for our second journal, pictured below.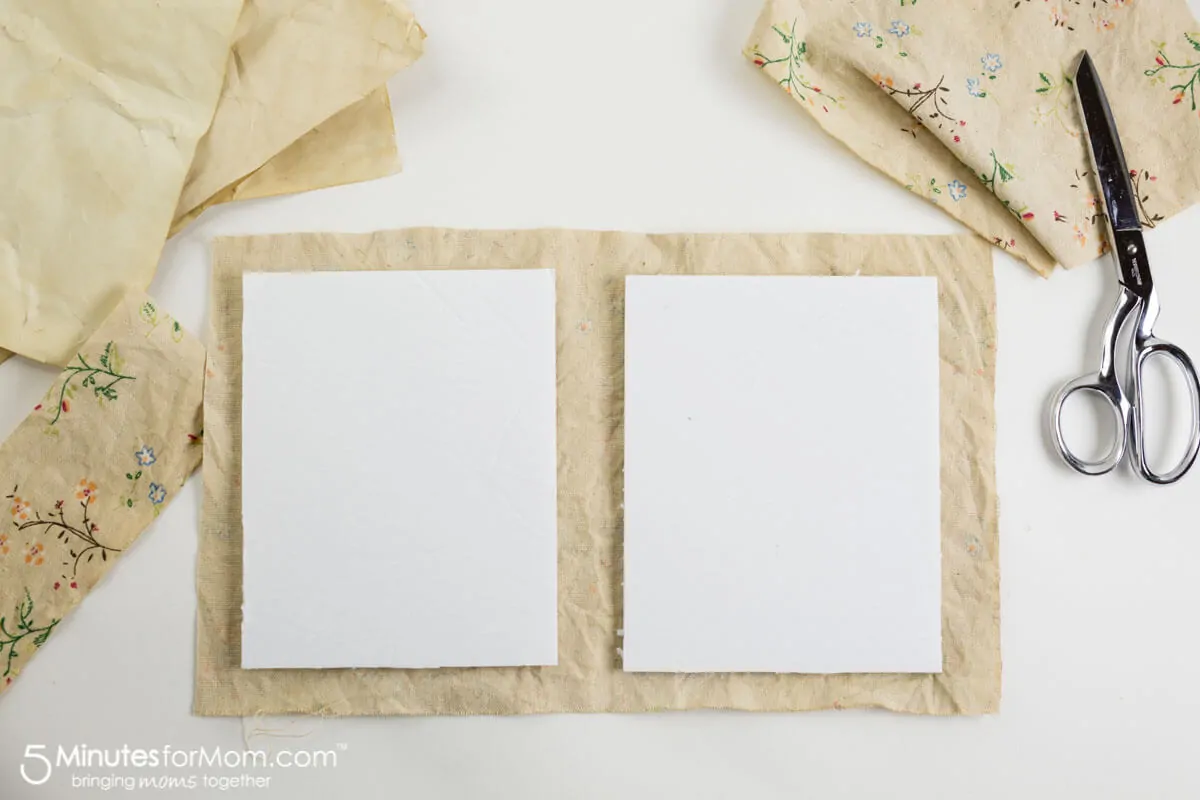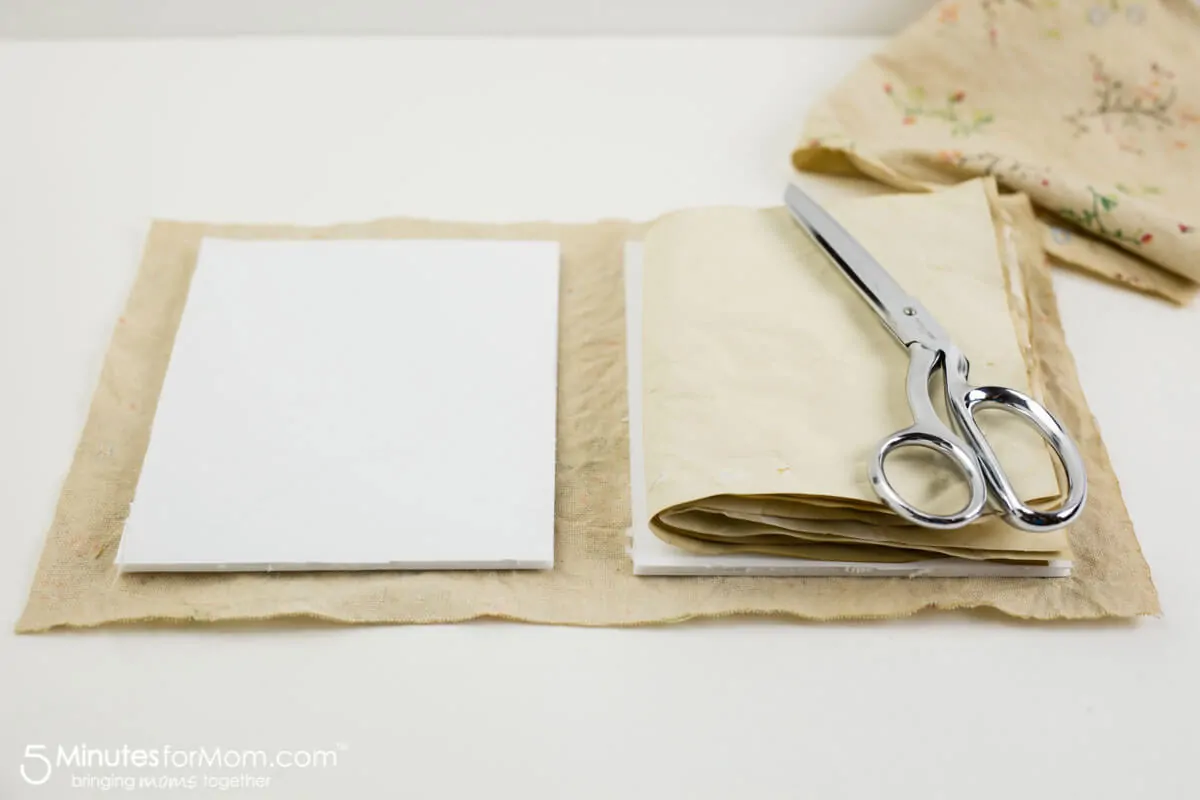 Step Four — Glue The DIY Journal Cover
To glue your fabric to your foam core cover pieces, you just want to glue the corners and maybe a bit along the edges to stablize the fabric and journal cover.
Do NOT spread a bunch of glue on the front of the foam core piece under the fabric because then your front cover fabric will be lumpy and, if the fabric is thin, it will show the glue through the fabric.
Gluing the corners and then later gluing the end pages to the inside of the cover pieces will hold the fabric in place.
As for how to fold your corners, we made our first journal by folding the corner of the fabric in as shown below…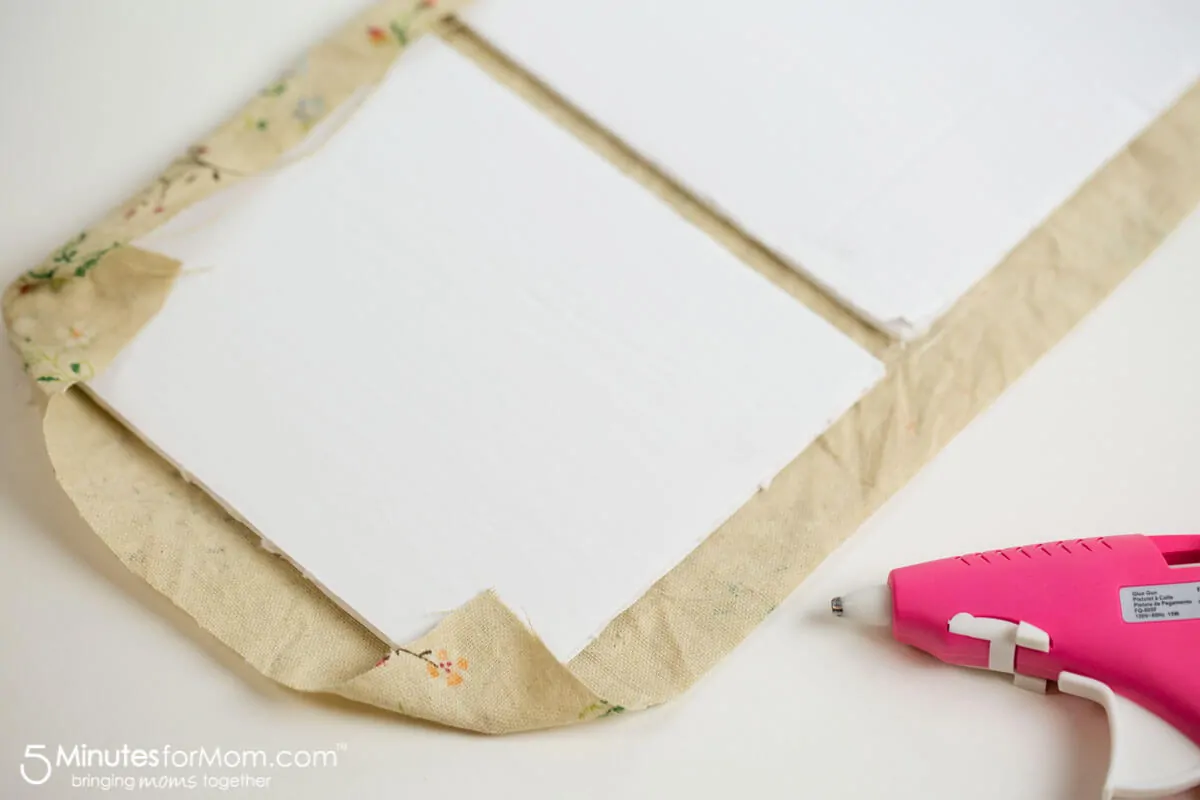 Then we folded one side in, adhering with the glue gun as we folded…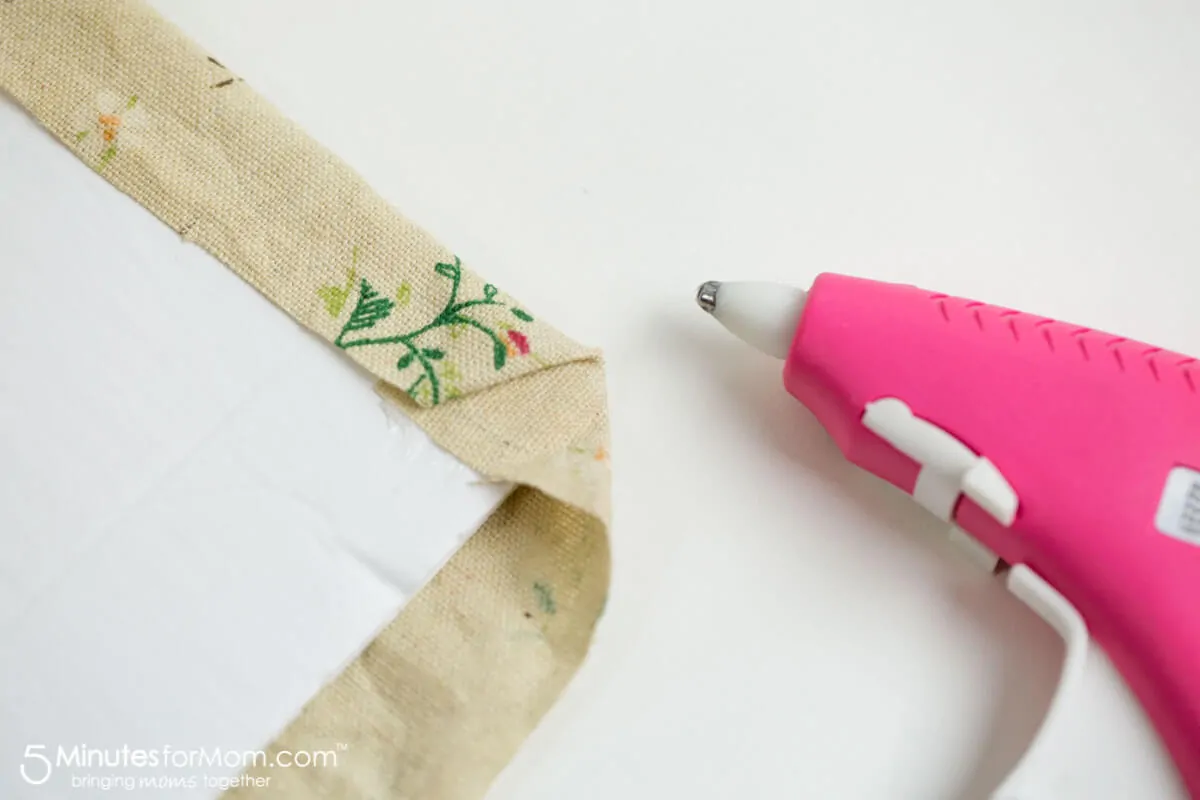 I like this method the best as it provides a nice clean corner…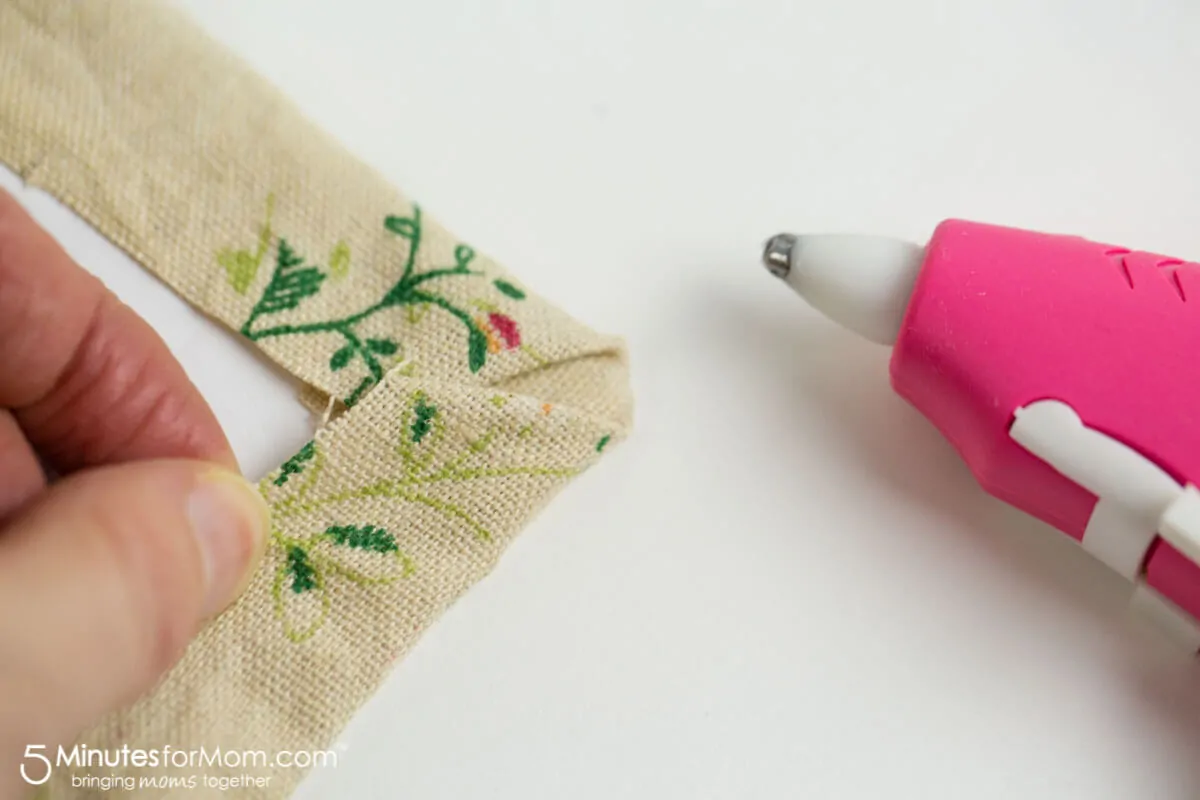 On the second DIY journal we made, we tried folding the corners the way you fold a Christmas present…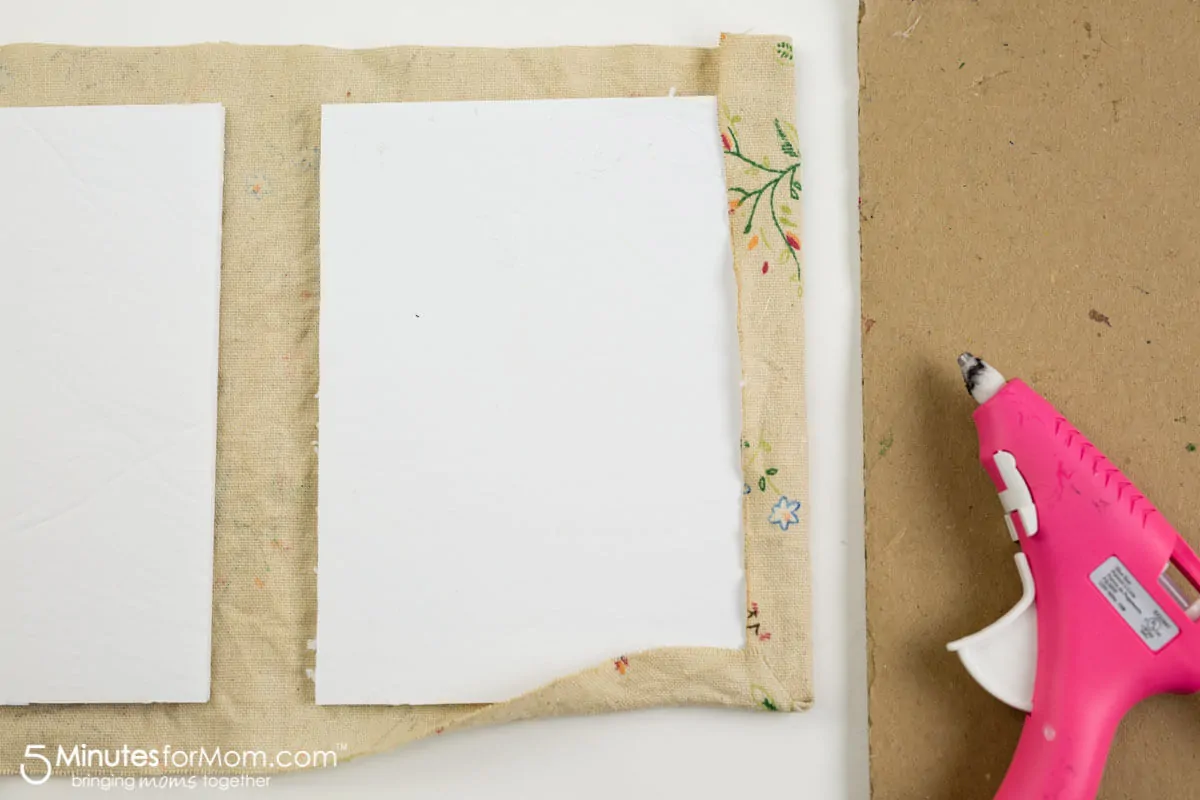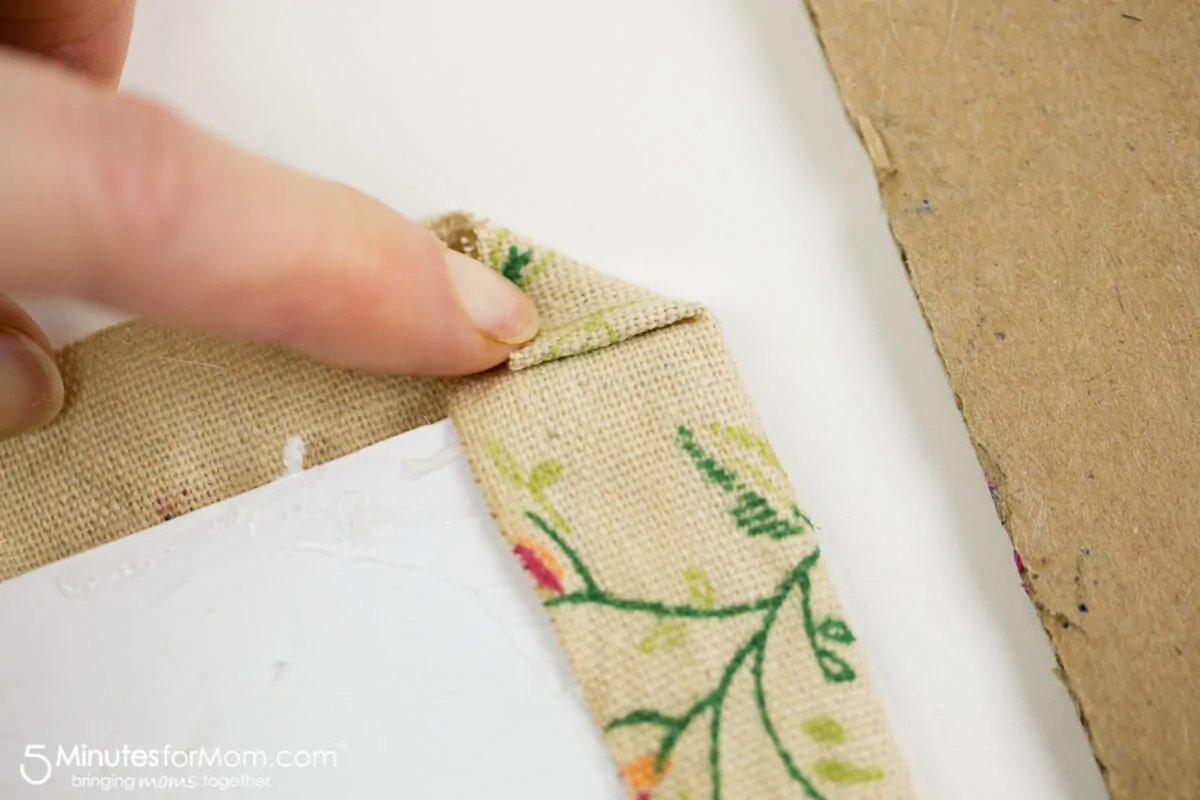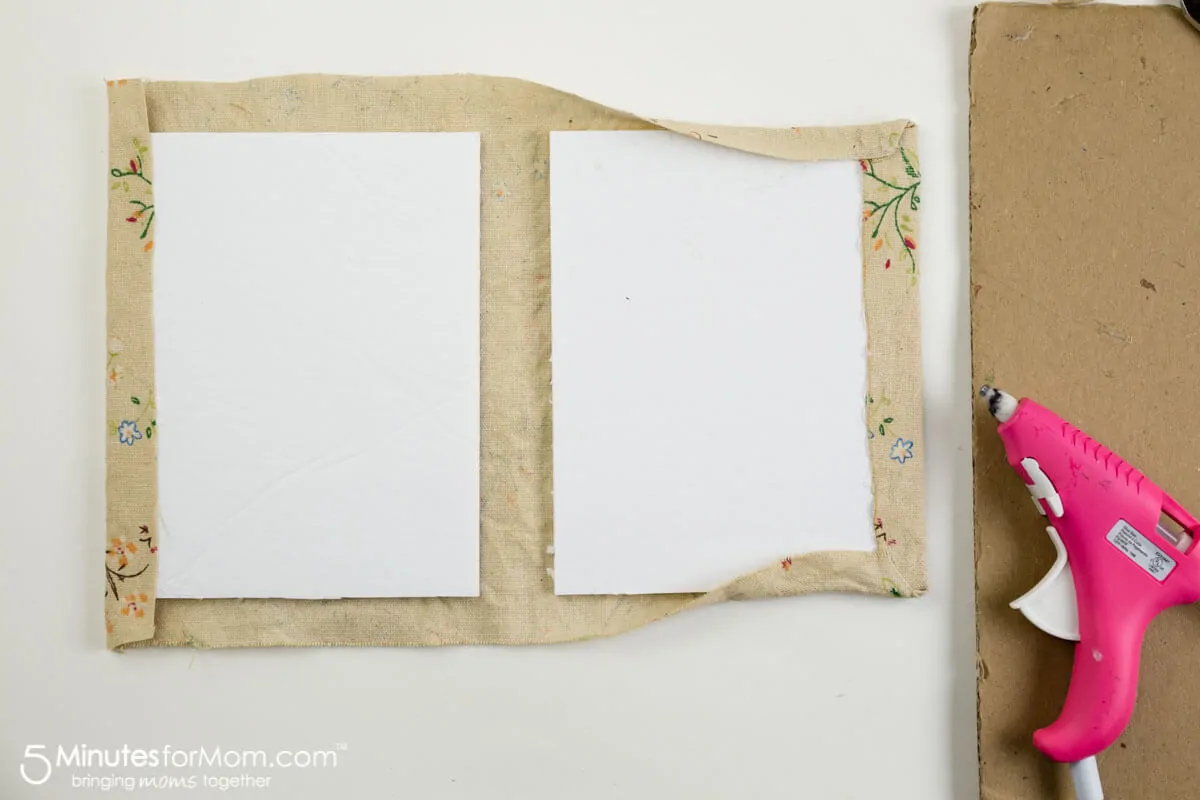 This method works too, but I think it is bulkier.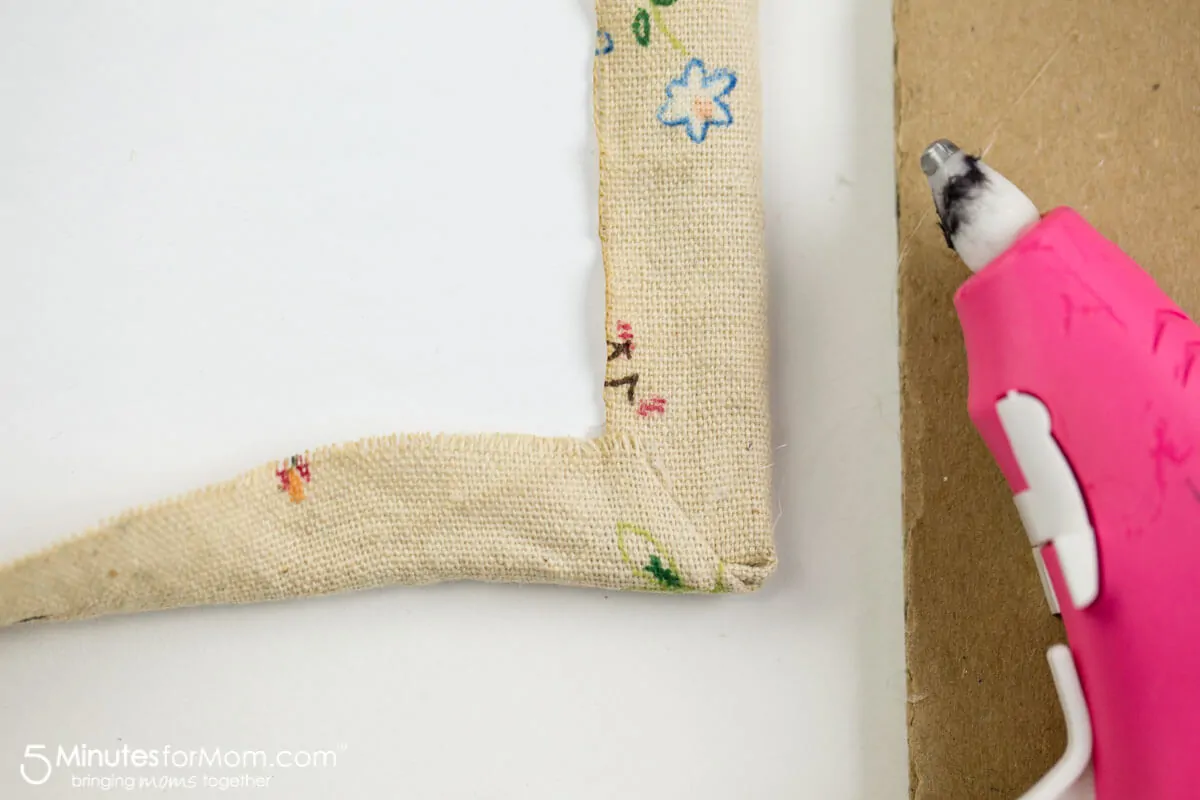 Step Five — Attaching the Fabric Book Binding
As I mentioned earlier, for our bookbinding, we used some old twill binding from my mother's sewing stash.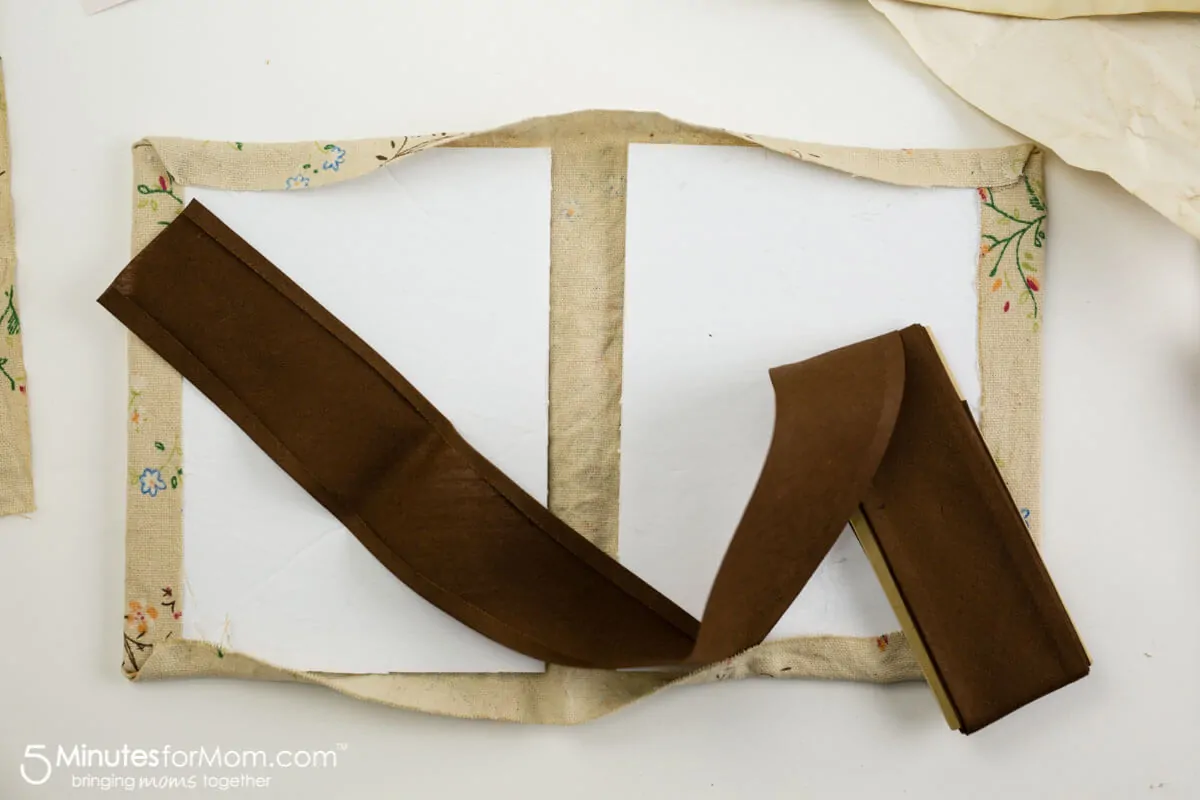 Because it is bias binding, it already has the edges turned in for a clean edge on the sides.
If you are using a fabric that is not already pressed this way, you can use an iron and press in your edges to make a clean edge.
Or, as I did for another book I made which I will post about soon, you can sew some fabric together in a tube, turn it inside out, and press it. Then you will have no raw edges for your binding piece.
Alternatively, you could use a wide piece of ribbon as a binding and then you don't have to worry about unfinished edges.
To attach your binding, simply lay your fabric cover on top of your binding, (in sewing lingo – the wrong side of the binding is facing the right side of the book,) and glue down the ends of the binding to the inside of the book fabric…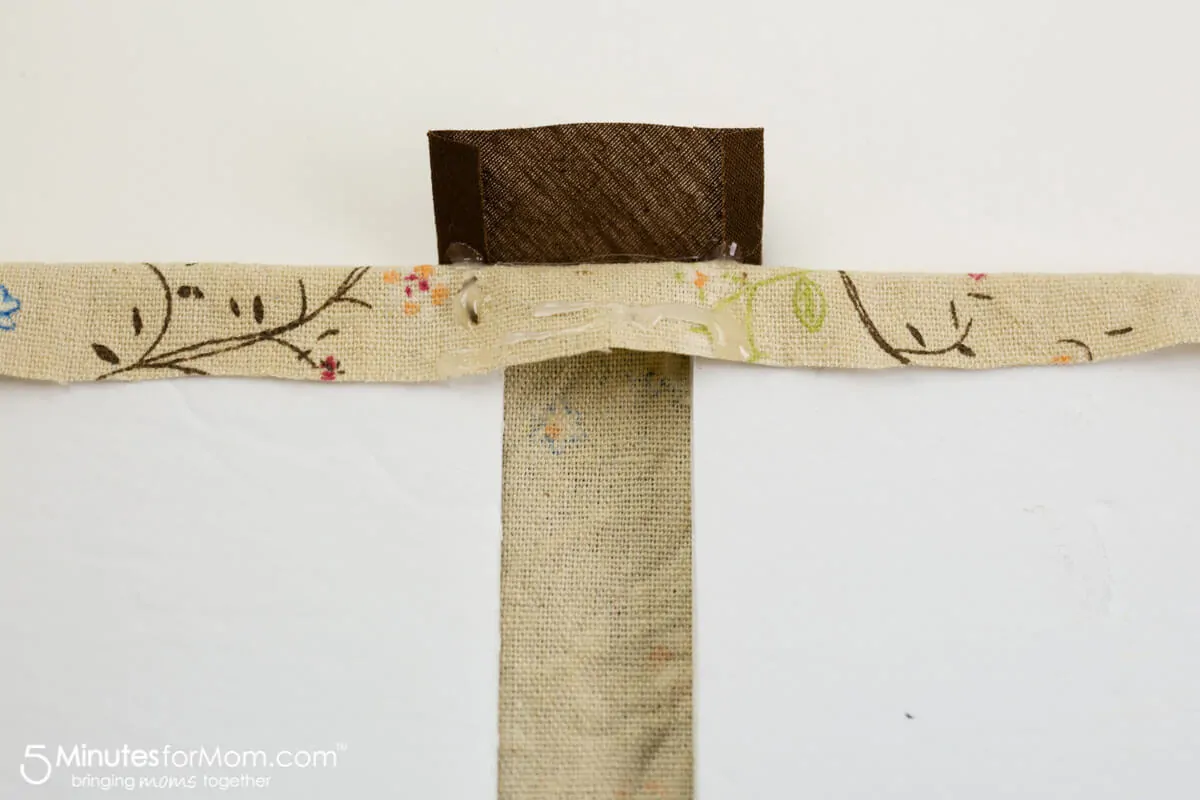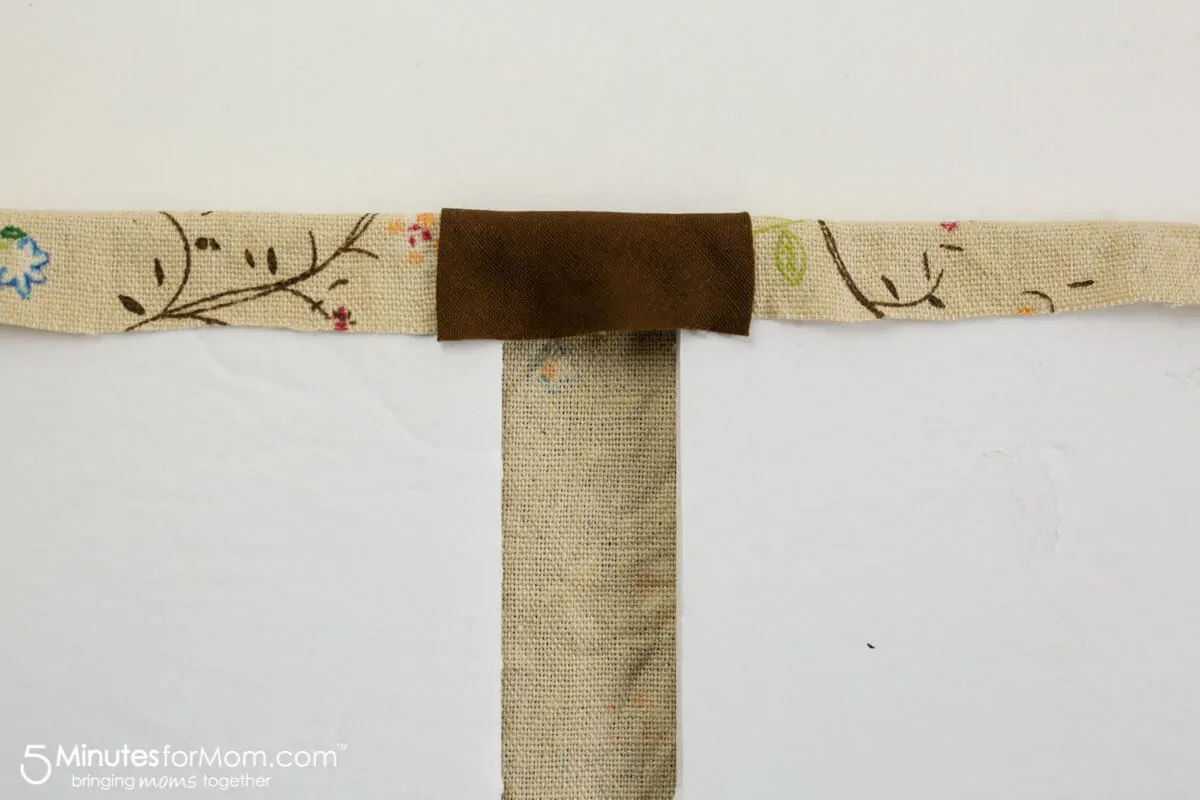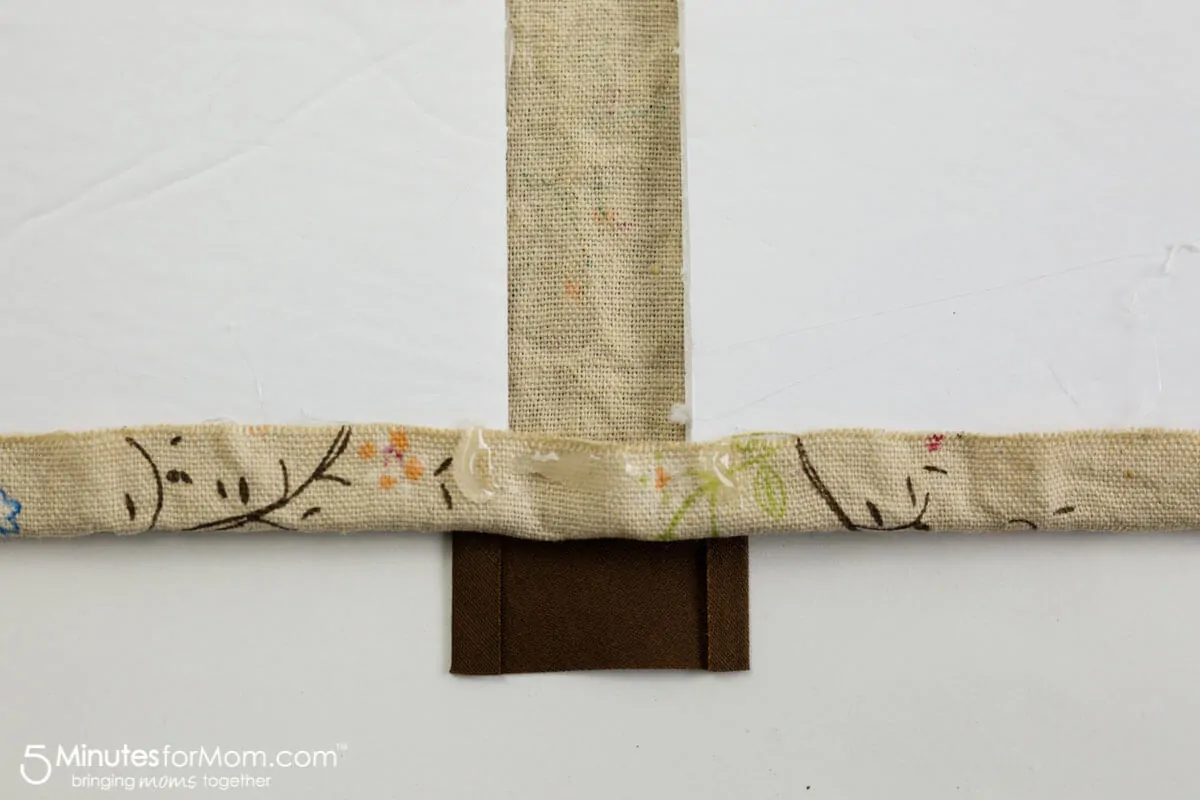 Next, you can apply a small amount of glue to the edges of the binding to help it lay flat. Leave a small opening in the center of the binding on the back cover so you can attach the rope/ribbon for the closure. (More about that step later.)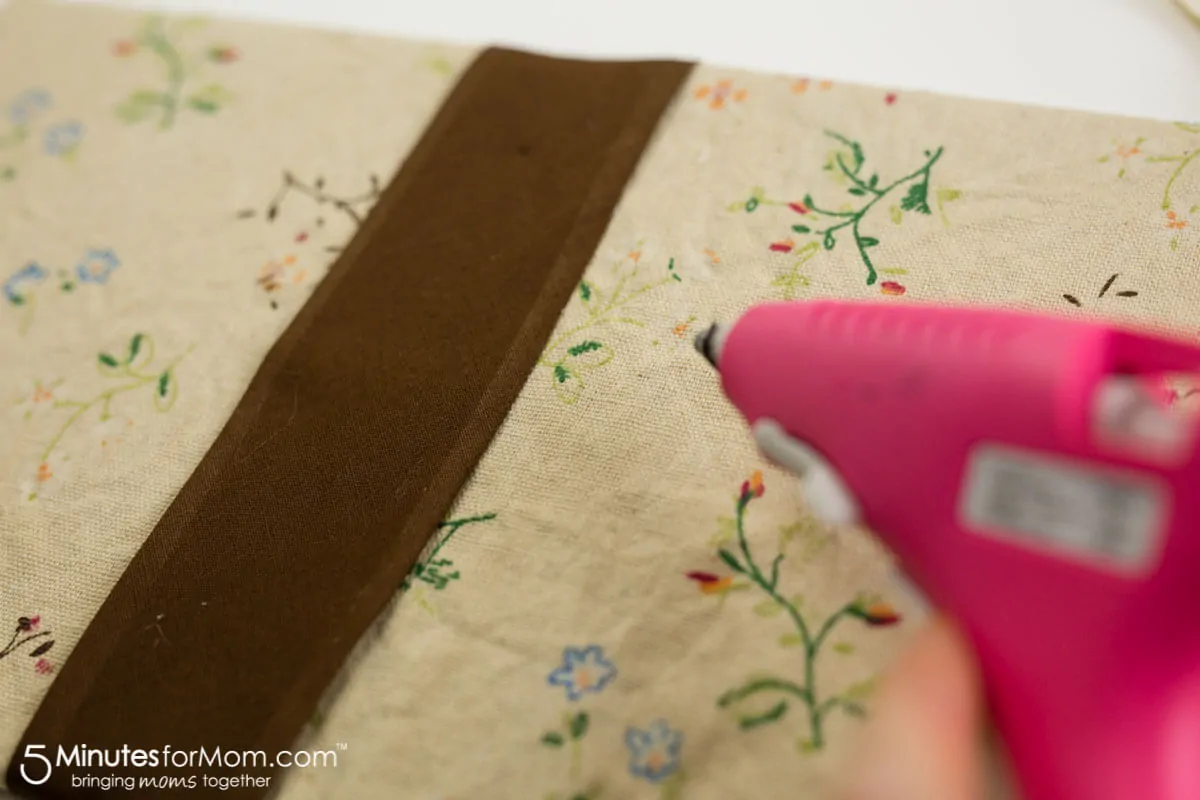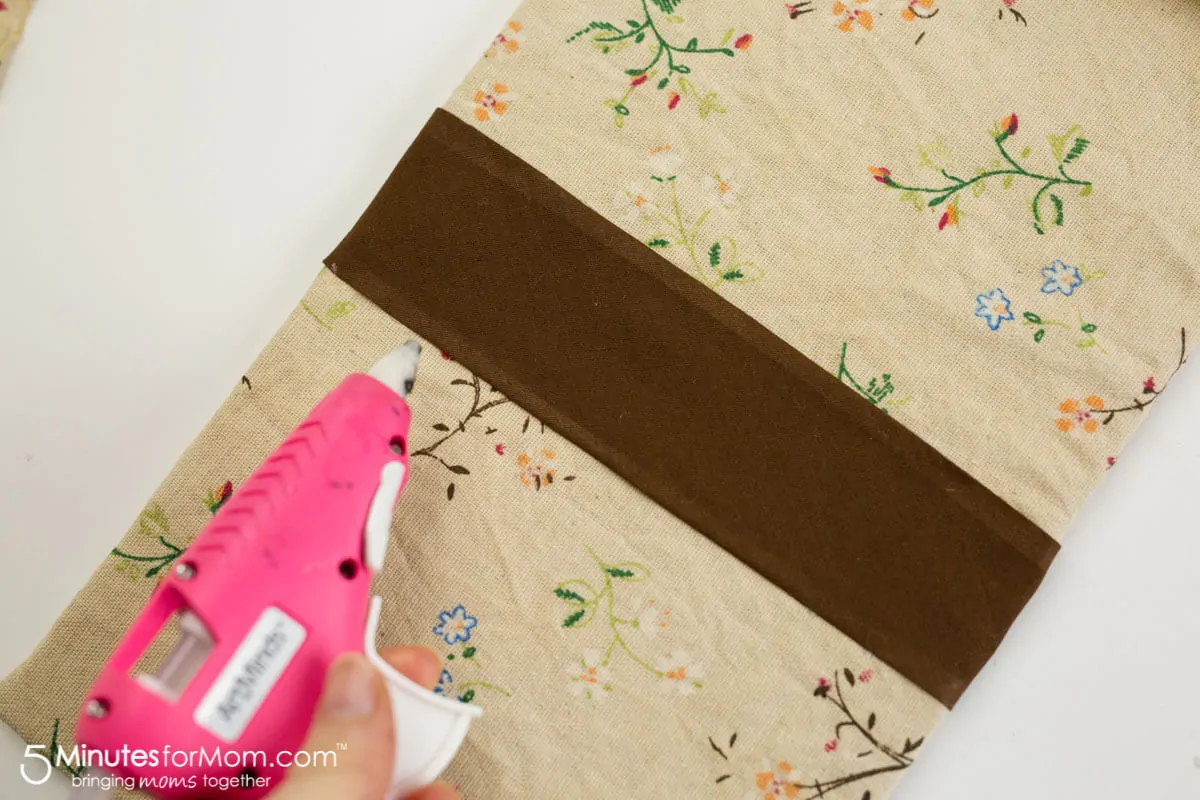 After you have glued on your cover binding and before our next step of sewing together your pages, you might want to check that your fabric edges will be covered by the end pages of your "signature."
(In bookbinding terminology, a signature is a set of pages sewn together. If you want to have a significant amount of pages in your book, you will need to have multiple signatures and to bind those together before you glue them into your book cover. For our small books, we only used one signature per book to keep things simple.)
For our first DIY journal, the book Olivia used for her school diary project, we had plenty of fabric and a small spine so our end pages in our signature fit perfectly.
For our second journal, the extra one we made for Olivia, we didn't have as much tea stained fabric to allow for ample fabric around the inside edges of the cover and we had a larger spine area. So we had to actually cut a piece of paper that was slightly larger than our pages and add that to the signature to create end pages that covered the inside cover nicely.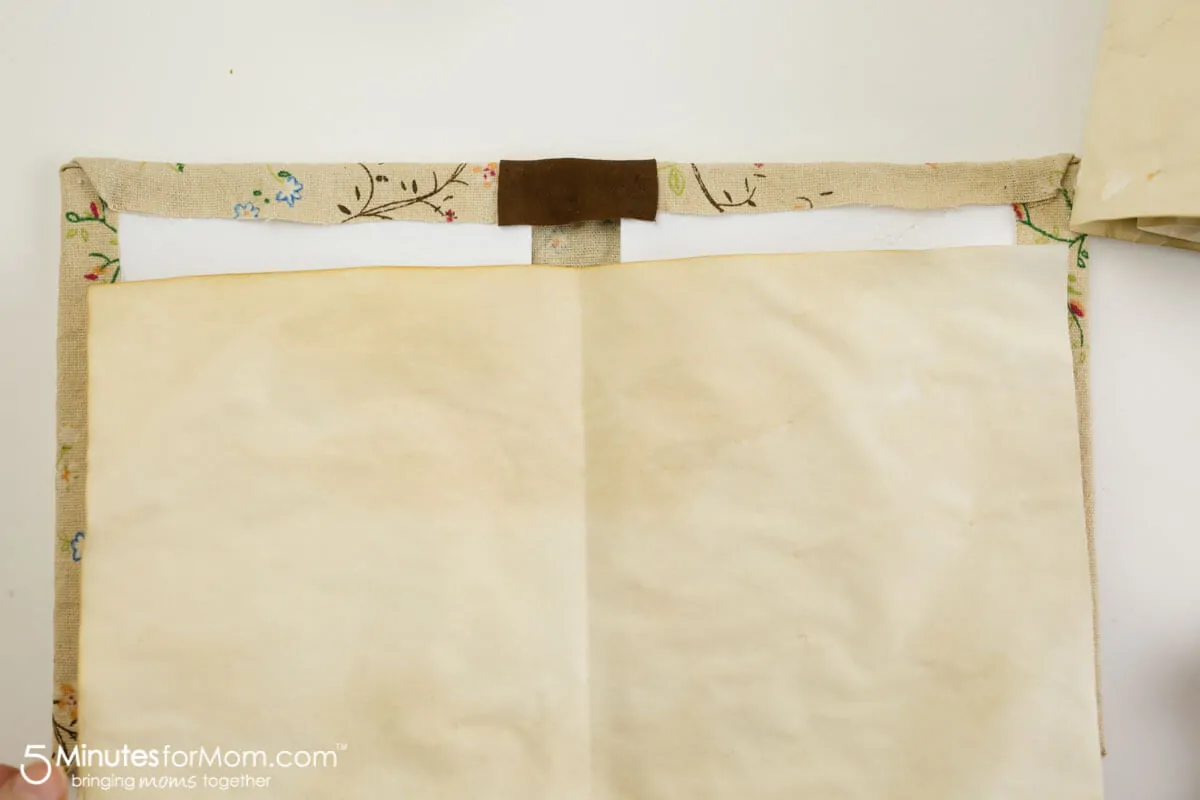 Step Six — Sewing Your Pages Together
To sew your pages or "signatures" together, you can use a large embroidery needle, or you can use something to "poke a hole" in your pages and then thread the rope, twine, thread, ribbon, etc., through with your fingers. Since we are only making one small signature for this book, we are just doing a very simple sewing job.
First, measure an equal distance in from the top and bottom of the signature and mark. We made ours 1.5″ inches in.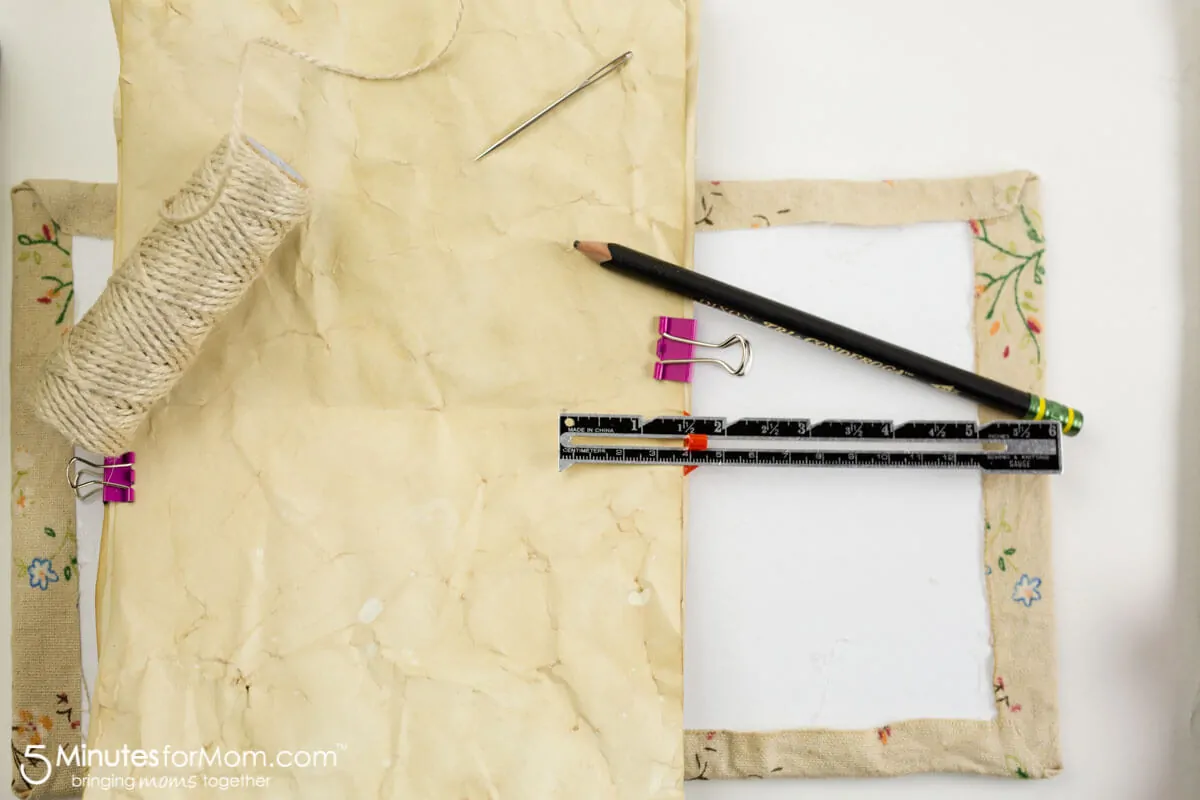 Then, starting from the back of the signature, at the top mark, push the needle and thread/rope through to the front and then, at the lower mark, sew out to the back of the signature.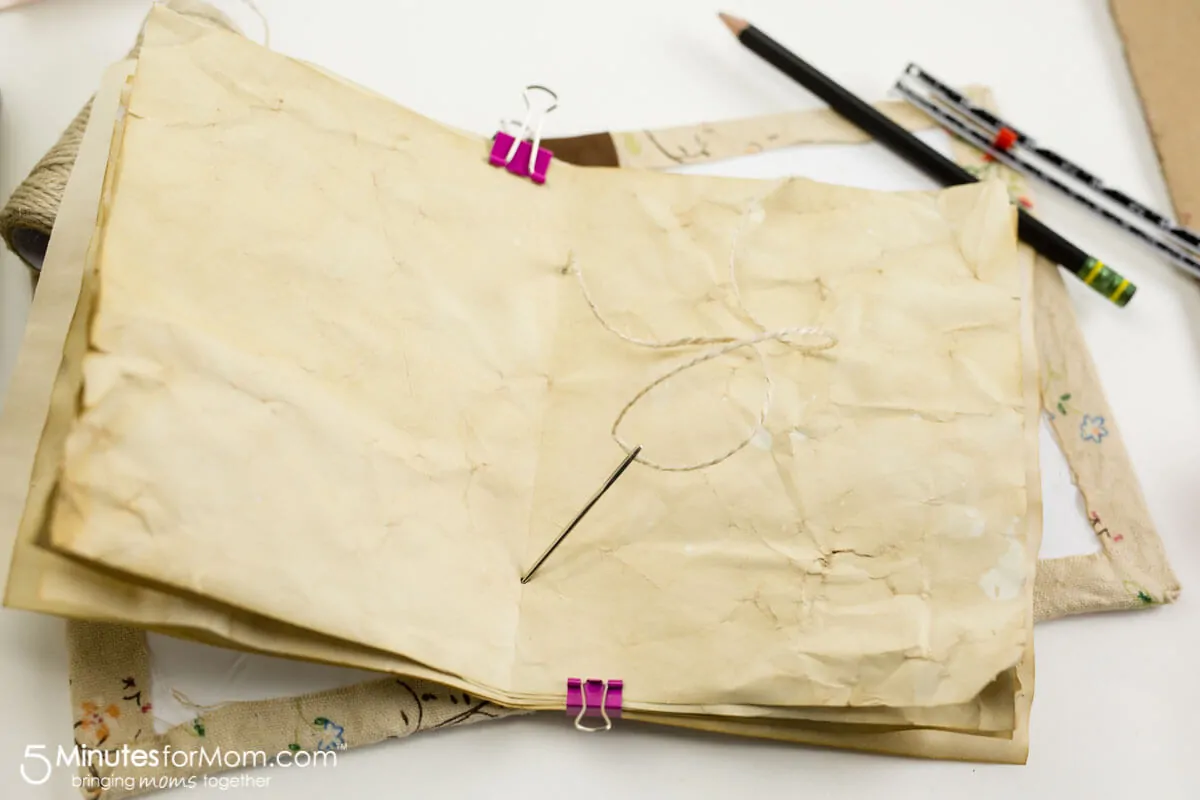 Tie the rope/thread snug at the back and trim the ends.
Next, glue the last page of the signature, which will be your end page, to the inside of the book cover. This will create a nice finish to your journal cover while also holding your signature in the book.
If you have multiple signatures, you will need to sew your signatures together before adhering the end pages to your book cover.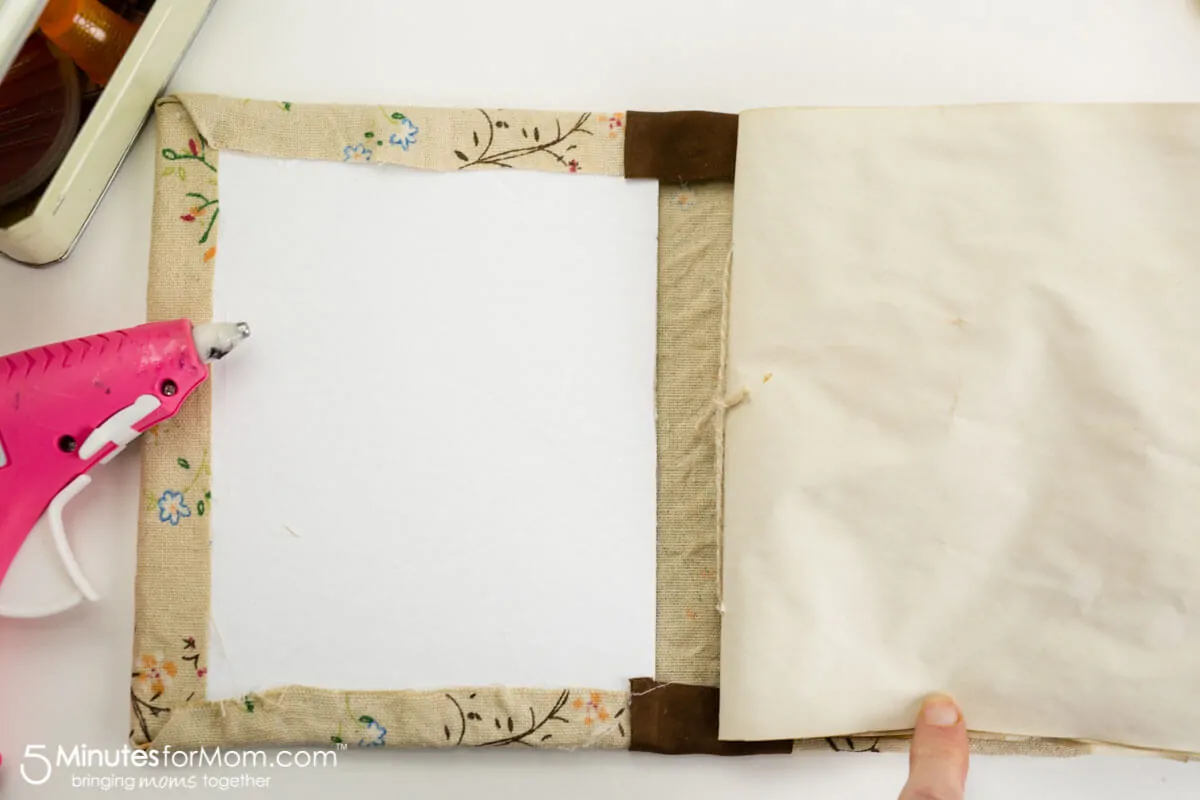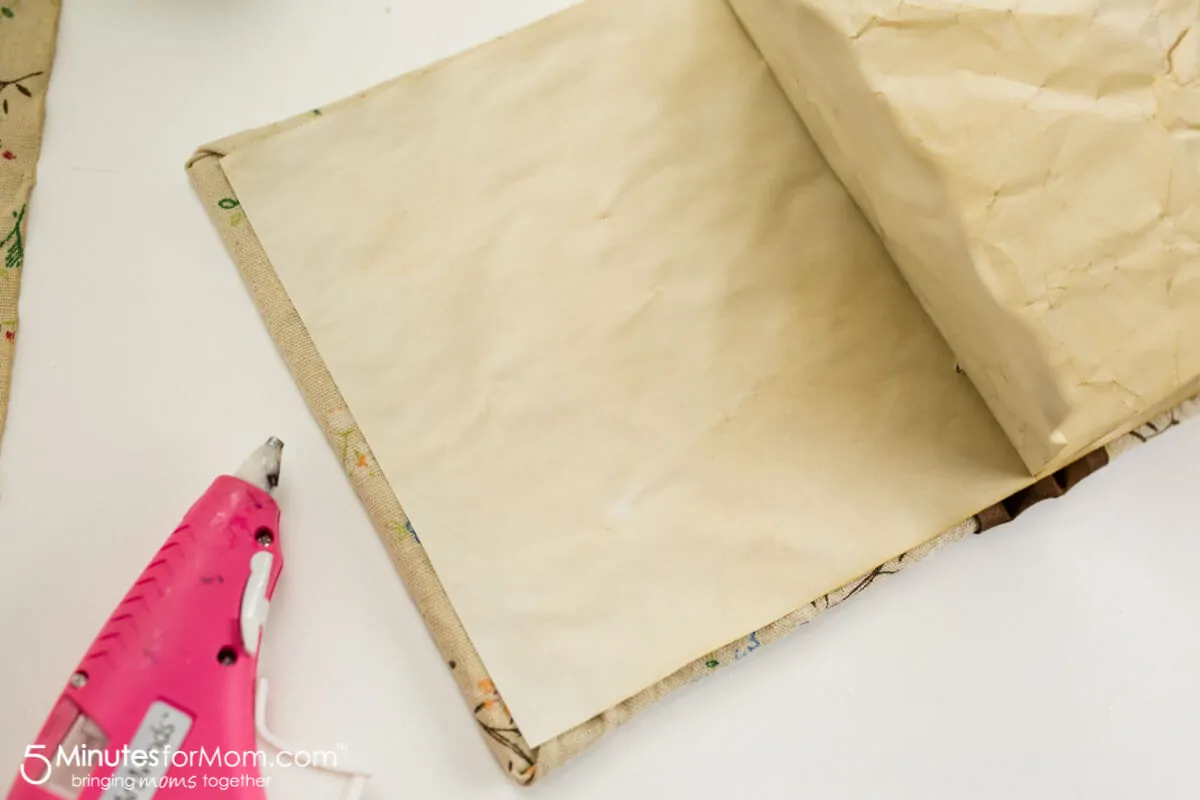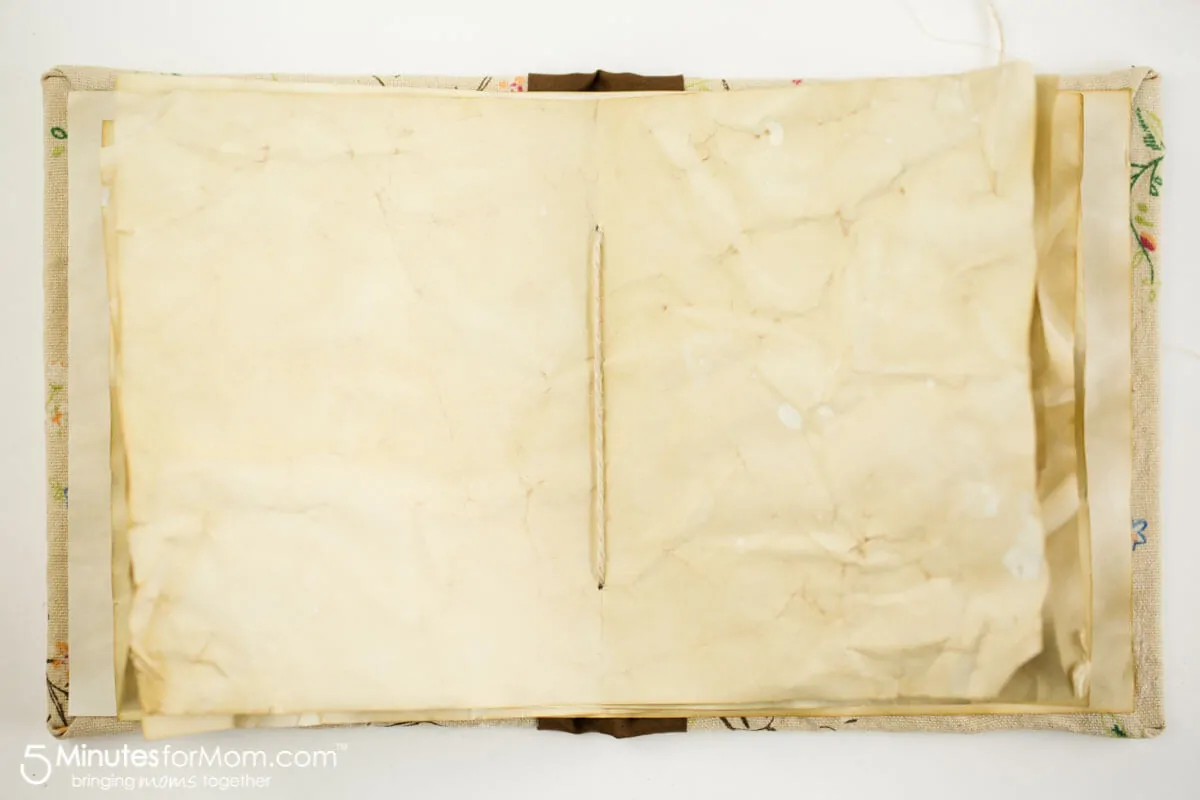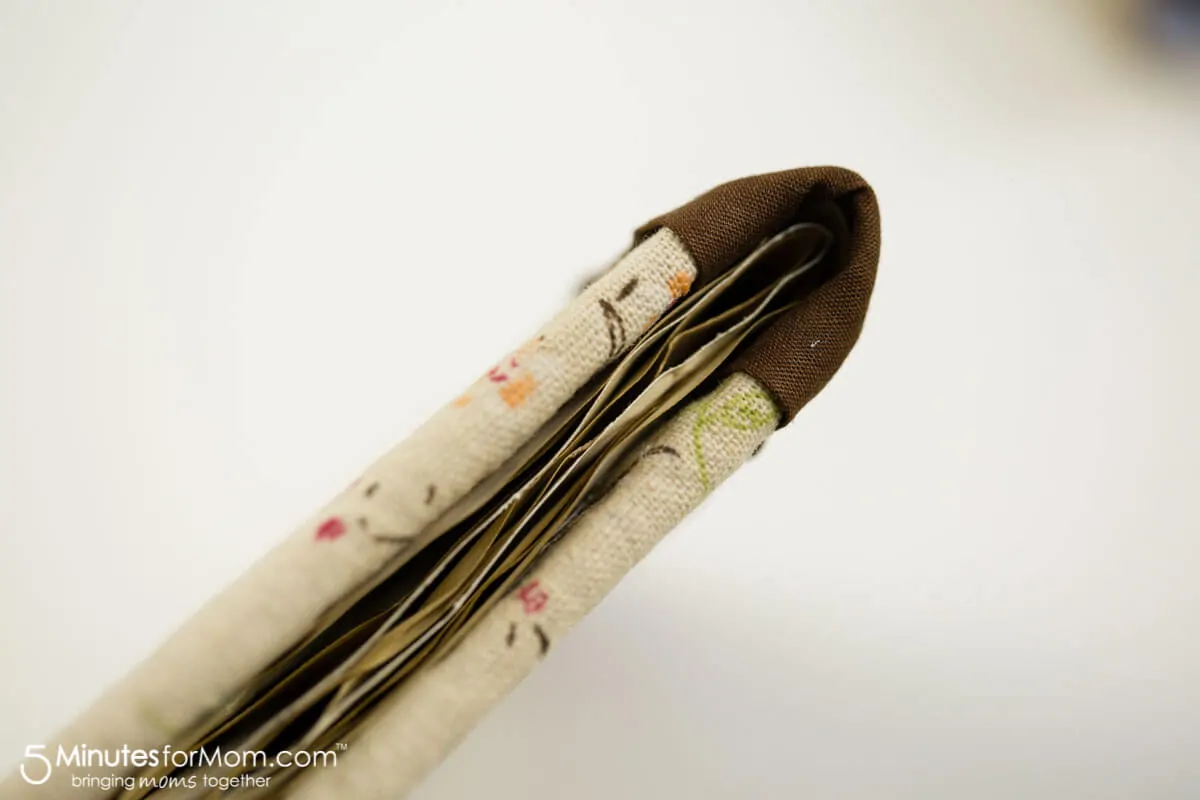 Step Seven — Make Your Book Closure
To keep her journal closed, Olivia decided to use a vintage button and some of the twine that we used to sew the signature.
First, we sewed the button on to the front of the book cover and then used a little bit of hot glue to help stabilize it further.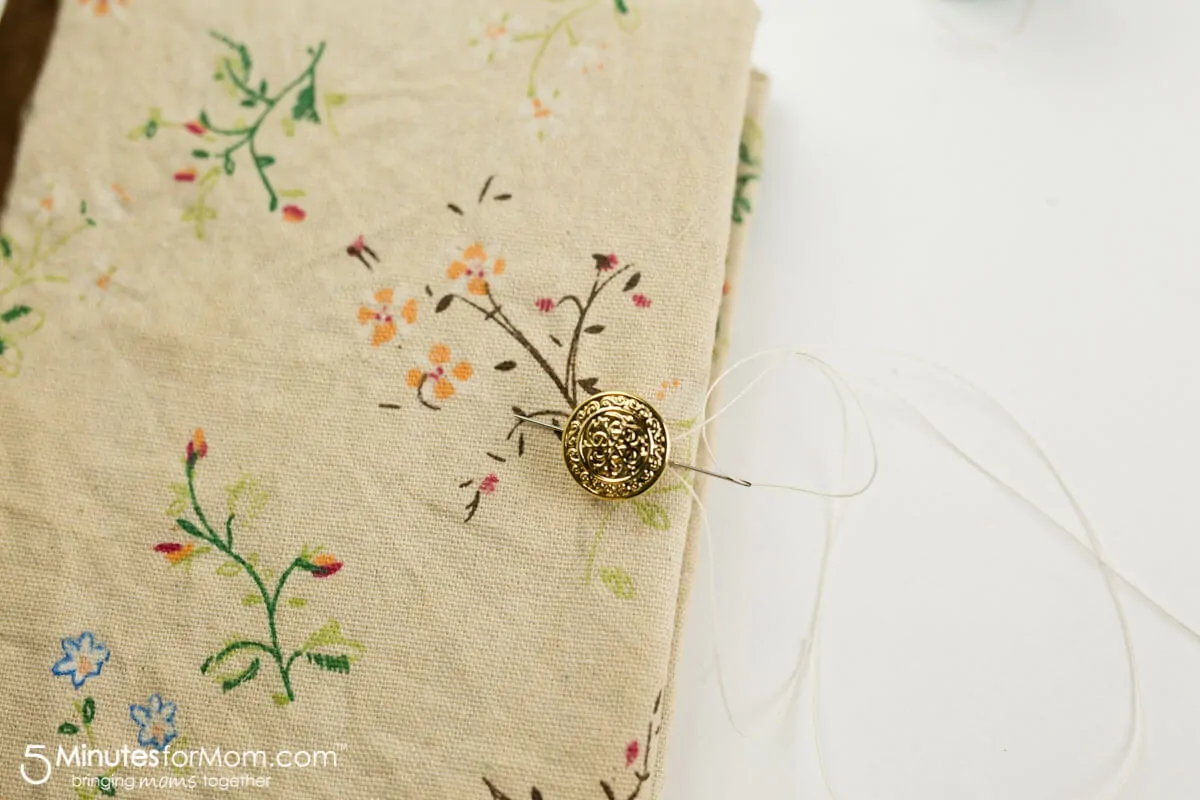 Then, we cut a piece of twine and tucked it under the fabric bookbinding and hot glued it in place.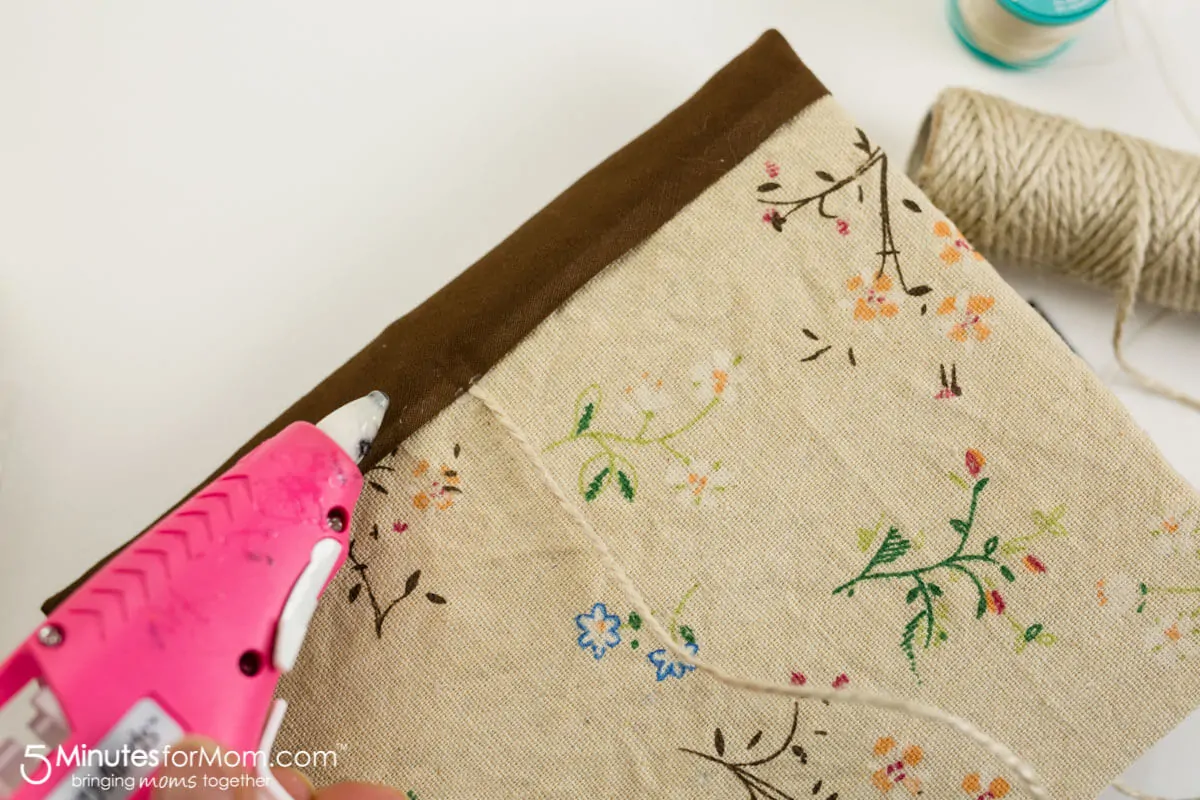 To hold the book closed we simply wrap the twine around the button a couple times…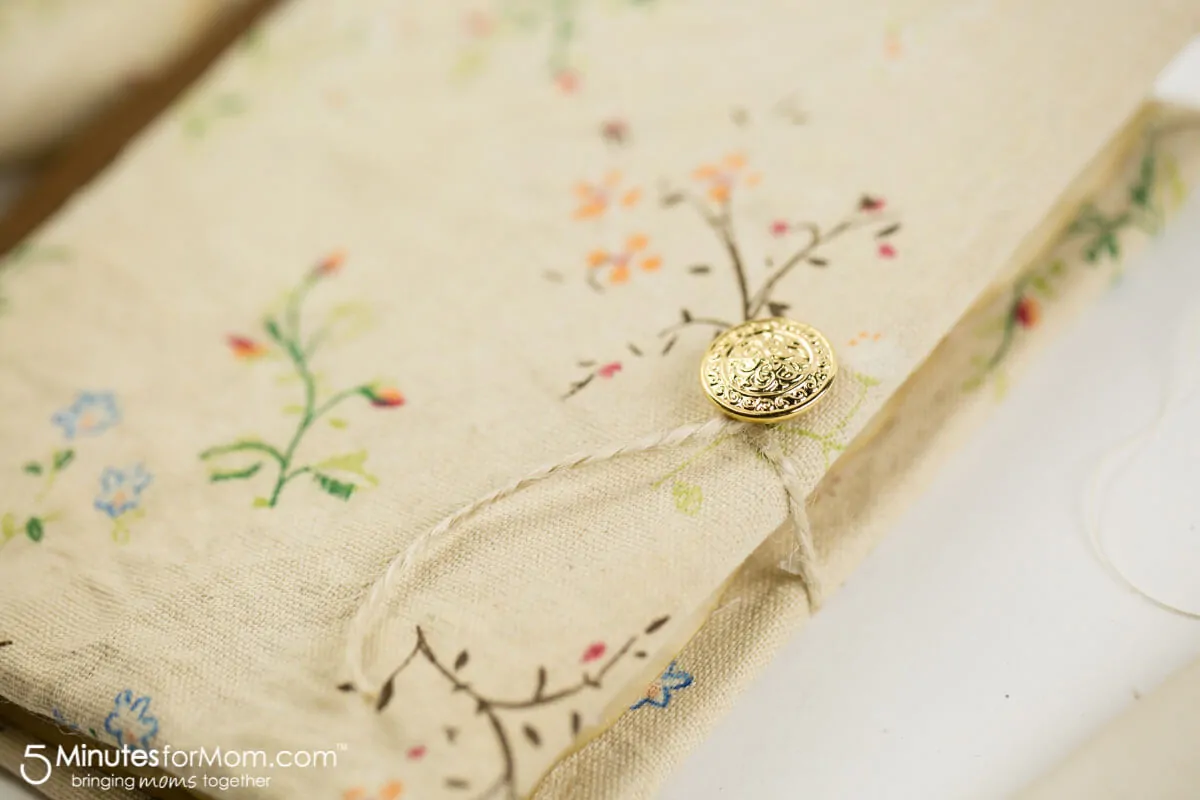 I think it is a super fun and functional feature…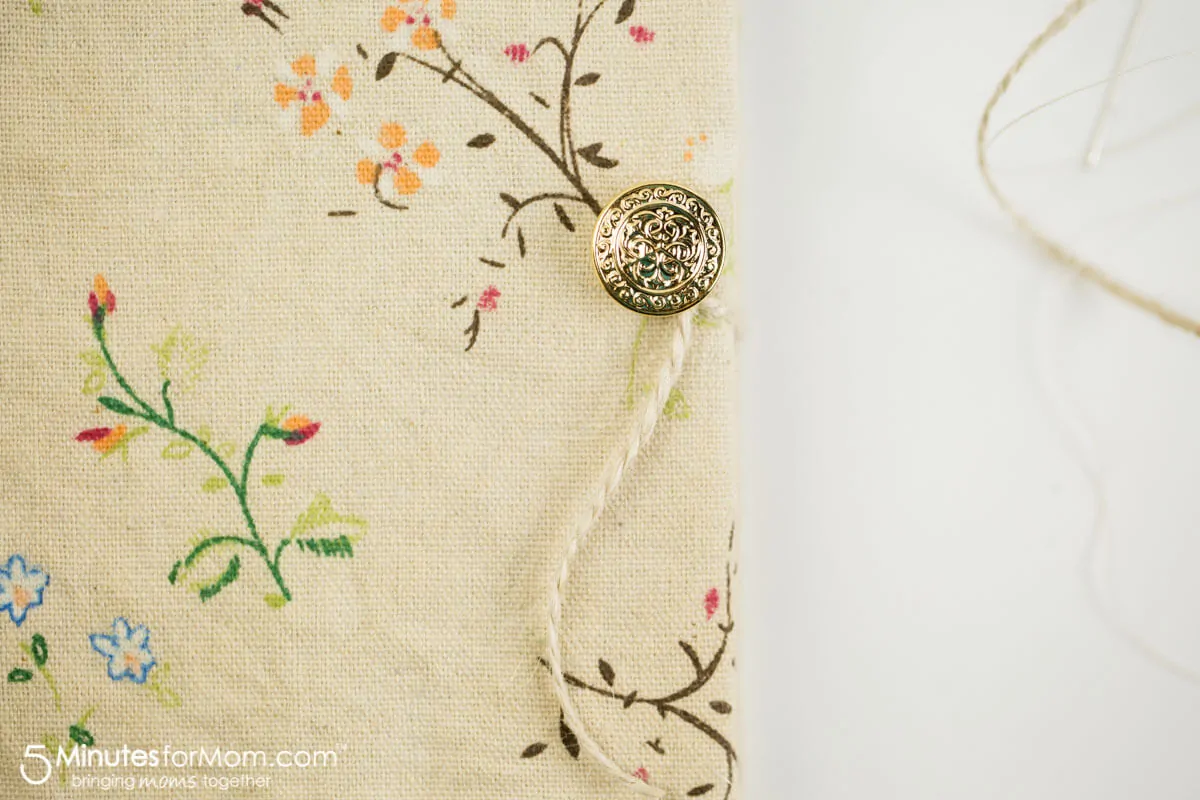 And here is Olivia's completed DIY journal, ready to be handed in to her teacher…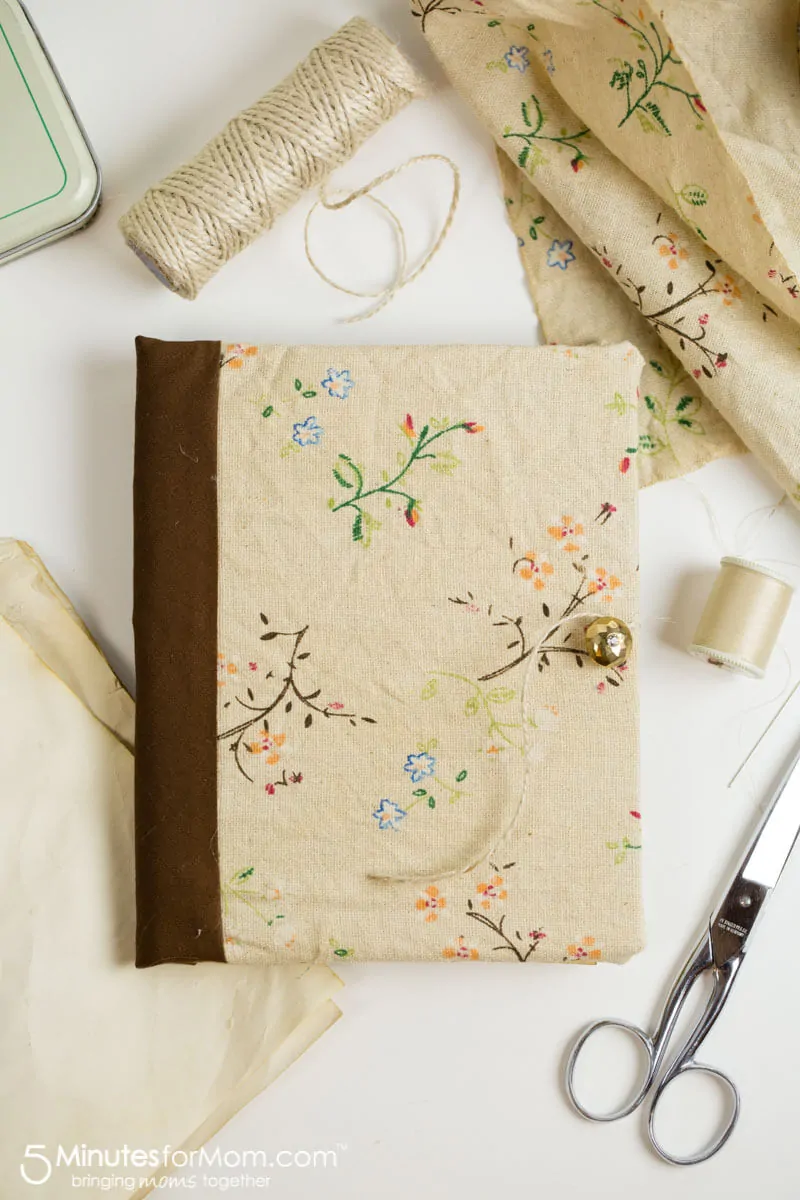 We had so much fun making these journals!
The foam core base makes the finished books so light and they are perfect to use for journaling, school projects, junk journals, even photo albums. (Please note that if you are using tea/coffee stained papers, they will not be acid-free and so photos may fade over time.)
My niece Sophia also had to make a handmade diary for school. Sophia is in grade five too, at the same school as Olivia, but in different classes. For her assignment, Sophia created a diary by a girl immigrating from China to Canada in the 1980's.
I LOVE the DIY journal we made for her project too. I took photos of our process making hers and I will get that tutorial post up as soon as possible.
Have your kids had a school project that involved creating handmade diaries or DIY journals?
Whether you are making them for school, for gifts, or to keep for yourself, we hope you have tons of fun creating handmade diaries and DIY journals — and please let us know if you do make a DIY journal and how it turns out!
Pin it for Later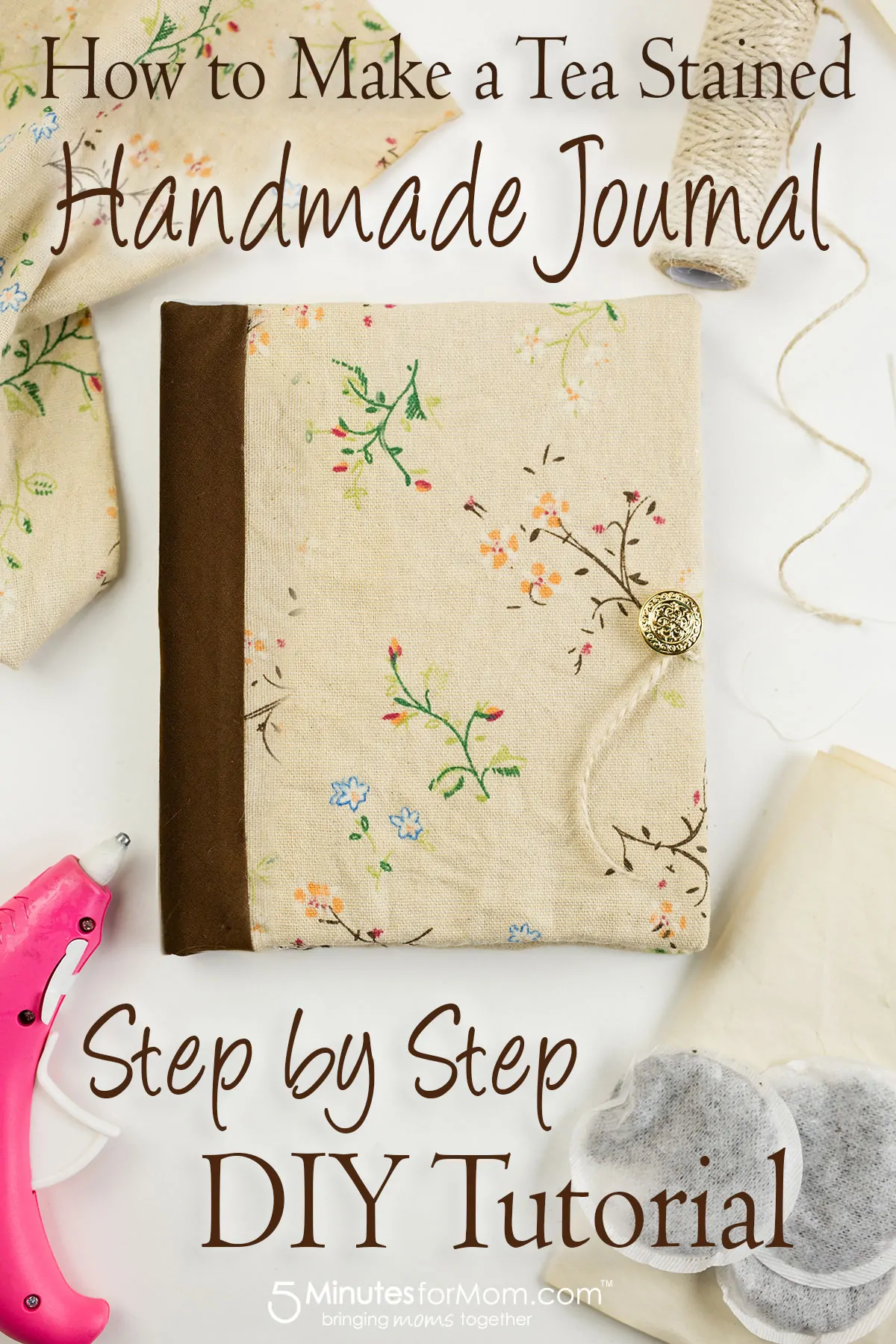 Written by Janice Croze, co-founder of 5 Minutes for Mom
Talk with me: @5minutesformom and Facebook.com/5minutesformom
Pin with me at pinterest.com/5minutesformom