This post may contain affiliate links. Read my disclosure policy here.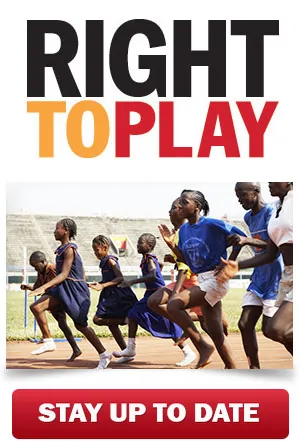 For the last several weeks, we've been learning and sharing with you about the life-changing work that Right To Play is doing in West Africa.
In case you need to get caught up, here's recent our posts…
Level The Field Program
Over these last weeks, we've been honoured to be among a group of parent bloggers working to spread the word about Right To Play. From that group, our friend and local Vancouver blogger Jill Amery generated the most votes for the project she championed in Liberia.
Jill and one of the lucky voters, Lori Harasem, will be joining a Right To Play field team to travel to Liberia and see their programs in-action.
Jill Amery is a mom and the publisher of UrbanMommies.com, a website that inspires parents to thrive using stories and digital media. She believes that one common goal for Moms and Dads across the globe is to delight children and give them wings. She plans to do everything in her power to help parents understand how sport and play that can benefit children and their futures. The world should get louder as we listen to the laughter of so many kids.

Lori Harasem lives in Coalhurst, Alberta, with her husband, three children and pets. She works as the Recreation and Culture Development Manager for the City of Lethbridge and is heavily involved in her community in a volunteer capacity. Lori has always dreamed of going to Africa to volunteer and as a supporter of the values of Right To Play, she says that she "couldn't pick a better organization to share this experience with".
We look forward to following Jill and Lori's trip to Liberia and sharing their stories with you.
In the meantime, make sure you visit the Right To Play Facebook page and sign up for email updates so that you can continue to spread the message of each child's right to play.
Written by Susan Carraretto, co-founder of 5 Minutes for Mom
This campaign was made possible through funding received from the Canadian International Development Agency (CIDA)
The Level The Field campaign focuses on countries in the WAFA region (Liberia, Ghana, Benin, Rwanda and Mali) and raises awareness about the work Right To Play does in their communities.