This post may contain affiliate links. Read my disclosure policy here.
My sinks are decked out for the holidays — are yours???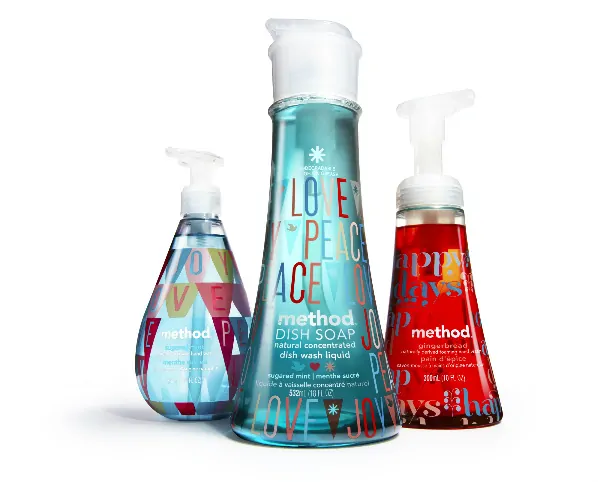 I don't have Christmas tea towels or Holiday hand towels, but this year, thanks to Method's fabulous limited edition holiday sets, my sinks are trimmed with holiday cheer.
You can collect them all at Targets across the US, as well as online at methodhome.com and well.ca.
So, hurry over to Target and grab some before they are all gone. Trim your sink or wrap them up for fun gifts for those last minute presents. They would make wonderful hostess gifts when you head over to friends' houses for holiday parties or Christmas dinner.
The Sugar + Spice collection brings peace to your sinks with modern twist in Sugared Mint and Gingerbread fragrances, while the Evergreen Nice collection is sure to evoke holiday nostalgia with the aroma of Frosted Fir and Mistletoe.
Sugar + Spice Collection Includes:
Gel hand soap in sugared mint
Foaming hand soap in gingerbread
Dish pump in sugared mint
Evergreen Nice Collection Includes:
Gel hand soap in frosted fir
Foaming hand soap in mistletoe
Dish pump in frosted fir
Why do we love method?
method is perfect for gifting or holiday decor
method has premium fragrances with natural essential oils
method products are naturally derived and biodegradable
method bottles are made with 100% recycled plastic
method products are triclosan-free and are never tested on animals
Please Note: We are working with Method in their Method Mavens ambassadorship program. But my love for Method has nothing to do with contracts — it is all mine.
If you want to share the love, we would love it if you gave it a Stumble, Tweet, Pin, or Facebook Like. Thanks so much! We really appreciate your support of 5 Minutes for Mom.
Written by Janice Croze, co-founder of 5 Minutes for Mom.
We want to get to know you better — Tweet with us: @5minutesformom, find us on Facebook: Facebook.com/5minutesformom, or join our newsletter list.