This post may contain affiliate links. Read my disclosure policy here.
We live in a world of extremes where we fantasize about the lifestyles of those with more and we try to look past the suffering of those with less.
It's not our fault we're in the middle. It's natural to wish for more and pursue our goals. And it can feel hopeless when we consider the millions struggling in poverty.
But just as we shouldn't give up on getting a dream job or winning a competition, we shouldn't give up helping those with less.
Click
These days, joining a movement can be as simple as a click-through. With brands and organizations competing for attention, you take part by simply spreading a positive message of hope.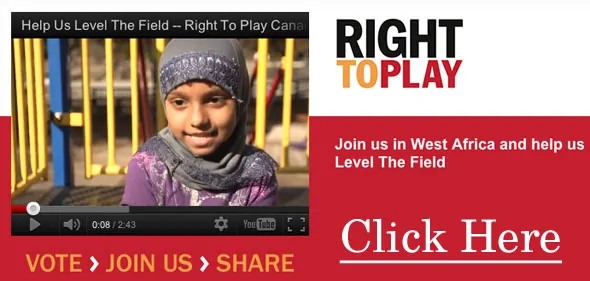 That's what we're doing with Right To Play and their Level The Field program.
We need your help to spread the message that children have an inherent right to play and that despite living in extreme poverty, their need to play cannot be ignored.
The non-profit organization, Right To Play, has programs in place around the world to help bring play to children in disadvantaged areas and they just need us to help spread awareness about the importance of play-based learning.
Please click through to Facebook, Like their page and sign up for their email list to learn more about the joy they are bringing to kids all over West Africa and the work they are doing to help Level The Field for children everywhere.
Two Extremes Brought Together With A Back-Flip
I can't think of two further extremes than a 24 year old Olympic athlete and a shoeless little boy in Liberia. But when Rosie MacLennan — who won Canada's first Olympic gold medal at the London Games in trampoline — visited Liberia as an Athlete Ambassador on behalf of Right To Play a few weeks ago, she found a way to connect with the children.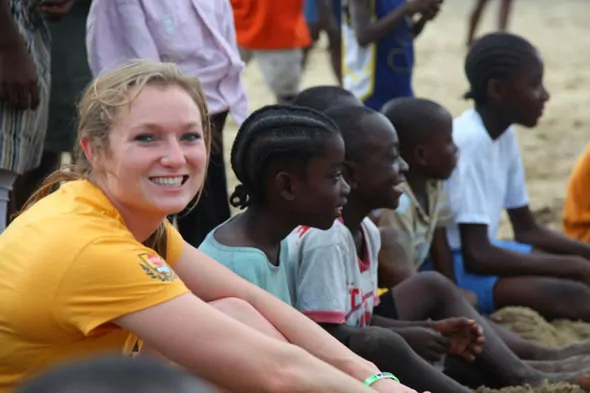 When the kids wanted to understand what she does on a trampoline, she did a standing back-tuck on the ground.
The Right To Play leader asked if any of the kids could do something like that and one little boy did a back flip.
The kids went wild with excitement and decided Rosie and the boy should have a competition. So they both did a back flip at the same time, but the boy did two in a row! He won the competition and the children were over the moon with excitement and pride.
Rosie saw what a powerful message their back-flips sent to the children and how the simple competition bridged their extremes.
Right To Play brings joy to children whose suffering is far beyond our understanding and an opportunity to learn important life skills through sport and play. And they bring to you and me, the chance to help get kids playing.
Pass It On
Please click through to their Facebook page and help spread the word… All children have a right to play!
You can sign up for the Right To Play newsletter to learn more or enter for a chance to accompany the team with the most amount of votes on a trip to West Africa to see a Right To Play program in action. And while you are on the Facebook page, you can show your support for the HIV Awareness project by voting for it.
Photo credit: Glen Baxter
Written by Susan Carraretto, co-founder of 5 Minutes for Mom
This campaign was made possible through funding received from the Canadian International Development Agency (CIDA)
The Level The Field campaign focuses on countries in the WAFA region (Liberia, Ghana, Benin, Rwanda and Mali) and raises awareness about the work Right To Play does in their communities.