This post may contain affiliate links. Read my disclosure policy here.

Half puzzle, half model kit — this 3-D building toy by Dutch design company Kidsonroof is designed for imaginative play.
With unique die-cut panels made from recycled laminated cardboard, the Totem Boys Recyled Construction Toy is made of 120 cards that feature cool signs, symbols, textures and images.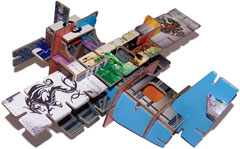 The pieces can become whatever your child can imagine — a creation of their own, or a spaceship, airplane, building, or sailing ship that they can build with the included instructions.
The variety of boy-friendly designs, creates unusual mixes and patterns and makes this toy super cool for any young builder, six years or older.
I am so impressed with this creative toy. The sturdy cardboard pieces with their almost-odd designs are unlike anything I have ever seen. I bet every boy who opens it up on Christmas morning will say, "Cool – this is awesome!"
The Chocolate Cake Club – a mom-owned store that specializes in collecting top quality parenting tools and unique gifts – is featuring this innovative toy in their Holiday Gift Guide.
The Chocolate Cake Club is a great place to do your Christmas shopping. You can find unusual, eco-friendly toys that will inspire you and your children.
Sue Kirchner, mom, wife, and founder of Chocolate Cake Club, Inc. says:

"My goal is to create a company that will be a trusted source for products to help busy families ease stress by organizing their busy lifestyle, encouraging kids to be more self-sufficient, maintaining strong family bonds even across distances, and finding must-have gifts and parenting products.We have searched high and low to find the best and highest quality parenting tools and unique gifts so you don't have to. Many of our products are made by Moms and craftsmen.

We hope we have made the shopping experience simple. Our products are organized by family situations, by age group, and by type. Instead of just a product description, we also tell you the age appropriateness of the product and why we like it. We are here to help you out. Take a deep breath and smile. Join the movement to take more time to celebrate our busy parenting lifestyle. Welcome to the Chocolate Cake Club!"
If you would like to win a Totem Boys Recycled Construction Toy for a young builder this Christmas, we have one to giveaway.
As well, we would also like to thank the Chocolate Cake Club for their generous donation of a Totem Boys kit for our Under The Tree Program..

Here's how to enter to win a Totem Boys Recycled Construction Toy , retail value $36.00.
See our Christmas Giveaway 2008 post to read more about
participating in our Christmas Giveaway

Either link back to this post and include a Christmas Giveaway 2008 button in that post or on your sidebar, or link to the individual giveaways you choose to enter. We have a ton of different buttons and styles for you to choose from. Click here to get the button codes. (If you post and include the button, either in your post or on your sidebar, and link back here, you are good for all the giveaways. No more linking required.)
Please leave one comment below to enter this giveaway. You may earn additional entries for the following:
1. Subscribe to our Feed
2. Sign up for our Newsletter
If you are already subscribed and are on our newsletter list, you qualify for these two additional entries. Go ahead and leave your additional comments below.
As always, non bloggers are welcome to participate! We understand you can't link – but please spread the word to your friends via facebook, twitter, etc.
Entries are open from Monday, November 18th thru Friday, November 28th at 12pm EST.
Our winner will be drawn randomly and we will announce the winner Monday, December 1st. Please make sure to check our site and your email address to see if you have won a prize. We must receive your reply within 5 business days. (If you want your prize to arrive in time — the sooner we hear from you, the better!)
This contest is open to US shipping addresses. Due to legal restrictions, this promotion is not available in Arizona.
Please see our site's Terms and Conditions of Use for a complete list of our Contest and Giveaway Rules.