This post may contain affiliate links. Read my disclosure policy here.



If you are interested in other quick reads, check out Carrie's review today over at 5 Minutes for Books — a short story collection, Eyes to See, edited by Bret Lott.



Recently the publishers of Brain, Child magazine sent me their current issue and several back issues as well, and I decided that this column would be the perfect place to introduce it. I've written about my recent addiction to magazines (even fluffy ones), but for the most part I am a book reader. I like the meat. I like to get lost in a great story, or to absorb the advice in a helpful parenting or marriage book.
But I'm always answering the question from friends and readers of this column and the 5 Minutes for Books site, "How do you find all that time to read?" The short answer is that it's something I love, so I make time for it, just like people make time to watch TV or movies, scrapbook, and have lunch with friends. Reading books just might not be your love right now, and that's okay; but if you do truly want to squeeze in a few pages, try to eliminate something else in order to add in some pages.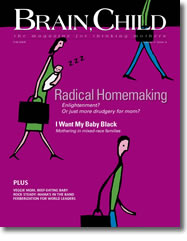 If you are pulled to the written word yet still don't want to make drastic changes in your leisure choices, you can take 5 minutes to read a magazine article, and you might want to give Brain, Child magazine a try. The tagline is that it's the "Magazine for thinking mothers." I will add that it's also a bit gritty, exploring the pros and cons of issues such as circumcision, "indoctrinating" your children with your own political views, and the reality of life after divorce. The essays also contain an occasional use of mild profanity. But I found that while I didn't agree with all the viewpoints expressed or didn't approach life as many of the contributors did, I wasn't offended by the differences. It made me think of a nicely balanced group of women friends: some might work outside the home, some might work inside the home, they might homeschool their children, or send them to public or private institutions. Some are close to their extended family, and some feud. Some are vegetarians, others overweight or excessive exercisers or couch potatoes. My life is richer through interacting with those who have different viewpoints from mine. Brain, Child magazine opens the doors to diverse viewpoints that I might not encounter in my day-to-day life.
Yes, there are a billion magazines and websites where you can learn the latest potty training tips, creative crafts, and easy ideas for on-the-go meals, but what if you do want to go deeper and explore some of the cultural issues that affect you as a mom, or read some truly beautiful writing? Brain, Child magazine might be the perfect crossover vehicle for you. You can whet your appetite for meaty writing with four issues a year. When your children are grown and you have leisure time in abundance (Ha!), your brain will be primed and ready to pick up the next Pulitzer Prize winning novelist, or will welcome the latest chick lit offering with ease.
Another cool idea offered up at the Brain, Child website is to center a book club meeting around an issue of the magazine. They even offer a special Book Club Deal. If you find that your book club is more club than book, maybe try to focus on a few thought-provoking essays and articles one month!
If you'd like to get a taste of the content, their website has some great articles and essays as well. Click here to subscribe.
If you are interested in winning a one-year subscription to Brain, Child magazine leave a comment (U.S. addresses only). We'll announce the winner in next week's column.
The winners of their choice of Dewey the Small-town Library Cat in their choice of audiobook or hardcover are:
#161 Jodi, audiobook
#60 Susan Heim, hardcover
#56 Andria, hardcover
#26 Katherine Frazier, audiobook
#123 Veronica Sandberg, hardcover

For those of you who submitted questions, I don't know if any were used, but I'll be sure to post the link for the podcast here in a future column when the publisher sends it to me.