This post may contain affiliate links. Read my disclosure policy here.


My children love to look at books, but since they aren't reading yet, unless I sit down with them and take them on a reading adventure, their books are just pages of pictures that they create their own story to. Of course, there is nothing wrong with that. A child's imagination is a wonderful thing. But sometimes, my daughter would love to just pick up a book, hear a story and learn and explore on her own.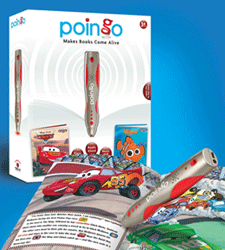 Poingo is the answer. Poingo, a product that represents the next generation in interactive books, enables children ages 3 -7 to unlock hidden treasures on every page.
First the child can touch Poingo to the text, to hear the story read to them. Then the excitement begins as they touch Poingo all over the illustrations.
Almost every picture on a page makes noise, teaches an interesting fact, plays a song or begins a fun game.
Poingo has launched with six debut titles. The Poingo starter set includes Poingo and two oversized hard cover books featuring the characters from Disney-Pixar films Cars and Finding Nemo. Poingo also comes equipped with the content necessary for the four other launch books, sold separately: Lion King, Winnie The Pooh, Cinderella and Sleeping Beauty.
As more books release, the content for them can easily be downloaded onto the Poingo by connecting it to a home computer.
Poingo is fun straight out of the box. We removed Poingo, turned it on, opened a book and began our journey. And let me just say, I was very impressed by the quality of the books. They are large and sturdy, definitely able to withstand my rough children, that's for sure.
My two-year-old and five-year-old spent about two hours exploring every page with Poingo. They had so much fun. My two-year-old enjoyed listening to the cars whizzing and tires squealing, while my daughter had fun challenging herself with the fun games and quizzes.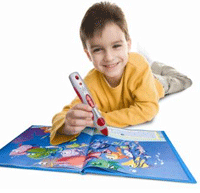 The vocabulary feature also impressed me. As the story is read, some of the words stand out, as they are a different color than the rest of the text . If you touch these individual words, you are given the definition. It's a great learning feature and I feel it encourages young readers to look up unfamiliar words in a dictionary as opposed to just skipping over them.
If you have a moment, I strongly suggest that you check out the live demo of Poingo. It's a great way of seeing for yourself just how much fun is unlocked on each page.
And now for even more excitement, we have one Poingo starter set to give away to one lucky reader, retail value $34.99. We would also like to thank Poingo for providing us with an additional starter set for our Under The Tree Program.
Here's how to enter:

See our Christmas Giveaway 2008 post to read more about
participating in our Christmas Giveaway

Either link back to this post and include a Christmas Giveaway 2008 button in that post or on your sidebar, or link to the individual giveaways you choose to enter. We have a ton of different buttons and styles for you to choose from. Click here to get the button codes. (If you post and include the button, either in your post or on your sidebar, and link back here, you are good for all the giveaways. No more linking required.)
Please leave one comment below to enter this giveaway. You may earn additional entries for the following:
1. Subscribe to our Feed
2. Sign up for our Newsletter
If you are already subscribed and are on our newsletter list, you qualify for these two additional entries. Go ahead and leave your additional comments below.
As always, non bloggers are welcome to participate! We understand you can't link – but please spread the word to your friends via facebook, twitter, etc.
Entries are open from Tuesday, November 18th thru Friday, November 28th at 12pm EST.
Our winner will be drawn randomly and we will announce the winner Monday, December 1st. Please make sure to check our site and your email address to see if you have won a prize. We must receive your reply within 5 business days. (If you want your prize to arrive in time — the sooner we hear from you, the better!)
This contest is open to US and Canadian shipping addresses. Due to legal restrictions, this promotion is not available in Arizona or Quebec.
Please see our site's Terms and Conditions of Use for a complete list of our Contest and Giveaway Rules.