This post may contain affiliate links. Read my disclosure policy here.
Do you want to hear about even more great books and contests? Sign up for the 5 Minutes for Books newsletter.
It's that time again. In October of each year the color is pink and we think about our girls a lot more than we usually do.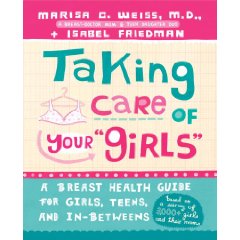 Because I have a pre-pubescent tween daughter in my house, I've actually been thinking a lot more about them in general. This summer we shopped for bras. They are much less bra-like than I remember my training bras being (Does anyone else remember those triangles covered with the lace mesh type material with the pink rosette in the middle?). They are really just like a smaller more bra-like cami. She needed these for an extra layer of coverage and for the social necessity of changing for gym in her new intermediate school, but it's becoming increasingly obvious that before too long, we might be moving towards cups.
I say that to say that when I got a copy of Taking Care of Your Girls: A Guide to Breast Health for Girls, Teens, and In-Betweens, I was interested. I wanted to learn about what I should tell her, what she might want to know, and honestly, I thought that I might learn some stuff about breast health, too, which is more on my mind as I near forty.
It didn't really teach me much that I need to know at my age. It's not that kind of book. This book is formatted in the way that I believe is best for non-fiction books for or about tweens and teens: It is full of quotes and questions from the target group, and it is written by a mother-daughter team — breast-health doctor Marisa C. Weiss and her college daughter Isabel Friedman. It's the perfect combination. Weiss gives the facts straight and Weiss fills them in with a real girl's reaction to the facts by sharing her own stories, those of her younger cousin, or those of the many girls who were interviewed for this book.
Topics covered include
breast development
breast size and shape (diagrams included!)
noticing and checking from breast changes
stretch marks, breakouts, and rashes
self-image and teasing
bras
dress to express
and even padded bras and surgery to change your size
In reading this book, you won't learn about the best diet to ward off breast cancer (although a general diet and lifestyle facts that reduce the risk), or when exactly you should get that baseline mammogram, but if you have a daughter from age eight or nine on up through young adult, you will find out what she is wondering about her breasts. After reading it yourself, you can pass it on to her to read, or share with her in bits and chunks.
We have 5 copies of Taking Care of Your Girls, to give away to U.S. or Canadian residents. Leave a comment here to enter. I'll announce the winners in next week's column.
The winners of last week's book The Vegan Lunch Box are #45 Mia J. and #55 Diane G.

And since the Harry Potter 10th anniversary giveaway is now over, I can announce those winners as well:

The grand prize winner of a complete set of the Harry Potter books in hardcover along with the 10th anniversary edition of the Sorcerer's Stone is #11 Darla Kidder.

And the four winners of the 10th anniversary edition of the Sorcerer's Stone are
#160 Cythia Mccoy
#199 Mama Zen
#243 Sylvia
#32 Debbie