This post may contain affiliate links. Read my disclosure policy here.
Are you wild about Harry?
It seems like everyone has an opinion. Some have avoided the series due to the themes of magic and sorcery. I posted yesterday on 5 Minutes for Books about why I decided to give it a try, and how that led to my daughter and I both being wild about Harry. This week, I also posted our impressions of the first movie, which we just watched this month.
Even though I just recently read the series, it's been ten years since the first book was released. That means that a whole new generation of kids (like my daughter) is enjoying this series. I have no doubt that these stories will endure and become favorites for children as they grow old enough to read them.
In honor of the tenth anniversary, Scholastic books has released a tenth anniversary special edition of Harry Potter and the Sorcerer's Stone. Like most new products in the Harry Potter franchise, it's currently under lock and key until its release date of September 23, so I can't offer any thoughts or opinions on this edition. However, I'm sure that it will appeal to Harry fans and those new to the franchise as well. However, once I receive my copy, I will give my thoughts of the special features on our sister site 5 Minutes for Books.
In the meantime, you can enter to win your own copy (U.S. shipping addresses only please).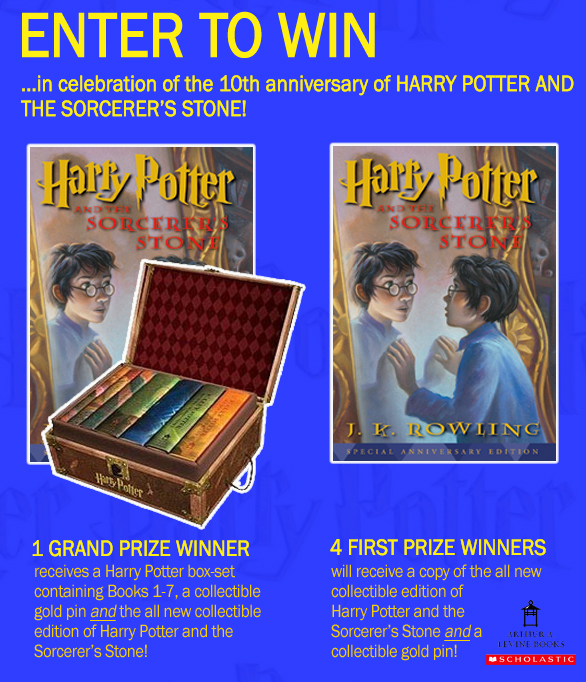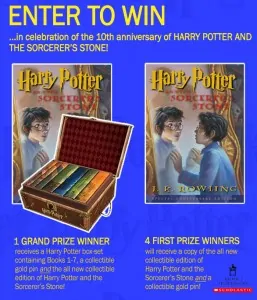 One grand prize winner will receive
Four runners up will receive
If you'd like to win, leave a comment below. Let me know if you are a longtime fan or if this will be your first experience with the Harry Potter books.

We generally announce the winners for this column the following week, but this contest is so fabulous that we are going to leave it open until October 6.
The winners of Enchanted Thyme are
#105 Kathy Conley
#53 Christopher H.
#4 Michele