This post may contain affiliate links. Read my disclosure policy here.
My daughter Amanda loves to read. Her favorite genres are mystery and fantasy. She loves to cook, too, so when I saw Enchanted Thyme, I knew that she would love it! This is labeled as book one in the Delicious Adventure series, so I assume that more are coming.
The story is fanciful, and imaginative, featuring the adventures of 10-year-old Belinda and her 8-year-old brother Peter who are whisked off to the land of Enchanted Time where the Queen and the land are under the dark spell of the Fricassee Fairy. Three magical mice — Marjoram, Basil, and Rosemary — come to enlist Belinda's and Peter's help in breaking the curse by coming up with the perfect meal to satisfy the Queen's appetite.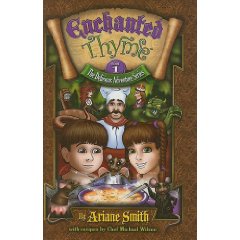 In addition to a great story, the recipes look wonderful. They are healthy, yet pack lots of kid-appeal. Since they are mentioned in the story, kids would be even more likely to try them out. Parents could even make themed dinners (with the help of their kids of course), as they are reading the book.
Some of the vocabulary in the story is pretty advanced, which makes it sound more fairy-talish, and would do well in a family read-aloud to give it extra dramatic flair. However, about half of the way through, I began to feel as if the words might burden down a young reader. My daughter is a high-level reading 10 year old, but for an 8 year old who would otherwise enjoy the story, it might be a bit much.
Then I found the glossary at the end of the book which explains, in interesting and kid-friendly terms, the words that are used such as fathom, strenuous, voracious, flourish, and demeanor. There was a note before the first chapter alerting the readers to this as well, but I happened to miss it.
I highly recommend this modern-day fairy tale with a twist (a twist of lemon, perhaps?). Enjoy!
Would you like to win one of three autographed copies of Enchanted Thyme (U.S. addresses only, please)? Leave a comment. I'll post the winners in next week's column.
The winners of the Hachette Book Blowout (10 brand new books from that publisher) are
#104 Linda Lansford,
#154 M.A.,
#40 Donna Rinas,
#46 Tom,
#44 Amy Tucker