This post may contain affiliate links. Read my disclosure policy here.
I'm not a vegan. Nor are my children, but I do pack lunches, so the thought of getting some creative ideas for my two kiddos thrills me. With this in mind, I was eager to check out Vegan Lunch Box.
My biggest challenge is the three peanut-free (by school rules) lunches I have to send with Kyle to preschool. He will eat peanut butter crackers and peanut butter sandwiches with pretty good regularity, but the rest is a toss-up: rolled deli slices, yogurt etc. I hate sending things that don't get eaten — that's good food and good money down the drain!
While some of these recipes are a bit ambitious for a four-year-old's palate, they would be just the ticket for an older child wanting to take some creative and nutritious lunches, or for yourself. Why get stuck in the same rut day after day?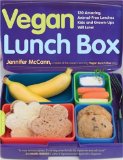 Jennifer McCann was determined to offer her vegan son lunches that would not pale in comparison to the lunches that his classmates bought at school. Sure enough, soon her son's lunches were the envy of his entire class, with fresh colorful ingredients presented in an appealing way. She started a blog chronicling her lunch mission. This book contains the best of the blog — those tried and endorsed by others.
With my fifth-grade daughter Amanda, I think that this is more my issue: coming up with lunches from home that compete with the cool new intermediate school cafeteria (with a more nutritious and less costly result).
Even if you aren't a vegetarian, if you use the regular ingredients, instead of the soy-based substitutes, you will have a full complement of veggie-rich meals. For example, she features soy dogs and soy slices and soy cheese as ingredients — things that are common staples of the preschooler's and young elementary school child's diet (the meat and dairy versions, at least).
Another great feature of this book is the "allergen-free index." It lists recipes in separate lists that are nut-free, soy-free, gluten-free, and wheat-free.
Kudos to Jennifer McCann for breaking out beyond PB&J and encouraging the rest of us moms to do the same!
We have two copies to give away (U.S. shipping addresses only). Just leave a comment, and we'll announce the winners next week.
Add to the topic by sharing an interesting lunch box favorite in your household.
The winners of Wife in the North are
#89 Susan S.
#17 Roseann Kies
#98 Anita Yancey
#106 Valerie Mitchell
In addition to writing regularly here, Jennifer Donovan blogs at Snapshot and is managing editor of our sister site 5 Minutes for Books.