This post may contain affiliate links. Read my disclosure policy here.
I love to listen to my son laugh.
Fortunately with Jackson, I get to hear a ton of laughter.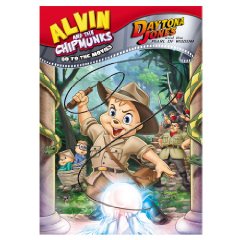 One sure way to get Jackson cracking up is to start up an Alvin and the Chipmunks DVD. He LOVES those crazy singing chipmunks.
And the Alvin And The Chipmunks Go To The Movies: Daytona Jones And The Pearl Of Wisdom DVD did not disappoint. All three episodes "Daytona Jones, "Batmunk" and "Robomunk" had Jackson rolling on the couch laughing.
We have three copies of the Daytona Jones DVD and we've decided to give our Canadian friends a chance at this one. So we're limiting this contest to Canadian shipping addresses only.
If you live in CANADA, and you have an Alvin fan in your house, leave us a comment and let us know.
We'll draw the three winners on Saturday October 18th.